INDEX
Catweazle – France, Spain 05.1997
PCP – Spain 02-03.1998
No I.D. / Aside – Spain 07.1998 (Partial)
Olho Seco – Europe 09.1999
Seein'Red – Spain, Portugal, France 12.1999 / 01.2000 (Partial)
Execradores – Europe 04-05.2000 (Partial)
Point Of Few – Spain, France 12.2000 / 01.2000
Ação Direta – Europe 09-10.2001 (Partial)
Crude – Netherlands, Germany 12.2002
Makiladoras – Germany, Poland 03.2006
(Groningen, The Netherlands)
Axe Kooi – guitar
Michael Kopijn – drums
Emil Reason – vocals
Erik Timmerman – bass
+ Mike Doodeman – driver, roadie
Friday 02.05.97 Groningen – departure from ORKZ
I just recovered from a terrible flu attack. Mike D. and Erik get the van from Amsterdam. At 1 PM, Emil, Axe and me are getting the equipment from our rehearsalroom in the Oude RKZ (which was one of the biggest squats in Holland in the 80's. Now it has a contract and hundreds of people live there, it has a bar, restaurant, concerthall, practiserooms…etc.). At 3 we get a phonecall that the van (a brand new one, delivered on 01.05!) broke down 30 km after Amsterdam… Oops! It is very serious because it's been smoking and the guy from the road-service lifts the entire dynamo out of the van. After a phonecall with the rental business, the van has to be fixed by a garage because they don't have any replacement vans available… They'll cover whatever costs. The nearest garage drums up a handful of people and they start working the rest of the afternoon. Oh wonder, they fix it just before closingtime and at 9 PM we can start driving. We sleep at Emil's parents in Eindhoven. What a day!
Saturday 03.05.97 Au Charleston, Cherbourg FRA (+ Shoved, Aside) Small bar. We get surrounded by skaters and helpful people. Within minutes the van is unloaded. The pool-tables have to make place for the equipment. Open stage. Organised chaos. We drive to the outskirts of Cherbourg and end up in a rehearsal-cellar where lots of vegan food is served. We meet with Aside. When we return we see everything is already set up. Wow. Shoved is straightskate-like hardcore. The drummer plays with a plastered (gypsum) arm… He shoved his drumstick in the plaster! Very impressive. The bar is packed. I have difficulties breathing and it's hot as hell. Aside sound a bit messy but convinced. However I stayed most of the time outside catching my breath. During our set, I have a very hard time keeping it up. The crowd is going for it and Johan has to guard the equipment. I feel like fainting and have to run outside. Finished the set and joked around with David's parents who were sitting behind me during the whole concert. They seemed to enjoy it as well and for a moment Mme. Gaillard even took over my drumkit. Hahaha!
Sunday 04.05.97 Chez Emile, Rouen FRA (+ Furious Bastards, Aside) We never forget Alex, small hyperactive 10-year old girl who invaded our room too early in the morning. One by one she pulled us out of our sleepingbags, kissed on our sleepdrunken heads and yelled goodmorning. Jeesh. Ever since, she kept swarming around us and observed every move we made. Crazy. We meet with Aside and it's off to Rouen in the pouring rain. We play in the cellar of a big squat. When we set up the equipment, I almost break my wrist when I fall down a small stair. I bruise a right-finger instead which will cause me alot of suffering the rest of this tour… Aside drive back the same night and we discover how loud Mike D. is snoring. I'm glad I brought my earplugs!
Monday 05.05.97 Bar Associatif Le Vendemiare, Montreuil FRA (+ Ahimsa) We meet with Sylvain in Montreuil. It's pouring with rain. The concertplace is in a very small bar/info-cafe situated in a modern, covered mall (something like Hoog-Catharijne in Utrecht) – unreal. The stage is too small for the drumkit. We improvise and it's something like a seesaw: lean a bit too much to one side and you fall off the stage. Very adventurous indeed. We meet with Ahimsa and I see a special delegation from Orleans as well! Not too many people show up but we become friends with almost everyone present. Also everybody seems to love dogs coz they're everywhere. We hear there was a bombing in Euskadi. I hope we won't have too much trouble getting into Spain.
Tuesday 06.05.97 Le Plage, Nantes FRA (+ Ahimsa, Toxxic TV) Romain shows us the way and we arrive early. Small bar again with this time a stage upstairs (steep!). We check out Nantes and accidently run into the Cherbourg Radio-Active Crew!!! Wow. They love dogs alot as well. I try to find out some more about the bombing but no luck. After the concert we are driving to our sleepingplace in a cottage outside of Nantes.
Wednesday 07.05.97 Gasteizko Gaztetxea, Vitoria SPA Time for some more craziness and serious cultureshock. In the very narrow streets to the Gaztetxea, a car hits our rental van. Nothing too serious but still some damage (2 dents).
It's getting cold. After a very long 700 km drive we are starving, but the food is coming soon. It starts to snow… And the stage is outside. We'd like to go inside the building but are refused because there's an important (Insumison) meeting in the "bandroom". We notice there's no vocal equipment, which we have to pick up ourselves. The food is coming soon. A car drives off the side-mirror of our rental van. We suddenly notice the food is sitting there all this time just next to the stage. Hello language barrier! Right after we filled our plates, someone feeds the rest of the delicious food to the dogs… We can decide whenever we want to start to play. This is the only gig (ever) where I wear 4 layers of clothes. There's about a handful of people in the audience. FORCA MACABRA never shows up and eventually cancel the tour. There is no door/entrance. Someone donates expired coins. The sleepingroom is also the dogroom. We wake up next to excrements. We see that a car scraped our rental van. Javi, one of the organizers, becomes a good friend but unfortunately he dies in a bicycle accident in Bilbao a few years back.
Thursday 08.05.97 Gaztetxe De Portugalete, Bilbao SPA Sun starts to shine. We see the side-mirror of the van is smashed and a car scraped our side. We can probably say goodbye to our guarantee money. In Bilbo we eat at Javi's place where his mother prepared a delicious meal for us! Ezkerrik Asko! I hear there was a bombing indeed and happened on a military-police base just outside of Bilbao. We phone Uge to check about FM but no news. We joke around with our Dutch-Spanish dictionary and check out the DDT shop. In Portugalete Mike D. is allowed to film. Suddenly people are running up to him when he is filming behind some building. They tell him ETA people who did the recent bombing are hiding there…hahaha. Here, things are organised quite well and we see the electricity will be tapped from the street. The place is filling and we play all songs plus more. For me one of the best concerts ever. The crowd sings for us, great. We have warm food at 2 in the nite.
Friday 09.05.97 C.S.A., Gijon SPA (+ Growing Up, Vad Har) We finish the food from this nite. They made food for 2 bands. Road to Gijon is great along the sea. We meet with Uge, our tourcoördinator in the C.S.A. Within seconds there are 10 people helping us to get the stuff out of the van. The C.S.A. is a beautiful place inside the CNT building (latest news – july 1998 – is they got evicted because the CNT wants their property back… crazy situation!). The cellar contains the concerthall. Erik meets someone he knows from Amsterdam (hello Fidel). Lots of people came to the concert. Although we don't play that well, it's great again. After the concert Axe is going nuts with his Casio. After a thorough cleaning of the C.S.A. we go to Uge's place. The weather's warm and the streets are crowded. Mike D. discovered Gijon as a skate-paradise and is hardly seen anymore off his board.
Saturday 10.05.97 Pub La Candelaria, Oviedo SPA (+ Outcry, Growing Up, Kens) We hear Palencia got cancelled the very last minute. Fortunately we can play tonight at a smal fest. The bands are prepared to play 15 minutes shorter each, so we can play. GREAT! We hang around Gijon some more and leave for Oviedo later that day. It's in a commercial bar and there's an open stage which is cool. We park the van near a football square. Axe, Emil and Mike D. team up and play against 3 very young locals: Holland – Spain. It never ends and we arrive at the concert during the Outcry set. They sound very convincive. During our set I have problems with the sound – actually no sound. Very hard to keep track. Mike D. is going crazy on his board again.
Sunday 11.05.97 El Bar Traste, Valladolid SPA Small commercial bar again. We think Oviedo was a rip-off moneywise so we wonder about this one. We check out some bars with locals (hello Urbano!) and prepare for the concert. Javi from Bilbo is present as well! It gets filled and warmer. When we start to play, people wait and even sit on the ground. After the 3rd song, they go nuts. Crazy concert. Haven't sweat so much since Cherbourg. After the concert we have arguements with the bar owner about the money. It almost escalates when a bouncer threatens me. A bottle is throws, the toilets are literally shitted, walls are spit at…. Warfare. In the end everything calmed down (we stay outside) although more and more bouncers appear at the frontdoor. What a nite.
Monday 12.05.97 Ateneo Libertario De Villaverde, Madrid SPA (+ Agarrate) Long drive to Madrid. The rather big concertplace is in the CNT building. We meet with Angel and Jorge. Also we notice some suit & tie persons with attaché-suitcase coming up to the stage… Mistake? No, it is Agaratte and they start changing clothes… crazy! On stage they sound pretty good. A shame Mike didn't record this. When we start to play, the place is almost empty. After the concert, it's off to the El Laboratorio squat and eat a warm meal at Jorge's beautiful bar at 3 A.M. The next day we check out El Laboratorio which is squatted for 2 weeks – alot of activity here, very refreshing to see. We're asked to play this one on the quickly improvised stage on the 13th may but unfortunately we choose to have a day off. News spreaded fast and there were constantly people asking for us. This is the one gig I seriously regret not to have done.
Wednesday 14.05.97 Ateneo Libertario, Zaragoza SPA Nice and small info-shop. We set up the equipment and do some soundchecks. We have to start early because of noise-problems and people begin to urge us to start but there is no vocal-equipment yet. When that arrives, we have to move the concert…. It appears they have another concertroom, in the cellar! We move all the equipment and start later. First song is hilarious, with absolutely no audience. Mike D. is going crazy. Slowly the room is filling up.
Thursday 15.05.97 Ateneu Popular, Badalona SPA (+ E-150) It is very busy on the roads. Barcelona won the Euro Cup. We find the place and start playing football with the locals immediately. E-150 is excellent. One of the best bands we played with so far. During the night, we sleep upstairs but that was not too smart coz we almost got attacked by bats
Friday 16.05.97 1997.05.16 L'Entrepots, Saint-Étienne FRA (+ Uneven) Long drive. Nice big bar. Lots of alcoholics around this area. Everytime we are asked for money, we give them a piece of banana. Lots of people show up. Dammit, some people sell their record-collections… we're getting short of money. Uneven are original, enthousiast and raw. Cool. After the concert we stay at Thierry's place and joke around with Denis, Uneven… the place is packed. Warm food around 3 A.M. and Seein'Red on the toilet!!
Saturday 17.05.97 Salle des Fetes, Genlis FRA (+ Força Macabra, Wojczech, Cut Your Hair, Poupée Mataf) Final concert of the tour. We don't take the payroad but follow Denis and crew istead. It turns out to be an exhaustive drive though the mountains. People get carsick. Eventually we make it and meet with alot of our German friends. But what's this? Força Macabra plays as well… and actually they arrive 1 hour after us! The story is they had carproblems in Poland. They could not get the right car-part (because it's an obscure American model) and they have to wait about 3 weeks for it so they cancelled the Spain tour. I wish they phoned or wrote Uge about this… Anyway, they're still alive and I see some of them already drunk. The Finnish way. Poupée Mataf plays catchy and melodic hardcore. Cut Your Hair is much better and more intense than before, Força Macabra are too drunk to sound good and Wojczech crushes the place. Perfect ending of the tour.
(Groningen, The Netherlands)
Oene Brandsma – guitar
Pelle Lodder – bass
Michael Kopijn – drums
Margriet Brandsma – vocals
Esther Van Doormalen – vocals
Rommert Pleijsier – 2nd guitar
+ Eva Oling – driver
Ok, this is meant to be a more or less "short" tour/experience-report to give you people some idea of how it went. I've chosen not to digress on the many political/social issues, although it was very tempting to write extensively about the Basque situation, Spanish Libertarian movement, squatscene…etc.etc. Maybe some other time. So here's for the bandshit:
In this line-up, PCP is now together for about 5 months. We are Oene (guitar; also bass for Fleas And Lice), Pelle (bass; also drums for No I.D. and Fleas And Lice), Rommert (guitar; also guitar for No I.D. and Yphobia), Michael (drums; also drums for Catweazle and Tuco Ramirez), Esther (vocals; also vocals for Urinal Cakes) and Margriet (vocals). Yes, we are truly a so-called incestband! We have nothing released yet but will go into the studio sooner than later.
This was supposed to be the 2nd French/Spanish tour for my other band Catweazle. Everything was already arranged and confirmed, when suddenly our guitarplayer got offered his "dream" job. It was now or never for him and obviously he decided for a certain and bright future. It took some effort, but eventually PCP became the replacement.
For this tour, Eva (driver; also vocals for No I.D.) bought a black Citroën C25 van (1984/LPG). The weekend before this tour, we got the chance to check it out with Catweazle and No I.D. but it broke down on the way to the first gig… So the next week was a race against time and Eva did nothing but repairing.
Monday 23/2 (departure) Departure at 9 am (we have to drive 500+ km) but there are still things to be fixed on the van so we postpone the departure time. Stress! After replacing the dynamo, checking the battery, reparing a door and some other shit, we decide to leave around 8 pm. The van is totally full, a true puzzle. After 60 km it's starting to rain hard and we get the first problem: the screenwipers break down. It's too late for a garage so we call the good ole ANWB road-service. The helpful person learns us a good trick with an elastic but after a while it either breaks or doesn't work good enough so it's more or less stunting thru the rain to Luxembourg…
Tuesday 24/2 (Luxembourg) At 7 am and 10 km before our crash-address, the front wheel-axles are behaving strange. We nevertheless make it to Marek's place and surprise him at 8 in the morning (he expects us at 6 pm instead…). Due to this new van-problem we have to cancel the first concert in Salt (on Wednesday). One of Marek's friends recommend us a good Citroën garage in France. We will drive there tomorrow to try have it checked/fixed. All the equipment/stuff is dumped in the house to make the van as light as possible because of the weight on the wheel-axles.
Wednesday 25/2 (Luxembourg) Today is a crucial day. If the van-problem cannot be fixed, we have to cancel the entire tour. With a couple people we drive to France, the rest stays at Marek's place. The van drives better now it is unloaded. We're lucky to arrive early. It's only the left wheel-axle and Eva brought a good spare one with her so they replace it that afternoon. Back "home" (yes, Marek and his grandmother took very well care of us), we prepare for the trip to Saint-Etienne; and I celebrate with a warm bath. At a local scrap-yard, we get an engine for the screenwipers and fit it in our van. We are lucky that Thursday is a day-off; the first concert in Spain will be on Friday.
Thursday 26/2 (Saint-Étienne) We arrive far too late in Saint-Etienne but fortunately Denis and friends give us a warm welcome anyway and even make some warm food for us in the middle of the nite (deja-vu; just like when Catweazle played back in May 97: same food, same place, same time). We have some problems with the payroads. Most of those payroad-employees charge us category 3 tarifs while we belong in the twice as cheap category 1. It must be funny to see a bunch of colorful punks (by now, we are red, yellow, blue and green-haired) getting out of their black van and bothering employees while a long line of cars is waiting to get through. At a giant supermarket, we find food, vegetables and dairy products in the trash-containers. It's amazing to see what they throw away while it is still good.
Friday 1998.02.27 Sala Can Recader, Castellterçol SPA (+ Idem, Xmilk, Subterranean Kids) For this tour, I only have telephonenumbers of the organisers/contactpersons. No maps or addresses so I have to call around 3 pm each day to check for necessary details. My first experience with Spanish pay-phones is not too good. They steal all your money even if someone isn't answering your call. I cannot reach the La Roca person so we decide to drive straight to La Roca and just see what happens. We are already  late and I decide to do another phonecall. It turns out the concert is moved to another location called Castellterçol, a small village in the mountains. What follows is a crazy small and climbing road. Time to sweat! We arrive around 10:30 pm and see it is a festival that starts around 12 o'clock anyway. After some nice food (very necessary after a whole day in the van), the place, or better yet, the hall begins to fill. Unfortunately I haven't seen too much of Idem. Xmilk is pretty good and enjoyable and I am very surprised and glad to see that Subterranean Kids are still around. The last time I saw them was in 1988 when they played the infamous W.N.C. squat in Groningen (29/9) and the famous Van Hall in Amsterdam (16/10) with Fugazi and No FX. They now have a new guitarplayer (ex-GRB and a very good driver as well!) and sound brilliant. They even do an old R.K.L. cover so they cannot do any bad for me! PCP has to start around 4 in the morning – Dawn of the Living Dead it is… so we are not that good (understatement). We even receive an hilarious P.A. recording for this show – hahaha! We sleep at Pau's place in Moia but we lose Margriet on the way without knowing it. The next morning she was brought up safely by the local cops… I'll make sure to keep my eyes open the next couple of weeks!
Saturday 1998.02.28 Ateneu Popular, Badalona SPA (+ Pink Flamingos) The weather's getting warmer now. I phone Badalona, but no luck. Fortunately I brought the maps of the Catweazle tour with me and since we also played Badalona (good memories!) we hope it is in the same place. At the Ateneu we meet with Abraham of E-150, and he confirms we play there. I pick up a brilliant "Andalucia solidaria kon Irak" poster. Later that evening, I get the surprise of my life. Jaska of Força Macabra is standing in front of me…. All the way from Finland?!?! Yes, but he's visiting his friend and accidently picked up a flyer for this concert. Still crazy to see him again after we both suffered the freezing Selfish "Misery" Euro-tour in January 97. Actually Força Macabra was supposed to tour with Catweazle through Spain in may 97 but they stranded in Poland due to serious van-problems. Oh well. I only saw a small piece of the Pink Flamingo's set but they sounded quite convinced. Good stuff. Hmm, by now there must be about 4 bands with the name Pink Flamingos… very confusing. It seems PCP is getting faster and faster. The others don't mind, but I wonder if it sounds better. I promise myself not to run wild too much.
Sunday 1998.03.01 Atzavara, Sant Feliu De Guíxols SPA (+ Frank Kastro, Lovestress) I phone San Feliú, several times as usual, but no luck… I start to get worried about this telephone-system. With Catweazle it worked well but now it has been not too promising. About 30 km before San Feliú I try again. No luck. I need a telephone-card. These coin-phones are killing me but it seems to be difficult to get those cards. When I return, I see a bunch of people around our van. The organisers of the concert were already looking for us and now picking us up! And there's even a Dutch person with them! It turns out Frank Castro is a nice fellow from Holland and tours around Spain with his German friend under the name Gumdrum. Arriving in San Feliú, we decide to check out the sea. Later, at the nice concertplace, not too many people show up. Lovestress from Hostalric is pretty good and sound very new school. Lots of midtempo metallic pieces. Their drummer has one of the most original cymbals I've ever seen; however, it makes no sound at all – too bad. Next, Frank Castro did his show – very techno with lots of symbolic shit and theatrical content. When PCP hit the stage, most people already left. Nevertheless it was a nice gig with lots of fun. Here we also met the people who organised the (cancelled) concert in Salt. Fortunately no hard feelings. Sleepingplaces are in a beautiful squatted villa about 15 km north from San Feliú, in the middle of nowhere.
Monday & Tuesday 1998.03.02-03 (days-off in Zaragoza) We have the choice of staying one more day in this villa and do nothing or head towards Zaragoza and party til we drop… Ofcourse we decide for the last option. I phone Zaragoza, but no luck. I get a fax-machine instead. I'm definitely worried. We just go for it and see in Zaragoza what to do. At least I remember the streetname for the Ateneo Libertario (where Catweazle played last year). After several useless phonecalls, we arrive at 12 in the night and find the Ateneo Libertario. Ofcourse it's closed but there we find a beautiful poster for the concert (and see we play with Kochise from France). It turns out we play somewhere else. We go to that address but it's closed as well. What to do? Stuck in Zaragoza? NO WAY. We call Groningen for the address and phonenumber for one of our Zara-friends. This turns out succesfully and we head for Anjel and Ursula to surprise them at 3 in the night! Nevertheless they are happy to see us. Good for us.
Tuesday we are dumped at Susana's place and she becomes our official guide and Spanish teacher. I finally get to buy a telephonecard. This will surely save alot of money. In the evening we carry all the equipment to the Entropia local and check out the irresistable Mala Raza shop. I see ALL my bandmembers plus Eva looking for money. It's definitely a good day for Budi and co. Here I bought some of the best punk/hardcore, also thanks to David who recommends me such bands as Banda Jachis (ex-Maniatica and without doubt one of my current favorites), Chicharrica and Habeas Corpus. Later that evening Kochise arrive all the way from La Coruña (9 hour drive), but leave for their sleepingplaces soon.
Wednesday 1998.03.04 C.S.A. Entropia, Zaragoza SPA (+ Kochise) Relaxing in the afternoon and the chance to take a shower. We listen to the Castellterçol tape and have a look in the city. I notice on several hilarious posters that this area/province is struggling for independance as well. Put Aragon back on the map. Later that day at the C.S.A. I meet with some people who were at the Catweazle gig last year. The concertcellar is very cosy and not too big. I like small places best. Kochise is great. They do alot of effort to spread their message internationally (translations in English and Castillian). Musically they're very divers. This is a band I prefer seeing/hearing live than hearing on record. During the PCP set, I wreck my bassdrumpedal. It causes a long break. This is the start of a wreckage drumtour. I promise not to run wild on my drumstuff too much… After the concert, we have dinner at 3 in the night and next is party til dawn.
Thursday 1998.03.05 (day off on the road) Day of the Dead…. Cordoba is almost 700 km so we decide to leave today and make a pitstop in Madrid. In the meantime I have learned to phone the organisers at least a couple days before. This time it works! I get complete information and directions! Hurrah! We arrive in the El Laboratorio squat at around 11 pm and can stay there for the night. Around midnight, I find by accident Angel/Victimas Del Progreso and co. in the irresistable Fobia local. We make an appointment for the next day, coz some of us want to spend some more pelas.
Friday 1998.03.06 Muenmo, Palma Del Rio SPA (+ Opa Hostil) At 12 at the Fobia shop, we meet with Pepe and Canino of Sin Dios! Word spreads fast. Pepe speaks English quite well and there's alot to discuss (I already knew Canino by email). They want to organise an extra concert for us in Madrid on 10/3 together with Sin Dios! For me (here I go again, I cannot praise them enough) Sin Dios are one of the finest bands around today (musically as well as lyrically – all you non Spanish people: check out the English translations for the Guerra A La Guerra release), and I was already  excited to play with them in Vitoria on 14/3. So much to discuss, so little time… Too bad we already have to leave. We arrive in Cordoba around 7:30 pm; we are expected around 7 so nothing's serious. On the street, I start to ask around for the place but nobody knows the address. Someone shows me a city-map of Cordoba and the streetname is NOT on it… We start to get worried. I  phone again but the guy is already at the concert so I get stuck with his mother who only understands and speaks Spanish. Eventually, we find out the concert is in a small village called Palma Del Rio and is 60 km south of Cordoba! We start driving and take the wrong road. After 50 km, we take a small road: only 32 km straight to Palma Del Rio. Ok! It turns out to be the road to hell. Better yet, the road through hell coz it is barely driveable… a 25-30 km/h road under heavy construction this is. Poor van, poor equipment, poor PCP people – the next one-and-a-half hour we are jolted to pieces… At 10:30 we get to the concertplace, a small but very cosy bar. Fortunately, Maro and the crowd are still waiting for us and were even trying to find us earlier that evening but ofcourse we took the road-of-death no-one dares to take. After setting up the equipment, Opahostil started and blew me away with some excellent hardcore. I don't know what it is, but most Spanish bands seem to have 2 guitarplayers. Powerful shit for sure! During our set, the ceiling came down. Very chaotic. After 30 minutes the cops arrive. Noiseproblems. We are allowed to play one more song, so we play 5 songs as 1. During the 4th, the guitaramplifier breaks down. Someone threw beer in it. End of concert, goodnite.
Saturday 1998.03.07 Stagedoor, Fuengirola SPA (+ Manneken Pis, Freak Show) It must be around 30 degrees Celcius…. I hear stories that it is very cold and snowing in Groningen. I'm happy. I call Fuengirola. I am very reserved but it is unbelievable – someone is actually answering the phone! I cannot help but be suspicious – there must be something wrong, this goes too smooth. I get directions but no addres… I have to call again when we arrive in Fuengirola because the place seems to be hard to find. Hmm. Reaching Malaga, we run into more and more tourists especially big touringcars with Germans who are baffled by our appearance and noisy black van. The last couple days we experienced how it is to have a dual exhaust-pipe. It more or less bursted and now we keep it together with iron wire. However, it explodes now and then plus during a cold start, it smokes ALOT from both sides. Fortunately we drive on LPG, so we don't feel THAT guilty about polluting the…errr, our environment. And yes, now we finally get rid of the Politically Correct Punx abbreviation. In Fuengirola we got stopped by the local cops. Always act like stupid tourists and ask for directions even if it doesn't make sense. Local cops often want to be nice. However, watch your mouth with Guardia Civil. They are evil. Anyway, I phone again but ofcourse no-one's answering. We run into the singer of Manneken Pis and he says we're near the place. We finally find it, block the traffic and see we will play in some sort of disco/karaoke bar! The owner is a crazy Englishman and ex-manager for bands like Motley Crüe. You know, real rock and roll. He wants to book us for the Pamplona fest. Hilarious! Later I heard Active Minds got offered a simular deal. Yes, we definitely have a good time here. Manneken Pis does a soundcheck. I am totally impressed. I need to hear more of this band. We eat and sleep in the local Ateneo Libertario. This will be our home for the next 2 days. I start to bump my head in several doorways. People laugh, it's funny. I'm not that tall but obviously still bigger than the average spanish person. Margriet get bad news from Groningen. There was a burglary in her house. Fortunately, friends are taking care of it but it's not really restful.
Manneken Pis starts off and as I said before, they're quite impressive. The bodypainted singer looks surreal. I'll try to get a tape. Now, the place is getting full. Freak Show plays a homegame and tired organiser Dani turns out to be a true drum-animal. I was never too fond of their 7"ers, but this is totally different. I am a sucker in describing bands and music but this is very energetic and convincing. I guess you gotta see this live. If I understand well, they'll tour Europe later this year. I fuck up a lot of songs during the PCP set but people seem to enjoy it anyway. Later that nite I decide to hit the sack, the rest goes out to party. I "discover" some other painful doorways, especially the one to the roof is dangerous. Some of us sleep outside. It's warm!
Sunday 1998.03.08 (day-off in Fuengirola) We get a phonecall from Cordoba. Opahostil tried to organize an extra concert for us on 9/3 but it failed. But if we're in Cordoba, we can always stay at the local squat. We get another phonecall from Madrid that the extra concert with Sin Dios on 10/3 will happen. Wow! I'm looking for a helmet. This headbumping is no fun anymore and I start to really suffer pain. I begin to dislike this building. I am told this house used to be some sort of a police-office…. for local police that is…
We go to the beach, eat vegetarian bocadillo's, play soccer on the streets or behave like your average tourist only we look different and get guided by two insiders. In the evening we eat pizza on the roof of our temporary home. In the meantime the place is getting filled with friendly people and we salute the night again in the open air!
Monday 1998.03.09 (day-off on the road) We decide not to drive to Madrid in one day but to crash first at the Casa Okupada in Cordoba and do Madrid the next day. We find out we are locked into our home… I experienced this situation before in Germany with Catweazle/Selfish and it was NOT GOOD, especially when you ought to leave. We remove the lock from the door (there was no other way) and free ourselves. We put all the stuff in the van, fit the lock back on the door and are shown the right way to Cordoba by buddies Dani and David.
We arrive in Cordoba at around 7 pm. I phone the Opahostil people, but no one answers. We find the squat by ourselves. This is really big. It looks like a church with a huge annex to it. We have a hard time finding the right entrance. It seems nobody is in. I get uncomfortable because there's a really big police-station next to the squat, and we are already waiting 1 hour next to this building. Finally someone is coming at the door. He seems to be a bit paranoia. It appears he's the only person inside and the squat can get evicted any moment… According to the situation, it is not too smart to stay there any longer. However, he gave us the choice. We decide not to take any risk and head straight for Madrid anyway. After taking another good look inside the squat (it's fabulous), I phone the Fobia local and they arrange for us a welcome-committee at the C.S.O. El Laboratorio at 3 o'clock in the morning!
Tuesday 1998.03.10 C.S.O. El Laboratorio, Madrid SPA (+ Menos Que Nada, Sin Dios) After a couple hours sleep, we finally meet with Txus, our initial contactperson in El Laboratorio. We get a really nice and interesting tour through the squat. Great! They have 2 concertplaces: Al Cielo (Heaven) and Al Infierno (Hell). I prefer Hell (more like a bar, very small stage) but it would be too noisy for the neighbourhood so we will play Heaven (more like a slaughterhouse, very big stage). Around 6 pm, people start showing up to prepare for the concert. I love to see all those hard-working punks! We are too tired to do a soundcheck so Sin Dios does all the shitwork. Thank you very much. I see alot of people coming for this concert. For something organized in 3 days and on a weekday, this is truly amazing! I get to talk with some guys that saw Catweazle play at the Ateneo Libertario de Villaverde. Crazy, I always thought we, this band Agarrate and Angel plus Jorge we're the only people present at that time….
Menos Que Nada was very varied. Ultra fast hardcore but also midtempo punkrock! Very enjoyable. Sin Dios = estupendo. Period. They remind me alot of Seein'Red but musically Sin Dios are much more diversified and interesting. I wish I could understand what they say in between songs. Must learn some Spanish. PCP was chaotic and out of tune. I know, I'm not very objective about our own music but this is a PCP tourreport so what's the use of ignoring your own band. Shit, I see I broke a crash cymbal. I promise…
Wednesday 1998.03.11 (day off on the road) Long drive to Baiona in Galicia. No one knows a place to crash in between Madrid and Baiona so we decide to just drive, see where we end up and eventually squat a building for the night. The road from Benavente to Vigo is going through the middle of nowhere. We drive through some impressive landscapes, reminding me alot of Norway. Holland is boringly flat. Sometimes good for getting a free mind but overal it is too boring. Give me mountains anytime. It looks like we can get to Baiona in 1 day! Some lights on the dashboard start to flicker… We have it checked at a garage. Nothing serious. I pick up the phone again and surprise our contact that we arrive one day earlier. I know it is not usual for bands to arrive too early. We like being an exception. In Vigo (steep roads!) we are escorted to the local C.S.O./squat where we'll have a good sleep.
Thursday 1998.03.12 Tijuana, Baiona SPA The afternoon we spend in Baiona at the sea and the castle. The coast reminds me alot of Brittany. Very rocky with wild waves. The concertplace is a bar and we play solo for the first time. It starts early so we do a quick soundcheck and start off around 8:30 pm! There's quite alot of people. I also see some very young children dancing…. Is this for real? Do I begin to suffer the consequences of serious headbumping? I still feel the pain. We have to stop after 40 minutes because I broke all my drumsticks… After the concert, a large group of punks enter the place. Too late! We get them some drinks instead to ease their pain. Around 1 am we have to head back to the C.S.O. in Vigo. Then those late-comers suddenly start to blame us for playing too early, that it cost them alot of money, blah blah blah… and while we leave, we get the finger and words… Real punkrock!
Around 2:30 am we are taken by surprise by this same group of rockers. They got a lift to Vigo from this tipsy and crazy English schoolmistress; and they all come to bother us some more. I'm lucky enough to have my set of earplugs at hand so at least there is some hours of sleep left for me.
Friday 1998.03.13 C.S.A., Gijon SPA (+ Población Superflua) We check some carbreaking-yards on the way, for a new exhauster but it's too expensive. The road to the C.S.A. is easy. I don't need to call coz I remember it from last time (a beautiful selfmanaged place in a C.N.T. building). We finally meet with our tourmaster and co. Have to get some sticks first before shops close. Cheap! I wonder about prices for cymbals… It's great to see all those friends again – almost like a reunion. P.S. is fun. Sounds very sloppy at times but certainly has it's charm. Not too many people showed up but we all seem to have fun. It's Friday the 13th and I break the rest of my cymbals… Two more crashes and one hiat-cymbal. Fuck, this is going to cost me. After the concert we wait an hour for the C.S.A.-crew. They love to clean. We love to plaster walls. Together we visit some bars and in one place we learn from Uge and co. how to drink cider properly.
Saturday 1998.03.14 Gasteizko Gaztetxea, Vitoria SPA (+ Vertical Smile, Sin Dios) I was looking forward to do this concert alot. It is a benefit for Anarchist Prisoners, kind of Anarchist Black Cross. We arrive in time and meet with Sin Dios and Vertical Smile. In the meantime I have another deja-vu. Well, more or less. This one is concerning cars bumping into eachother. When we played here with Catweazle, we had 2 cars bumping into our brand new but expensively rented van. Plus, another van drove off one of our side-mirrors. This time we bump into another (brand new) Citroen van. Actually, I am to blame… (Hope the owner is not reading this) I give directions to our driver but am totally distracted when I see Pepe offering me the "Alerta Antifascista!" LP. Alerta indeed, because now our van is cutting deep into the left side of another one and destroys a great deal of the back lights. We look around to find the owner but no luck (for him/her). After getting some drinks, we see the van is gone. Probably all-risk insured?! Our van has only small damage.
Inside, they show a video about prisoners and hungerstrike. I wish there was someone to translate but Sin Dios are vanished. I meet with Inaki, organiser for our next and last concert in Bilbao tomorrow. He explains a bit about the video. There's coming more and more people. I hear Corazon Negro can not make it because yesterday his (this band is 1 person) squatted house was set on fire by nazi's. When Vertical Smile starts to play, it is full in front of the stage. This is a weird band. Songs sound like Unity/Uniform Choice, then like total punkrock and typical NYHC or straight forward old-school hc…. pfff, I already mentioned I'm not good in describing bands. Can't wait to hear something new from them. PCP plays second. There's a big crowd in front of the stage. We begin to feel like rockstars and put on our sun-glasses. Suddenly we have a seventh bandmember hopping all over the stage and stirring up the crowd. I don't know what to think about it. After our concert, I run into alot of old friends – they come from all over: Bilbao, San Sebastian, Valladolid (hello Urbano!), Zaragoza, Madrid and even Bordeaux!! Impressive. Then it's time for Sin Dios. Now I see they are quite popular. Everybody's singing along and they also have an extra member on stage… Actually, it is the same person we had but now she is doing some serious shitwork as well, like putting the syndicalist flag up. After 30 minutes they get another member. This one is different. She is very present and physical. It's obvious she loves the band… Nevertheless, Sin Dios are totally convinced and very combativo. Petje af!
At 2 am eat dinner, talk alot and say goodbye to Pepe. Off to Josu's place and have some sleep.
Sunday 1998.03.15 Gaztetxea, Leioa SPA (+ Restons Sobres) Last day of the tour. We have a shower (finally!), make some hot food and watch the Guindalera video (Super-Okupados!). I feel like reborn (before, I felt more like Super-Kostra) and we drive with Inaki to the Leioa Gaztetxe. It is a very nice place, almost like a barn, just outside industrial Bilbao. We unload the van and we meet with Alberto from Vertical Smile to pick up his vocal-equipment. We also meet with old friends Javi MRHC, Txakoly and a couple others. Cool. Back at the Gaztetxe, we see another band will play. Not too many people show up but some bunch from Portugalete do (hello Javi!). Restons Sobre is great. Lots of catchy and fast songs. What to say about PCP? It was the last concert. We have to go home again…sob. But first, listen to a local, singing A Las Barricadas out loud (but straight from the heart) and we preepare for dinner at 3 in the night. Also I hear old Dutch band Disgust (1984) coming out of the loudspeakers…. crazy! I'm sure I will miss all this shit when we're home.
Monday 1998.03.16 (Nantes) Long, long drive. So far, we have had no difficulties at or around the borders at all. We arrive late in Nantes but get welcomed by Romain and Bolzer. We get warm (!) food at 1 am and a good place to sleep.
Tuesday 1998.03.17 (home) This is definitely the longest drive I have ever done in one day. At 8 am, the day starts promising: we cannot start the van – the battery seems to be dead. After 30 minutes we find a friendly car-driver to help us out. It works! We drive and drive and drive and arrive around 1 am in rainy Groningen. Back home again. I hope to go back sooner or later, with or without a band.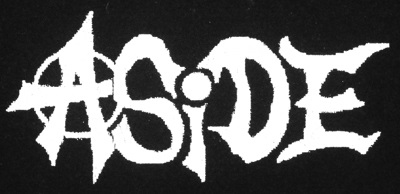 (Groningen, The Netherlands & Rennes, France)
NO I.D.
Rommert Pleijsier – guitar
Pelle Lodder – drums
Eva Oling – vocals
Iris Van Doormalen – vocals
Wienand – bass
+ Ralf – beerroadie
Anjel – roadie, shitworker
Michael Kopijn – driver, shitworker
ASIDE
Pierre – bass
Guéna – guitar
Sophie – vocals
Phil – vocals
Gilles – drums
Wednesday 1998.07.22 Groningen – Luxembourg We arrive in Luxembourg on time for a change but after 1,5 hour of waiting and some phonecalls it turns out it is the wrong day… We search for a sleepingplace in a forest.
Thursday 1998.07.23 Luxembourg – Saint-Étienne The weather's getting hot. Wienand injures his knee. Around 20.00 we get picked up by Denis, Thierry and Yann in the L'Entrepots. I'm really glad I brought a mobile telephone! We stay at Thierry's place and make food, fool around and sleep on the cool balcony.
Friday 1998.07.24 Saint-Étienne – Girona When we arrive at the La Fleca squat, we see the building is no more. It was demolished just a few days ago. We meet with Jordi the organiser and Aside who came with 2 cars instead of a van. This will definitely going to cost! And one of the cars already broke down… Jordi can put us on one of the festivals in Salt but it starts at 2.00. We decline coz we're too tired. Jordi and co. are going to make food and drop us off at some nice swimmingspot where we spent 2 hours in the water. After the great dinner we go to the sleepingplace. Some of us go to the fiesta where also a punkband is playing.
Saturday 1998.07.25 Centre Cívic La Fonteta, Sant Feliu De Codines SPA (+ Dios Odioso, Protesis) The concert of today is moved from Castelltercol to Sant Feliu De Codines. Wienand got a tick and Aside goes to look for a garage. It's getting really hot. After difficulties to park the van, we spent time at the sea. At the concert venue we meet organizers Pau and Dani. The French car got a ventilatorproblem because of overheating. Hopefully it can be fixed soon. The first band plays alot of covers but it's very sloppy punk. Next band sounds alright but plays too long. Aside and No I.D. deliver. This is a benefit for a small local radio station where we also sleep. Food is organized within 30 minutes and we eat at a beautiful long table. We get explained where the next gig is.
Sunday 1998.07.26 Can Cabrit, Sant Antoni De Vilamajor SPA (+ Outcry)
We explore the village, Pierre practises his Spanish and we decide to escape the heat and visit the sea again. When we return, they tried to enter our cars forcefully and destroyed some of the locks of our van but also from the French car. At 18.30 we arrive at the concertplace which is a farm with some sort of concertbarn. It's swarming with Dutch speaking people and Djembé's… Here we also meet Pablo, Chuto and Outcry who just came from the recordingstudio to record for their first release. During dinner I meet organizer Ricard aka Sisa. We have to pay for the drinks which are quite expensive (2000 ptas). Aside crash at Ricard's place in the mountains who helps them with getting their car back. We will reunite in Barcelona.
Monday 1998.07.27 off We take most stuff of Aside and dump everything at the Ateneu in Badalona. We meet with a totally trimmed organiser Italiano/E-150 and go into the citycentre. We visit the Outline shop of Boliche/Subterranean Kids where we also meet Beni/E-150, some drumshops, El Lokal to spend more ptas and the 4 Pasos Café where we got delicious vegetarian food. On the Ramblas we run into genuine naziskins. We just get on the last metro to Badalona and sleep on the cool balcony of the Ateneu.
Tuesday 1998.07.28 Ateneu, Badalona SPA We get vocalequipment. Yesterday Pelle bought a new cymbal and he went tot he Barcelone footballstadium to buy a shirt. We spend time again at the beach and I get burned. At the Ateneu we make dinner with Italiano and have fun with the tablefootball. There's cops at our van but nothing too serious. Aside arrives and their car is fixed! We stumble upon Matthias from Emden who's here with 2 friends. Abraham/E-150 and Boliche with foreign company are around as well. We'll sleep again on the cool balcony.
Wednesday 1998.07.29 Atzavara Club, Sant Feliu De Guíxols SPA At 15.00 we leave for Sant Feliu and pick up organizer David from a gasstation. Later we also meet with Jordi and his friend. Since it's hot again we find a beach again but this time the water is heavily polluted. Wienand hurts his arm badly. It seems he is cursed. We get very good Pizza for dinner because David works for a Pizzashop. At the concertplace we get bad sound. The crowd is into windmilling with a helmet! A Czech person is collapsing and too drunk to stand up. All he wants is to sleep. Before the stage. During No I.D. the cops keep active outside where people also put up tents. All the languages are getting to me tonite.
(This diary is partial. Pierre/Aside also wrote a (complete) diary which can be read here)

(São Paulo, Brasil)
Jeferson Bem – bass
Fabio Rodrigues Sampaio – vocals
Marcos Alexandre De Abreu – guitar
Andre Carvalho Do Carmo – drums
+ Fabio Springer Mesanelli – shitworker
Michael Kopijn – driver, shitworker
Eva Oling – driver

Saturday 1999.09.04 Vrankrijk, Amsterdam (+ Boycot) Olho Seco arrive at 13.30 on a very hectic Schiphol airport. We arrive around 14.00 but no Olho Seco. We check several infopoints but without any outcome. We decide to return at 18.00 when another flight from Sao Paulo will arrive. Hmmm. We go to Edwin/OCCII to help pick up the backline and P.A.-equipment for the concert from the Entrepotdok squat. It's chaos in the streets coz exactly on this day there's the "Bloemen Corso", somekind of parade of "flower cars". At 17.30 Eva is going to the airport by metro coz we cannot make it in time with the van. I'm glad we have a mobile-phone coz we got a call from Schiphol to tell us Olho Seco arrived! However, there's 4 suitcases missing. At Schiphol, we meet the band, 5 in total. The persons and their English: Jeferson, who speaks English best; Fabio, the singer who doesn't speak a word; Marcos, the guitarplayer, who speaks just a little bit but seems to understand more than Jeferson; Andre, the drummer, who tries hard; and Fabio S., the roadie, who speaks pretty well. They don't feel the need to explain to us what happened with their original flight. Actually none of them talk too much. I guess it must be the jetlag coz the flight was around 14 hours.
We see the concert is a benefit for an imprisoned Greek activist who put a bomb at a ministery. I ask them what they think about this coz in one of our last letters they condemned the killing of a nazi by an anarchopunk in Sao Paulo. Somehow they don't take it in. Boycot arrives from an afternoon concert in Dordrecht with the radio loud and clear on a football game: Holland vs Belgium. I already wondered why it was so quiet in the streets. Mucho people show up for the gig and I see lots of old punks, probably looking for some nostalgic moments. Boycot impress me. Frantic stop and go hardcorepunk. Definitely one of my favorite Dutch bands. During Olho Seco there's alot of dancing and good mood; not so usual for Amsterdam concerts. Great! Fabio S. almost got thrown out coz he is videotaping the concert which is forbidden. As is taking pictures… It's one of the policies to avoid getting activists on video/camera. Around 4.00 I hit the sack while the cruel technobass on the afterparty shakes the whole house.
Sunday 1999.09.05 Café De Engel, Den Helder (+ Prunella Scales) (Afternoon) I get knocked up by the mobile phone at 9 am. They're bringing in the missing suitcases from the airport. Duh! Two concerts this day. Den Helder is a small city very popular with marines coz it has a naval base and is situated in the top of north-west Holland. The concertplace is a cosy small bar with no stage. They often do concerts here and atmosphere is usually very good and informal. It is beautiful weather so we check out the sea and walk on the dikes. Back at the bar we meet Mike D. of Tuco Ramirez and Billy Boycot. Prunella Scales is good punk in the vein of old SF surf/skatepunk like Adolescents, Agent Orange… Cool. Fabio goes nuts with the mikestand. The small crowd and Mike, the barowner loves it. At around 20.00 we start driving to Utrecht for the second gig.
Sunday 1999.09.05 Kortsluiting, Utrecht (+ Insult) During the drive, Eva argues with Mike D. about "Kraakwachten" (literally: squatguarding). We arrive late. The Paria organizers are worried but glad to see us after all. Suppository canceled and Insult is already playing so I hurry to get a glimpse. Kinda Infesty. It's a very small squat (2 years old) in the Lombok neighborhood of Utrecht. Nice concertplace, stageless. More like a living-room. Not many people here, but of course Richard/UPS and the Wilco/DP are present. I tell Richard about the PCP fuck-up on his first 7" EP. Our song was mispressed and sounds way to slow. Also the pressing of our side is not a circle but an oval resulting in an additional whining….arghhh! So BEWARE of this pressingplant in Belgium. Andre has to improvise coz some essential drum stuff like a hiat-stand is missing. We sleep on a big squatted (formerly) military complex/training ground with loads of barracks in Austerlitz. Very impressive.
Monday 1999.09.06 crashing in Amsterdam We stay at Edwin's place, a nice squat in the neighborhood. We visit the Independent Outlet shop where we meet owner Aziz. He remembers Olho Seco from the early days and regrets having missed the concert. We eat Falafel at the Maoz and end up in the Ratjetoe squatbar to meet some old friends and see hilarious videos.
Tuesday 1999.09.07 crashing in Amsterdam Another day for exploring the city. Jeferson does all the important or necessary communication with us. Marcos is constantly teasing Andre. At times they punch eachother real hard. Hmm. We visit Distortion Records. A very nice selection with loads of rarities but for high prices. Back on the street, Fabio shows a Golden Earring LP he bought for hfl 2,50 We check out some other stores, Fabio S. buys DM's on the Waterloo Market, eat more Falafel, and finally the band indulges themselves in a souvenirshop.
Wednesday 1999.09.08 crashing in Amsterdam It is Edwin's birthday! Olho Seco is going to the Arena Stadium (home for Ajax Amsterdam), we make a walk to the docks. In the evening there's a nice birthdayparty in the house.
Thursday 1999.09.09 Kopernikus, Hannover GER In the morning we zombies are waved goodbye by Edwin & Enrico (who lives in L'Hamsa, Barcelona). In Hannover we get welcomed by old friends DK, Atilla and Pank. OS get radio interviewed by Lucky and Björn Fischer. Since they're rebuilding the city because of Expo 2000, the punx get a house just outside the citycentre called Jedekamphouse. There are living 10 people and 10 dogs. We get terrific food and around 21.00 we go to the Kopernikus. The gig is improvised last second, because it was supposed to be in Mühlheim. We notice there is no backline so we get one pretty fast. Around 70 people show up and the tiny place is packed. It's a total pogoparty and beerthrowingbonanza. After the gig we hear about the heavy splitscene between the punx and the autonomous people.
Friday 1999.09.10 Südanlage, Giessen GER (+ Rasta Knast) DK and Atilla travel with us and they tell us plenty about the Hannover situation. In Giessen we meet with Sascha the organizer and Holländer. A lot of people show up despite the Mühlheim fest. Rasta Knast plays very catchy lalalacore in German language. Göran, old singer for Swedish band SOD, tells us all about boats to Sweden. Olho Seco plays all the classics and after the gig I have my first shower.
Saturday 1999.09.11 Onkel Otto, Hamburg GER When we arrive we see the concert is moved from the Rote Flora to Onkel Otto. There's also 5 punx (Lucky is one of them) from Hannover who show us the way. There's a lot of football hooligans on the streets because of a game against Hertha BSC. We also meet up with Pogo Paul, Jens and Scott who does shitwork for Neurosis. At the small concertplace, there's no backline. Vanchy the organizer is doing everything on his own so he gets pretty stressy realizing the street is totally broken up and it took us 2 hours to get a backline. Nevertheless it's fullhouse with a lot of old punx and a good ole pogoparty. We crash at Scott's Place.
Sunday 1999.09.12 Eldslandet, Jönköping SWE (+ Força Macabra, ENS!, Zombified, Selfish) Get up at 7.00 and arrive at 19.00 where we see the Finns first who are celebrating the end of a 3-day fest. When we enter the rather big concerthall with two obligatory bouncers, there's just a few people left and Selfish, with a new bassplayer, has to play. The sound is awful. During ENS! we meet Jonne (ex-Dom Där, War Collapse, Tolshock) the organizer and outside, Jefersom checks all Portuguese lyrics for Força Macabra. A rather amusing scene! The Finns already played two days ago but they wanted to meet Olho Seco so they travelled to Jönköping again. Zombified plays sloppy punk and Força Macabra is impressive and fast! During Olho Seco, the Finns go crazy. We get offered a lot of moonshine, homebrewed wine (50% alcohol) in 4 liter jerrycans. We sleep at Janne's place, who's drunk the Swedish way and loses a good deal of the doormoney. The Finns travel back to Stockholm and take the (infamous) ferry to Finland. Oh, and we got stopped at the German-Danish border with an officer that just wanted to find something in our Dutch van. I was glad they used a drugsdog but everything you said, was suspect so it took ages to continue.
Monday 1999.09.13 Ungdomshuset, Kalmar SWE (+ R.E.A.K.T.O.R.) We have time to relax in Jönköping and get lots of info from Janne. Before we leave we go for a good falafel and pizza. And we discover Fabio S. is all about neatness and organizing the tourvan. Crazy 2-way roads through endless woods that are used as 3-way. We arrive at the cultural youthcentre with a huge concerthall. There's mostly young people and we get guided around by Tommy on one crutch, also known as "The Oracle of Kalmar". Threequarters of the youthorganisation are punx. It is forbidden to use drugs or alcohol around the place but nobody seems to bother. Tommy also shows us the beautifully Kalmar castle. We meet wih Dem who has a studio near Kalmar where most bands are recording. During R.E.A.K.T.O.R. there's quite a lot of people but when Olho Seco hits the stage, about half is gone. Needless to say, reactions are low but Tommy is enthusiastically waving his crutch. We crash at his place which is some sort of commune existing of about 10 people.
Tuesday 1999.09.14 Ungdomshuset, København DEN (+ The Headfall Attitudes)
We always sleep in the van and we get woken up by people inspecting our van. They don't speak Swedish. We decide to keep calm. Later we find a card with a telephonenumber on the windshield asking if we'd like to sell the van. An hour later Tommy is getting us for breakfast and a very informative walk through the rather beautiful and ancient city plus we get to see all the punk hangouts. The Brasilians want Vikings.
We arrive early in Kopenhagen. The Ungdomshuset have a lot of problems with the city/municipal. They're busy refurbishing and paint the building. Especially the front of the place will be painted a lot more neighbourhoodfriendly but its future is still very uncertain. Headfall Attitude is already soundchecking in the beautiful and big concerthall. We'll go to play tablefootball against the local professionals. Diego (ex-Jaded) the organizer tells us all about the rich history of the building. Eventually 20 people show up. Too bad.
Wednesday 1999.09.15 Dornbusch, Mildstedt GER (+ Irrenoffensive, Rasta Knast)
We get woken up by the band. Turnaround world coz we're used to wake them up! We explore the city, end up in a 2nd hand recordstore and leave a bit too late. We arrive around 20.30 in Hüsum and are welcomed by Höhnie and Martin of Rastaknast (who started with the O.H.L./Emils drummer) and Jens aka Krete the organizer. When we arrive at the concertplace, a fantastic designed Café annex Discotheque, there is no people. We fear the worst but at 22.00 it fortunately fills up. We get food at the bar but the one serving is very unsympathetic and does not want to cook vegetarian. Irrenoffensive play a lot of covers and during Rasta Knast our friend Pogo Paul is definitely warming up. When Olho Seco plays, most people have already gone but the atmosphere is still good. After the gig there are interviews with a local newspaper and Plastic Bomb. When we talk with the Dutch owner of Dornbusch, he tells us this is the last concert before the whole place gets knocked down. I meet an old penfriend from the 80's, Karl-Heinz from the Scapegoats.
Thursday 1999.09.16 Køpi, Berlin GER (+ Crude B.E.) Sleep long and the Plastic Bomb interview is continued. We get the first rain of the tour and we say goodbye to Höhnie and Co. We arrive at Köpi around 21.00 but there is no backline which is fixed in no time. The food is excellent as always and we'll talk with Ilja. Talk a lot. We also meet with Schotter and Ainstain plus Sarah. The place fills up pretty quickly and Olho Seco seems to sell a lot of merch. Tonight I'm filming quite a lot for the band probably also because the organizer Herne and most people from the house know me.
Friday 1999.09.17 Zoro, Leipzig GER (+ Aurora, Kafkas) We'll explore Kreuzberg and visit Coretex and Fettecke. Checked email and let the Brasilians use my mobile. We find a good and cheap musicstore and I buy a cymbal. Before meeting Herne and eat Falafel, we check the (former) Eastwall. We leave at 19.00 to avoid any trafficjams and arrive around 22.30 at Zoro which is OK. We get brilliant food and meet with André the organizer, the other bands and old friend Lenin (Los Crudos). Aurora from Hungary is already active since 1983! Kafkas started playing and is lalala-punk. They sell longsleeves for 45 DM! Aurora plays uptempo lalala-core with a trumpet but unfortunately without any conviction. Around 3.00 Olho Seco finally hit the stage and there are still a lot of people. Some are here already for the upcoming fest. At a tapedistro we meet Borut from Kranj again and we hear the concert for the following day in Regensburg is canceled.
Saturday 1999.09.18 Zwiesel-Passau In the morning I start to call for alternatives. André is cleaning up on his own coz everybody is preparing for the fest. Maybe it is possible to get added at an existing concert in Zwiesel but there's no certainty yet. We decide to go for it despite the very long drive on small roads. We arrive at 23.00 at a full concerthall with people going nuts. But where are the punx? This is more like a mainstream gig and we see a band called Jimmy Eat World on stage… Needless to say, Olho Seco can not play. We meet with Franz/Revenge and the Veggiecide crew and crash at their place in Passau which is more than an hour drive.
Sunday 1999.09.19 E.K.H., Wien AUS (+ Ems) We get a good decent german breakfast and arrive around 17.30 in Vienna. We meet with organizer Tibi and Tanya/Gate Of Hell who is managing and driving for Phobia from the USA but she has problems with her LT van so they're gonna start a 12 hour drive to Dortmund. With Potti we remember the crazy Risotto days with Ação Direta only 4 months ago. Actually, the house received another 200 packs… After dinner we're found at the footballtable again. There's about 50 people showing up for the gig. Jeferson needs to borrow a bassguitar coz his one is broken. We'll stay another day in Vienna and go to Koper on the 21st. Andre the drummer is busy learning german.
Monday 1999.09.20 crashing in Vienna Tibi especially opens his Sacro Kabalismo shop for us. We go to a guitarshop to repair the bassguitar. We explore the citycentre, buy presents for the families back in Brasil and eat pizza outside the centre because prices are insane. I get a phonecall from Arijana that we need to get in time for the next gig in Koper.
Tuesday 1999.09.21 M.K.C. Truck, Koper SLO (+ Mlodrazi) We leave early, get stopped for only 15 minutes at the border and in Slovenia the rain disappears while it gets warm and we enjoy the delicious vegetarian sandwiches from the patrolstations We arrive at 18.45, 45 minutes late and the first thing we see is Arijana fingerpointing at the clock, hahaha. It's very nice to see the rest of the crew: Thomasz, Enzo/No Limits (who is doing the sound), Marco and Dennis the foodmaster. Marko Brecelj, the director of the M.K.C. (Koper Youth And Culture Centre), and 4 others were in Maribor and did a balloonaction at a speech of the pope. During every applause, they let up balloons. The truck is at a nice location along the sea and when Eva goes for a dive, everybody is shocked. Mlodrazi from Croatia plays somekind of metaljazz. Marko announces the band. Usually this takes about 15 minutes but somehow he now takes much shorter. There's about 30-40 people. Fabio destroys his voice and we won't hear him for the rest of the day. Food in the MKC, tablefootball, checking the musiclibrary and they take 13 CD's!
Wednesday 1999.09.22 Metelkova, Ljubljana SLO (+1) Enzo waves us goodbye and we buy as many vegetarian sandwiches at the gasstation as possible. We arrive 45 minutes late again and meet with organizer Tina. We're led straight to an interview with Goran/Apatridi for a student radiostation. One caller asks if the band is also making riots in Brasil. He earns a CD. Tonight is European football again: Maribor-Bayern Munich so people in the house are desperately trying to repair the TV. I get a crazy punk from Barcelona in the concert and the hall quickly fills up with people. Maribor loses 2-0. Olho Seco gets the room going and Goran tells me Apatridi already played a couple concerts in the Netherlands. Fabio keeps his throatproblems. Normally they play 2 times a month in Brasil, now it's more or less every day so no surprise.
Thursday 1999.09.23 C.S.A. Via Volturno, Udine ITA (+ Entropia) After exploring Ljubljana we depart at 16.00. At the border we have no problems but we take the wrong way and lose one and a half hour. I phone the Hellnation shop in Rome for help because I have no phonenumber or address for the concertplace. Eventually we get picked up by Giulio/Cripple Bastards and the Entropia crew. The organizer recognizes me from the Selfish tour in 1997 when we were here as well and he points me to the Catweazle stickers I put there. I make sure to put some PCP ones there as well. This is one of the oldest squats in Italy, already going for 11 years. With Selfish it was rather peculiar because on one side lived the communists and the other side had the anarchists. The latter organized the gigs and always borrowed the backline from the commies. But this time they had a fight and obviously we/they had a problem… The gig start at 23.30 and Entropia sounds like a cross between Los Crudos and Indigesti! We hear the gigs for Milano, Firenze and Roma are canceled. Fortunately it's possible to make another concert in Torino. The concertcellar is filled pretty well and the crowd goes crazy when Olho Seco plays. I film about 20 minutes, Andre has bassdrumpedalproblems and Fabio's throat is still hurting like hell. Nevertheless the band parties on until 5.00.
Friday 1999.09.24 day off at the Blackout Festival, Torino ITA (+ Skarface, Rimozione Koatta) Milano canceled so we leave for Torino at 14.30 and arrive at the Blackout Festival around 19.00. After some food (hideous Falafel with celery) we check out the first band, Rimozione Koatta, a pretty bad skaband. Giulio checks our sleepingplace for today but is constantly placed on hold or redirected. Around 2.00 I'll sleep in the van and at 4.30 there's finally someone getting us to a sleepingplace. It's a hectic ride driving after a couple drunkdrivers who go too fast and ignore red trafficlights. We end up in a 3 year old squat called Cascina Pellerina, in the middle of the biggest park of Torino. It's like a scene in a horrormovie. I'm approached by someone who points at my Sin Dios shirt and tells me she saw them in Mexico.
Saturday 1999.09.25 Black Out Festival, Torino ITA (+ Retarded E Semprefreska, Entropia, Songs For Emma) At a local supermarket Eva crashes with her leg rather hard with a shopping cart. She gets a fever, gets very nauseous and needs to vomit… I go with Entropia and Dio, their beerroadie, to the big and beautiful recordshop of the Crunch guitarplayer. When we return to the festival, all bands have arrived and we set up the distro. Andre successfully repairs his pedal and we go eat some in a local squatbar where a tolerated nazi is harassing us. The inhabitants are sheepingly laughing. Back at the Festival we see a big turnout. Entropia plays first, followed by Olho Seco. I film on stage but the 500+ crowd is reacting kind of indifferent. Songs For Emma (with ex-Strawman guitarplayer) is pretty boring and R+E is somekind of a Ramones rip off. We get harassed by the nazi again and this time he brought skinfriends… Fortunately they only spit at us. We crash at the van with half of the band and at 5.00 we drive to El Paso. The place is already full so we end up in the horrorhouse again. Dio stays at El Paso to party more and Giulio with Valerie already traveled back early to their hometown Asti. Eva stayed the entire day in bed in the van coz she feels pretty sick.
Sunday 1999.09.26 El Paso, Torino ITA (+ Entropia) The concert of today starts early at 18.00. Olho Seco goes into the citycentre and want to visit Torino-Inter. I and the Entropia crew visit a Pizzeria, we see busses full of hooligans with police escort and return at 16.00 at El Paso. The concert will start later coz no one shows up. Me and Roberto/Entropia are the kings of tablefootball and win everything. Eva takes mud-baths for her foot/leg but it keeps swelling. Entropia starts around 20.00 but the room is still as good as empty. Nevertheless they play a relentless set. Olho Seco keeps it short because Fabio's throatproblems are getting serious. We say goodbye to the Entropia crew and Fabio starts gargling with water.
Monday 1999.09.27 off At 8.15 Olho Seco take a train to Milano to do some serious sightseeing. We hang out at El Paso where everybody is very helpful because of Eva's trouble. We get invited for dinner in the garden, and get a delicious meal from mastercook Andrea and his help Bobo. In the meantime, out of the dark come 5 crazy jumping and screaming Croatians. Around 23.00 the Brasilians return. Jef lost his addressbook and me and Marcos make a dreamteam at the tablefootball.
Tuesday 1999.09.28 off We decide to go to the hospital. It takes a lot of time and money to check our insurance and get with public transportation to the hospital. After 2 hours she is thoroughly checked but there is still work to do so I wait the rest of the time outside. It's quite chaotic in this big hospital. Eva's having an infection in het foot and gets antibiotics. We get back in time for yet another great dinner. Andrea cooks for the house (with about 8 inhabitants) almost every evening. This time it's a biological vegan salad with pasta and potatocake. They're building a big special bath which we will check out next time. The shop inside El Paso gets especially opened for us because Olho Seco wants to make some trades before leaving.
Wednesday 1999.09.29 off We get up at 8.00 and Fabio tells us he can't get the rest moving. I get to blow my whistle (always good for this and getting a crowd in action) but I also wake up those crazy Croations…. We finally leave at 10.00 and from a telephonecall with Boliche, I hear Barcelona is canceled. We decide to drive to Zaragoza, eat on a parkingspace and sleep around 00.30 at the Spanish border.
Thursday 1999.09.30 off at Ateneu Libertario, Zaragoza SPA (+ Dir Yassin, Y) We drop off Olho Seco in Barcelona and we continue to Zaragoza. We hear there's a gig in the Ateneu and meet with Jörn, the supercook from Potsdam! It appears he's on tour with Dir Yassin and Y. The latter is playing their last songs and we greet Soria and Budi. There's about 20 visitors in the small cellar. After the gig we all go to the Arrebato club where we meet Xabi, working behind the bar. Everybody asks for Anjel. Normally she is often with us on tours but not this time.
Friday 1999.10.01 off at Arrebato, Zaragoza SPA (+ Songs For Emma)
We visit Budi's new and rather professional t-shirt shop called Simbiosis. Until the evening relaxed with a lengthy shower and a stroll in the park. In the evening is an anti-fascist action against a nazi-skin shop. Unfortunately it's leaked so we expect a lot of police. The shop is protected by 5 vans of cops against 50 of us. We're on the other side of the busy shoppingstreet and in 1 hour we unroll a banner, distribute flyers and yell slogans. Afterwards we go to Arrebato to see the boring Songs For Emma. We hang with the members and their guiarplayer works for Mordam. Also one of them knows Anti/Stipjes from our hometown and ex member of one of Eva's bands.
Saturday 1999.10.02 C.S.A. Entropia, Zaragoza SPA (+ Kanzer D'eskroto) This day is for sightseeing and at 16.00 Olho Seco arrive at Entropia. We eat at Budi's place and go to Entropia at 20.00 where we meet the rest of the crew (Soria, Davide and Susana). Budi tells me there's 6 people working at Mala Raza. Tonight there's also concerts in the Ateneu and Arrebato so I hope some people will show up. Kanzer D'Eskroto is good catchy punkrock and I'll talk with Chuchi/El Corazon Del Sapo about their upcoming European tour organized by me.
Sunday 1999.10.03 Etxebeltz, Bilbao SPA (+ Parasite) We arrive at 17.00 at Etxebeltz and see they don't have a backline. This is kind of improvised concert with only 10 flyers but the concertroom eventually fills up. Me and Eva join Felipe & Iñigo in the rehearsal (in the same place) to play abit. We meet with the Israeli's who ended their tour and Suicida's Distro is also present. The atmosphere is really good and we meet a lot of old friends (Javi, David, Iñaki…).
Monday 1999.10.04 off in Bilbao We eat in the afternoon. At 18.00 we go to visit Bilbao with Felipe and Javi and visit the D.D.T. shop and the Kukutxa squat which was a huge 4 store factory. It's a great coordinationpoint for the squats/Gaztetxe's in Guipkuzkoa. About 10 people are living there. Later that evening we get some food and bring Felipe home.
Tuesday 1999.10.05 Bar La Abuela, Burgos SPA (+ Aborginaal) We arrive early in Burgos. Before dinner in a bar, we explore the beautifully middle-ages city. I meet a guy who designed the Irish pub in Groningen. The concert begins at 00.30 and Aborginaal plays original punkrock with a lot of voices. Olho Seco starts at 2.00 and around 4.30 we drive to the sleeping.
Wednesday 1999.10.06 Club De Juvenil Villa, Llangreu SPA (+ Escuela De Odio)
We arrive at 17.00 in Llangreu but the place is difficult to find. We find it at after 1 hour of driving and asking around. We meet with organizer Pirri/Escuela De Odio, Oscar, Payo, Uge and Carlos. We have dinner before and after the gig and I'll get to hear stories from Uge about the E-150 US tour and Battle Of Disarm tour. Escuela De Odio is impressive and Olho Seco plays for a great crowd with a lot of movement.
Thursday 1999.10.07 off to Lisboa The Villa cleaningcrew take their work serious. After breakfast we get a lot of food and goodies for the long drive to Lisboa. It's mostly small roads so after a 14 hour drive, we arrive at 3.00. At the squat, after 15 minutes of noise we wake some people up to let us in.
Friday 1999.10.08 Bar Bafo De Baco, Loúle POR (+ As Good As Dead) Finally everyone is awake at 12.00. João/As Good As Dead, the organizer and Guillermo arrive in a van to pick up the backline for tonite's concert. It's a 3 hour drive to the small tourist city in the Algarve. It's a bar with a huge stage and a lot of Heineken commercials. There's no food so we cook something ourselves. Eva recognizes João when he was singing for Subkaos and lived in Gent for a while. We met him in the kitchen in Ieper during a Fest in 1996. The entire city youth is showing up. As Good As Dead play sloppy straightedge vegan metalmosh. With Olho Seco it's full house and a lot of singalong and because of no language barrier anymore, there's a lot of participation. At 4.30 we drive 50 km to our sleepingplace in Albufeira. They rented a very nice holidayhome for us.
Saturday 1999.10.09 Bar Santa Suzana, Aljezur POR (+ M.A.D., 12 Bucks) We depart for Aljezur around 16.30 and eat at a restaurant along the way about 5 km before the concertplace. The concert is free and the place, in the middle of nowhere, belongs to English pensionados. It gets crowded. We meet organizer João/Ataque Sonoro and Raatus who was in Groningen one year ago. M.A.D. plays funcrust. 12 Bucks is terrible out of tune lalala-core. After Olho Seco we drive 250 km back to Lisboa on small roads. The car we follow is almost out of gas and all gasstations are closed. Eventually the driver freaks out and starts to ghost drive on the highway…. Fortunately we find an open gasstation at 5.45. Funny enough we see a car full of punx we know. It appears they were out of gas and pushed the car to this place but they are already 20 min waiting because the pumps are not working. Around 7.20 we can finally get gas, say goodbye to João who was in the car and at 8.00 we arrive at the Lisboa squat.
Sunday 1999.10.10 Kasa Praça Espanha, Lisboa POR (+ Reltih, Simbiose, Luv Da Xit) This house has been squatted for 2 years now and is more of a "workingspace" than a concertplace. The cellar is kind of small and has a big Boumann's vibe. Olho Seco is up early to pack up for their departure back to Brazil. Realtih is supercrust, Simbiose plays a sort of skacrust and Luv Da Xit plays good ole hardcore. Olho Seco gets the place going including a lot of fingerpointing. Marcus kisses his Portuguese shirt and they hand out autographs. A perfect ending of the tour for the band! We talk a lot with Rafa who has its own shop in the city which we will visit in the upcoming days.
(Amersfoort, The Netherlands)
Paul Van Den Derg – guitar
Olav Van Den Berg – drums
Jos Houtveen – bass
+ Theun K. – shitworker
Roger NBH – roadie
Michael Kopijn – driver
Eva Oling – driver
In their 12 year existence, Seein'Red has only played 2 times in Spain before. That was about one year ago when Manliftingbanner did their reunion show in Barcelona. They played an extra, surprise-show, in Badalona as well. With Lärm (same line-up minus the singer) they have toured Euskadi and one concert in Barcelona in 1986. Ironically, this (rather short) tour doesn't include Euskadi, much to the indignation of the people there. 
Thursday 1999.12.23 (drive to Amersfoort NL) 9 pm departure from Groningen. 2 Hour drive to Amersfoort. 30 minute search operation for the Marx Brothers residence. We are welcomed by Paul, Olav and photoman Theun K. Around 12 a very ill Roger, another photographer, enters. He's determined to come along. We cram him with aspirine. We sleep in the van to accustom to the bed. It's noisy in the streets. People throwing fireworks under cars.
Friday 1999.12.24 (drive to Bordeaux FRA) Get knocked up around 7 am. Take a breakfast, load the van with the backline and drive to bassplayer Jos. He injured his knee last week and they cancelled last weekend's show with Catharsis to spare him for this tour. He dramatically appears with 2 crutches… At the Dutch-Belgium border we take the first of many to follow coffeebreaks. The van is constantly slowing down because of the strong wind. There's also lots of dangerous squalls. We arrive in Bordeaux around 3 am. Nice-Guy Erik made us some warm food which we save for breakfast.
Saturday 1999.12.25 C.S.O.A. La Nevera, Madrid SPA (+ Sin Dios, Menos Que Nada, Lesser Of Two, Katastophobia) We slept 4 hours, have a quick breakfast and arrive in Madrid around 8 pm. The concert is a benefit for Encuentro Libertario in Brasil and Jar in Mexico. The squatted place is a gigantic hall, like a factory-site. I see friends from all over Spain. It's incredible how far people travelled for this concert. Sin Dios starts. The acoustics and sound is weird. After a while it gets better (there's 6000 watt soundequipment!). During the concert I start to feel sad. This is the last concert I will see with Pepino, the bassplayer. On monday they will do the last one with him in Lisboa. Too bad. Eva sings a Dirt-ish song along as well. After Sin Dios we go upstairs to get supper. SR gets interviewed. I regulary stumble upon a beheaded Roger. It's quite cold in the squat and he's totally wrapped himself up including his head. It looks bizarre. And then he's even wondering why all the concert people look strange at him…. I see a short piece of the Menos Ke Nada set. Catchy. Whenever a Dutch band is playing in Madrid, you can bet they will play as well. Katastrophobia has an horrible sound. I guess I prefer to see them in a smaller environment. I escape to the van to make some hot coffee. Eva and Roger join in for some tea. When I return, Lesser Of Two is playing. SR set up the merch stand and it is crowded. I'm sure lots of people are interested coz not too much of their material is distributed well in Southern Europe. It's late, very late when SR enters the stage. They all wear the Sin Dios "Guerra A La Guerra" shirt. The talks in between songs are in English. I guess mainly the "foreign" people understand it. There's usually a big difficulty in Spain concerning communication in the "the language of the imperialist". After the show, suddenly an other band is appearing and wants to play. We're all dying for some sleep so we don't think this is a good idea. There's some discussion and eventually we can clear off. After a dozen goodbyes we can have a good sleep at Pepino's place in Vallecas.
Sunday 1999.12.26 Kasa Praça Espanha, Lisboa POR (+ Timex , Bullies + 1) After a good breakfast and lotsa strong coffee, it's off to Lisboa, about 650 km's to the far west. Pepino's coming with us. He has to play his last concert with Sin Dios tomorrow. It's good to have some time with him and talk about what happened the last couple months. We arrive late but see it hasn't started yet. The building has been squatted for 2 years and is really beautiful. It has changed quite a lot since we were here in October 1999. They have some problems with municipality and now they try to do their best to get the support of the neighbourhood. Consequently we see it has been nicely painted and cleaned!! Also the concertvisitors are kept off the street to avoid any noise pollution. It's crowded inside the squat. The concert takes place in some kind of tiny shed next to the building. When the first band starts (forgot the name but it's sounds like good crossover) we get some food and meet people we met on our last visit here. I pick up Timex, a young straight-edge youthcrew band that plays very enthusiast with a lot of infectious pleasure. There's close crowd-participation coz there's almost no stage and the place is packed. Seein'Red's propagations come across very well. It helps there's no present language barrier. The very mixed crowd are having a good time.
After a good breakfast and lotsa strong coffee, it's off to Lisboa, about 650 km's to the far west. Pepino's coming with us. He has to play his last concert with Sin Dios tomorrow. It's good to have some time with him and talk about what happened the last couple months. We arrive late but see it hasn't started yet. The building has been squatted for 2 years and is really beautiful. It has changed quite a lot since we were here in October 1999. They have some problems with municipality and now they try to do their best to get the support of the neighbourhood. Consequently we see it has been nicely painted and cleaned!! Also the concertvisitors are kept off the street to avoid any noise pollution. It's crowded inside the squat. The concert takes place in some kind of tiny shed next to the building. When the first band starts (forgot the name but it's sounds like good crossover) we get some food and meet people we met on our last visit here. I pick up Timex, a young straight-edge youthcrew band that plays very enthusiast with a lot of infectious pleasure. There's close crowd-participation coz there's almost no stage and the place is packed. Seein'Red's propagations come across very well. It helps there's no present language barrier. The very mixed crowd are having a good time.
Seein'Red – Spanje wordt voor ons een keerpunt (in Dutch)

(São Paulo, Brasil)
Josimas Ramos – guitar
Paulo Poeta – bass
Zorel Bataiote – drums
+ Fabrizio Karlsson – roadie, vocals, guitar
Alan – roadie, vocals, guitar, capoeira
Michael Kopijn – driver, shitworker
Eva Oling – driver
2000.04.24 Schiphol Airport, Amsterdam NL On first acquintance they tell us they are very angry…. They don't understand why they have to bring their own instruments and drumstuff. Is there no band solidarity in Europe? Ugh, there's the first cultureshock. Then another: it's the first warm day in Holland, about 20 degrees. We're wearing t-shirts and enjoying the comfy weather. We see them freezing: wearing jackets, shawls, woolen caps and gloves!!! After 1 minute in the van, just before leaving the parkingplace, we get stopped by a cop who check us. Promising start… We crash in Amsterdam, meet some Dir Yassin friends and Billie Boycot. We spent 1 ½ day sight-seeing and getting to know eachother.
2000.04.25 K13, Gent BEL (+ Hybris, Asmodinas Leichenhaus) Beautiful squat. They do many concerts. We are surprised to see everything cleaned. Delicious food made by a redskin. The next cultureshock: in Brasil all skins are nazi/fascist/nationalist so our friends feel quite uncomfortable with this situation. This leads to some amusing discussions. By now we notice that all of them took a camera plus two videocameras as well. Every 5 minutes there's a flash or a buzz. There's lots of people turning up for the concert and we meet an Eurodusnie delegation (making some info for the 30.4 action) plus the Axiom people. Hybris and Asmodinas Leichenhaus can't excite me much. They don't seem to be much inspired coz most of the time they're playing with their backs to the crowd. Execradores sound totally different than on their split with Sin Dios. Very sloppy and chaotic hardcorepunk. I have a hard time finding any structure. However, the explanations and information given before and in between songs are very comprehensive. Their message is very strong, direct. The sound is only a method for spreading their word. The whole concert is more like a info-nite about the situation in Brasil and anarchism. I only miss the slide-projector (which was basically meant to take but we couldn't find anybody to borrow from). After the concert Zorel makes a hit with a girl and gets assaulted by her in the nite. Yes, groupie-time…
2000.04.26 OCCII, Amsterdam (+ Mihoen!) We get the famous Dredwin food. I convince Billie Boycot to come to the concert. Cool. Mihoen blow me away even though the equipment is rotten. I'm totally impressed. Execradores give a lecture about Brasil and everybody's listening with interest. Remarkable!
After the concert we get a tour through the building. It's much bigger and especially deeper than I thought. Execradores set themselves up as the anarcho-ambassadors from Brasil. They want to know every single detail about the building, situation, neighbourhood, city, activities…etc.etc. Everything! The camera's are clicking again and the video's zooming. We need some time to get used to this much interest and enthusiasm.
2000.04.27 Kortsluiting, Utrecht (+ Asmodinas Leichenhaus, Hybris)
In the afternoon there is a demonstration against repression in Utrecht. We decide to join. First drop the equipment and stuff. We get free food at the soup-kitchen (kind of Food Not Bombs project) in the city-centre. Next to the meetingplace for the demo. We see two typically sturdy "autonomous-clothed" persons walking to the cops. They start shaking hands… I know in Utrecht the cops use different tactics (the social approach) towards squatters and demonstrators but to see this actually in action with the adversaries going along. On an anti-repression demonstration, if you please. That's for yet another cultureshock! The demo is pretty big and our friends go nuts with their audio/video-equipment. Especially when the cops get "stoned" with sponges. Suddenly the Belgium groupie appears and hassling us about Zorel. She is obsessed by him… After the demo is the concert with lots of people. The groupie going nuts taking tons of pics of Zorel. Somehow she manages to stay with us that nite and tries to join in the rest of the tour. Arghhh.
2000.04.28 Schlachthof, Bremen GER (+ Segue, Alarm) When Segue (ex-Servitude) doesn't show up, local heroes Alarm hit the stage with their catchy punkrock. Execradores are very happy to borrow out their instruments to the other bands. When Segue (ex-Servitude) arrives, they directly plug in but it takes ages coz they're doing a looong soundcheck for their violin. This seems to be the new trend in punk and hardcore nowadays. Trying to find new, original ways to sound introducing unusual (?) instruments. Please, forget it coz it sounds HORRIBLE! It destroys the whole sound. I can't understand why bands do this to themselves.

(Hoogeveen, The Netherlands)
Martheun Poolman – guitar
Rik Penninga – drums
Jop Hoekstra – bass
Marco Klopstra – vocals
+ Michael Kopijn – driver, shitworker
Eva Oling – driver

The protagonists of this story are Point Of Few consisting of: Martheun aka de Bolle – guitarplayer and troublemaker; Jop – bassplayer and "Que Pasa" master; Rik – drummer and supervising coffeejunk; Marco – vocalist and novice photographer. Then the drivers: Eva – also stylist and singer for Makiladoras, and Michael – also tourmanager/shitworker and drummer for PCP/Shikari. And last but not least, our 2nd home: the Cavia Express. A six metre long white-ish Renault Master with bed and kitchen. We are the guardians of the van and equipment. Almost 24 hours a day keeping an eye on our beloved yet wilful vehicle.
Monday 2000.12.25 (departure) Hoogeveen is 60 km from Groningen. It's cold and slippery. The landscape is covered with snow. To give the PoF crew a foretaste of southern approach, we arrive 1 hour too late in Hoogeveen. The van gets not-so-economically packed but soon enough we'll get the hang of it. Our boys are truly prepared. In Dutch style, the van is stuffed with domestic food and drinks. We're impressed! We leave around 3 pm, drive a straight 1100 km's and arrive without any problems in Saint-Étienne at around 5 am. We're welcomed by Sylvain, member of the "La France Pue" collective and one of the gig-organizers, who usually takes care of the touring bands. Even at this time it was no problem for him to fix us a sleepingplace. Great!
Tuesday 2000.12.26 Le Sporting, Saint-Étienne FRA (+ Plod) We've been to this city numerous times and it's getting quite familiar. The concert bar is opposite to the bar where they used to do concerts years ago (L'Entrepots). Catweazle played there one of its best shows and with Sin Dios we had a very memorable time. Also One Day Closer did the place together with Dropdead somewhere in 1997. There's lots of drugproblems in this neighborhood and we regular run into (not-so-annoying) crazies who buttonhole us. We meet with the Vömit För Breakfast guys and molest them to play as well. We have a coffee in Mistral Gagnant, the bar where they usually organize concerts and are impressed by the flyering for this concert. They're everywhere! Plod plays experimental stuff with a cello and violin. I escape backstage to discover Bolle and Marco serenading Eva 90's style with an acoustic guitar. Meanwhile the place is getting packed, around 100 people. PoF have bad sound, are often out of tune and play sloppy, but the crowd is moving. Jop does a song announcement in fluent French. After the gig it's dinnertime and they made a special vegan plate for Jop. PoF gets interviewed on camera for a video-fanzine and we hit the sack around 3 am.
Wednesday 2000.12.27 Big Bang, Barcelona SPA (+ Fajita Kids, Soramame) It's about 650 km's to Barcelona and the gig starts early so we get up at 7.30 am and I'm flied by the throat by the rather hyperactive house-cat. The sun is shining and the weather's getting warm! We first drive to Badalona to pick up Italiano, the organizer, and dressed in true mid 70's disco-style. We see he's living together with Elias, member of E-150/Standstill. After picking up vocal equipment and instruments for the Fajita Kids, we drive to the Big Bang which is a bar in the middle of Barcelona centre and is only opened for concerts. Everything goes well (I suffered a near-traumatic driving experience in BCN during the Ação Direta tour; entry: sheer roads, narrow streets, BIG van, stoned guide, lots of traffic…) and oh wonder (!) we find a perfect nearby parking space. When we arrive at the bar, it's already crowded. At first it seems more like a private concertparty but after 11 pm more and more people start coming in. Most E-150's are present, as is old crazy friend Boliche (ex-Subterranean Kids) who took a bunch of Dutchies along. Appears one of them have played in the almighty Neuroot! Fajita Kids play catchy punkrock, midtempo and uptempo songs. I like the faster stuff. Like early Gluecifer. I'm rooted to the ground when Soramame plays. A truly stunning performance. Definitely one of the best hardcorebands I've witnessed in 2000. Hyperfast, machine-like power violence with typical E-150 style tempo's and breaks. This is the shit!! Obviously they've lots of friends in the room coz they're going the crazy way. Pile-Ons, crowdsurfing, silly dancing, pant-jerking… PoF are better than yesterday. After some songs, the people warm up and there's some busy crowdsurf traffic with occasionally Marco passing by. After the gig, the crew launch loud acappella singing in the van (mostly spanish language songs done by Dutch artists like Jodi Bernal or really bad ones like Viva España – fortunately our Spanish travellers are very amused), breakdance in the streets, and I twist abit of Bolle's wrist as revenge on yesterday's attack on my right kneecap. Jop has a hard time forgetting his French and keeps mixing it with spanish words. Very funny. Back at Italiano's place at 12 in the nite, we startle his neighbours by crying out birthday songs. Yes, it's his anniversary. We get dinner (great tasty couscous), laugh at the hilarious Seein'Red picture in the bookcase, and watch the E-150/Standstill video recorded in Horst, Utrecht and Hoogeveen. Around 2 am the rest goes out to Barcelona centre to party but Eva and me decide to get some rest.
Thursday 2000.12.28 So What, Valencia SPA (+ Zanussi, Scream Violence) Last nite, the guys went to some goofy discotheques. The slick ones with scarcely clothed ladies on platforms dancing ecstatic to pilars. They returned at around 6 am. We get on the road around 12. It's 360 km's to Valencia so enough time to relax during the drive. I'm glad the Cavia Express can drive 110-120 km/h. Definitely saves time and delivers more sleep compared to a 80 km/h van. In Valencia, I call Oscar/Zanussi to come pick us up. Last year we were here with Seein'Red. Great show. The day after that, Kill The Man Who Questions played and the place got attacked by fascists/hooligans. Like in a terror movie. Jeroen could save the van but it was hell anyway. Hopefully now things won't turn bad. We drop our stuff at Oscar's place. His mother is out (I never forget her! On last year's concert she shared out vegetarian cookies and peanuts to the crowd and during SR's set she was waving at the kids/band while crowdsurfing!! Punkma Go!), their nice dog died and their turtle is hibernating. Too bad. The drive to the So What bar is yet another challenge. Sharp turns, very narrow roads and ofcourse lots of traffic. After 30 minutes of concentration, improvisation and mucho sweat, we eventually arrive. Bolle catches some extra sleep on the bench, we get some veggie food (including a delicious fruit-dessert) and I practise my poor Spanish on some Zanussi kids. During Scream Violence, somekind of Limp Bizkid clone, Eva and me go explore Valencia centre. When we return, the place is full. Must be around 100+ people. We need elbows to get to the low stage in order to check out Zanussi. Sound is not so well but they compensate with energy. Maybe it's because of Soramame, but I expected more of this gig. Still one of the better bands in their style. PoF go for it. Marco screams his guts out, lots of movement in the crowd and funny responses as well. A girl standing in front of me, translates the song announcements to her friends. Some "in between" announcements are pretty long. Most spanish crowds don't understand english, so the buzzing comes up during these talks. I also noticed during the last 2 concerts that when just people start getting into it, those longer talks break the rhythm/drive of the set. After the concert, Rik has mastered packing the van and puzzles his way through and Jop discovers "Que Pasa".
Friday 2000.12.29 Ateneo Libertario De Villaverde, Madrid SPA (+ Looking For An Answer, Korrosiva) Another pithy drive. We take a non payroad and drink lots of good coffee and tea along the way. In this regard, Spain is a perfect country for touring. All gasstations and parkings have cafeteria's where you can eat and drink for low prices. Once in Madrid, Eva drives straight to the concertplace. She has an excellent memory. We meet with Canino/Sin Dios and the people of the other bands. This place is a CNT union building with a big room for concerts and manifestations. It also is the home for the Anselmo Lorenzo foundation, which houses an extensive and most impressive library dedicated to world-wide anarchism and Spanish anarchism in particular. The weather's drizzly and we have a hard time finding a good parking. We hear the anarchists in Madrid have a hard time with the media and the state. The CNT Madrid had a bomb outrage a couple days ago. Fortunately it didn't go off. Too bad we only stay here about 12 hours coz we're eager to know more. The concert is a benefit for the ABC and the first band Korrosiva is a substitute for Menos Ke Nada, who usually play with every Dutch band that visit Madrid. They play a very varied and tight set ranging from hiphop metalpunk (ala Habeas Corpus) and hardcore to ska-ish (ala Piperrak) and grind. Cool but too long – for over an hour. Looking For An Answer has a Denak member and a drummachine (I forgot its name). Superfast, short and intense crust and powerviolence. Rumours go that Canino/Sin Dios will join them as a drummer. Hmm. I watch the distro and socialize with my neighbour Raúl from Soulforce/Generator distro. PoF destroys the place. Now there's about a 100+ crowd existing of every possible scene and everybody goes for it. Lots of movement and occasional crowdsurfing. After 15 minutes, a very restless Raúl can't hold it anymore, leaves the table and races into the pit. A hilarious sight! We get a tasteful vegan dinner in the night and sleep in a suburb nearby. It's been pouring rain.
Saturday 2000.12.30 El Lokal, Conil De La Frontera SPA (+ 12 Aullidos)
We're off at 7.30 am. Once on the road to the south, the sun breaks through and it's getting real warm! I'm looking forward to see our friends 12 Aullidos again. We had some really crazy and memorable times when they played in Groningen and Amsterdam last year. They split up right after that coz Dani the drummer went to live in Florida. Obviously he's back or…? In Jerez we try to meet with the organizers but there's lots of miscommunication and our mobiles don't function well with all the interference. After 1 hour we finally pick them up and drive to the concertplace, in a small town at the Atlantic Ocean. Once again we are lucky parking. The concertplace is self-managed and open-air with a great terrace. Together with the locals we buy goodies for the concert and dinner. Jop goes to help with preparing the food and we try to find the beach. After a couple hours we've practically seen the entire city, including the dark and trashy spots but no beach. Very frustrating. Also I finally reach Rafael, organizer for the Portugese gigs, by phone. Unbelievable. Last week I have called three times a day, left numerous messages on his voicemail, sent emails and even contacted a friend in Groningen to help out. It turns out his (mobile)telephone is broke. He tells me all gigs are cancelled. Including 2/1 for Lisboa. I'm baffled. This is B A D fucken news. During dinner we discuss what to do. Antonio and Fran generously offer us to stay in the C.N.T. building in El Puerto De Santa Maria for the upcoming days. We're very grateful. 12 Aullidos shortly reformed and have just practised a couple of times before this gig. Still, it's overwhelming and very exciting to experience them again. And with a 2nd guitarplayer! They are damn crazy and Dani totally destroys the drumkit. A good thing Rik didn't borrow out his one. I see lots of different people in the crowd. Children, local villagers, neighbours, tourists, every genre-punk, metals and rockers….wow, this is the shit again! Just before the gig. I heard it's freezing and has snowed in Holland. I'm here standing in a t-shirt watching 12 Aullidos in the clear open sky. Wow. PoF play a good set. The middle-aged middle-class couple standing next to me are tapping their feet and softly banging their heads during the midtempo parts. The crowd sitting on the terrace swing their legs and some are slamdancing on the roof. Very amusing. I chat with the 12 Aullidos guys. Thanks to his Florida stay, Dani has improved his american slang. Even talking in Spanish, there's a lot of English standing out. Hilarious man!.
Sunday 2000.12.31 (off day in El Puerto De Santa Maria SPA) Last day of the year. We were supposed to go to Portugal but crash in this small but renowned village where lived famous explorers and seafarers (Columbus, Vespucci, Juan De La Costa…). We're staying at the local C.N.T., a big building with an inner yard suitable for all kind of sport activities. We profit from the free time and sleep until 11 am. In the afternoon we visit the beach and Jop, Bolle and Eva go for a brave last-day-of-the-year swim. Some pretty high waves. Rik and Me go for a couple coffees. When we return, the rest is beachbasketballing and reviving lots of old and newer Dutch hitsongs including the shakes and moves. Jop and Bolle go swimming again. Addicted to waves that is. At twilight, we walk the boulevard along the sea but get lost in a rather large and dark wood, filled with strange animal noises. Fortunately we get back safe and get welcomed by a bottle of champaign. Some C.N.T. people sympathize with us poor stranded dutchies and bought us some goodies. Fran got us grapes for the new year. It's spanish tradition to eat grapes during the new years countdown. Last year we had a very entertaining time observing this tradition in the E-150 house with small rooms packed with nervous Spanish people sitting ready to consume 12 grapes at high speed. This year we go the rather normal way, opening a champaign bottle at 12 and go wild on the streets. When we go out, we need to climb over a car that has been parked right in front of our door. Great! We first visit the party plaça, then make some crazy pictures in a photocell, screaming "que pasa!" to all passing people and traffic, getting assaulted by falling oranges to eventually head for a hardrockbar. In the meantime we're getting looked after by almost everyone. We suddenly notice that really everybody is dressed. I mean dressed like three-piece suits, polished, cleaned up, dressed up… We are definitely out of tune. We obviously forgot we're in a really small village… Later we hear that even our anarchist friends got dressed up for this nite. Hahaha! Not spoiling our fun we crash in the hardrockbar but all they play is lousy mainstream rock and oldtime blues. However, there's enough going on. We discover a very original candy machine, the toilet is constantly busy the spanish way (nose-polishing that is), the owner literally kicks out an annoying customer, we dance the limbo and check out the cheap gamemachine. On our way back, we pick some oranges (those trees are all over) which are too sour, check another party plaça, convey Jop in a shopping trolley, try to talk around bouncers at big private parties and striptease to sleep. What a nite.
Monday 2001.01.01 (off day in El Puerto De Santa Maria SPA) We decide to go visit Cadiz. It's a 30 minute drive and we first go check out the sea. When we sit outside to get a nice pizza, it starts to rain real hard. And it doesn't stop until the next day… Nevertheless we get to see some beautiful places (it's been populated/invaded and architectual influenced by Romans, Moors, Goths and Danes) and realize we're locked in by the sea coz Cadiz is on a spit of land. Back in El Puerto, we put the equipment in a practiseroom and PoF give a private concert to our hosts/organizers Antonio and Fran. Eventually resulting in a freaky jamsession.
Tuesday 2001.01.02 (travel to Lisboa POR) Since we have to be in A Guarda on wednesday (a 900 km drive) we decide to start the travel today and crash in Lisboa. We arrive around 6 pm at the Praça Espanha squat, put a lot of effort in trying to reach our contact and find a Chinese restaurant that serves excellent vegan food. It's too bad PoF doesn't play today coz there's certainly a lot of people going in and out the squat. We make some warm drinks, test the guys for their exams, admire the fresh tattoos of Rafa and have the obligatory tourquarrel.
Wednesday 2001.01.03 Darka Blar, A Guarda SPA (+ Handplant) We arrive at 6 pm. A Guarda is a small fishingtown on the Atlantic and during the time of overseas discoveries, gateway to the Americas. When we arrive, we notice the first concertflyers. The bar is not open yet so we check out a local cafeteria (read: get something to eat and drink), watch the Spanish funniest homevideos and defile the toilet. Back at the bar we meet with the friendly not-english-understanding owner, Handplant and Antonio, the gig-organizer. We're stuffed with cookies, offered plenty of drinks and delicious vegan pizza's. A lot of people (around 80) turn up for the concert. Handplant is sloppy bandana thrash. PoF entertain the crowd and we see Marco and Jop surfing by a couple times. Great! Then a possible turning point: a Nirvana cover as an encore. But fortunately it's played so poor, it turns into a funny satire. Close call… After this spectacle, we hear we'll spend the night in an hotel. It looks impressive, a bit like a castle in the middle of the centre. After 15 minutes waiting we're directed to a quite different and rather rancid hotel at the grubby edge of town. However, we have 2 big rooms, kitchen and a complete bathroom for ourselves!
Thursday 2001.01.04 Planeta Rock, Portonovo SPA (+ Noise Reduction)
Since it's only 2 hours driving, we spend some time relaxing in A Guarda. The guys take time for some more study. Eva and me take a long walk past the town and along the sea to where the river Miño borders on Portugal. The landscape here is very varied and likeable with slopes of woods. It all has a very strong Celtic feel (there's several settlements in this area). We leave around 4 pm and pick up organizer Pablo in Pontevedra who guides us to Portonovo, a small seaside resort with a cool beach. Too bad the weathers getting worse with every hour. We get cold vegan dinner in Sanxenxo, and watch how the waves flood the streets. Very impressive and alarming at the same time. Back at the bar we try the table footballgame which is hard to control coz the both sides run downward to the middle. Also here a good turn-out, about 70 people despite another H.C. concert in the area! Noise Reduction is sloppy old-school (?) hardcore. I take some time to check out the dj-record/cd collection and learn some galician words, mostly dirty stuff. Also here crowdsurfing is in. Marco is pulled up a couple times and for the very first time I see Eva crowdsurfin'…! The noise for an encore is ear-splitting. It was a great concert! And it's not over yet coz now people start molesting us for autographs. Fucken rockstars that is. We are. Outside it is a waterish inferno. We crash in Sanxenxo. It's showering all night long.
Friday 2001.01.05 Freak Club, Salinas SPA (+ Zyklon B, The Attack Of The Fiesta) Oh wonder, while packing, it stops raining. But the sea is wild and on one of our obligatory cafeteria stops, we see on TV that we nearly escaped the bad areas in Pontevedra. Some horrific scenes of serious floodings. We're arriving at 5 pm in Salinas and decide to spend some quality time at the sea. On our way we run into scenes of frantic children in the streets and heavy firework explosions. Today is Epifania (Twelfthnight or Epiphany), a festive day. Nevertheless Jop, Bolle and Marco go swimming. The waves are high and look dangerous but there's lots of surfers active. Then we meet with the 3 Kings on donkeys accompanied by a circus of children and adults heading for the city. After 1 hour fun, we go for the concertplace. It's cool to arrive in time! It starts raining heavy again. After driving around for 30 minutes we find out the bar is NOT in Salinas like we were told but in San Cristobal which cannot be found on any map. I try to call the organizer but no luck. Frust! We drive for another 30-40 minutes, asking the few walkers that defy this shit weather, until we finally find the place in the middle of fucken nowhere. We're still early though. The bar, owned by a member of Posesion, is very cheerless and cold but downstairs is comfortable with a small stage. There's about 30 people. We get some vegan sandwiches and drinks. During Attack Of The Fiesta, a Locust clone including keyboard, I go for some warm coffee. When I return, I see the last part of Zyklon B but can't impress me mucho. I get updated by Uge/Don't Belong and I hear alarming news about exclusive Spanish distro-deals. Pretty rigorous and controversial. We notice there were no posters/flyers made for this concert. PoF are quite fretful and play a convincing, high strung set. Yeah! They're not satisfied but I really liked it. Afterwards, they work off the remaining frust thanks to the DJ who play His Hero Is Gone (a most overrated band i.m.o.). We sleep in Oviedo at the friendly Fiesta Beat-Brothers, but not before having a long walk through the citycentre.
Saturday 2001.01.06 Gaztetxe de Portugalete, Bilbao SPA (+ Restons Sobres) As much as yesterday was a disappointment, so much will today be a big surprise! Bilbao, one of my favorite cities. Where we did a lot of memorable concerts and have loads of good friends. It's great to be back! But first we visit hardrock bar Salambo near Llanes to have some tea and good coffee. Since we haven't gotten any decent warm food for days, we decide to make a stop on the big and beautiful beach in Oriñón. It's so nice to have a kitchen in the van so we start cooking pasta with vegetables in a delicious tomato sauce. Today will be long and it's important to regular draw energy. In the meantime Rik is finishing his PoF masterpiece sand-painting. At around 8 pm we pick up Javi from Bilbao centre and he shows us the way to the fresh squat in Portugalete, a suburb about 15 km's outside Bilbao. It has been squatted for 4 months and is located directly next to the old Gaztetxe/squat. Catweazle played there in may 1997, and for me it was the best ever concert I've done with a band so I have some really fond memories of this area. The new squat is huge, like a factory hall. The concert place in in a smaller room and is really nice. It reminds me of the late Van Hall in Amsterdam. We meet with a lot of old friends and make new ones (hello Mundo Matadero!). The complete flyer has been printed by a big Basque newspaper and eventually about 150 people attend. Restons Sobres play their typical Spanish hardcore style. Very sloppy but with a lot of conviction. It's good to see them again. Crazy to realize that Bull, the drummer lives in Finland nowadays. In between songs, two women give a performance/dance. It looks dramatic and whipped up. There's a message but I never got it. PoF get their clothes dirty. Everybody's seems to get into it and there's an overall great atmosphere. Eva gets recognized because of her participation with Sin Dios. In June 2000 she played 3 concerts in Euskadi with them so obviously people remember her. It's very funny. We get terrific vegan bocadillos tortilla patatas. Hail to the mastercooks Javi and Vitxo! At 3 am we drive to an other squat to crash. Some drunk spills his katxi (liter-glass) with beer in our van and all over the school books. If it wasn't him for having the key to the house, we would have kicked him out without mercy. Once in the squat, PoF locks themselves in, barricading the door of their room afraid for any punkraids. Hahaha!
Sunday 2001.01.07 Le Barclay, Bordeaux FRA (+ Albany Academy, Donald Washington) We arrive in time. Raining again. The first thing Erik the organizer says when he meets us is that the barowner is such an asshole. Strong opener! The concert is in the cellar and we are not allowed to touch the bar… I try to start a chat with the barowner to see if he's really such an ass but he doesn't speak english and is very shy and nervous. One of the regular customers translates for me but the guy is avoiding me. Odd. It hear he took over this bar 2 months ago. It's big and looks fabulous. We play some pool, drink really bad coffee, watch Italian soccer on a huge screen and relax a bit until dinner which is delicious couscous. The cellar is like a dark cave, a bit comparable with the Vera cellarbar but much more obscure. Albany Academy sound modern with a heavy Uranus touch. Their set sounds like one long song though. Donald Washington are jokers. Tell a lot of corny stories in between songs. Musical it's sloppy but very catchy punkrock. When the guitarplayer takes off from the bassdrum, we see sudden movement in the crowd. A boiling Rik sets out to the puzzled culprit to accost him not to do this again. A very memorable scene. After a short and experienced PoF set, we take off straight to Holland at 2 am. About 1200 km's to go. We save mucho money by taking the non-payroad to Paris, have some breaks in the morning/afternoon and arrive in Hoogeveen at 7.30 pm. Unload and drink coffee at Rik's place, taxi the rest home and eventually arrive in Groningen around 9 pm. It was a short but succesful tour! Thanks to all people involved. Gracias por todos amig*s!

Cavia In Crisis – Point of Few legt bijl aan de wortel van levenswerk (in Dutch)
(São Paulo, Brasil)
Galo – bass
Marcão – drums
Gepeto – vocals
Pancho – guitar
+ Panda – roadie
Michael Kopijn – driver, shitworker
Eva Oling – driver
Friday 2001.09.07 arrival at Schiphol, Amsterdam We pick them up around 14.00 at the airport and drive to Rotterdam to crash at the Poortgebouw squat. There we're welcomed by some of our friends and the guys discover that one of their fave bands Extreme Noise Terror is playing in the Baroeg this night. So we get some fastfood, and check out the gig which has only some 50-70 people. Desecration has some memberproblems and play with drum and guitar only but sound impressive anyway. Extreme Noise Terror play total over-the-top deathmetal with 2 voices. I think the singer is the only one left from the original line-up. The old (hardcore) songs are played really really bad. The metal stuff is brilliant though.
Saturday 2001.09.08 Manifesto, Hoorn (+ Revolt, S.A.F., Vuur, Absorbed, Born Suspicious, Camp, Visions Of War, Dew-Scented) We arrive early. Meet with Mike D. the organizer and are amazed at the new clean youthcenter. The stage is huge and the soundsystem is earthshaking. The first 6 days of the tour will be together with Revolt from Groningen. A new and promising metalcore band influenced heavily by Caliban and the Göteborg metalscene. They start off the festival around 17.30. Unfortunately not too many people are present. SAF is catchy bandanatrash. I love the vocals. Vuur is rather boring. The stage is definitely too big for them. Absorbed impresses me totally. For me the best band of the fest. Born Suspicious sound a lot like early DRI, Camp is tight grindcore, Visions Of War is totally disboring with a remarkable stageshow. Ação Direta give their best and it's always a pleasure to see them live. One of those bands that never bores me. They started playing much faster the last years and some songs stick in your head too easily. Last but not least, Dewscented surprises with great catchy metal. Eventually about 100 people came to the fest. This one was already set 6 months ago. In the meantime other "punks" organized fests all over Holland and we suffer the consequences. Too sad, but it was succesful anyway. Everybody felt satisfied. We stayed at Mike and Melanie's place.
Sunday 2001.09.09 ACU, Utrecht (+ Revolt, Urban Blight) After a excellent breakfast we take off to Utrecht for a matinee. The Cavia-Express is packed because we have 2 Revolt guys. The other 2 are with an extra car plus 2 drivers.

(Hakodate, Japan)
Hidetoshi Sakai – drums
Hidekazu Konishi – bass
Tomohisa Ogawa aka Benkei – guitar
+ Yuhei Kawaguchi – roadie
Shinya Itou – roadie
Daisaku Kobayashi – roadie
Otto Itkonen – translator
Michael Kopijn – driver, shitworker
Eva Oling – driver

Crude like Holland. They have been celebrating holidays in Amsterdam a couple times before and fortunately I found out by accident and decided to check if they were up to some gigs. Although communication was pretty hard, I managed to get them 6 gigs in total. Eventually they wished they would have done more which I am working on right now.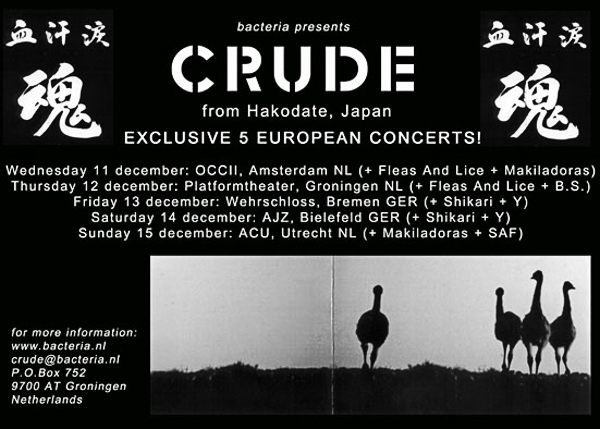 Wednesday 2002.12.11 OCCII, Amsterdam (+ Makiladoras, Fleas And Lice) The first gig of the mini-tour. We pick them up from the Flying Pig hostal and they are very much into doing the series of gigs. Communication is limited to mainly basic words and a lot of sign-language and drawing. Lots of people show up, and especially the foreigners go crazy during the Crude set. Even without Shou on 2nd guitar, this is an amazingly convincing performance. Hidekazu screaming his guts out, Benkei like a true guitar virtuoso and Hidetoshi punishing the drums with his preposturous thick Yamaha drumsticks. Too bad he forgot to bring his own cymbals….
Thursday 2002.12.12 Platformtheater, Groningen (+ Fleas And Lice, Born Suspicious) It is fucking cold and everything is frozen but nevertheless we have a good time on the ice. Tonite is the final gig for Oene (bassplayer) with Fleas And Lice. Since Crude is practically unknown in Holland, a lot of people somehow associate Japanese hardcore with bands such as SOB, Warhead and the likes. Obviously there's many that are rather shocked (or better read: disappointed) by the high rock standard including leads, black leather and sunglasses.
Friday 2002.12.13 Wehrschloss, Bremen GER (+ Y, Shikari) We pick up Otto from the trainstation and he gets welcomed japanese style. From now on communication is a lot easier. I've been tons of times to Bremen but this is my first time in the Wehrschloss venue and it is most impressive. Excellent organization and full house. Hidekazu, Yuhei and Hidetoshi cooperate in a Shikari video and Otto does a hazardous yet hilarious speech introducing Crude first time on a German stage. Unforgettable!
Saturday 2002.12.14 A.J.Z., Bielefeld GER (+ Y) Guess what, someone from Tokyo flew in to catch 2 of the Crude concerts! We already have people from Skandinavia, France, England to see them but this tops everything. To make it even better, Crude play their best ever concert (as they state themselves) in Bielefeld tonite. Although it's not a full house, the crowd goes crazy and get them to do another 3 encores. You can see our japanese friends are completely overwhelmed by the verbal and physical appraisal. They just cannot leave the stage.
Sunday 2002.12.15 ACU, Utrecht (+ Makiladoras, S.A.F.) Last gig of the mini-tour. Compared to yesterday, this is kind of a letdown. It seems most dutchies aren't into good intense traditional japanese hardcorethrash. Especially the wanking is too much for most. Too bad coz Crude is consistently brilliant and give every gig the maximum. Raging!
Saturday 2002.12.21 Parkhof, Alkmaar (+ Absorbed, PCP, Lärm As Fuck, Humus, BBK, Destructica) After a five days break, and thus more holidaytime in Amsterdam, it's time for the final gig on the annual Christmas Parkhof festival in Alkmaar. It's crowded as usual with a lot of familiar faces from everywhere. Crude finish the fest and play a great and long set. Afterwards we go to an afterparty in a squat nearby, see more bands and continue till everyone's completely wasted. A perfect ending of a very memorable time.
(Groningen, The Netherlands)
Eva Oling – vocals
Michel Jonker – guitar
Rick Schonewille – bass
Michael Kopijn – drums
+ Bert – roadie
Marian – roadie
Sławek – roadie
2006.02.28 travelling to Berlin GER
Since the first gig in Leipzig is canceled, we have plenty of time to arrive in Berlin to crash at a friend's place. In the meantime we will visit Musik Produktiv for some serious cheap shopping. We pick up The Baron and Rick in Hoogeveen at 14.00 but at the German border Michel notices he forgot his passport. So we need to return to Groningen, making a detour of 200 kilometers, and forget about our consuming plan. Good there's no time pressure so eventually we arrive in a white yet not freezing Berlin at midnight.
2006.03.01 C.R.K., Wrocław POL (+ Wojtyła) All went really smooth, passing the border within 5 minutes and arriving at the C.R.K. way too early. Eva and me were here before in 2002 when we did the SIN DIOS East-European tour. It was then called Freedom Squat, but now they aren't allowed to do concerts anymore so everything is done under the banner of a cultural club however, all concerts are done rather secretly. The city is covered in snow and also the temperature is dropping steadily. The inner courtyard is one big ice-rink and we slip'n'stunt our way through to the venue trying not to crash into any of those parked cars. We're guided upstairs by Kuba and we get served some delicious vegan food and excellent Polish beers. After some timekilling in the warm squatbar downstairs, WOJTYŁA starts to play in the nicely filled yet quite cold concertroom. Great tight grindcoreband with great female vocals. The foundation of this place is fascinating. I get mysteriously pinned down all the time and when the crowd is jumping or moving, it seems like the floor is moving along. I'm waiting for Michał, our tourwizard, but organizer Mokry tells me his train is delayed. Turns out it took him 10 hours to arrive. When we're considering to do an encore, we are urged to stop coz the police arrived. We have a nice afterparty at the bar.
2006.03.02 Klub Schron, Piekary Śląskie POL (+ Dimitrij) We get offered a great breakfast plus coffee and this is the blackest I've seen/smelled since a while. Turkish coffee in the strongest tradition. Bert tries but fails after the first sip, Michel passed and I am not even trying in fear of neverending toiletstops but we see Michał with a calm stony face finishing this big mug of ooze within seconds and he is not even a coffeedrinker… Damn, what a guy! Almost scary but so impressive… After loading the van, we need snowchains to get out of the backyard. We drive straight to the club. I'm surprised about the condition of the roads. They're bad but not too bad. My only concern are the deep ditches in some roads. It's easy to lose control and slide off. This in combination with pedestrians walking on these same roads, makes this sometimes an exhausting drive. We arrive in time and the pub look like the vaults of some castle. There's rooms everywhere and the place for the concert is tiny. The 30cm high stage doesn't help coz it is too small to put on the drumkit, so we decide to place it in front. Lenin, the organizer gets seriously alarmed and urges us to think of something else coz he's expecting some 100 people. The way it's organized now, it can have maybe 20. We do some puzzling and eventually find the best setup together with the folks of DIMITRIJ from Austria. Needless to say, the place is more than packed and go wild at DIMITRIJ who play really good screamo. When we start, all hell breaks loose. People falling into the drumkit, stepping on guitarpedals, the guitaramplifier fell of the cabinet twice… so this time we we're going into a panic. Fortunately some people came to the rescue and helped protecting us. A great and memorable night, also made possible by the barfly who speaks some dutch words and introduces us to some good Polish beer and liquor. Especially nice for forgetting the freezing cold outside. At Lenin's place, we struggle with an icy parking. It is not even after midnight so De Baron proudly shows his giant fabric softener flask which he uses as a pissbottle and starts playing poker with the Austrians, Rick does A-Team in German, we all get some tasty warm food again, and hit the sack on a rather civilised time!
2006.03.03 Kawiarnia Naukowa, Kraków POL (+ Superapes) Short drive to Kraków so we hang out at Lenin's place, do some internet, hear some good new Polish bands and get brainwashed by this truly awful GORILLA BISCUITS coversong by TANGLED LINES. Sure made us move a bit faster. With Michał's help we easily find the small yet cosy pub. It's in the Jewish quarter of the city so we see masses tourists. We meet crazy Marian, the organiser for this show. I already know him coz he is the one who hitchhiked to the final SHIKARI show last year. On his back in a military backpan, he carries his "Supa Marian", definitely the best food we will have on this tour. This even equals with Potsdam, Leipzig and Berlin food (Hallo Jörn!). Suddenly there's a lot of screaming and noise. We see cops appearing in the street and we're thinking of hooligans… It's very weird sounds in between screaming and singing so in big hesitance we walk towards the scary noise and it appears to be some kind of Jewish service. We're now getting used to this for us rather unusual schedule of playing early shows. The routine is arrive around 17.00 at the organizer's place for welcome and warm food, then drive to the venue and set up the equipment. First band starts around 19.00-19.30, finish at around 22.00-22.30, stay some time at the venue and mostly arrive at the sleepingplace before midnight. This will prove to be a much healthier schedule then our European routines: arrive at 19.00, food, wait, concertstart at 23.00-23.30, finish around 3.00-3.30 and no sleep before 5.00. Not too many people show up, I guess around 25. We're told Kraków has a split scene between 77 punk and emo. We're neither so that explains. I meet with Krolik from Gdansk, who also organizes our gig there. We play our complete set, and when we hear SUPERAPES have not arrived yet, we'll play 5-6 more songs. Probably the longest set we ever did. At 21.40 they finally arrive and can play until 22.20. Sloppy punkrock with keyboards and enthousiast female vocals. We do afterparty with Supa Marian, the Slowakians drive back home again and we have a snowfight in the night.
2006.03.04 Formalina, Rzeszów POL (+ H.407, M.W.T.R.N.O.) Sightseeing in rainy Kraków with guide Marian and fallafel breakfast! The old centre, Stare Miasto, is quite beautiful and we have an extensive look in and around the Wawel castle and Cathedral. Also we see some locations where the movie Schindler's List was shot. Around 16.00 we start driving to Tukan's, the organiser, place. We take Marian with us and are warmly welcomed and receive a really big meal. The concertplace is once again a small pub with great ambiance. I have some fun with the drummer of NWTRNO. He needs to borrow about everything from me coz his sticks are more like spears so to save my skins I offer him a pair of normal ones. His cymbals are trashed beyone imagination so he can borrow some of mine and his pedal is fucked. They play fucking catchy and infectious Polish language punkrock. Kinda sloppy but with a lot of energy and enthousiasm. I love it! The place starts filling and when H.407 starts, the place is packed. It's wellplayed grindcore but unfortunately I mostly hear bassguitar. About most bassplayers put their amps way too loud on Rick's 80 kg 8×10" Ampeg cabinet. Usually the soundcheck plus the first 2-3 songs ALWAYS have too much bass. Too bad this band has it their entire set. When Makiladoras plays, the crowd goes berserk. I have a metaldude permanently in between my cymbals going crazy and shaking my hands in between songs. In around the middle of the set, there's another one joining him… Unfortunately we can't finish the set coz the cops arrive once again. That's number 2. We have a great afterparty, I get hassled by metaldude a lot but the singer of NWTNRO saves me a couple times. Everybody helps carrying the backline to the van so we're finished fast as a shark. On our way back to Tukan's place, the front window of our van cracks because of the freezing cold (going down to minus 15). Nothing too serious but we definitely need to replace it sooner than later. When we return, we get a lot of warm food again. After a couple hours, when we show signs of sleepiness, we get offered a quiet room.
2006.03.05 Bar Majka, Biłgoraj POL (+ Pagdalan, Run Riot, Rearrange)
When the rest goes into the city, I do some waking up and clean the van a bit because I can't find the house anymore. Those flats all look alike and I forgot to note down the exact address. When everyone returns, we say goodbye, take Sławek the H407 drummer with us, and are on our way to the small city of Biłgoraj. Eventually we get lost and end up on impassable small roads, totally iced and full of snow. It's getting late and Klusek the organizer starts to call frequently. We're so happy to have Michał with us coz after asking some people we're on the right track again. The place is a bar with a concertroom next to it. To enter the bar, you need to go outside to get in again. REARRANGE is really good varied hardcore. However, the bass is way too loud… In the distro room I meet Klusek and Maciek, who will join us the next couple days with SCARLET and WORDS MEAN NOTHING. Rick and me buy some cool tapes off him. RUN RIOT from Germany play a bit emoish but sound rather out of tune so I check out the bar. There I witness a fight which is kind of amusing, so I stay some longer. During PAGDALAN I prepare my drumkit in the backstage. They play a sloppy mix of emo and oldschool hardcore. Also a MINOR THREAT cover is passing by. The place is packed and the crowd loves it and goes wild. We have difficulties with the electricity. Nothing is grounded so we suffer a lot of extra noise and disturbance. Ofcourse our set is yet again stopped by the cops. Number 3… After the gig we chill with the rest of the bands, meet fans, put signatures, hand out used drumsticks, do photoshoots….feel like real rockstars basically. After packing the stuff, we drive to a house for some great warm food in a notable big house, see Sławek passing out a couple times and experience the coldest night so far. Next we drive through a snowy night to Lublin to crash at Michał's place where we arrive at 5.00 am.
2006.03.06 Club Pizza Rugby, Lublin POL (+ Words Mean Nothing, Scarlet Adorns The Snow, I Know) Slept until 13.00, wake up the rest and see Sławek in the same kitchenchair as when we left the place. I KNOW from Belarus has arrived and I finally meet with Ruslan, the guy who was doing the SHIKARI eastern tour. Eva and me do some sightseeing and ofcourse get lost on our way back. Those flats all look the same and there's about 5-6 blocks with 8-10 of those exact looking flats. We're saved by the cellphone. After some delicious meal we're off to the bar. It is some sort of canteen for the local rugby club. A very peculiar place. It's already full at 19.30 and when WORDS MEAN NOTHING starts, everybody comes forward to see the band. This is emo with some hardcore parts. A lot of stretched out songs with some soft parts. SCARLET ADORNS THE SNOW is more straightforward hardcore with good solo's. I KNOW plays a very sloppy but immensly enthousiast set. Fast and uncompromising raw hardcorepunk with female screams. It looks to become tradition but we get stopped by the cops again. The owner needs to pay a fine and everybody is afraid that he doesn't want to do concerts anymore because this is the first and rather succesful one. When we return to Michał's place in the freezing cold (we're close to the Ukraine border!), I take my first shower of the tour. We hear the barowner didn't care about the cops and keeps continueing the cooperation with the concertgroup! The next morning we have an appointment with a garage for replacing our broken frontwindow. We need to get up at 7.45 am. If I hurry I can still get around 5 hours of sleep.
2006.03.07 Reaktywacja, Białystok POL (+ Words Mean Nothing, Scarlet Adorns The Snow) At 8.00 am we have breakfast and arrive with Michał at the garage around 9.00. We have 3 hours to spend. Our original plan was to visit the old town of Lublin but the garage is located next to Majdanek, so we decide to do a deathcamptour instead… The remarkable thing is the totally open location of this camp. No walls, or hidden in some woods or valley. Just next to a very busy highway and right outside the city. Their is no way you can not notice it. And as far as the eye can see, there is watchtowers, and in the meantime some high modern looking apartment buildings are overlooking the camp as well… So we overcome the icy roads, and enter the camp. What's striking is the complete lack of tourists or other people. It seems we are the only visitors there except for the reception folks in the museum. The profound silence plus the fact that everything is covered with snow makes this a rather intense experience. First thing we see in the camp is the gigantic Monument of Struggle and Martyrdom. We follow the road to the gaschambers, disinfection buildings, and a row of sinister looking buildings which appear to be stockrooms and workplaces like horse barns where clothes, shoes and hair were stored. Inside every building there is tourist exhibits, but unfortunately a lot of them are closed at the moment. The camp is divided in 6 fields, each surrounded by a barbed wire fence and each field had two rows of barracks on each side of an open space which had a gallows for hanging prisoners. The only barrack buildings that are still standing are on Field III. The plans for the camp provided for the eventual construction of barracks for 250,000 prisoners, the establishment of industrial plants, and the construction of additional gas chambers and a more efficient crematorium; but by the time the camp was liberated, only 20 percent of these plans had been put into effect. After the liberation by the Russians in 1944, the remaining barracks were still used by the Russian secret police to imprison Polish citizens and partisans in order to transport them to the Gulags (concentration camps). After Field III, we walk the former "Black Path", the road to the crematorium, and enter a gigantic circular Mausoleum. Under the dome is a huge circular urn, shaped like a saucer, which contains the ashes of some of the victims at Majdanek. Just behind the Mausoleum is a small stone which commemorates the deaths of around 16,000 Jews on that spot on November 3, 1943, an event that was code-named by the Nazis with the cynical word "Erntefest" which means Harvest Festival in English. The camp inmates called this day "bloody Wednesday." This was the largest mass execution carried out at any of the concentration camps in the history of the Holocaust. The victims were the last remnants of the Jewish population in the Lublin district. When we walk back on the Black Path to the Museum, we see a touristbus arriving. It looks like a schoolclass with young passengers, some covered Israeli flags and surrounded by bodyguards. A very curious scene… We return to Michał's place with an extremely cheap yet new window and get on our way to Szczytno on 14.00. Unfortunately our tourmaster stays home coz he has some obligations. We'll probably meet again in Łódź. The other 2 bands are guiding us in a Mercedes taxivan with driver. They're with 15 people. This seems usual in Poland and fucking cheap. 1 euro for 4 km's including everything. We drive straight to the venue and arrive at 18.00. We get warm food from Adam the organizer and around 20.00 SCARLET starts to play in front of a good crowd. Outside it is freezing and this is gonna be the coldest night of the tour so far. I hear the Mercedes taxivan running and see the driver inside trying to enjoy himself. He stays inside the van with running engine the entire evening… hahaha! During WORDS MEAN NOTHING I do distro and try to get into the toilet but it's flooded all the time. Fortunately tonight we're not stopped by the cops and we can complete the set. Outside the barowner is lighting a comfy campfire. We crash at Greg's place but not before we first visit the nightshop. Well, it's more like a nightmall because it's huge and we buy some nice vegetarian and vegan foods. Eat more warm food at night and get plenty of sleep.
2006.03.08 Przepompownia, Szczytno POL (+ I Know, Out Of Control)
We pick up Adam and do some more beerhunting. Rick is a fanatic and wants to try them all. I'm not much of a beerdrinker but I must admit, those Polish beers are really good and not too bitter. I believe I tried about 20 of them so far and most of them are pretty good! The roads are real quiet and small so we arrive early to have some good warm vegan food. The bar is very small and we play under a wooden stairway. This must be even smaller than Piekary Śląskie… I notice that the right tomholder of my drumkit is fucked (screw thread destroyed) and there is no way to repair it, so I need to play with one tom only which is usually a difficult task. OUT OF CONTROL are really good metalcore. Very wellplayed with strong songstructures. I KNOW played their best gig. Everything seemed to work and the sound was massive as well. Organizer Tukan tries to convince us in crashing his place but we always sleep in our van, in our quiet and warm bed. For me the worst is sleeping in one small room with 6+ persons including some notorious snorer.
2006.03.09 La Strada, Łódź POL (+ I Know, Words Mean Nothing, Scarlet Adorns The Snow) Went out with Sławek to find some supermarket to buy some soy stuff but without any succes. We arrive early in Łódź, and get almost killed on the cityring by a car suddenly leaving a queue on the right side while we passed around 80 km/h. In a reflex I avoided it with just some cm's space. My co-driver Sławek had to recover. Thanks to him we find the bar, which is somekind of cellar in a residential area. Soon after, the other bands arrive and we get warm food from organizer Olo. Also Michał joins in again! We have some rather interesting discussions with the Belarus punks and exchange experiences and political situations. They are in a truly fucked up situation and I get more and more respect for their activities and struggle. I miss SCARLET and WORDS because of distro duty and checking what's going on outside coz the cops came and started harrassing and hitting people with their tonfa sticks. It turned out it's not allowed to have beer in the street. When we play, there's one crazy woman dancing in front of the drumkit constantly hitting hard on my cymbals resulting in my stands and cymbals getting displaced. After a couple songs I ask her to please stop and she comes behind my kit and try to sit with me on my drumthrone! I have to remove her and fortunately now the crowd starts to help as well. Sławek comes to the rescue and protects the kit so I can play without any concern. After the gig we check the old van of Olenka, driver for I KNOW, and drive to Olo's huge place in the biggest shoppingstreet of Poland.
2006.03.10 Squat Elba, Warszawa POL (+ I Know, Kommisar X) Sławek, Eva and me are going to continue our neverending quest for soy. We eventually end up in a huge shoppingmall where we try Tesco and find several shelves with vegetarian products. Mission accomplished! We hurry back to the van and notice how depressing and grey this big city actually is. After some looking and asking around, we find the Elba squat in Warszawa. It is basically 2 buildings, one for living and one for activities and concerts. The backyard has about 20 cm snow so we get stuck after 20 metres. We try to get the snowchains on but somehow it doesn't work so we have to carry the backline some 100 metres extra. After one hour of fumbling, Olenka and me discover the trick. Have to completely dig out the wheels to make them chains fit. Fuck too simple! In the meantime it appears our vocal amplifier is broken and we reunite with Marian again! I get some warm food and notice it starts snowing again. Fortunately it's not as cold as the former days. I KNOW plays a great final set and we're invited to do an interview in the other building. Instead, I start collecting parts of my kit coz I will be playing on the German kit. Can't wait to use 2 toms again. KOMMISSAR X is hilarious. Kind of HUMAN ALERT in it's best time, emphasing on humour and theatre. Musically it's overthetop retrotrash mixed with grindy parts and popular soundtrack tunes from old movies. Very entertaining and the crowd loves it. During our set, I have major troubles with the kit. All skins are so extremely loose resulting in no backkick or any sound. I fight my way to the end and learned my lesson well. After the gig, Rick meets with some of his heroes from Post Regiment. We say goodbye to Michał, push the Kommissar van off the backyard and stay at a nice house in the centre of Warszawa. We get introduced by the atrocious smelly feet of Marian.
2006.03.11 Club Orbital, Gdańsk POL (+ Words Mean Nothing, Scarlet Adorns The Snow) This is gonna be a long drive. Marian and Sławek are our official guides now. We get up at 9.00, bad luck to miss saying goodbye to I KNOW, depart at 11.00 and arrive at Wolf's place in Gdansk rather early at 16.00 where we get a warm meal, see Krolik again and meet with SCARLET and WORDS. It keeps amazing me how big a crowd they are. It definitely makes it very difficult to keep track who is who. The club is a nice one. Downstairs the concert/dj room and upstairs the actual bar. The place is totally full and this time I have the chance to check SCARLET properly and am impressed. They play a really tight and powerful set, and I'm once again enthralled by their guitars. Too bad they haven't recorded yet. During WORDS I hear that Wolf was hit with a bottle by a nazi/hooligan. They haven't experienced hooli-violence here since ages. Is it because of us? Remember Fleas And Lice in 1992? Anyway, problem seemed to be solved rather quickly thanks to some ex-hools that are present as well and the injury is not too bad. During the first couple songs, we see the whole family present in full football uniform. I guess it was a bit too loud and hectic for the small kid… because the place goes totally insane. Eva gets lifted, heavy Rick is lifted but with usual difficulty. It takes them about a full minute orso and needless to say it looks hilarious. When Michel gets lifted, we do lots of parts without guitar. Can't remember if the cops came but we stop early. Have a nice afterparty upstairs and crash at Wolf's place.
2006.03.12 Café Mięsna, Poznań POL (+ Next Victim, Indignate)
2006.03.13 Skłot Awaria, Zielona Góra POL (+ Next Victim)
2006.03.14 Koma F, Berlin GER