Point Of Few, 12 Aullidos @ El Lokal, Conil De La Frontera SPA 30 December 2000
We're off at 7.30 am. Once on the road to the south, the sun breaks through and it's getting real warm! I'm looking forward to see our friends 12 Aullidos again. We had some really crazy and memorable times when they played in Groningen and Amsterdam last year. They split up right after that coz Dani the drummer went to live in Florida. Obviously he's back or…? In Jerez we try to meet with the organizers but there's lots of miscommunication and our mobiles don't function well with all the interference. After 1 hour we finally pick them up and drive to the concertplace, in a small town at the Atlantic Ocean. Once again we are lucky parking. The concertplace is self-managed and open-air with a great terrace. Together with the locals we buy goodies for the concert and dinner. Jop goes to help with preparing the food and we try to find the beach. After a couple hours we've practically seen the entire city, including the dark and trashy spots but no beach. Very frustrating. Also I finally reach Rafael, organizer for the Portugese gigs, by phone. Unbelievable. Last week I have called three times a day, left numerous messages on his voicemail, sent emails and even contacted a friend in Groningen to help out. It turns out his (mobile)telephone is broke. He tells me all gigs are cancelled. Including 2/1 for Lisboa. I'm baffled. This is B A D fucken news. During dinner we discuss what to do. Antonio and Fran generously offer us to stay in the C.N.T. building in El Puerto De Santa Maria for the upcoming days. We're very grateful. 12 Aullidos shortly reformed and have just practised a couple of times before this gig. Still, it's overwhelming and very exciting to experience them again. And with a 2nd guitarplayer! They are damn crazy and Dani totally destroys the drumkit. A good thing Rik didn't borrow out his one. I see lots of different people in the crowd. Children, local villagers, neighbours, tourists, every genre-punk, metals and rockers….wow, this is the shit again! Just before the gig. I heard it's freezing and has snowed in Holland. I'm here standing in a t-shirt watching 12 Aullidos in the clear open sky. Wow. PoF play a good set. The middle-aged middle-class couple standing next to me are tapping their feet and softly banging their heads during the midtempo parts. The crowd sitting on the terrace swing their legs and some are slamdancing on the roof. Very amusing. I chat with the 12 Aullidos guys. Thanks to his Florida stay, Dani has improved his american slang. Even talking in Spanish, there's a lot of English standing out. Hilarious man!.
Sunday 31/12 (off day in El Puerto De Santa Maria SPA) Last day of the year. We were supposed to go to Portugal but crash in this small but renowned village where lived famous explorers and seafarers (Columbus, Vespucci, Juan De La Costa…). We're staying at the local C.N.T., a big building with an inner yard suitable for all kind of sport activities. We profit from the free time and sleep until 11 am. In the afternoon we visit the beach and Jop, Bolle and Eva go for a brave last-day-of-the-year swim. Some pretty high waves. Rik and Me go for a couple coffees. When we return, the rest is beachbasketballing and reviving lots of old and newer Dutch hitsongs including the shakes and moves. Jop and Bolle go swimming again. Addicted to waves that is. At twilight, we walk the boulevard along the sea but get lost in a rather large and dark wood, filled with strange animal noises. Fortunately we get back safe and get welcomed by a bottle of champaign. Some C.N.T. people sympathize with us poor stranded dutchies and bought us some goodies. Fran got us grapes for the new year. It's spanish tradition to eat grapes during the new years countdown. Last year we had a very entertaining time observing this tradition in the E-150 house with small rooms packed with nervous Spanish people sitting ready to consume 12 grapes at high speed. This year we go the rather normal way, opening a champaign bottle at 12 and go wild on the streets. When we go out, we need to climb over a car that has been parked right in front of our door. Great! We first visit the party plaça, then make some crazy pictures in a photocell, screaming "que pasa!" to all passing people and traffic, getting assaulted by falling oranges to eventually head for a hardrockbar. In the meantime we're getting looked after by almost everyone. We suddenly notice that really everybody is dressed. I mean dressed like three-piece suits, polished, cleaned up, dressed up… We are definitely out of tune. We obviously forgot we're in a really small village… Later we hear that even our anarchist friends got dressed up for this nite. Hahaha! Not spoiling our fun we crash in the hardrockbar but all they play is lousy mainstream rock and oldtime blues. However, there's enough going on. We discover a very original candy machine, the toilet is constantly busy the spanish way (nose-polishing that is), the owner literally kicks out an annoying customer, we dance the limbo and check out the cheap gamemachine. On our way back, we pick some oranges (those trees are all over) which are too sour, check another party plaça, convey Jop in a shopping trolley, try to talk around bouncers at big private parties and striptease to sleep. What a nite.
Monday 01/01 (off day in El Puerto De Santa Maria SPA) We decide to go visit Cadiz. It's a 30 minute drive and we first go check out the sea. When we sit outside to get a nice pizza, it starts to rain real hard. And it doesn't stop until the next day… Nevertheless we get to see some beautiful places (it's been populated/invaded and architectual influenced by Romans, Moors, Goths and Danes) and realize we're locked in by the sea coz Cadiz is on a spit of land. Back in El Puerto, we put the equipment in a practiseroom and PoF give a private concert to our hosts/organizers Antonio and Fran. Eventually resulting in a freaky jamsession.
Tuesday 02/01 (travel to Lisboa POR) Since we have to be in A Guarda on wednesday (a 900 km drive) we decide to start the travel today and crash in Lisboa. We arrive around 6 pm at the Praça Espanha squat, put a lot of effort in trying to reach our contact and find a Chinese restaurant that serves excellent vegan food. It's too bad PoF doesn't play today coz there's certainly a lot of people going in and out the squat. We make some warm drinks, test the guys for their exams, admire the fresh tattoos of Rafa and have the obligatory tourquarrel.
Organizer: Antonio/Endless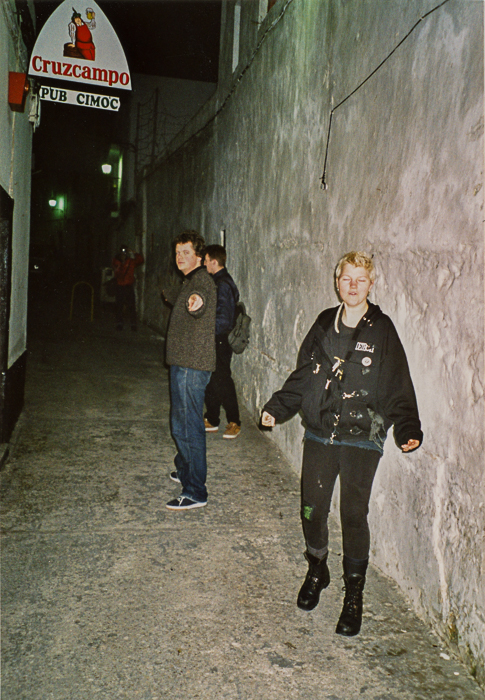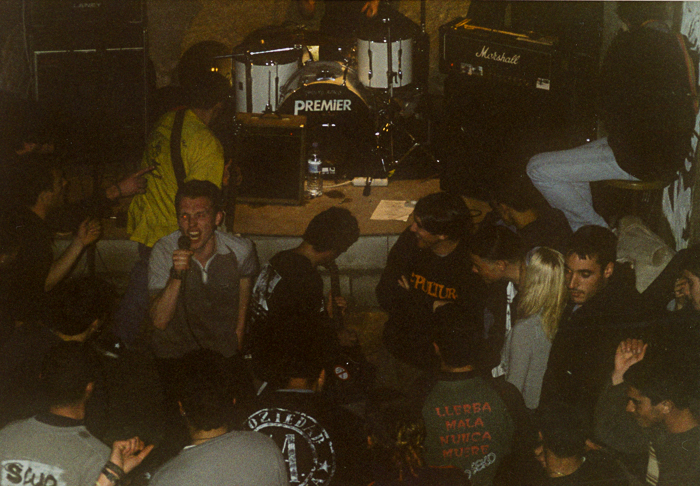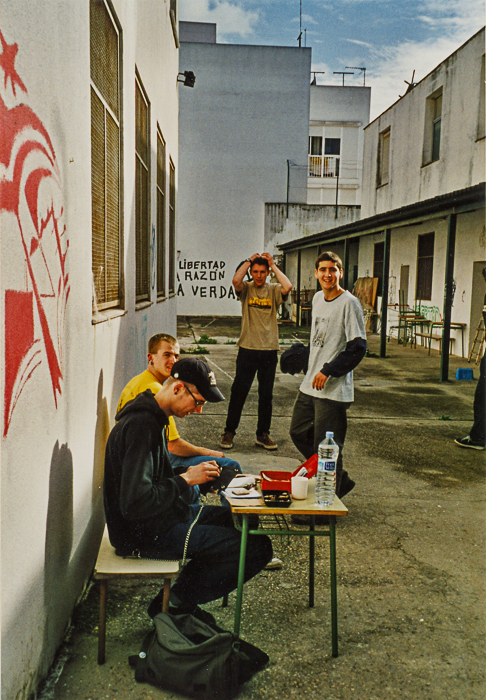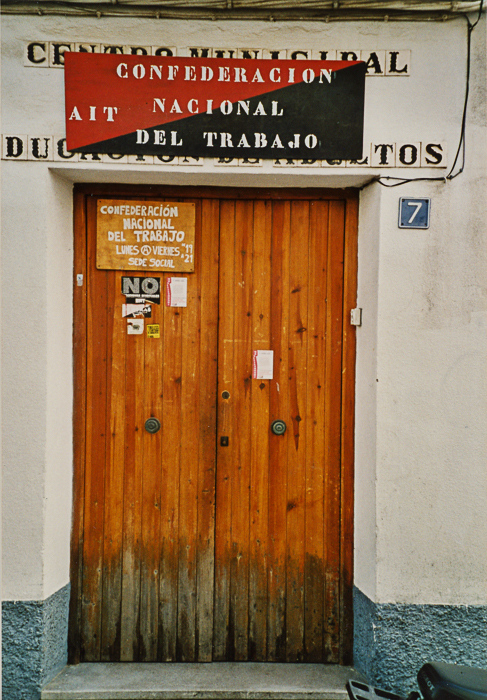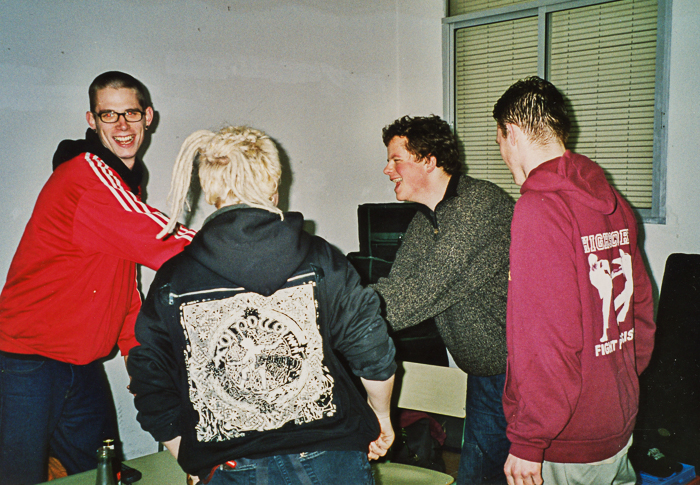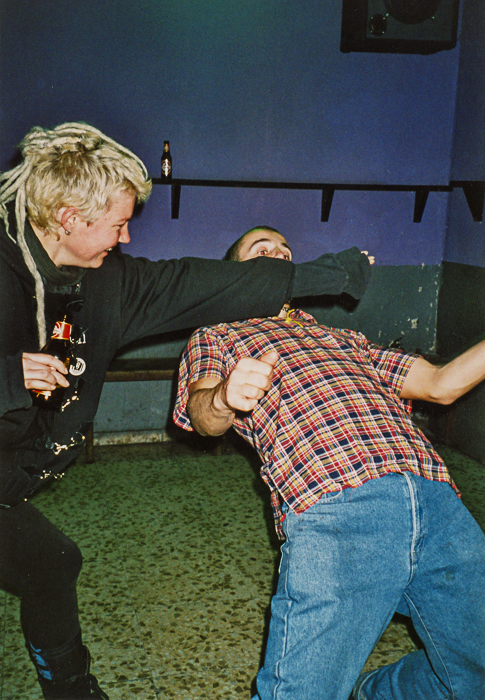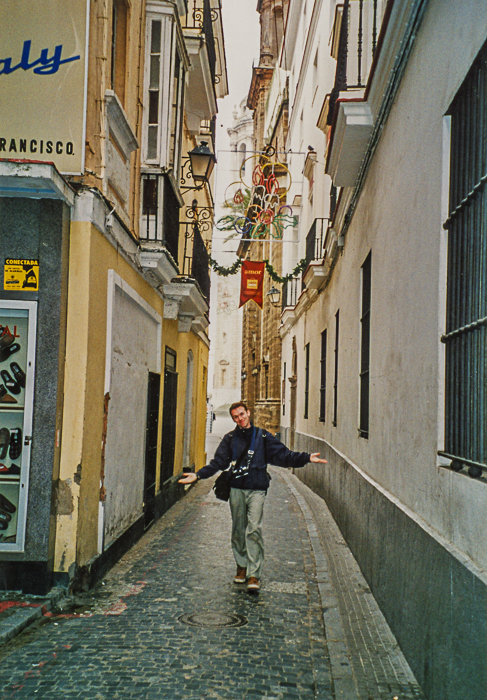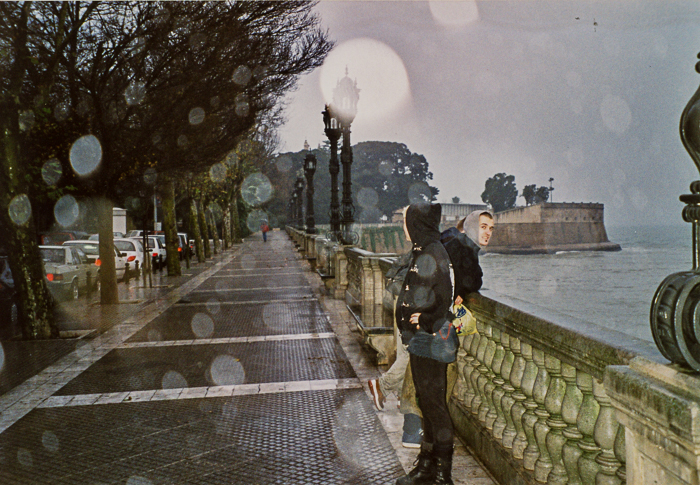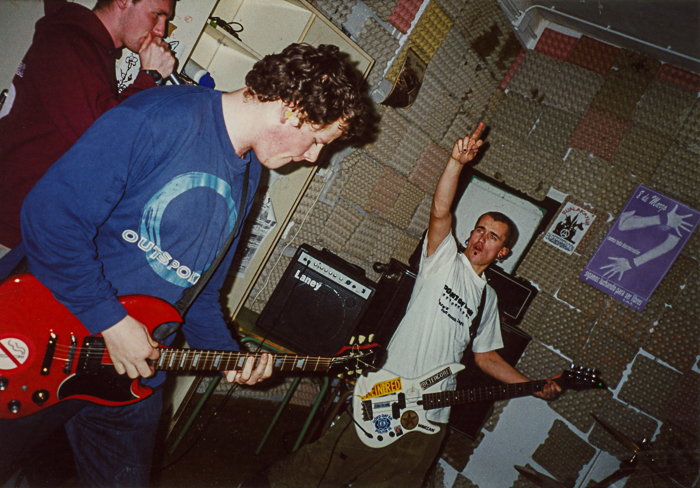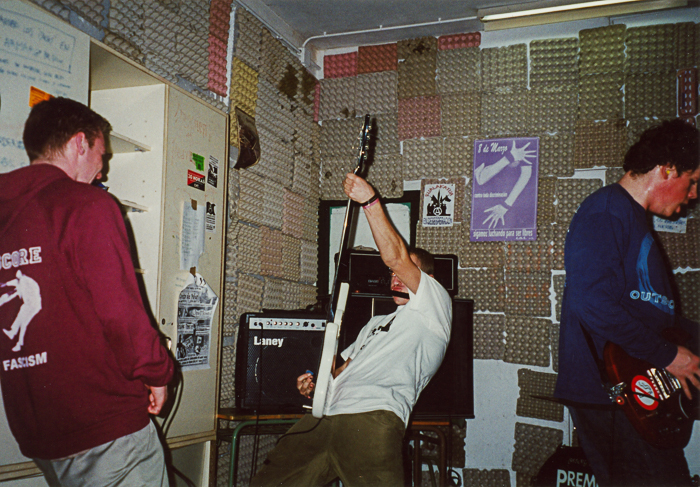 Point Of Few (Hoogeveen, The Netherlands)
12 Aullidos (Fuengirola, Spain)