Thursday 30/9: off at Ateneu Libertario, Zaragoza SPA (+ Dir Yassin, Y)
We drop off Olho Seco in Barcelona and we continue to Zaragoza. We hear there's a gig in the Ateneu and meet with Jörn, the supercook from Potsdam! It appears he's on tour with Dir Yassin and Y. The latter is playing their last songs and we greet Soria and Budi. There's about 20 visitors in the small cellar. After the gig we all go to the Arrebato club where we meet Xabi, working behind the bar. Everybody asks for Anjel. Normally she is often with us on tours but not this time.
Friday 01/10: off at Arrebato, Zaragoza SPA (+ Songs For Emma)
We visit Budi's new and rather professional t-shirt shop called Simbiosis. Until the evening relaxed with a lengthy shower and a stroll in the park. In the evening is an anti-fascist action against a nazi-skin shop. Unfortunately it's leaked so we expect a lot of police. The shop is protected by 5 vans of cops against 50 of us. We're on the other side of the busy shoppingstreet and in 1 hour we unroll a banner, distribute flyers and yell slogans. Afterwards we go to Arrebato to see the boring Songs For Emma. We hang with the members and their guiarplayer works for Mordam. Also one of them knows Anti/Stipjes from our hometown and ex member of one of Eva's bands.
Saturday 02/10: This day is for sightseeing and at 16.00 Olho Seco arrive at Entropia. We eat at Budi's place and go to Entropia at 20.00 where we meet the rest of the crew (Soria, Davide and Susana). Budi tells me there's 6 people working at Mala Raza. Tonight there's also concerts in the Ateneu and Arrebato so I hope some people will show up. Kanzer D'Eskroto is good catchy punkrock and I'll talk with Chuchi/El Corazon Del Sapo about their upcoming European tour organized by me.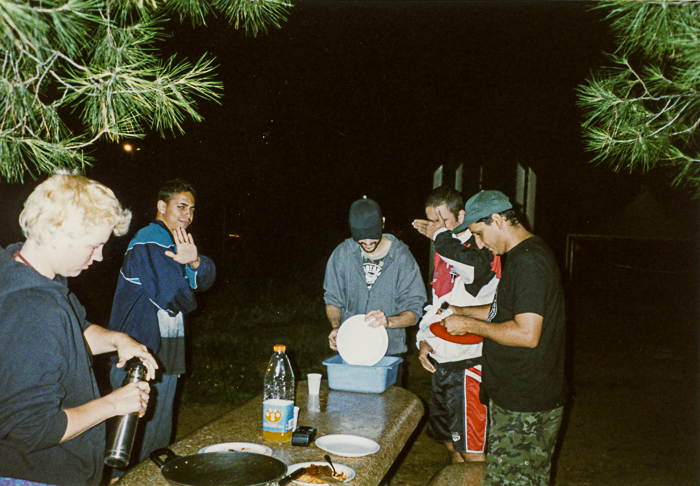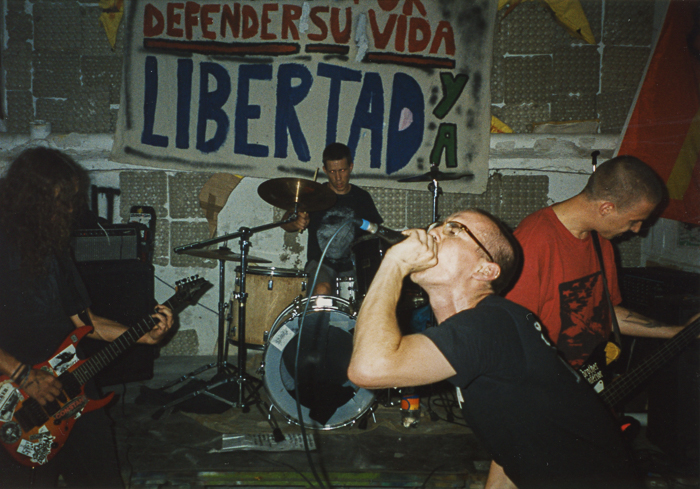 Olho Seco (São Paulo, Brasil)
Kanzer D'eskroto (Zaragoza, Spain)