Olho Seco, Insult @ Kortsluiting, Utrecht 05 September 1999
Sunday Evening: During the drive, Eva argues with Mike D. about "Kraakwachten" (literally: squatguarding). We arrive late. The Paria organizers are worried but glad to see us after all. Suppository canceled and Insult is already playing so I hurry to get a glimpse. Kinda Infesty. It's a very small squat (2 years old) in the Lombok neighborhood of Utrecht. Nice concertplace, stageless. More like a living-room. Not many people here, but of course Richard/UPS and the Wilco/DP are present. I tell Richard about the PCP fuck-up on his first 7" EP. Our song was mispressed and sounds way to slow. Also the pressing of our side is not a circle but an oval resulting in an additional whining….arghhh! So BEWARE of this pressingplant in Belgium. Andre has to improvise coz some essential drum stuff like a hiat-stand is missing. We sleep on a big squatted (formerly) military complex/training ground with loads of barracks in Austerlitz. Very impressive.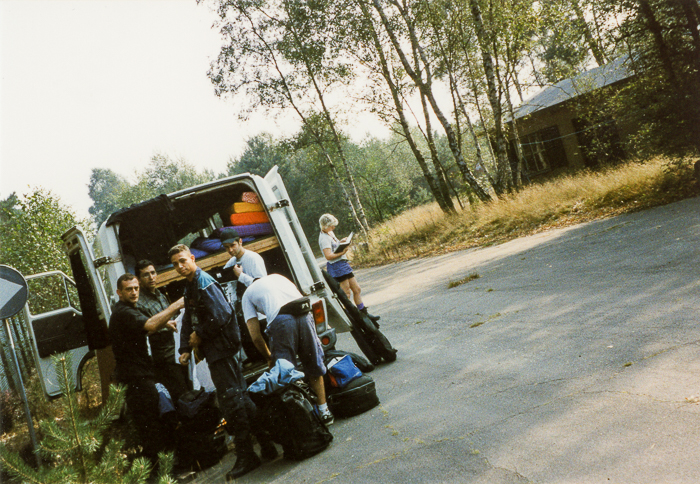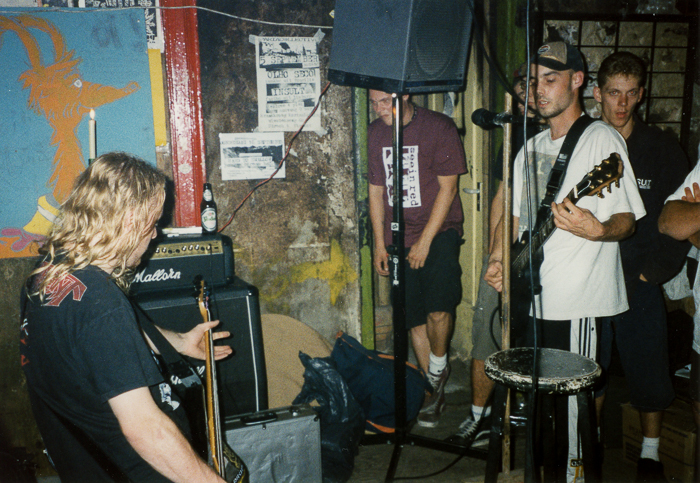 Monday 6/9: crashing in Amsterdam
We stay at Edwin's place, a nice squat in the neighborhood. We visit the Independent Outlet shop where we meet owner Aziz. He remembers Olho Seco from the early days and regrets having missed the concert. We eat Falafel at the Maoz and end up in the Ratjetoe squatbar to meet some old friends and see hilarious videos.
Tuesday 7/9: crashing in Amsterdam
Another day for exploring the city. Jeferson does all the important or necessary communication with us. Marcos is constantly teasing Andre. At times they punch eachother real hard. Hmm. We visit Distortion Records. A very nice selection with loads of rarities but for high prices. Back on the street, Fabio shows a Golden Earring LP he bought for hfl 2,50 We check out some other stores, Fabio S. buys DM's on the Waterloo Market, eat more Falafel, and finally the band indulges themselves in a souvenirshop.
Wednesday 8/9: crashing in Amsterdam
It is Edwin's birthday! Olho Seco is going to the Arena Stadium (home for Ajax Amsterdam), we make a walk to the docks. In the evening there's a nice birthdayparty in the house.