Catweazle, Shoved, Aside @ Au Charleston, Cherbourg FRA 03 May 1997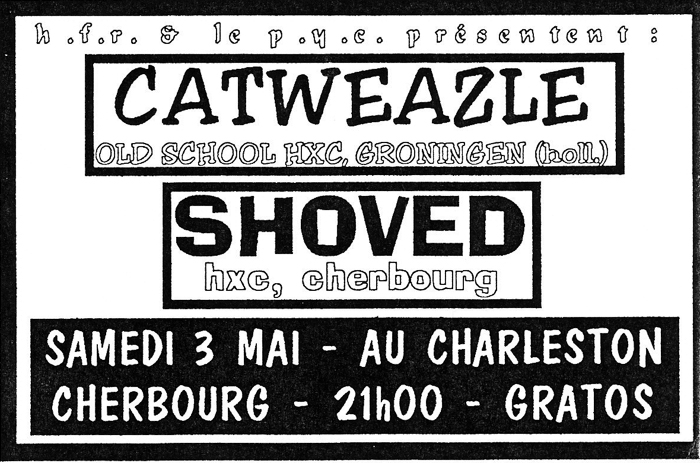 Friday 02.05.97 Groningen – departure from ORKZ
I just recovered from a terrible flu attack. Mike D. and Erik get the van from Amsterdam. At 1 PM, Emil, Axe and me are getting the equipment from our rehearsalroom in the Oude RKZ (which was one of the biggest squats in Holland in the 80's. Now it has a contract and hundreds of people live there, it has a bar, restaurant, concerthall, practiserooms…etc.). At 3 we get a phonecall that the van (a brand new one, delivered on 01.05!) broke down 30 km after Amsterdam… Oops! It is very serious because it's been smoking and the guy from the road-service lifts the entire dynamo out of the van. After a phonecall with the rental business, the van has to be fixed by a garage because they don't have any replacement vans available… They'll cover whatever costs. The nearest garage drums up a handful of people and they start working the rest of the afternoon. Oh wonder, they fix it just before closingtime and at 9 PM we can start driving. We sleep at Emil's parents in Eindhoven. What a day!
03.05.97 Au Charleston, Cherbourg FRA – with Shoved (FRA), Aside (FRA)
Small bar. We get surrounded by skaters and helpful people. Within minutes the van is unloaded. The pool-tables have to make place for the equipment. Open stage. Organised chaos. We drive to the outskirts of Cherbourg and end up in a rehearsal-cellar where lots of vegan food is served. We meet with Aside. When we return we see everything is already set up. Wow. Shoved is straightskate-like hardcore. The drummer plays with a plastered (gypsum) arm… He shoved his drumstick in the plaster! Very impressive. The bar is packed. I have difficulties breathing and it's hot as hell. Aside sound a bit messy but convinced. However I stayed most of the time outside catching my breath. During our set, I have a very hard time keeping it up. The crowd is going for it and Johan has to guard the equipment. I feel like fainting and have to run outside. Finished the set and joked around with David's parents who were sitting behind me during the whole concert. They seemed to enjoy it as well and for a moment Mme. Gaillard even took over my drumkit. Hahaha!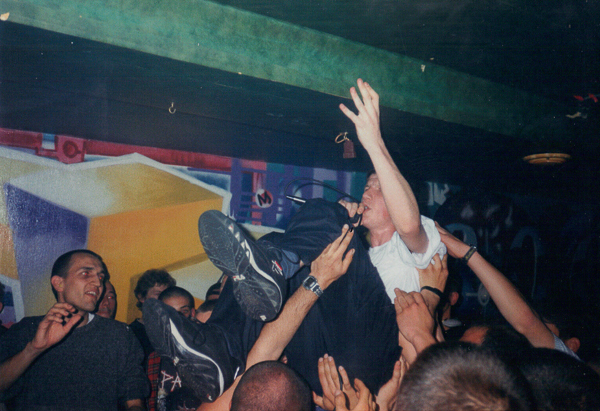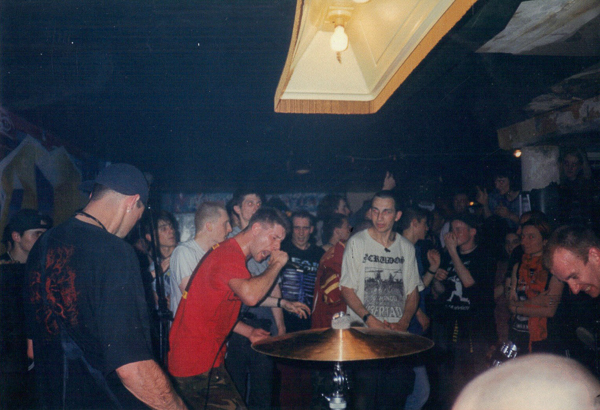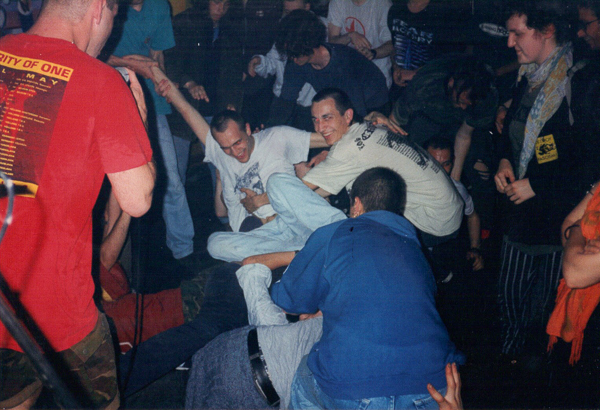 Shoved (Cherbourg, France)
Aside (Rennes, France)
Catweazle (Groningen, The Netherlands)