Catweazle @ Gasteizko Gaztetxea, Vitoria SPA 07 May 1997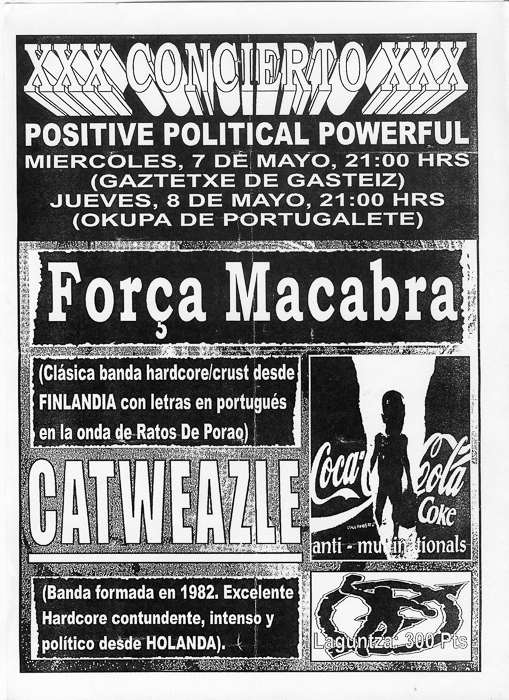 Time for some more craziness and serious cultureshock.
In the very narrow streets to the Gaztetxea, a car hits our rental van. Nothing too serious but still some damage (2 dents).
It's getting cold. After a very long 700 km drive we are starving, but the food is coming soon. It starts to snow… And the stage is outside.
We'd like to go inside the building but are refused because there's an important (Insumison) meeting in the "bandroom".
We notice there's no vocal equipment, which we have to pick up ourselves.
The food is coming soon. A car drives off the side-mirror of our rental van.
We suddenly notice the food is sitting there all this time just next to the stage. Hello language barrier! Right after we filled our plates, someone feeds the rest of the delicious food to the dogs… We can decide whenever we want to start to play. This is the only gig (ever) where I wear 4 layers of clothes. There's about a handful of people in the audience. FORCA MACABRA never shows up and eventually cancel the tour. There is no door/entrance. Someone donates expired coins. The sleepingroom is also the dogroom. We wake up next to excrements. We see that a car scraped our rental van. Javi, one of the organizers, becomes a good friend but unfortunately he dies in a bicycle accident in Bilbao a few years back.
From the 1998 Videosleeve:
We wake up at 8 am. And have had 3 hours of sleep. Long drive. It starts to rain – real showers. No problems at the border. We have a hard time finding the Gaztetxe but fortunately Emil speaks some Spanish. It's difficult to park the van, the streets are small. It starts to snow and it is fucken cold – I wish I brought my raincoat and warm waterproof armyboots. We see the stage is outside…. Forca Macabra haven't arrived yet. I look forward to meet them though. Then some rumour on the street. Someone crashed into our expensively rented van – two dents. Emil fixes the administration shit with the guilty driver. It gets worse. There's no vocal-equipment, Forca Macabra doesn't show up at all, no food yet, and our sleepingroom is occupied by the local insumision (anti-militarist) group who have a meeting that takes hours. Is this somekind of test? We get the vocal equipment ourselves. Around 10 PM we start the concert. We all wear coats and hats. Almost no-one there and we get about 800 pesetas (about $5).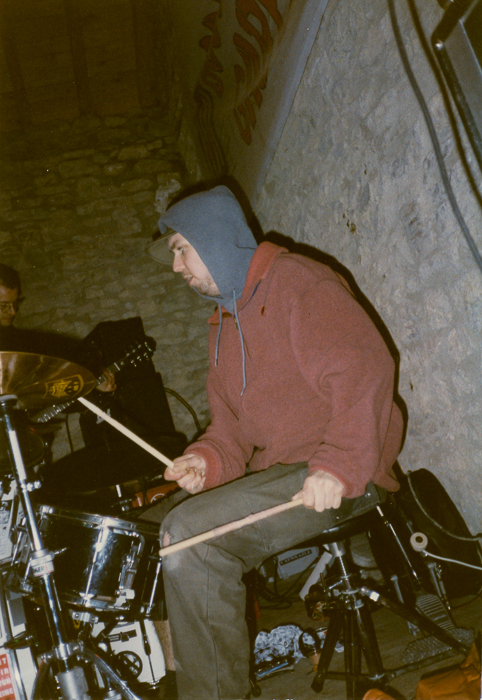 Catweazle (Groningen, The Netherlands)