PCP, Manneken Pis, Freak Show @ Stagedoor, Fuengirola SPA 07 March 1998
It must be around 30 degrees Celcius…. I hear stories that it is very cold and snowing in Groningen. I'm happy. I call Fuengirola. I am very reserved but it is unbelievable – someone is actually answering the phone! I cannot help but be suspicious – there must be something wrong, this goes too smooth. I get directions but no addres… I have to call again when we arrive in Fuengirola because the place seems to be hard to find. Hmm. Reaching Malaga, we run into more and more tourists especially big touringcars with Germans who are baffled by our appearance and noisy black van. The last couple days we experienced how it is to have a dual exhaust-pipe. It more or less bursted and now we keep it together with iron wire. However, it explodes now and then plus during a cold start, it smokes ALOT from both sides. Fortunately we drive on LPG, so we don't feel THAT guilty about polluting the…errr, our environment. And yes, now we finally get rid of the Politically Correct Punx abbreviation. In Fuengirola we got stopped by the local cops. Always act like stupid tourists and ask for directions even if it doesn't make sense. Local cops often want to be nice. However, watch your mouth with Guardia Civil. They are evil. Anyway, I phone again but ofcourse no-one's answering. We run into the singer of Manneken Pis and he says we're near the place. We finally find it, block the traffic and see we will play in some sort of disco/karaoke bar! The owner is a crazy Englishman and ex-manager for bands like Motley Crüe. You know, real rock and roll. He wants to book us for the Pamplona fest. Hilarious! Later I heard Active Minds got offered a simular deal. Yes, we definitely have a good time here. Manneken Pis does a soundcheck. I am totally impressed. I need to hear more of this band. We eat and sleep in the local Ateneo Libertario. This will be our home for the next 2 days. I start to bump my head in several doorways. People laugh, it's funny. I'm not that tall but obviously still bigger than the average spanish person. Margriet get bad news from Groningen. There was a burglary in her house. Fortunately, friends are taking care of it but it's not really restful.
Manneken Pis starts off and as I said before, they're quite impressive. The bodypainted singer looks surreal. I'll try to get a tape. Now, the place is getting full. Freak Show plays a homegame and tired organiser Dani turns out to be a true drum-animal. I was never too fond of their 7"ers, but this is totally different. I am a sucker in describing bands and music but this is very energetic and convincing. I guess you gotta see this live. If I understand well, they'll tour Europe later this year. I fuck up a lot of songs during the PCP set but people seem to enjoy it anyway. Later that nite I decide to hit the sack, the rest goes out to party. I "discover" some other painful doorways, especially the one to the roof is dangerous. Some of us sleep outside. It's warm!
Sunday 8/3 (day-off in Fuengirola)
We get a phonecall from Cordoba. Opahostil tried to organize an extra concert for us on 9/3 but it failed. But if we're in Cordoba, we can always stay at the local squat. We get another phonecall from Madrid that the extra concert with Sin Dios on 10/3 will happen. Wow! I'm looking for a helmet. This headbumping is no fun anymore and I start to really suffer pain. I begin to dislike this building. I am told this house used to be some sort of a police-office…. for local police that is…
We go to the beach, eat vegetarian bocadillo's, play soccer on the streets or behave like your average tourist only we look different and get guided by two insiders. In the evening we eat pizza on the roof of our temporary home. In the meantime the place is getting filled with friendly people and we salute the night again in the open air!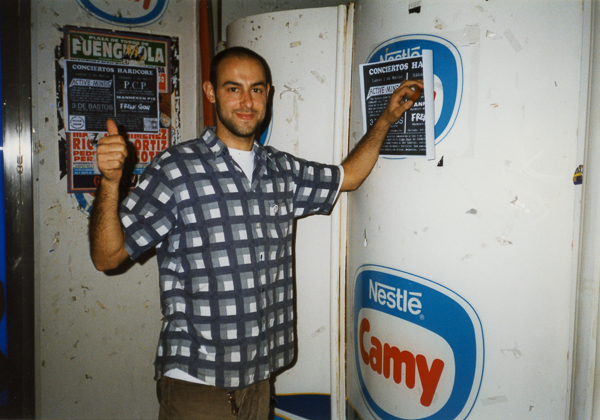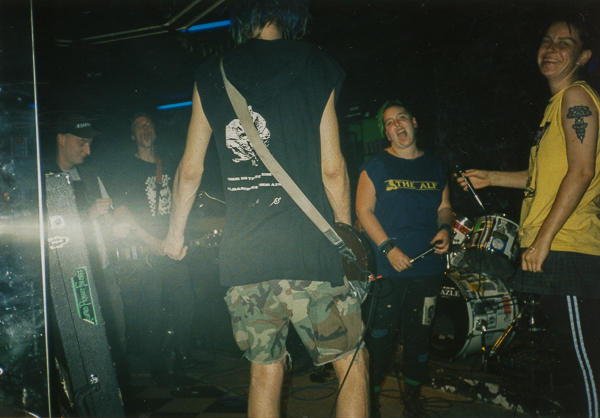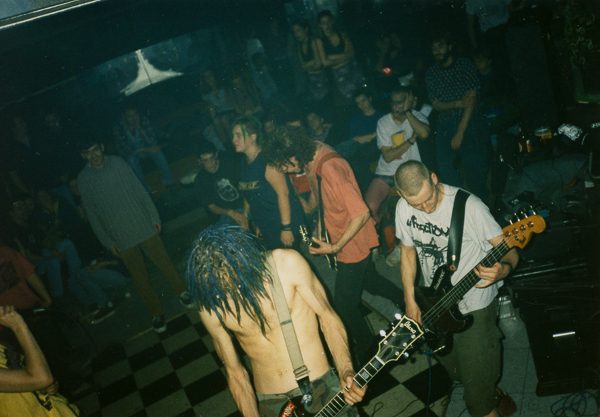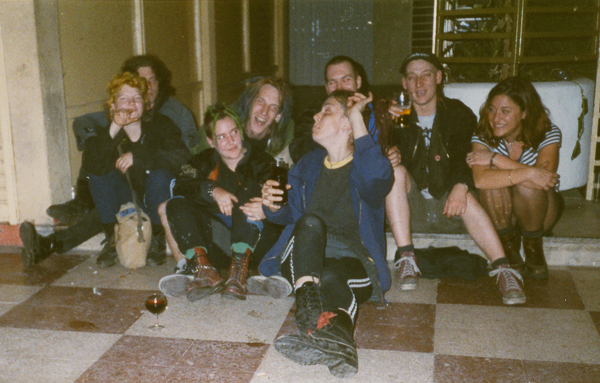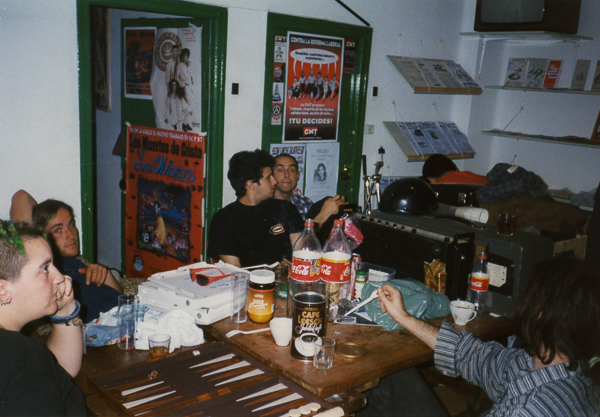 PCP (Groningen, The Netherlands)
Manneken Pis (Malaga, Spain)
Freak Show (Fuengirola, Spain)