(Leiden 1980 -1982)
Meaning Bandname: The name was taken from the song Cheap 'n' Nasty by the Piranhas. It's a statement against the narrowmindedness of society. The slogan was "We're Cheap 'n' Nasty but we're not as cheap and nasty as you!"
Bio:
23 November 1979 First encounter of Herman (from Leiden) and Terry (from Delft) at the gig of Rotterdam bands de Rondo's, Sovjets and Tändstickor Shocks in the LVC Leiden (Leids Vrijetijds Centrum ) Herman: "She had remarkable coloured hair (Blue already? Or bright pink?)". Terry tells him she plays bass.

07 December 1979 Next time they run into each other is at the Ruts gig in Paradiso when Herman is selling his fanzine PIN. They decide to start a band. PIN editor Jos hands Herman the address of drummer Maarten from Sassenheim, who intends to set something up with his schoolmate Rob.
CHEAP 'N' NASTY I (1980-1981)
08 February 1980 First rehearsal at the rehearsal room of the Dummies in Leiden with Herman (voice) Rob (guitar) Terry (bass) Maarten (drums). As it happens that very night somebody bursts into the room wanting to sell his hardly used Fender Bassman 100. Terry thinks one man's loss is one woman's gain so they strike a deal.

Rehearsals The next rehearsals will be in the cellar of Herman's apartment building, a big squat at Levendaal 101, the former Zeevaartschool (nautical school) squat and sometimes a bulb shed out in the countryside. During one of their first rehearsals at the Levendaal squat a neighbour walks in and complains: "During the war I was a forced labourer in Dresden during the bombing, this noise is worse"!
June 1980 Rob leaves the band and eventually gets replaced by Andy.
Early July 1980 London While she is staying at Burleigh House (the Poison Girls residence) Andy (N.A.) Palmer (Crass) phones the Poison Girls/Terry, to ask permission to include Thalodomide on what later is to be the Bullshit Detector compilation. Eventually, Crass said that they did not properly understand situations in other countries and therefore they would not include foreign bands.

At a meeting at the Crass residence, Dial House, Terry and Herman meet the members of Zounds and they decide to do a tour together.

September 1980 Andy gets replaced by Kees

07 March 1981 The recordings of the EP "Cover Girl" take place at the same recording studio at the Zuidendijk, Dordrecht, where the Brommers did their 7". The basic tracks are recorded in what is basically one take with rhythm guitar only. Ria is invited to do the drums on No More Violence (on TV) as a thank you. Terry sings for the band to keep track. Next voice recordings. Kees adds solo guitar. The bass is put to the max in the mix, yet can't completely meet up with the dirty live sound of the Fender Bassman. Kees takes care of the final sound production and mix. Kees, who is studying Graphic Design designs sleeve and labels. Terry designs and draws the booklet. The sleeve is printed by Tan Heck. The "do it yourself" (DIY) packages gets assembled by Terry and her mother in a production line at the dinner table. 1000 copies are pressed of which an unknown amount gets shipped to Rough Trade London and an order of 90 to a New York record store.

August 1981 Kees and Terry leave the band and get replaced by Marco and Jos
CHEAP 'N' NASTY II (1981-1982)
Raphaelle, ex-guitarist of the first French punk band the Lou's, also the first all-women French rock band in any genre, who has already joined up with the band during rehearsals, strengthens the ranks on saxophone.

September 1981 Terry joins them for one last time for a guest appearance at the Antwerp show. (Exact date and location unknown).

November 1981 Maarten and Jos leave the band. Raphaelle plays one last show before leaving for Amsterdam. Heleen and Andrea take over on bass and Pim on drums, thus rejuvenating Cheap 'n' Nasty.

Songs played by Cheap 'n' Nasty I:
1. Back to square one H. 2. Living in a middle class neighbourhood T. 3.I got rabies C. 4.Thalodomide T/H. 3. With the Bugs: PLO I. 6. Fools' lesson M. 7. No more violence (on TV) T. 8. Leather jacket C. 9.Rock star C. 10.Martian invasion H. 11.You're so hideous C (first gigs only). 12. I don't like it H. 13. Test tube babies C. 14. I'm a Photomodel T. 15. Unknown T. 16. Cover Girl T 17. Sirens T. 18. Forever H.
H=Herman, T=Terry, M=Maarten T/H=music: Terry lyrics: Herman, I=Infexion C=Cover

Songs played by Cheap 'n' Nasty II (second edition):
1. Back to square one H. 2. No more violence T. 3. Fools' lesson M. 4. I don't like it H. 5. I got rabies C. 6.Martian invasion H. 7. Cover Girl T. 8. I'm a Photomodel T. 9. Unknown T. 10. Star club H. 11. No cruise H. 12. We hate Christmas H. 13. Toys H.

H=Herman, T=Terry, M=Maarten, C=Cover
Lyrics: Lyrics are criticisms of the fashion industry, of the tourism industry, of Big Pharma, of (religious) hypocrisy, of military expenditure, about a Martian invasion, etc.

Description: We have been called 'experimental punk' or 'the bridge between punk and post-punk' and played on a United States radio program podcast on 'female-fronted post-punk'. We don't like labels like post-punk. Then, you basically get the idea that everything that is more than 5% different from the first three Ramones albums is no longer punk. We love the Ramones, but we don't think all punk bands should sound like them.
Punk is about individuals thinking for themselves. X-Ray Spex added a saxophone. The Raincoats a violin. Sid Vicious, very differently again, added lots of violins in My Way. John McGeoch of Siouxsie and the Banshees and Kees in our band added an unusual guitar sound.
Lineup:
Herman de Tollenaere – vocals, toy sax
Terry – bass, vocals (1980-1981)
Kees Tazelaar – guitar (1980-1981)
Maarten van Zeijl – drums (1980-1981)

Raphaelle Devins – saxophone (1981-1981)
Rob Salman – guitar (1980-1980)
Carlo Edel – guitar (1980-1980, replacement 18.08.1980)
Peter Sinnige – guitar (1980-1980, replacement 18.08.1980)
Andy van Ruyven – guitar (1980-1980)
Marco Sterke – guitar (1981-1982)
Jos Witsenburg – bass (1981-1981)
Andrea Eppink – bass (1981-1982, replacement)
Heleen Schönau – bass (1981-1982)
Wim Entzinger – drums (1980-1980, replacement 12.04.1980)
Ria van Loon – drums (1980-1981, replacement)
Captain Sensible – drums (1981-1981, replacement 28.03.1981)
Hans Smit – drums (1981-1981, replacement 07.08.1981)
Joost Tazelaar – drums (1981-1981, replacement 13.08.1981)
Pim Goddijn – drums (1981-1982)

Other bands:
Raphaelle – The Lou's, Verdict
Terry – PVC, Hideous
Kees – Brommers
Maarten – Perfect Grandmothers, Longhair Kojaks, The Void, The Booze Rabbits, Asbest Uniekaas, The Vulcans, BYO, Herrie & The Neurotransmitters, Kozmik Chi, Battatutti & The Flipping Bits, Purple Void, Zappatika
Andy – Napalm
Carlo – Bugs
Peter – Bugs
Marco – Demented
Wim – Munk The Punk And His Flying Testicles
Joost – Brommers
Ria – Miami Beach Girls
Andrea – Miami Beach Girls
Heleen – Miami Beach Girls, Ten Girls Ago, Femmes Fatales

Discography:
1981 – Covergirl 7" EP (Smashstick Plastics)
Recorded @ Dordrecht 05.1981
Various:
1995 – Back To Front Vol. 6 LP/CD (Incognito Records, GER)
2011 – Gunella #18 TAPE (ROSA Vertov, FRA)
2016 – I Don't Care Volume 2 (Dutch Punk 1977-1983) 2x CD (Pseudonym, NL)
2016 – I Don't Care Volume 2 – Dutch Punk 1977-1983 2x LP (Pseudonym, NL)
2017 – Killed By Television (Punk Rarities 1977-'83) CDr (Fab Fuhrer Records, BEL)
2018 – Soundtrack Fenix on demand television series episode 4 (Lemming Film, NL)
2020 – Netflix (same as above)

Pictures
Articles and Flyers

Concerts: (assorted)
(Herman-Terry-Rob-Maarten)
1980.03.25 Lindehoeve, Voorschoten (+ Crass, Poison Girls, Neo Neurotics, Perfect Grandmothers, God's Hangover, Annie Anxiety, Seaman Stockton)
First gig. Crass grants permission to tape and release the full gig with all bands, but because of organisational buzz this doesn't happen unfortunately. However some filming is done by Dutch television for Neon (VPRO).

(Herman-Terry-Rob-Wim)
1980.04.12 Levendaal, Leiden (+ Munk The Punk His The Flying Testicles, Schmutz)
Second gig at a small festival (party) with Schmutz (Haagse Njoe Weef band), bassplayer is Marc de Reus also known of the DIV, Munk (Maniese biet) and Zeno (on piano). Maarten can't make it because of school. Munk the Punk and his Flying Testicles drummer, Wim Entzinger, steps in.
(Herman-Terry-Rob-Maarten)
1980.05.23 Leids Vrijetijdscentrum, Leiden
Show at the group presentation night. Terry kicks Rob out for sitting down while playing guitar. An attitude for hippies, not for a punk band in her modest opinion.

1980.06.10 Lindehoeve, Voorschoten (+ Fades, Run Mascara, Perfect Grandmothers, God's Hangover)
Last gig with Rob.

(Herman-Terry- Peter-Carlo- Andy (1 song)-Ria)
1980.08.18 Wantijpark, Dordrecht
Carlo Edel and Peter Sinnige, guitarists of the Bugs (formally the guitarists of Infexion and the Bugs) join for this gig. Rehearsals are in the rehearsal room of the Bugs in the cellars of Paradiso. Decided is to add the Infexion song PLO to the setlist. Andy joins in for one song.
Broadcasted live by VPRO radio who announces the band as "Nasty and Cheap".
Setlist: 1. Back to square one. 2. Living in a middle class neighbourhood. 3.I got rabies. 4.Thalodomide. 5. PLO B. 6. Fools' lesson. 7. No more violence. 8. Leather jacket. 9.Rock star. 10.Martian invasion. 11.You're so hideous. 12. I don't like it. 13. Test tube babies.

(Herman-Terry-Andy-Ria)
1980.08.30 Simplon, Groningen
With new guitarist Andy van Ruyven and substitute Ria on drums. PA's weren't part of the standard facilities in those days so a vocal installation is borrowed from Ivy Green. Tim Mullens of Ivy Green hops along as roadie. The Fades (support) don't play so due to contractual obligations the band plays the same set twice. Stichting Simplon, according to the same contract, takes care of "a reasonable amount of free drinks (about one per hour per artist)."

(Herman-Terry-Andy-Maarten)
1980.09.13 Kaasee, Rotterdam (+ Ivy Green)
Support of Ivy Green. Only a short set allowed. After the first song the guitarist (Andy) breaks a string, because of which to great annoyance of the bass player (Terry), the gig is cut short to 8 minutes. Afterwards it turns out his amp/distortion is stolen from the storage.
1980.09.27 Vondelpark, Amsterdam (Abortus Manifestatie)
Manifestation for the legalisation of abortion with bands. During the gig a discussion starts about not all members being woman. Terry gets requested to turn on her amp extra loud and to sing all songs. Terry refuses claiming all bandmembers are equal. They attempt to stop the rest of the band from playing by pulling plugs. The punk audience, including the at their Amsterdam gigs ever present Bugs and friends, turned up specifically to see the band, don't accept this and starts pogoing and yelling for the band to keep playing. Discussion in their own ranks, some believe it is fine to have guys performing, others don't; the woman's choir gets asked to come to the stage multiple times, consternation all round. The band keeps on playing under ever louder encouragement of the crowd, in the end almost acoustic, till the last plugs are pulled.
Terry kicks Andy out and Kees Tazelaar of the Brommers becomes the new guitarist

(Herman-Terry-Kees-Maarten)
1980.10.11 Venlo (+ U.K. Subs)
First show with Kees on guitar. After trying to become the official support Charlie Harper, singer of UK Subs, steps in. He pays for petrol to get from the Randstad to Venlo. First with Terry's tiny red FIAT from Delft to Zwijndrecht, next with Terry's brother's car to Venlo. Almost nobody in Venlo knows about the performance, except the Venlo PIN-subscriber Karin and a pen pal of Terry, who travelled from Helmond to Venlo especially to see them. Despite this an encore has to be played. Large audience, surely more than a thousand. Later it was written that PVV-leader Geert Wilders, then 14, was one of them.

Setlist: Back to square one, Living in a middle class neighbourhood, I got rabies, Thalodomide, Rock star, Fool's Lesson, Leather jacket, Martian Invasion, No more violence on TV, I don't like it, I'm a photo model, Test tube babies.
1980.10.26 Kikkerstein-Kruidberg, Amsterdam (+ Biz Kids, PZ Boys, Empty Heads, Pubix, World War Rockerz, Rakketax, Svätsox, The Ex, Nitwitz, Desert Regime)
The festival starts in the afternoon but the band plays in the evening. An atypical audience, mostly consisting of the bands themselves and a few that came along. When the sound of Kees's guitar floats away from under the parking garage it attracts a new audience. They are the only ones that have to do an encore despite the darkness and cold. But not for long, it may be hot under the spotlights but it is pretty cold outside

(Herman-Terry-Kees-Maarten-Ria)
1980.11.08 Melkweg, Amsterdam (+ Zounds)
The soundcheck is used to play "Cover Girl", freshly penned by Terry, for the first time and it debuts at the gig the same night.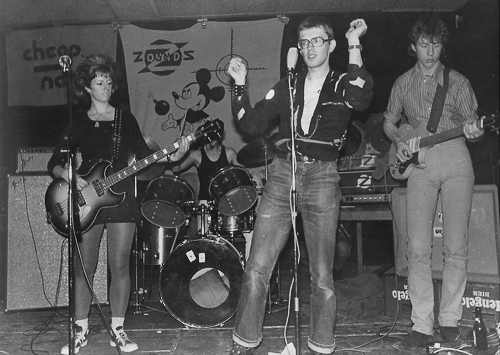 (Herman-Terry-Kees-Ria)
1980.11.09 De Gigant, Apeldoorn (+ Zounds)
Maarten has exams, Ria replaces him at gigs where he can't make it.

1980.11.14 KZ36, Berlin GER (+ Zounds, Slime, Stromsperre)

1980.11.15 SO36, Berlin GER (+ Zounds, TNT, Vopos, Betoncombo, ZK)

(Herman-Terry-Kees-Maarten)
1980.11.19 Alcazar, Koningshooikt BEL (+ Zounds)
1980.11.20 Kijkhuis, Tilburg (+ Zounds)

1980.11.21 LVC, Leiden (+ Zounds)
Gig under a false name "the Photomodels", because Cheap 'n' Nasty are not allowed to play due to a performance earlier that year in a different setting. Terry has written the new song "Cover Girl" sung by her, especially for this gig in order not to let the organisation work it out straight away, until it's to late, that they're really Cheap 'n' Nasty. They attempt to pull Herman, who appears on stage to sing the next song, off the stage; however word got round and thus a yelling/shouting mob makes sure this doesn't happen.

1980.11.22 Drieluik, Zaandam (+ Zounds)

1980.11.23 Doornroosje, Nijmegen (+ Zounds)

1980.12.13 Parkhof, Alkmaar (+ Masturbation Problems and more)
1981.01.23 Ut Kros, Roosendaal (+ Tröckener Kecks)
There are quite a few bikers present. Mike of Tröckener Kecks gets nicked during their gig. According to Richard Schouw they were lucky because the punk band the week before went home with only a mike. The guitarist of Tröckener Kecks remembers: "I remember that during loading the gear into the van such a drunk dude was looking for a fight and asked: do you know which music I like? Well Elvis Presley I said. Then he thawed. Was easy, he carried an Elvis patch on his jacket." Johnny Konings: "At the poster of ut Kros it said: punknight with Tröckner (spelling mistake) Kecks and Cheap & Nasty. Punk clothing obligated."
(Herman-Terry-Kees-Ria)
1981.01.24 Kijkhuis, Tilburg (+ Rabies)
The gig as support of Zounds was such a success ending with encores with both bands on stage, Cheap 'n' Nasty got booked the same night for a return as major act. Terry's former roommate Margriet, bassplayer of Rabies/Prime Ministers in their first year, requests to help them out getting a gig as support. It does take some negotiating, because the Kijkhuis didn't intend to book a support. Terry: "So I made it a condition to book us and even got them to get their expenses paid."

(Herman-Terry-Kees-Maarten)
1981.02.21 Oktopus, Amsterdam (+ White Lines)

1981.03.21 Effenaar, Eindhoven (+ U.K. Subs)
Alvin Gibbs (U.K. Subs) wants to make sure he's the first one to buy the record. Agreed is that the first copy will be send to England. And so it happens.

(Herman-Terry-Kees-Captain Sensible)
1981.03.27 Paard Van Troje, Den Haag (+ Annie Anxiety, Poison Girls)
A bit a last minute gig, Maarten can't be traced, Ria is ill. As it happens Captain Sensible (the Damned) is staying at Herman's place and offers to play drums.

(Herman-Terry-Kees-Maarten)
1981.05.16 Jam, Leiden (+ Miami Beach Girls)

(Herman-Terry-Kees-Maarten-Ria)
1981.06.04 Kijkhuis, Tilburg (+ Miami Beach Girls, Ruts D.C.)
Supporting Ruts D.C. at the Kijkhuis and the Lantaarn Rotterdam. However the tour gets broken off after an argument with the promotor, about a lack of publicity and therefore audience and unbooked hotels. At the same time the promotor told venues they were not to perform with punk bands…. The Rotterdam gig gets cancelled.

1981.06.11 Tagrijn, Hilversum (+ Mo-Dettes)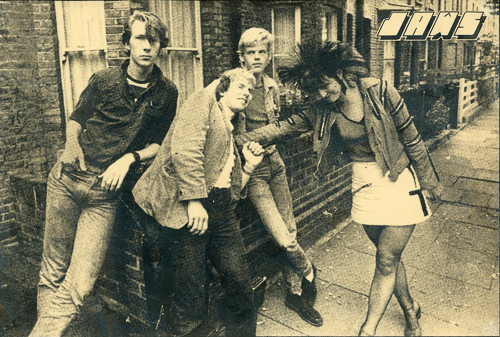 (Herman-Terry-Kees-Hans)
1981.08.07 Kingfisher Pub, Ipswich UK
Hans Smit steps in as drummer as Maarten can't make it. Organised by Phil Cheeseman of the Anti-Climax fanzine, later on to become a name in house/dance. The Adicts, informed by Phil, show up to see the band. The next day on the way back to the ferry a visit is made to London for a meet up at Rough Trade to do an interview for the English music magazine Sounds, after an earlier enthusiastic review of the EP. Where Melody Maker is losing ground, Sounds is by then quickly becoming the main competitor to NME were it comes to writing about punk music.
Never having met their dashing Maarten Mick Sinclair (Sounds) suggest to keep Hans in the band for his looks. He is right it later turns out they did get noticed by the English punters who thought it was a band to keep track off, but who knows what would have happened if Maarten was there. Sadly it is of little avail as Peter Backstreet never delivers the promised 100 records to Rough Trade and the band (version I) basically splits soon afterwards. The punk way ofcourse.

Setlist: 1. Back to square one. 2. Sirens. 3. Living in a middle class neighbourhood 4. Rock star. 5. I got rabies. 6. Leather jacket. 7. I don't like it. 8. Forever. 9. No more violence on TV. 10. Test tube babies.
Encore: 11. Martian invasion. 12. Cover girl.

(Herman-Terry-Kees-Joost)
1981.08.13 Paradiso, Amsterdam (+ Miami Beach Girls)
Headliner at mainstage. Usually Nederpunk bands, with the exception of the Bugs en Ivy Green, play the café upstairs. Kees's brother (Joost) plays the drums because Maarten is enjoying his holidays in Sicily. This gig is mentioned in the (limited edition) book De Paradiso punkjaren deel 4, author Oscar Smit.
Kees and Terry leave the band and the gig at Eksit Rotterdam on 3 September with the Mo-dettes gets cancelled.

(Herman-Raphaelle-Marco-Jos-Terry (as guest)-Maarten)
1981.09 Antwerpen BEL
(Herman-Raphaelle-Marco-Jos-Maarten)
1981.10.02 DAC, Haarlem (+ Tröckener Kecks)

1981.10.04 De Posthoorn, Amsterdam (+ A4)

1981.11.07 De Lindehoeve, Voorschoten (+ Mekanik Komando)
(Herman-Raphaelle-Marco-Heleen-Pim)
1981.11.18 Paard Van Troje, Den Haag (+ De Straks)

(Herman-Marco-Heleen-Pim)
1982.01.01 Nieuw Nijevelt, Wassenaar

1982.01.22 Apeldoorn (+ Vice Squad)

1982.01.23 De Kokerjuffer, Enschede (+ 5% Alcohol)
Setlist: 1. Back to square one. 2. No more violence on TV. 3. Starclub. 4. No cruise. 5. Fools Lesson 6. I don't like it. 7. Unknown. 8. I got rabies. 9. We hate Christmas. 10. Martian Invasion. 11. I'm a photomodel. 12. Toys. 13. Cover Girl.

1982.01.30 Stokvishal, Arnhem (+ The Sound)

1982.02.06 LVC, Leiden (+ Prime Ministers)

1982.02.12 KWJ Jongerenkafee, Breda (+ Scoundrels)

1982.03.20 Babylon, Woerden (+ Neo Verzet)

1982.08.07 Het Beest, Goes (+ Kut)

1982.08.25 Oktopus, Amsterdam (+ Miami Beach Girls, Kut)

1982.10.23 Turnhout BEL (+ Alerta and more)