(1977-1982)

Meaning Bandname: Originally just Munk which sounds like Punk. In the summer of 1977, Luc's schoolband plays Munk The Punk Meets Brigitte Bardot in Catena, Leiden. They take the name of that song.
Bio: From Leiden. Start jazzy, followed by Steely Dan influences and eventually they get inspiration from Television and by concerts of the Damned and The Stranglers. The band rehearse in the SSR student building where they also do concerts. Wilder gigs are done without keyboards. Drummer Wim replaces Maarten for one gig in Cheap 'n' Nasty on 12 April 1980. The set exists of covers and own songs.

Description: Punk, new wave and other styles.
Lineup:
Wim Entzinger – drums
René Entzinger – bass
Luc van Leeuwen – guitar
Els Veenis – keyboards (1979-1982)

Alex Holsbergen – guitar (1977-1979)
Interviews & Articles:
1978 – Pin 1
1978 – Pin 2
1978 – Pin 3
Concerts: (assorted)
1978.04.14 LVC, Leiden
1978.09.02 SSR, Leiden
1980.04.12 Levendaal, Leiden (+ Cheap 'n' Nasty, Schmutz)
1980.10.10 LVC, Leiden (+ Magic Space, Short Queen)
1982.05.22 LVC, Leiden (+ Theatre Of Hate)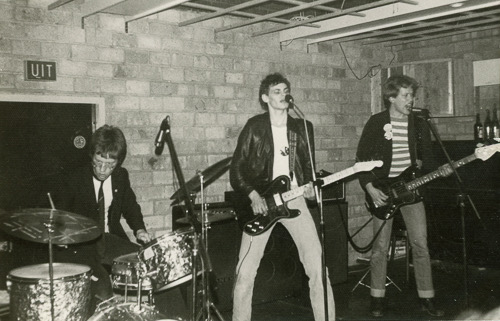 Source: Wim Entzinger