(1978 – 1978)
Meaning Bandname: Invented by Herman. Poisonous snakes which, like punks, have a bad reputation, but which in reality only bite if you tread on them. 'And I don't care 'bout my bad reputation'. Later, other bands stole our name 🙂
Bio: In early 1978, Herman bought a second hand electric guitar. One of the earliest subscribers to his Pin fanzine was a 14-year-old girl from Oegstgeest, Gaia. As one of few punks in the greater Leiden area, she had an instrument: a bass guitar. Herman started to write songs and tried to start the band The Vipers. Neither of us knew how to play our instruments. Neither of us had an amp. We rehearsed acoustically at Gaia's place, without any idea how it would sound with amps. A 16-year-old boy from Noordwijk wanted to be our drummer, but had no drumkit. Herman decided that the band needed a better guitarist and at No Fun punk recordshop in Amsterdam was put up a note: Guitarist wanted for new band. Male or female. Next time in to No Fun, someone had scrawled under the note: Keep your hands off! This is for Pebbles. Pebbles was Amsterdam punkgirl Pebbles aka Karla Willekes. When Herman met her in No Fun, 15-year-old six feet tall Pebbles asked: 'So, you can write songs. But do you have a rehearsal space?' Herman had to say no. According to the punk DIY slogan: Anything is possible, Herman had forgotten to have a rehearsalspace before bandmembers could join. So, a chance missed to have one of the best Dutch first wave punk guitarists plus vocalists plus songwriters join the Vipers. Pebbles became Motorboat guitarist/singer, playing, eg, at the January 1979 Amsterdam squat party to celebrate one year of Razorblade fanzine and six months of Pin fanzine.
A few months later in 1978, Herman met a friend of Leiden band the Dummies: another good guitarist, called Jimi Schmendrix. Twenty-something, he was from Manchester in England, where he had played in Ludus. In December 1978, they heard there would be a public jam session. Anyone welcome to play. Tomorrow, in the Leiden Volkshuis. Gaia? Not at home. Our Noordwijk drummer? Not at home. So, just the two of them: Herman on electric guitar and vocals (for the first time singing through a microphone and for the first time ever with his guitar plugged into an amp) and Jimi on guitar. Both had been impossible during rehearsals. A guy Herman had never met offered to play drums. No bass player. We were even more chaotic than the infamous 1976 first Siouxsie and the Banshees concert in the 100 Club with Sid Vicious on drums. The audience was mainly about 14-year-old disco-ish girls. The good thing was that, probably especially because we played so badly, the girls got the punk "Anyone can do it" idea. They jumped on the stage to sing. Gaia soon moved to Amsterdam. No more rehearsals with her. Before meeting Terry in late autumn 1979 to found Cheap 'n' Nasty, all attempts by Herman to found a really stable band failed.
Description: Own songs. Chaotic attempts to play Ramones and Jonathan Richman covers.
Lineup:
Herman de Tollenaere aka Jimmy Viper – guitar, vocals
Jimi Schmendrix – guitar
Gaia Voogd aka Gaia Viper – bass
? Viper – drums
Other bands:
Herman – Cheap 'n' Nasty
Jimi – Ludus
Concerts:
1978.12.10 Volkshuis, Leiden (+ Touchwood and more)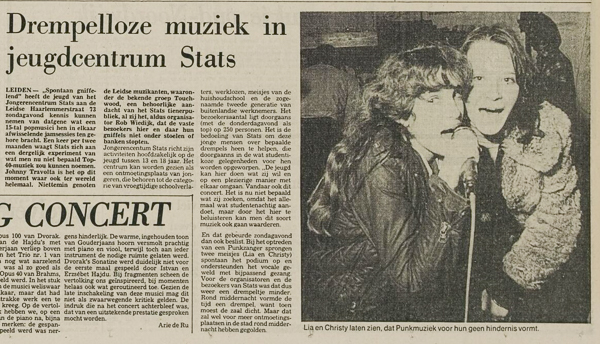 Source: Herman de Tollenaere