(1981 – 1984)
Bio: The Miami Beach Girls were an all-girl 'poppy punk' band, founded in the spring of 1981, by Saskia (aka Sacha aka Syama) de Jong. That drummer in 1977 had been a co-founder of the Lou's: the first French punk band and the first all-women rock band in any genre in France. In 1979, Saskia played many Rock Against Racism gigs in London, drumming for Verdict. After Saskia had returned to her native Leiden, she found the other members of the original Miami Beach Girls line-up. On vocals Ria, also the drummer of Cheap 'n' Nasty when Maarten could not play because of secondary school. On bass, Andrea (later also in Cheap 'n' Nasty). On guitar, Francien.
They played their first gig in May 1981 in the Jam pub in Leiden. Supporting Cheap 'n' Nasty, with whom they would play often, eg, in Paradiso in Amsterdam. Saskia had played many of their songs before in the Lou's and in Verdict. Soon, Jeanette joined on keyboards and backing vocals. When Ria left, she became the lead vocalist. They played with English band the Mo-dettes.
In 1982, Andrea left. Heleen, also the bass player in Cheap 'n' Nasty, replaced her in March 1982. Guitarist Francien left . They were a three-piece: Saskia drums, Heleen bass, Jeanette vocals and keyboard. In 1984, they were on tour as support to Golden Earring. Soon after, they disbanded. Francine and Heleen founded Ten Girls Ago. Later, in 1989, Sascha and Francine founded LoveCramps.
Description: Beach Bop
Lineup:
Saskia de Jong aka Sacha aka Syama – drums
Heleen Schönau – bass (1982-1984)
Jeanette van Sijll – keyboards, vocals

Francien de Zanger – guitar (1981-1982)
Andrea Eppink † – bass (1981-1982)
Ria van Loon – vocals (1981-1981)
Other bands:
Saskia de Jong – Lou's, Verdict, LoveCramps
Ria van Loon – Cheap 'n' Nasty
Andrea Eppink – Cheap 'n' Nasty, Gallery Of Non, The Haunters Of The Dark
Francien de Zanger – Ten Girls Ago, LoveCramps
Heleen Schönau – Cheap 'n' Nasty, Ten Girls Ago, Femmes Fatales

Discography:
1982 – Various – Onutrechtse Toestanden LP (Rock Against Records, NL)
1984 – Various – Hollandse Nieuwe 2 (Melkweg Live) TAPE (Milkyway Cassettes, NL)

Concerts: (assorted)
1981.05.16 Jam, Leiden (+ Cheap 'n' Nasty)
1981.06.04 Kijkhuis, Tilburg (+ Cheap 'n' Nasty, Ruts D.C.)
1981.06.12 LVC, Leiden (+ Mo-dettes)
1981.08.13 Paradiso, Amsterdam (+ Cheap 'n' Nasty)
1981.09.03 Eksit, Rotterdan (+ Mo-dettes)
1981.09.04 PH31, Amsterdam
1981.09.11 N.V. Huis, Utrecht (+ Klein Orkest, Bloodklat, Dangerous Pyama's, Svätsox)
1981.09.12 Oktopus, Amsterdam (+ T.L. Management)
1982.01.30 Nieuw-Nijevelt, Wassenaar
1982.02.13 De Lindehoeve, Voorschoten
1982.04.30 Meerburg, Leiden
1982.05.08 Vrouwenhuis, Leiden
1982.08.25 Oktopus, Amsterdam (+ Cheap 'n' Nasty, KUT)
1982.08.28 't Beest, Goes
1982.09.15 Rotterdam
1982.09.17 Effenaar, Eindhoven
1982.09.25 C.O.C., Amsterdam
1982.10.29 Le Gibus, Paris FRA (+ Ritz, Perplex)
1982.10.30 Le Gibus, Paris FRA (+ Perplex)
1982.11.12 De Lommerd, Arnhem (+ Gilletta & The Razorblades)
1982.12.11 Kijkhuis, Den Haag (+ Diana Ozon)
1982.12.24 Midgard, Middelburg
1983.01.07 LVC, Leiden
1983.02.19 Sliedrecht
1983.02.26 Vlissingen (+ Music For Pleasure)
1983.03.05 Blauwe Aanslag, Den Haag (in het Vrouwencafé)
1983.03.08 Phoenix, Rotterdam
1983.03.25 Anna Paulownastraat 15, Den Haag
1983.04.01 Kijkhuis, Den Haag (+ Gammaglobuline)
1983.04.30 De Uitbraak, Rotterdam
1983.05.14 Dordrecht
1983.05.19 Rasa, Utrecht (Heksennacht)
1983.05.21 Vrouwenhuis, Amsterdam (+ Wandas)
1983.06.21 Roermond
1983.06.24 Klokhuis, Den Haag
1983.06.25 LVC, Leiden (Leiden in Lust Festival)
1983.07.04 Mazzo, Amsterdam (+ Ce Soir)
1983.07.09 Willemstad (Openluchtfestival)
1983.07.23 Noordwijk (Openluchtfestival)
1983.08.05 De Luchtplaats, Amsterdam (+ Tuners)
1983.08.06 De Luchtplaats, Amsterdam (+ Hans Dulfer, Reflud)
1983.08.07 De Luchtplaats, Amsterdam (+ Ritz)
1983.08.18 Korenbeurs, Delft
1983.08.19 Van Der Werffpark, Leiden
1983.08.20 Saarein, Amsterdam
1983.09.01 Melkweg, Amsterdam
1983.09.02 Bergen Op Zoom
1983.09.17 Danspaleis, Rotterdam (+ Tuners)
1983.09.24 Zwolle
1983.10. 01 Roermond
1983.10.15 Alkmaar
1983.11.02 Hoogvliet
1983.11.10 36 Op De Schaal Van Richter, Amsterdam
1983.11.27 Shaffy, Amsterdam
1983.12.15 De Snelbinder, Amsterdam
1983.12.17 Nijmegen
1983.12.23 Countdown Café, Hilversum
1983.12.26 Alphen
1983.12.30 Sevenum
1984.01.05 Paradiso, Amsterdam (+ Duplex Johnson)
1984.01.06 Azotod, De Meern
1984.01.13 C.O.C., Rotterdam
1984.01.25 De Pieter, Amsterdam
1984.01.26 Uilenstede, Amstelveen
1984.01.28 Harne Sporthal, Tzummarum (+ Golden Earring)
1984.02.02 De Kikker, Utrecht
1984.02.03 Schagen
1984.02.04 De Boerderij, Zoetermeer
1984.02.10 Leysdream Evenementenhal, Roosendaal (+ Golden Earring)
1984.02.11 De Meervaart, Amsterdam (+ Golden Earring)
1984.02.17 De Meenthe, Steenwijk (+ Golden Earring)
1984.02.18 De Meerpaal, Dronten (+ Golden Earring) (Flevopop)
1984.02.24 Sporthal De Schenkel, 's Gravendeel (+ Golden Earring)
1984.02.25 Beursgebouw Florida, Boskoop (+ Golden Earring)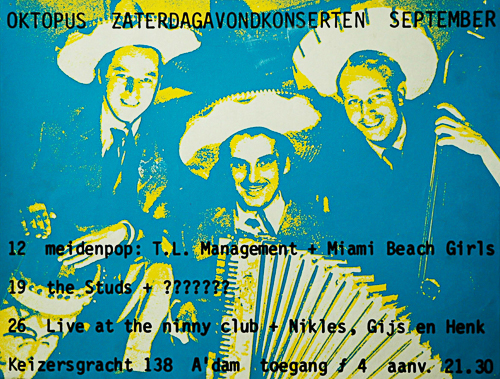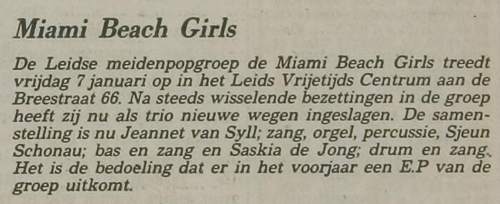 (Source: Heleen Schönau, Herman de Tollenaere)