(1979 – 1984)

Meaning Bandname: The name Zmiv was inspired by a (frustrated?) English soldier who wrote "We all hate you Smif" on a highschool blackboard. Bert was heavily impressed and Smif was corrupted with the necessary Z and V. (The region Meppel had alot of NAVO soldiers because of the American base in Havelterberg. Rumours were they heavily protected nuclear arms. Alot of the illustrious christmas punkfestivals in De Buze, Steenwijk were combined with blockades and protest marches against this base)
Bio: Formed at the end of the 70's by Enrico and Victor from Public Animals from Meppel and Wessel. Bert was asked and they started to play in 1980. Together with Vopo's from Zwolle they put the north on the punkmap. After several concerts in local youthcentres such as Hedon in Zwolle, De Buze in Steenwijk and Simplon in Groningen, the christmasfestival in Simplon was the last for Kelly. Sander replaced him in 1981 and songs for the Banzai! Here's Zmiv Beware! 7" EP were recorded in the TVO Studio in Zwolle. The frontcover was designed by Wessel. It appeared that after the fotoshoot of the skull with mohawk in a studded leatherjacked, there was no film in the camera. Instead they used a drawing. The order of songs is different than stated on the 7" sleeve because the pressingplant in Belgium fucked up. On the insert, a collage in the vein of Ratdraaierszzz fanzine done by Sander, is the correct order. This now very wanted vinyl has a pressing of 500. Victor is replaced by Michel in 1982 who also plays in Knåx, also from Meppel and also 2nd band for Sander and Wessel. Both bands do concerts through the Netherlands and Germany as a packagedeal. And both bands were blacklisted in the provinces North and South Holland because of some out-of-hand pranks. Michel plays bass on the Als Je Haar Maar Goed Zit… Nr. 2 LP. To get rid of the punkimage, Zmiv begins to call their style "Total Noise". Violence in venues increase, people at concerts get intimidated by neo-nazi skinheads and motorgangs. After the assault on Frans de Grebber of the Vopo's, the band decides to stop.
After 1984, a few reunion concerts are done like the one in the Oude Raadzaal in Meppel and one in Alkmaar because of the release of the Noise Of Zmiv 1979 – 1984 LP in 2005. The last couple of years Zmiv is coming together again to play some old songs on local parties like the Cerberus New Years Party.

Description: Fast, loud and bombastic hardcorepunk with roar alongs. Later more complex crossover with other styles called "Total Noise" but the band became more melodic.
Lineup:
Enrico Klunder – guitar
Wessel de Ruijter – drums
Sander Kuipers – vocals (1981-1984)
Michel Drosten † – bass (1982-1984)
Bert Kelly † – vocals (1979-1980)
Victor van Os – bass (1979-1982)
Other bands:
Sander Kuipers – Knåx, Grey Landscape, Burst!, Rokbok, Blast-O-Matic, Le Roi Mort Et Les Lentilles Rouges
Michel Drosten – Burst!, Rokbok, Vopo's, Knåx
Victor van Os – Suck & Swallow, Tora Bora, De Thorbeckes
Wessel de Ruijter – Knåx
Discography:
1982 – Banzai! Here's Zmiv Beware! 7" EP (Selfreleased, NL)
Recorded @ TVO Studio, Zwolle 17.03.1982
2005 – Noise Of Zmiv 1979 – 1984 LP (Noise And Distortion Records, BEL)
100 on clear vinyl, 400 on black vinyl
2007 – This System's Gonna Fall CD (New Prejudice a2o Records, GER)
2012 – Banzai! Here's Zmiv Beware! 7″ EP (Milkcow Records, NL)
With the songs in the correct order / 300 on black
2023 – Banzai! Here's Zmiv Beware! 7″ EP (Milkcow Records, NL / Noise Attack Records, GER)

Various:
1983 – Holland Hardcore TAPE (Er Is Hoop Tapes, NL)
1983 – Als Je Haar Maar Goed Zit… Nr.2 LP (Vögelspin Records, NL)
2002 – Killed By Hard Core Compilation # Two LP (Redrum Records, NL)
2003 – Queencrust Versus Kiss The Goat CDr (Not On Label, NL)
2003 – 100% Pure Dutch Punk Hardcore CD (Not On Label, NL)
2006 – Holland Hardcore 2x LP (Abuse Records, BEL)
2006 – Holland Hardcore 6x LP (Abuse Records, BEL)
2013 – Solo Se Oye Punk #4 TAPE (Silenzio Statico, USA)
20XX – Four Old Euro Hardcore EP's LP (Not On Label)
20XX – Hardcore History Volume 7 TAPE (Destroy Tapes, UK)
Interviews/Articles:
1981 – Koekrant 52
1982 – Nieuwe Koekrand 59
1983 – De Kippekrant 1
Concerts: (assorted)
1980.12.26 Simplon, Groningen (+ Røtzøløs, Abcess, Two Two 79, Iglo's, Rode Smurfen, Aigretjes, Jetset, The Rags, The Chops, No Explanation, P.V.S., Silent Fiction, Slonz, Encyklieks, Hendomatix, Censuur) (Martini On The Rocks Festival)

1981.09.17 Ogterop Schoolfeest, Meppel (+ Knåx)
1981.09.18 De Poele, Meppel (+ Knåx)
1981.12.26 Simplon, Groningen (Piss Offs, The Chops, The Mets, Vultures, Kripo's, Boegies, Zouptossu, Tomahawks, Pogo Styx) (Rock Against Christmas)
1981.12.30 De Buze, Steenwijk (+ Knåx, La Résistance, Malicious Damage, Jerks, Vopo's, Tomahawks, Alternative Kill) (First gig Sander)
1982.01.23 Parkhof, Alkmaar (+ Knåx)
1982.01.30 De Steile Trap, Deventer (+ Knåx)
1982.02.27 Babylon, Woerden (+ Knåx)
1982.03.19 DAC, Haarlem (+ Knåx)
1982.04.07 Oktopus, Amsterdam (+ Knåx)
1982.04.24 Het Anker, Heerhugowaard (+ Knåx)
1982.06.05 Simplon, Groningen (+ Knåx, Splatch, Herzjagd, Flipenlager)
1982.06.12 De Buze, Steenwijk (+ Knåx)
1982.06.19 Het Anker, Heerhugowaard (+ Knåx)
1982.12.18 Parkhof, Alkmaar (+ Knåx, Vikings)
1982.12.25 Shiva, Uithoorn (+ Knåx)
1982.12.26 Het Anker, Heerhugowaard (+ Knåx)
1982 Schlachthof, Bremen GER (+ Knåx)
1982 Het Baken, Hoogeveen (+ Knåx)
1982 Arnhem
1982 Emmen
1982 Lemmer
1982 Haarlem
1982 Deventer

1983.01.15 J.C. Troll, Hoorn (+ Knåx)
1984.04.30 Meppel (+ Späxöl) (Final Concert)
Reunions:
1988.12.26 De Buze, Steenwijk (+ Lärm, Vopo's, Glorious Death, Vikings, Burst)
2005.12.24 Parkhof, Alkmaar (+ Hysteria, Tod Pole, Krush, Blood I Bleed, Zweetkutten, Reign Of Bombs, Humus) (Kerstival)
2010.01.01 Café Clouso, Meppel (10 Year Cerberus Anniversary)
2011.11.19 Schouwburg Ogterop, Meppel (+ Burst, Rokbok) (25 Year Anniversary Xodus)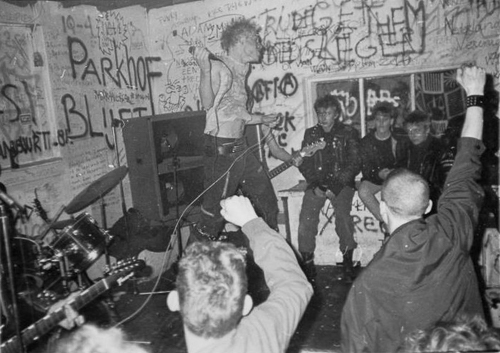 Source: Sander Kuipers