(1981 – 1983)
Meaning Bandname: Zmiv already existed and they were friends so we wanted a similar name. Knåx is a fantasy name and doesn't mean anything. The circle on the a is Swedish, that's why you pronounce it like an o. Inspiration came from Swedish bands discovered by Sander.
Bio: Knåx is formed on the Rijksscholengemeenschap in Meppel where four bandmembers meet eachother. Originally Johnny van Schilt (nephew of René van der Meer of B.G.K.) is supposed to be the drummer but this never happened also because he doesn't own a drumkit. That's the reason why Knåx plays in 1981 with guestdrummers. After the first concert, Milo stops and at the end of December 1981 Sander also becomes the singer for Zmiv. At the same time Wessel joins, who also plays in Zmiv. Two bands with the same singer and drummer touring through The Netherlands in 1982. At the end of 1982 both Sander and Wessel quit and Knåx becomes a threepiece with Michel as a drummer. At the beginning of 1983 Michel went to play bass for Zmiv and quits Knåx. The remaing members decide to stop with the band. Sander and Harmen also make Ratdraaierszzz fanzine.

Description: Very fast and chaotic hardcorepunk. Lyrics deal with various subjects like the Meppeler Courant, gerontophiles, the Hulk, fresh young girls and the state of the country.
Lineup:
Patrick van Os – bass
Harmen Boerwinkel – guitar & vocals
Michel Drosten – drums (1981-1982)
Sander Kuipers – vocals (1981-1982)
Wessel de Ruijter – drums (1981-1982)
Milo van Noortwijk – guitar (1981-1981)
Bert Kelly – drums (guest)
Victor van Os – drums (guest)
Theo de Grebber – drums (guest)
Other bands:
Harmen Boerwinkel – The Vikings, Barber, Burst!, Crapjam, The Renettes, Tora Bora, De Thorbeckes
Michel Drosten – Zmiv
Sander Kuipers – Zmiv, Grey Landscape, Burst! , Rokbok, Blast-O-Matic, Le Roi Mort Et Les Lentilles Rouges
Wessel de Ruijter – Zmiv
Victor van Os – Zmiv
Theo de Grebber – Vopo's
Discography:
1983 – Various – Holland Hardcore TP (Er Is Hoop Tapes, NL)
2006 – Various – Holland Hardcore 2xLP (Abuse Records, BEL)
2006 – Various – Holland Hardcore 6xLP (Abuse Records, BEL)
Interviews/Article:
1981 – Riezistuns 3
1982 – Nieuwe Koekrand 59

Concerts: (assorted)
1981.06.20 Hedon, Zwolle (+ Zmiv)
1981.09.17 Ogterop Schoolfeest, Meppel (+ Zmiv)
1981.09.18 De Poele, Meppel (+ Zmiv)
1981.12.30 De Buze, Steenwijk (+ Zmiv)

1982.01.23 Parkhof, Alkmaar (+ Zmiv)
1982.01.30 De Steile Trap, Deventer (+ Zmiv)
1982.02.27 Babylon, Woerden (+ Zmiv)
1982.03.19 DAC, Haarlem (+ Zmiv)
1982.04.07 Oktopus, Amsterdam (+ Zmiv)
1982.04.24 Het Anker, Heerhugowaard (+ Zmiv)
1982.06.05 Simplon, Groningen (+ Zmiv, Splatch, Herzjagd, Flipenlager)
1982.06.12 De Buze, Steenwijk (+ Zmiv)
1982.06.19 Het Anker, Heerhugowaard (+ Zmiv)
1982.12.18 Parkhof, Alkmaar (+ Zmiv, Vikings)
1982.12.25 Shiva, Uithoorn (+ Zmiv)
1982.12.26 Het Anker, Heerhugowaard (+ Zmiv)
1982 Schlachthof, Bremen GER (+ Zmiv)
1982 Het Baken, Hoogeveen (+ Zmiv)
1982 Arnhem
1982 Emmen
1982 Lemmer
1982 Haarlem
1982 Deventer

1983.01.15 J.C. Troll, Hoorn (+ Zmiv)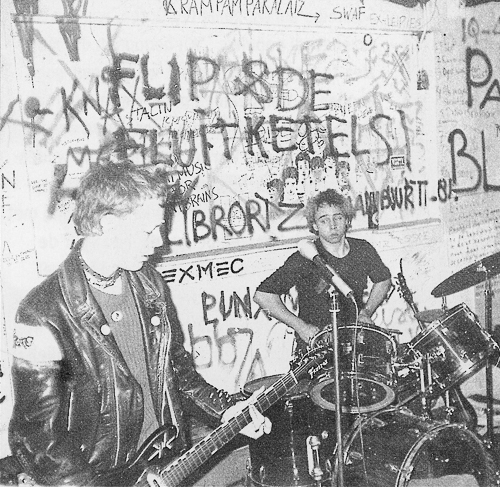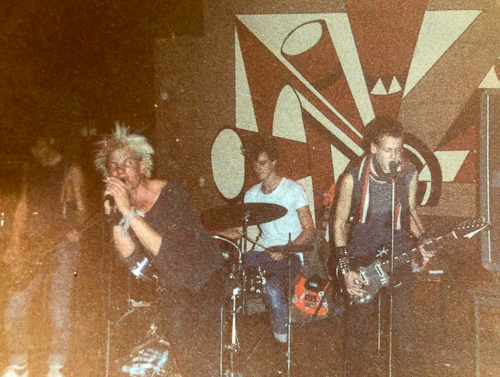 Source: Harmen Boerwinkel