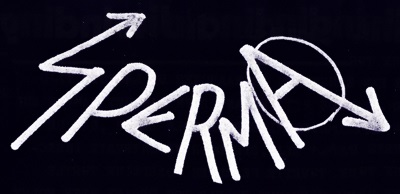 (1978 – 1979)
Meaning Bandname: Hope to open for Popgroep Kut. We thought that'd to be funny as teenagers.
Bio: Sperma is formed when Tuppus meets Wim on a punkparty* of Jan Pieter Kuil (Popgroep Kut, Aambeeld, Vacüum, Ruziek) on the universitygrounds of the TU in Enschede. We were 16 and 17 years old. André (15) is a boy next door who I know from when I was 8 years old and I (=Tuppus) know Peter (17) from school. We practise a couple of times in the garage of Wim's place. Our first gig is when we practise with an open garagedoor, surprising kids in a suburb of Almelo. Rehearsing is a problem because we live in various cities (Almelo, Hengelo and Enschede). Besides Tuppus and Wim go to Amsterdam in the weekends to visit punkconcerts and hang around Club DDT666 (house of Diana Ozon aka Gretchen Gestapo and Hugo Kaagman aka Amarillo at the Sarphatistraat, later better known as Gallerie Anus and het Zebrahuis). Wim, Tuppus and André all write the lyrics which are compiled by Koecrandt as The Sperma Songbook in June 1979. Diana, Wim and Tuppus cut and paste it together in the nightly hours.
Sooner than later the whole thing dilutes. Nothing is recorded and the only achievement is a name in Amsterdam because of Sperma buttons**, t-shirts and especially alot of graffiti. When Peter sprays a metres high bandlogo on the wall of the German classroom, Tuppus is expelled from school because he wears that same logo on the back of his jacket and didn't want to tell who sprayed it. The change of schools brings him to Niek Schutter/Henk En Het Huis and De Fuckups and starts The Slashers. Wim moves permanently to Amsterdam and joins Jezus And The Gospelfuckers and later Infexion. It's unknown if André and Peter play in other bands.
* A week later Muziekkrant OOR publish a report of that punkparty at Jan PK's (in his studentroom where we drink beer and play records) from a journalist who was there as well. He heavily stirred it up and dramatize the whole event. Something like "from the industrial town of Enschede arises the slums on the horizon".
** I remember Dikke Mick of The Softies (later with Capt. Sensible; they live for sometime in Amsterdam) wears a Sperma button on their promo picture.

Description: Sloppy, snotty puberpunk
Lineup:
Wim Pieters aka Wim Punk – guitar
Tup Wanders aka Ed ter Pus aka Tuppus – vocals
Andre Schopman aka Adolf Mxpetz – drums
Peter Ruck – bass

Other bands:
Wim Pieters – Jezus And The Gospelfuckers, Infexion
Tup Wanders – The Slashers, Dandruff!!, De Fuckups, De Hankey's, Henk En Het Huis, Wicked Path Of Sin, Tup En De Taarten, The Ultra Firedope Death, The Duelling Martin Hippies, The Hillbilly Holler
Interviews:
1978 – Koeckrandt 22

Concerts: (assorted)
1978.05.19 Bouwkunde, Delft (+ Popgroep Kut, The Butchers, Banana Sisters, Sweathearts, Herman Brood, Gruppo Sportivo and more)
1978 DDT666, Amsterdam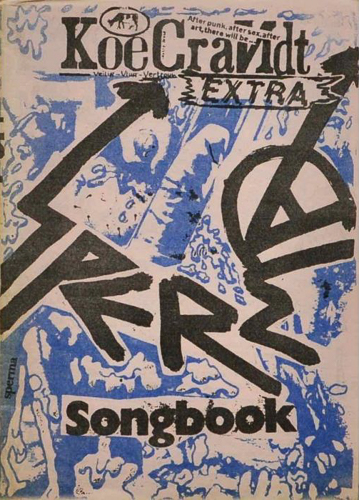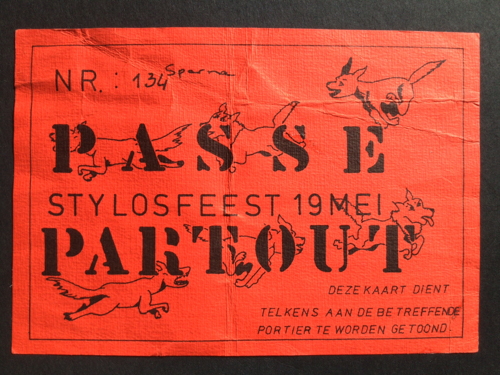 Source: Tuppus