(1980 – 1980)

Meaning Bandname: At that time Disorder and Discharge were some of our favourite bands, so that's probably the reason why we did choose a name with Dis in it. Beside that we came from Amersfoort and Achterveld, smalltowns where most people saw this whole punk scene as a disturbance.
Bio: When The Sextons came to an end, Paul, Olav and Jos wanted to continue in a band. Around that time two friends of Jos from Achterveld (Dorien and Berletta) became interested in punk as well and wanted to sing in a band. We got to know two guys from Barneveld, named Patrick and Dick. Dick happened to have a bass guitar and Patrick a guitar as well as an amp. The 7 of us started a band called Razzias and started to rehearse at Jos's parents barn. This band never really produced anything and at a certain point Patrick got fed up with it and left us. The remaining 6 started a band called Disturbers and this was a bit more serious. The band recorded a tape at the B.A.M. practise space in Amersfoort and were even meant to do a gig in a squat in Hilversum. This never happened due to the fact that the squat was under attack of the local 'Disco Jugend', at least, that is what they told us.
For some reason Dick did not like Jos that much and it appeared that he tried to convince Paul and Olav to kick him out of the band. Jos found out about this when we attended a Nixe gig and Dick was not there. Dick was also getting a bit too ambitious because we were still in a practice only phase and he already had far advanced plans to book us at Babylon in Woerden together with Ivy Green without consent of the rest of the band. This kind of unpredictable behaviour, and also his views about the musical direction we should take, led to a lot of friction. End result was that he was kicked out and that was the end of the Disturbers, but not the end of us being in a band together!
Description: Rudimentary out-of-tune punk.
Lineup:
Olav van den Berg – drums
Paul van den Berg – guitar
Dick – bass
Dorien – vocals
Berletta – vocals
Jos Houtveen – vocals (and bass on Disco Jugend)

Other bands:
Jos Houtveen – The Sextons, Razzias, Total Chaoz, Lärm, A.M.K.A., Millions Of Dead Billy Milanos, Seein'Red, Lärm As Fuck, Orwell Nation, Kriegstanz, Staathaat.
Paul van den Berg – The Sextons, Razzias, Total Chaoz, Lärm, A.M.K.A., Seein'Red, Lärm As Fuck, Profound, Colt Turkey, Manliftingbanner, Marxbros.
Olav van den Berg – The Sextons, Razzias, Total Chaoz, Lärm, A.M.K.A., Seein'Red, Lärm As Fuck, Profound, Colt Turkey, Manliftingbanner, Marxbros, Bughouse.
Dorien – Lärm, Razzias, Total Chaoz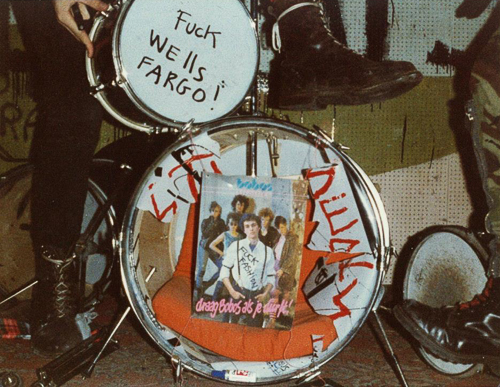 Source: Jos Houtveen, Paul van den Berg