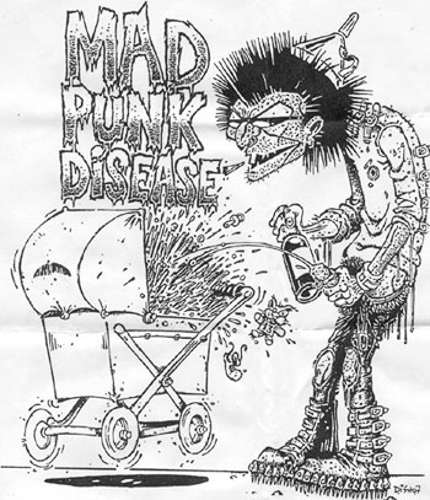 (1996 – 1999)
Meaning bandname: Mental disorder affecting punk rockers
Bio: Started in the end of 1996 with Steve, Richard and Piet. Robbie (FLEAS AND LICE) did a UK tour as extra vocalist in 1998, but got kicked out without reasonable excuses (singer without voice). Gam joined in 1999 as vocalist.
Description: Punkrock with country and western music influences.
Lyrics: About drinking, anti-heroin, having a good time.
Lineup:
Steve Townsend † – drums, vocals
Pierre Erickson – bass, vocals
Richard Kiwie – guitar, vocals
Gam Applehead – vocals (1999-1999)

Robbie Tempel – vocals (1998-1998)

Other bands:
Steve Townsend – Fermented, Giro Gurus, Elvis Deadly And The Regulators, Septic Church Rats, O.D.Babe, Dog Ugly, 777, Scab, Space Junkies
Pierre Erickson – E.N.E., Vieze Mensen, Fleas And Lice, Nobby Noxious And The Impregnators, Mushroom Attack
Richard Kiwie – Elvis Deadly And The Regulators, Fermented, O.D.Babe, Disorder, Boner, 2000 D.S.
Gam Applehead – Left For Dead, Carnage, Dog Ugly
Robbie Tempel – Fleas And Lice, Vieze Mensen, E.N.E., Mushroom Attack
Discography:
1999 – Mad Punk Disease demo TAPE (Selfreleased, NL)

Various:
1999 – They Won't Take Us Alive LP (Harmony Records, GER)
Concerts: (assorted)
1997.08.22 Glasfabriek, Groningen (+ Contempt, Sick On The Bus)
1998.02.21 Vort N Vis, Ieper BEL (+ Robotnicka, Divide And Conquer)
Tours:
1996: Holland, Germany, Belgium (with CONTEMPT + SICK ON THE BUS)
1998: UK, Belgium (with SLUMGANG)
1998: Holland, Germany (with EXTERNAL MENACE)
1999: Holland, Belgium (with P.M.T.)
1999: Holland, Belgium