(1996 – 2005)
Meaning Bandname: The name was found at the top of a random page of an English-Dutch dictionary. A cockroach sounded mighty dirty.
Bio: From Panningen. Cockroach was formed in the summer of 1996 by Erik, Kobus & Bram, inspired by the American punkrock revival and local skate culture. During the first concert in 1997, Rinus joined on vocals and the average age of the band was 16 years. We rehearsed in a barn, cellar, attic and a shed in and around our parental houses in Panningen (Limburg). In 1998 we played the Punxpicnick in Melderslo and got introduced to the underground D.I.Y./ squat / crust scene. The following years concerts were done in all of the Netherlands and we did several European tours. The music was selfreleased and in cooperation with several European and American labels. During this time all members went to live in different cities like Eindhoven, Nijmegen and Utrecht. After a short tour in Greece in the beginning of 2005, we realized we accomplished many of our dreams. We thought it was a good idea to stop while we were still 100% in it. After this, we did 5 reunions and time will tell if more will follow.
Description: Fast punk/hardcore.
Lineup:
Rinus Guntlisbergen – vocals (1997-2005)
Erik Reynders – bass
Kobus Naus – drums
Bram Nijssen – guitar
Other bands:
Rinus Guntlisbergen – Rhino Black
Erik Reynders – My Reply, Citizens Patrol

Discography:
1998 – Lost Generation TAPE (Not On Label, NL)
Recorded @ practiseroom 09.1998 by Erwin Hermsen / press: 160
1999 – Cockroach TAPE (BBP records, UK)
Songs taken from demo '98, the two split ep's, some live @ Azijnfabriek '98 / rehearsal recordings 1996-1997
1999 – Cockroach / Subkutan TAPE with Subkutan (Future Zounz, GER)
Songs taken from the Lost Generation TAPE
2000 – Cockroach / Mihoen! 7" EP with Mihoen! (In The Wok Records, NL / Cockroach Records, NL)
Recorded @ practiseroom 28.03.1999 by Erwin Hermsen / comes with booklet and insert / press: 500 on red-black splattered vinyl / numbered
2000 – Stay Angry 7" EP (ACME Records, USA)
Recorded @ practiseroom 15-16.07.2000 by Erwin Hermsen / comes with insert / press: 567
2001 – Vi Stenu / Cockroach 7" EP with Gride (Ohne Maulkorb Production, AUS)
Recorded @ practiseroom 15-16.07.2000 by Erwin Hermsen
2001 – Dutch Thrash On The Rise 7" EP with Mihoen! (Balowski Records, NL)
Recorded @ practiseroom 28.03.1999 by Erwin Hermsen / repress of the Cockroach-Mihoen! 7" EP / comes with insert / press: 1000 / numbered
2001 – Dutch Trash Vs. East European Energy TAPE with Mihoen! (K.A.Z., SLOW)
Songs taken from the split 7" EP's with Mihoen! and Gride plus the Stay Angry 7" EP / comes with insert and 2 stickers / press: 200 / special tour edition
2002 – Vi Stenu / Cockroach 7" EP with Gride (K.A.Z., SLOW)
Recorded @ practiseroom 15-16.07.2000 by Erwin Hermsen / repress of the Cockroach-Gride 7" EP / handnumbered and with A4 insert & 2 stickers/ press: 1000
2002 – Promo 2002 CDr (Not On Label, NL)
Promo for the canceled 2003 France-Spain tour / with doublesided A3
2003 – Kakkerlakatack TAPE (Not On Label, NL)
Recorded @ Villa Friekens, Amsterdam 14-17.02.2003 by Poda / special tour edition / aka Master Of Kaos Session / comes with insert
2004 – Take Four CD (K.A.Z, SLOW)
Recorded @ Snowstar Studio, Panningen 08.2004 by Cedric / press: 1000
2008 – Lost Generation 3" CDr (K.A.Z., SLOW)
Special edition for the Play Fast Or Don't 5 Fest in Hradec Králové, CZE 05 & 06.09.2008
Various:
1998 – Future Zounds Part 2 TAPE (Future Zoundz, NL)
1999 – Stank Voor Dank MAI Niet Gezien TAPE (Chaotik Tapes, NL)
1999 – K.A.Z. 'Zine #1 Compilation TAPE (K.A.Z., SLOW)
1999 – For The Punx TAPE (Canal Company, CZE / Noisy Parasit, CZE / Kunvaldska Alternative, CZE)
1999 – Fuck Copyrights! TAPE (UPS, NL)
2000 – Oppressed By The Capitalist TAPE (Chaotik Tapes, NL)
2000 – K.A.Z. 'Zine #2 Compilation TAPE (K.A.Z., SLOW)
2000 – For Animal Right Compilation I TAPE (Noisy Paradise Productions, CZE)
2001 – Nederthrash In Opkomst 7" EP (UPS, NL)
2001 – Solidaridad Con Voz Y Ruido CDr (Anar-ca Records, Puerto Rico / B.A.W.R. Distribution, USA)
2002 – To Clone A Dummy Into A Mummy CD (Not On Label, USA) Comes with Quickdummies Fanzine 11
2002 – Ontpopt CD (Hekje Nu / HKU, NL) Comes with Hekje Nul 10 Magazine
2003 – Decide On Change LP (The Mountain Collective For Independent Artists Ltd, USA)
2003 – Bring The Noise #2 TAPE (Own Control Records, MAL)
2004 – Alle Dertien Goed! 2002-2003 2CD (De Overslag, NL)
2006 – Action Mutante TAPE (Vide Ton Sac, FRA)
2008 – Widespread Bloodshed / Brody's Militia / No Value / Cockroach 7" EP (Psychocontrol Records, CZE / Rescued From Life Records, USA)
XXXX – Animal Human Right Benefit TAPE (Not On Label, NL)
XXXX – Hladný Systému Neveri TAPE (Zdola, SLOW)

Cinema:
2003 – Cue: About Tricks And Spots – Billy Pols
Concerts:
1997.03.29 Keet, Panningen (+ Pigmecount)
1997.05.10 Loods, Ospel (+ Pigmecount)
1997.07.05 Mafcentrum, Maasbree (+ No Compromise, B's Wax)
1997.10.12 Kloster, Meyel (+ Pigmecount, One Stroke, Fragile Use, Casual Silence, Ice #9, Repose, No Way Out)
1997.12.25 Rouchelle, Roggel (+ more)
1998.01.30 Slammer, Helden (+ Insult, Mallorn, Down To Fight)
1998.03.29 Splinter, Venlo (+ Rock Fiction, Onattic, Sting Stongly)
1998.04.11 Walhalla, Sevenum (+ Iscariot, Fore Front, Seedling, Longshot, Snikkeldrift)
1998.05.02 Azijnfabriek, Roermond (+ After Forever, Dreadlock Pussy, KPA, Mato Grasso, Henk Janssen, Corona Obscura, Konstepaasje, S5, Del, Duck Yellow, Danglers)
1998.05.16 Singel, Blerick (+ Black Wish, Rock Fiction)
1998.05.22 Mafcentrum, Maasbree (+ Backfire, Negative Reinforcement)
1998.05.24 Purple Haze, Susteren (+ Konstepaasje, Non-Sense, Kickshaw)
1998.06.12 Azijnfabriek, Roermon (+ Down To Fight, Just For Fun, Strengh Above All)
1998.06.26 Mafcentrum, Maasbree (+ Mallorn, Dreadlock Pussy, Divinity)
1998.07.11 Weiland, Neer (+ Down To Fight)
1998.08.22 Punxpicnick, Melderslo (+ Tumult, Gomorrah, Soberesponse, Insult, Antidote, Seminal, Duplo)
1998.09.11 Haandert, Tegelen (+ Freaky Basement, The Puked, Full Of Fun, Sting Stongly)
1998.10.18 Haandert, Tegelen (+ Doofus, Untamed, The Puked, Salmonella, Up To The Bottom, Rock Fiction, Inoxia, Back Talk)
1998.12.05 Perron 55, Venlo (+ C.F.A., Stampin' Ground)
1998.12.19 Kerk, Breda (+ Dropdead, Reller, Chorea, Insult, Seminal)
1998.12.29 O.J.C. Niks, Horst (+ Last Match, Mihoen!)
1999.01.23 Zaelke, Helden (+ Mangled, Cirth Gorgor, Form, Freaky Basement)
1999.01.30 Pariaschool, Veldhoven (+ Mihoen!)
1999.02.16 Dingus, Venray (= Insult, Bruut)
1999.03.13 Onderbroek, Nijmegen (+ Seein'Red, Mihoen!, Jesus Crøst, Rochel)
1999.03.19 O.J.C. Niks, Horst (+ Rubbish Heap, Dawn Of Anger)
1999.04.16 Slammer, Helden (+ Down To Earth, The Puked)
1999.06.26 Vacadefabriek, Den Bosch (+ Die Nakse Bananen, Protest, Disgrace, Up Yours)
1999.10.15 Slammer, Helden (+ Insult)
1999.12.11 Krisis, Hilversum (+ Insult, B.S.E.)
1999.12.18 Azijnfabriek, Roermond (+ Doofus, Pygmee's Lanced, Rock Fiction, Chinawhite, Devil's Rope, Arabesque, Sweet Jane, One Stroke, Het Eerste Verbod)
2000.01.23 ACU, Utrecht (+ Mihoen!, Insult, B.S.E.)
2000.03.04 Poortgebouw, Rotterdam (+ Petrograd, Mihoen!, Atomic Food, Feverdream, Brains No More)
2000.04.21 Jeugdclub, Beverlo BEL (+ No Offense, Six Pack Joe, Sixtoys)
2000.04.22 Boerderij, Geleen (+ Mihoen!, B.S.E., Zwaar Klote, Konstepaasje)
2000.04.29 Het Podium, Hoogeveen (+ Yage, Asmodinas Leichenhaus, Hybris)
2000.07.08 Stox, Panningen (+ Down To Earth)
2000.08.03 Stodola, Trebislov SLOW (+ Len Tak Tak)
2000.08.04 Bunker, Bratislava SLOW (+ Cripple Bastards, Entropia, Mindlock, Cád, Anal Circus)
2000.08.05 Raka, Banka Bystrica SLOW (+ Mäso)
2000.08.07 Papirna, Praha CZE (+ Tagada Jones, Pangs Of Remorse)
2000.09.02 Dolle Tol, Den Bosch (+ Seein'Red, Angry Minded)
2000.09.16 J.C. Metro, Panningen (+ Chantilly Lace, Orde Gekozenen)
2000.09.23 Tydeeh, Mol BEL (+ SL-27, Insult, LD'50)
2000.11.18 Nest, Utrecht (+ Zegota, Point Of Few, Lushus, Foreclosure, Death Of The Subject, Tekno Soundsystems)
2000.11.24 Ted's, Blerick (+ Radio Bikini, Tommy And The Fuck Ups, Tekno Soundsystems)
2000.12.15 J.C. Metro, Panningen (+ Seein'Red, Mihoen!, All Tensed Up, Radio Bikini)
2000.12.17 Gaellus, Tienray (+ Radio Bikini, Duplo)

2001.02.18 ACU, Utrecht (+ Amdi Petersen Armee, Shikari, Makiladoras, All Tensed Up)
2001.03.10 Krisus, Nijmegen (+ The Skidmarks)
2001.03.23 Kortsluiting, Utrecht (+ Detritus)
2001.04.10 Baroeg, Rotterdam (+ Mörser, Insult, Malkovich, Declined)
2001.04.28 Plexat, Heemstede (+ Betercore, Olho De Gato, S.A.F.)
2001.05.12 De Bosuil, Weert (+ Mihoen!, Radio Bikini, No Hoodlums, The Puked)
2001.05.19 Het Podium, Hoogeveen (+ Face Tomorrow, All Tensed Up, Revolt, Shuvit)
2001.06.16 Villa Vendex, Maastricht (+ Peter Pan Speedrock, Burst, 8th Day, Restrain, Zone 62, Tekno Sound System and more)
2001.06.23 De Gloppe, Leeuwarden (+ Fleas And Lice, 17 Stitches, S.A.F., Beans, Antidote, BBK, Dead Bolkesteins, Scrum, Last Day Reign and more)
2001.07.06 Soho, Kessel-Lo BEL (+ D.S.13, Epileptic Terror Attack, Wilbur Cobb, My Own Lies, Reproach)
2001.07.28 58, Rüssel GER (+ Mihoen!, Yacopsae, Fuck You)
2001.07.30 Kombi, Nünchritz GER (+ Mihoen!, Kombi-Chaos-Panik-Orchester)
2001.07.31 Klub 007, Praha CZE (+ Mihoen!, Ambrosia)
2001.08.01 Stodola, Spytovice CZE (+ Mihoen!, Demarche)
2001.08.03 Fluff Fest, Plzen CZE (+ Mihoen!, Endstand, Heaven Shall Burn, Strength Approach, Lumen, Valina, Esgmeq, Receipt, Anyway, Suffer)
2001.08.05 Saturn, Trencin SLOW (+ Mihoen!)
2001.08.07 Pod Duborn, Trebisov SLOW (+ Mihoen!, Riot In The Opera, In Despair)
2001.08.08 Papuca, Banska Bystrica SLOW (+ Mihoen!, Mäso)
2001.08.10 Vymel, Sered SLOW (+ Mihoen!, The Public)
2001.08.12 G-16, Leipzig GER (+ Mihoen!)
2001.09.27 Vreekwijk, Deurne
2001.10.05 Stadskantoor 0, Maastricht (+ Radio Bikini, Black Vampire)
2001.10.19 J.C. Metro, Panningen (+ Maggots, Lomp, Collision, Extreme Sickening Punishment)
2001.10.27 Cocagne, Ulft (+ Dumbstruck, Raçak, Angry Minded)
2001.11.09 Zanetti, Breda (+ Haeckefløsse, Mihoen!)
2001.11.10 OCCII, Amsterdam (+ Y, Olho De Gato, The Last Mile)
2001.11.16 J.C. Metro, Panningen (+ Insult, Mihoen!, Seein'Red)
2001.11.24 Wallhalla, Sevenum (+ Beans, Antidote, Above The Struggle)
2002.03.15 Eureka, Zwolle (+ Mihoen!, S.A.F., All Tensed Up)
2002.03.20 Onderbroek, Nijmegen (+ Attitude, Nonconformist, Radio Bikini)
2002.03.29 ACU, Utrecht (+ Gride, See You In Hell)
2002.03.30 Stox, Panningen (+ Gride, See You In Hell, Link, Stickleback, Odity) (Woodstox II)
2002.04.21 Rotte Lijxkes, Gent BEL (+ Apatia No, Amoniak)
2002.04.28 Golden Dragon, Bemmel (+ Radio Bikini, Bruut)
2002.05.25 A.J.Z., Mülheim GER (+ Mihoen!, Pissed Youth)
2002.07.12 Karo, Wesel GER (+ Northern Lights, Room 19)
2002.07.26 K13, Gent BEL (+ Radio Bikini, Olho De Gato, Beer For Breakfast)
2002.07.27 Vort 'n Vis, Ieper BEL (+ Radio Bikini, Link)
2002.07.28 Villa Friekens, Amsterdam (+ Radio Bikini, Olho De Gato, Betercore, M.D.C., Kut'87, O.D. Babe, Matka Teresa, Mindføk, Schluumpers, The Amok's, De Doorbrekers)
2002.09.14 Parkhof, Alkmaar (+ Sick Terror, Antidote, Krush, Tra I Matti, Fine China Suberbone, Last To Go, Heroes & Zeroes)
2002.09.28 Bar En Boos, Leiden (+ Needful Things, Humus)
2002.10.25 Bosuil, Weert (+ Beans, The Bips, Fart)
2002.11.09 A.J.Z., Homburg GER (+ Shikari, Face Up To It!, D.H.I.B.A.C., My Own Lies, Bizarre X, Slaughter Of The Innocent)
2002.11.16 Innocent, Hengelo (+ Radio Bikini, Vals)
2002.11.22 Baroeg, Rotterdam (+ Mihoen!, S.A.F., No-Men)
2003.01.04 Flakes, Veghel (+ Brains No More, Mad Headed, Sandwedged)
2003.02.28 Pariaschool, Veldhoven (+ Makiladoras, The Usual Suspects, Heretix)
2003.03.13 Dolle Tol, Den Bosch (+ Jack, Radio Bikini, Olho De Gato, Betercore, Distroy, Humus)
2003.03.14 Villa Squattes Dei, Leuven BEL (+ Jack, Detritus, Hoka Hey)
2003.03.15 Villa Vendex, Maastricht (+ Jack)
2003.03.20 Onderbroek, Nijmegen (+ Jack, Revolt)
2003.03.21 Stox, Panningen (+ Jack, Makiladoras, Go Ape) (Woodstox III)
2003.03.22 Wageni, Bochum GER (+ Jack)
2003.03.24 Co-9, Zwolle (+ Radio Bikini, Execucao, Split)
2003.09.03 Alternation, Paris FRA (+ James Brown Hide Show, Smell Bad)
2003.09.04 Saint-Etienne FRA (+ Vömit For Breakfast)
2003.09.27 Het Podium, Hoogeveen (+ Boxed In, Accion Mutante, Tunnel Vision, Bullshit Science, Intensity, The Now-Denial, Driller Killer, Lomb, Tragedy, The Last Mile, Mörser, Betercore, Zootic) (Trashfest 5)
2003.10.03 Pariaschool, Eindhoven (+ Radio Bikini, Cathode, Sterf, Tekno Sound Systems)
2003.10.26 De Vliegende Hong, Utrecht (+ Migra Violenta, More Bad News, Sheeva Yoga, Spam, Mistake, La Male Leche)
2003.11.09 Parkhof, Alkmaar (+ Krush)
2003.11.20 Brouwerij, Hengelo (+ Zegota, Tra I Matti, Cathode)
2003.12.20 Overslag, Eindhoven (+ Yehudit Mizzarhi, Blodfet & DJ Lonely, NHG-Project, De Hondenkoekjesfabriek, Elpueblodechina, Van Kurt, De Cooperatie Techno Terreur Band)
2003.12.27 Perron 55, Venlo (and more)

2004.01.24 Bosuil, Weert (+ Mihoen!, S.A.F., Hot 'n' Steamy Monkey Love)
2004.01.30 Kraaienhof, Nijmegen (+ Dirt Doesn't Hurt, Sterf)
2004.03.10 Paradox, Tilburg (+ Antillectual, Smash The Statues)
2004.04.24 Stox, Panningen (+ Baracka, Vehicle, Radio Bikini, My Reply) (Woodstox)
2004.05.07 Overdosis, Den Bosch (+ Gilgamesh, Vals)
2004.05.29 Syl, Lemmer (+ O'Hara, Facewreck, Seduce The Cat On Sunday)
2004.06.05 Todo, Best (+ Beans, Blok 1A, No Vevia, All Day Fools)
2004.08.12 Garáze, Bratislava SLOW (+ Vialka, Jmenfous, The Fire Still Burns)
2004.08.13 Save The Planet, Zborov n. Bystricou SLOW (+ Vialka, Entrails Massacre, More Bad News, Superapes, Stearica, Los Puercos, Heart Forgotten
2004.08.14 Play Fast Or Don't Fest, Pardubice CZE (+ Gride, George Bitch Jr., Blood I Bleed, Needful Things, Sanity's Dawn, Elysium, Dreschflegel, Lycanthrophyl, Gospel To The Future)
2004.08.15 Skandál, Ziar n. Hronom SLOW (+ Vialka, Jmenfous, Thema Eleven)
2004.10.03 A.J.Z., Mülheim GER (+ Makiladoras)
2005.01.14 Biologiko, Thessaloniki GRE (+ Abhorrent Bestiality)
2005.01.15 Villa Amalias, Athens GRE (+ Epiquanatios Rogcos, Maura Probatam)
2005.04.01 ACU, Utrecht (+ Army Of Flying Robots, Taint)
2005.06.18 J.C. Metro, Panningen (+ Mihoen!, Antillectual, Radio Bikini)
2005.06.24 Het Podium, Hoogeveen (+ Mihoen!, Antillectual, Radio Bikini, De Waonzin, Cameron, Dean Dirge, Paranoia Keeps Crawling) (Trashfest 9)
Reunions:
2006.05.28 ACU, Utrecht (+ Mihoen!, Insult, Point Of Few)
2008.08.05 Play Fast Or Don't Fest 5, Hradec Králové CZE (+ Gride, See You In Hell, Krush, Unholy Grave, Vivisick, Wolfbrigade, Fubar)
2011.08.24 R'R Fest IV, Venlo (+ Citizens Patrol, Systematic Death, Spermbirds, Direct Control, Reproach, Vitamin X, The Shining, Wanderlust)
2012.08.10 Punxpicnick, Melderslo (+ Citizens Patrol, Boycot, Radio Bikini, Buiten Gebruik and more)
2018.10.12 The Jack, Eindhoven (Rinus' Bachelor Party)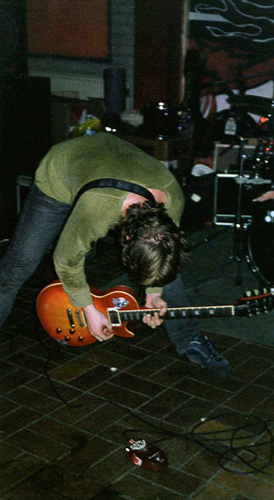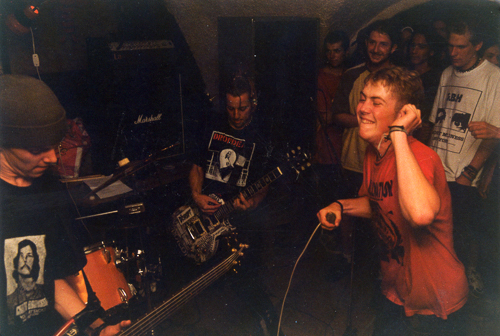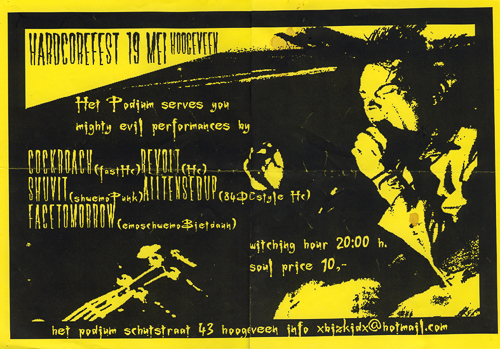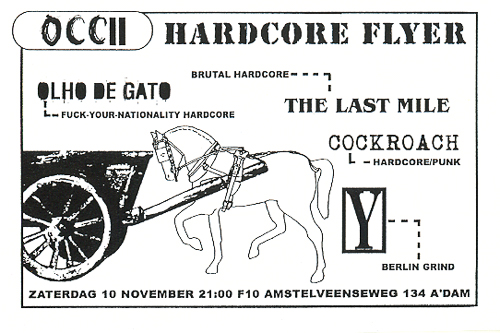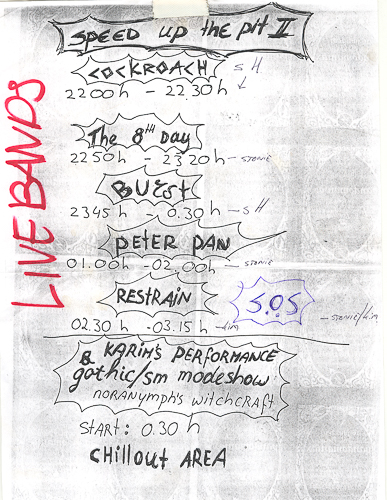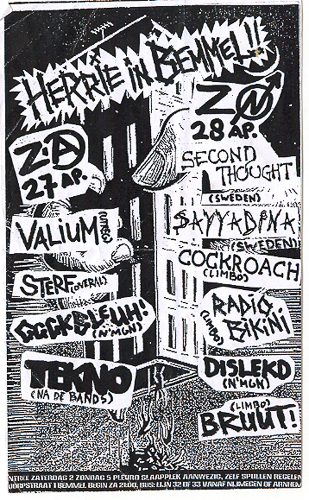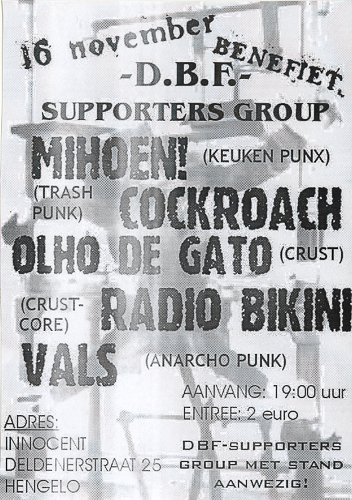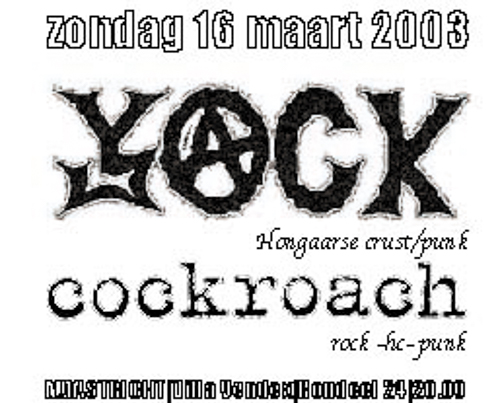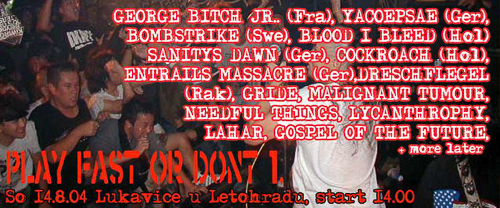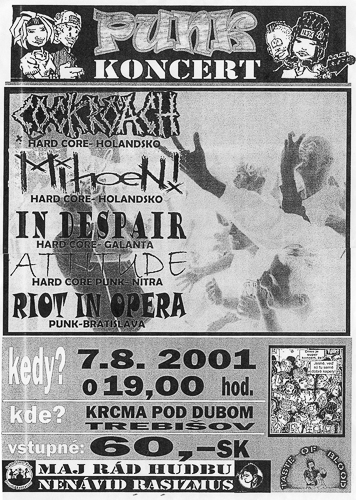 Source: Bram Nijssen