(1981 – 1982)
Meaning Bandname: Term coming from the Dutch Social Security offices, meaning 'Not really suitable for employment'.
Bio: Originally an initiative from Moniek Koelewijn (guitar), Koos Nuijens (keyboards) and Andre van der Zande (bass), intending to make more experimental music after the first punk wave. Andre left soon after an ideological disagreement, Koos left after deciding he wasn't a musician. In the meantime Jan de Weerd became the singer, Joost Kok replaced Andre, Anthony Blokdijk from Art In Revolution decided to become a drummer. In 1982 Hans van Bentem joined the band on synthesizer and a Dutch tour is done with Rubella Ballet and Poison Girls. Anthony and Joost exchange instruments during concerts for 2 songs. Visuals during concerts have always been an important issue for the band, see Lineup. Hans van Bentem and Jan de Weerd both became professional visual artists. Joost Kok a sound engineer / producer.

Description: Dutch language.
Lineup:
Jan de Weerd – vocals, clarinet, flute
Joost Kok – bass, drums
Moniek Koelewijn – guitar
Anthony Blokdijk – drums, bass
Hans van Bentem – synthesizer
Paul Pasman – slides, lighting
Helle Dubois – slides, sound

Koos Nuijens – synthesizer
Andre van der Zande – bass

Other bands:
Moniek Koelewijn – Ketchup
Anthony Blokdijk – Salò Mentale, Des Duyvels Doedelsack, Art In Revolution
Discography:
1981 – Blijf Van Mijn Brein TAPE (GAB Vacatures, NL)
1982 – NRA TAPE (GAB Vacatures, NL)
2000 – Alle 13 Slecht CDr (Selfreleased, NL)
Recorded @ Paard Van Troje, Den Haag (1-4), Paradiso, Amsterdam (5-11), rehearsalstudio (12-13)
Various:
1982 – Boh Sampler TAPE (Boh De Records, NL)
Interviews:
1981 – BOH 2
1981 – BOH 3
1982 – De Nieuwe Koekrand 58
2006 – Anthony Blokdijk Interview
Concerts: (assorted)
1981 Haags Centrum voor Aktuele Kunst, Den Haag
1981 Blauwe Aanslag, Den Haag
1981 K'81, Den Haag
1981 LVC, Leiden (+ Theatre Of Hate)
1981 Simplon, Groningen (+ Etter)
1981 De Eland, Delft
1981 Oktopus, Amsterdam
1982.03.11 Paradiso, Amsterdam (+ Noise & Girls, Van Kaye & Ignit)
1982.05.12 Oktopus, Amsterdam
1982.06.20 K'81, Den Haag (+ Rubella Ballet, Poison Girls, Omega Tribe)
1982.06.23 De Schuilkelder, Amsterdam (+ Rubella Ballet, Poison Girls)
1982.06.24 Vera, Groningen (+ Rubella Ballet, Poison Girls)
1982.06 Gigant, Apeldoorn (+ Rubella Ballet, Poison Girls)
1982.06 Sneeuwbal, Heemstede (+ Rubella Ballet, Poison Girls)
1982.06 Tivoli, Utrecht (+ Rubella Ballet, Poison Girls)
1982.06 Tagrijn, Hilversum (+ Rubella Ballet, Poison Girls)
1982 Nijevelt, Wassenaar (+ The Return Of The No Feeters)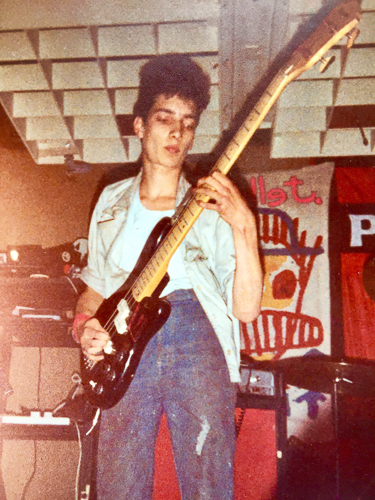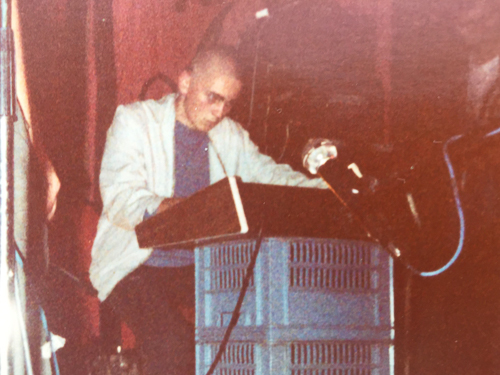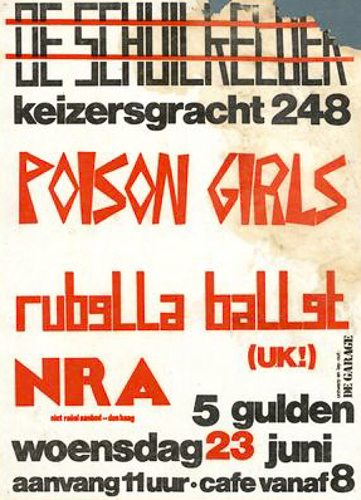 Source: Anthony Blokdijk, Joost Kok, Jan de Weerd