(1982 – 1987)
Meaning Bandname: The name Indirekt comes from the fact that we as friends used that word in about every sentence. Even if it had any meaning or not. "Wil je koffie?", "Indirekt wel ja". ("Do you want coffee?", "Indirecty yes"). Once a bandname, it got a deeper meaning because we indirectly battled against the establishment through our music and lyrics.

Bio: From Hoorn. The idea to begin a band started in spring 1982 thanks to the punkconcerts in Troll, a youthcentre in Hoorn. The energy, passion and lyrics and the fact you didn't have to master an instrument or be able to read any musical notes made us think we can do it as well. Just do it, capture that energy and voice our dissatsfaction. After almost 140 concerts in several European countries and the Netherlands plus after various releases, the band ends with a concert on 26 December 1987 in De Buze, Steenwijk. In 1992 were two reunion concerts in Belgium and in 2003 a short concert on the Hans Engel memorial in Hoorn. He was the vocalist for The Vernon Walters and was murdered that same year. Some members (Rick, Jeroen and Ruud) continue as Antic Hay.
Description: Hardcorepunk. Dutchlanguage, intense, critical and melodic. Melodic when it can, loud when it should!
Lineup:
Rick Blom – bass
Ruud Sweering – guitar
Jeroen Hennis – drums (1982-1985) (1986-1987)
Anneke Knip – vocals (1984-1987)
Marjolein Hennis – vocals (1982-1984)
Stijn de Jong aka Pablo – drums (1985-1986)
Gijs Muntjewerff – drums (1986-1986)
Niels de Wit – drums (1986-1986)
Marcel Kok aka Ko – sound (1982–1987)
Other bands:
Rick Blom – Antic Hay, Bink, Het Hart, Stakbabber
Jeroen Hennis – Antic Hay, Bink, The Credits
Marjolein Hennis – La Grande Bouffe
Stijn de Jong – World War Rockerz
Anneke Knip – Nous
Gijs Muntjewerff – Schönste Mädchen der Welt, Straatarm
Ruud Sweering – Antic Hay, Stagger III, Holland Elektro
Niels de Wit – Yahoo, The Vernon Walters, De Kift, Electric Tears, Peanut Crisp, Zachte G Harde P, Uncontrollable Urgh, The Sack-O'-Woes, Hungry I, The Gueules, Simone Joan Mansfield, Johan, Gepøpel, Dewityourself, Mister Baby, Shith, Burghers
Discography:
1983 – Groeten Uit Hoorn TAPE (Not On Label, NL)
Recorded @ Dirk Beemster Thuisstudio, Hoorn 12-13.02.1983 / 100 made
1984 – Nieuws Voor Doven En Slechthorenden 7" EP (Ko-Rec, NL)
Recorded @ Joke's Koeienverhuurbedrijf, Schellingwoude 28-29.01.1984 / 500 on black
1985 – Op Oorlogspad LP (Not On Label, NL)
Recorded and mixed @ Oktopus, Amsterdam late June and early July 1985 / 1000 on black
1986 – Nacht Und Nebel 7" EP (Diehard Records, NL)
Recorded @ Oktopus, Amsterdam 21-22.10.1986 / 500 on black
1987 – Present History 2x LP with Vernon Walters (Let's Make Our Own Records, NL)
Recorded @ DDL Studio, Amsterdam
2008 – Total War Path 2x CD(Grand Theft Audio, USA)
2022 – Nieuws Voor Doven En Slechthorenden 7" EP (No Plan Records, GER)
2022 – Op Oorlogspad LP (Lärmattacke Records, GER)
Comes with booklet and A2 poster / on yellow-blue vinyl
Various:
1983 – Bijna 2000 Jaar Geleden TAPE (A.E.D., NL)
1983 – 20 Reasons TAPE (Westfries PopKollektief, NL)
1984 – Holland Hardcore 2nd Attack TAPE (Er Is Hoop Tapes, NL)
1985 – Alle 55 Kort TAPE (A.E.D., NL)
1985 – Cultural Compost Pit! TAPE (Mothra Production, USA)
1985 – Beware Of The Wolf In Sheep's Clothing LP (Nozem Records, NL)
1985 – Sanitized For Your Protection TAPE (Entertainment Records, USA)
1985 – Speed Air Play 2 TAPE (Hardcore Thrash Metal Show, SWI)
1986 – Live TAPE (Dark Tapes, NL)
1987 – The International Panic Tape TAPE (Funafuti Tapes, GER)
1987 – Speed Air Play 24.9.87 TAPE (Speed Air Play, SWI)
1987 – Speed Air Play Donnerstag, 17 Dezember TAPE (Speed Air Play, SWI)
1987 – Zelfkrant Fanzine Cassette 1 TAPE (Zelfkrant, BEL)
1987 – Your Chance Nr.13 TAPE (Your Chance Records, GER)
1988 – Kill For Peace! TAPE (Without Renown Tapes, GER)
198X – Up Against A Wall! TAPE (Smell Of Silence, FRA)
1993 – I Can't Believe It… This Is The Hell! Part II TAPE (Stromausfall In Bonn, GER)
199X – Nightmare / Bad Taste – News Vol. 6 TAPE (Bad Taste Records, GER)
2001 – Killed By Hardcore LP & CD (Redrum Records, NL)
2006 – Holland Hardcore 2nd Attack 2x LP (Abuse Records, BEL)
2006 – Holland Hardcore 6x LP (Abuse Records, BEL)
2006 – Where The Wild Things Are Teil VI TAPE (Depraved & Devilish, GER)
2013 – Solo Se Oye Punk #4 TAPE (Silenzio Statico, USA)
2020 – Lärmattacke – Blasts From The Past LP (Lärmattacke Records, GER)
50 on orange, 200 on black
Interviews/Articles:
1984 – De Melkboer Strikes Back 5
1984 – Wrakvee 3
1984 – Nieuwe Koekrand 63
1984 – Outrage 5
1985 – Names Don't Matter 1
1986 – Peace Or Annihilation 8
1987 – Hardcore Globally 1
1987 – Tien Scharreleieren 2
1987 – Kwalpol 2
1988 – Waakheer 4
1988 – Waakheer 5
2006 – Ruud Swering Interview
2020 – Network Of Friends: Hardcorepunk Der 80er Jahre In Europe BOOK

Concerts:
1982.09.19 De Boterhal, Hoorn
1982.10.03 De Boterhal, Hoorn
1982.11.19 Werenfridus School, Hoorn (+ Zerx, Tryall)
1982.12.11 Troll, Hoorn (+ Enfield, Dynamo Dresden)
1983.01.03 Gemeentehuis, Hoorn
1983.02.19 Krayennest, Enkhuizen (+ The Ritzz, Antidote)
1983.03.26 Troll, Hoorn
1983.04.17 De Mantel, Spierdijk (+ L.D.Z., Antidote, Blitzkrieg)
1983.05.01 De Huesmolen, Hoorn
1983.05.20 Pardoes, Hoogwoud
1983.06.11 Troll, Hoorn (+ The Visitor)
1983.06.18 De Buze, Steenwijk (+ Lärm, Puinhoop, C.K.N., Antidote, Aperity's, Stanx, Bloedbad)
1983.06.25 WPK-Festival, Hoorn
1983.10.15 Troll, Hoorn
1983.10.22 't Anker, Heerhugowaard
1983.10.29 R17, Grootebroek
1983.10.30 De Koog, Noord-Scharwoude
1983.11.19 Ikaros?, Hoogkarspel?
1983.11.26 Krayennest, Enkhuizen (+ Tröckener Kecks)
1983.12.18 Bor, De Goorn
1983.12.21 PH31, Amsterdam

1984.01.15 d'Oude School, Spierdijk
1984.01.28 Wijers, Amsterdam
1984.02.11 De Bolder, Monnickendam
1984.04.08 Pardoes, Hoogwoud (+ Gepøpel, M.O.G., Forgodsake, Blitzkrieg)
1984.04.13 Troll, Hoorn (+ Blitzkrieg, Bagarre) (7" Presentation)
1984.04.30 De Buze, Steenwijk (+ Gepøpel, N.V. Le Anderen, The Filth, Scoundrels, U.B.C.F.)
1984.07.06 De Braak, Haaksbergen (+ Gepøpel)
1984.08.11 Elckerlyc, Diest BEL (+ Neuroot, Gepøpel, Phlegm Attack, Black Vampire, Zyklome A, Capital Scum, Pandemonium) (1st gig with Anneke)
1984.09.07 De Tagrijn, Hilversum
1984.09.28 Nohol, Edam (+ Gepøpel)
1984.10.19 DROP, Hoorn
1984.10.27 Ikaros, Hoogkarspel
1984.11.03 Parkhof, Alkmaar
1984.11.10 De Instee, Amersfoort (+ Lärm, Geneve '83, Resistance, Funeral Oration, Das Breetels)
1984.11.17 De Witte Brug, Amsterdam
1985.01.06 Pakhuis, Heerenveen
1985.01.26 Troll, Hoorn
1985.02.15 BOC, Amsterdam
1985.02.16 Spunk-Zoo, Rotterdam (+ Gepøpel)
1985.02.26 Kadijkerkoog, Purmerend
1985.04.06 Pepijn, Asten
1985.04.07 DROP, Hoorn (+ Hiroshima Nooduitgang, Deadlock)
1985.04.21 Emma, Amsterdam
1985.04.27 De Boerderij, Geleen
1985.05.08 BOC, Amsterdam
1985.05.27 Leekerweide, Wognum
1985.06.15 De Witte Brug, Amsterdam
1985.07.19 Fabrik, Minden GER
1985.07.20 Kukoz, Paderborn GER (+ Toxoplasma, Enola Gay)
1985.07.30 Kukoz, Paderborn GER
1985.08.03 A.J.Z., Bielefeld GER (+ Toxoplasma, Nabat)
1985.08.31 WPK-Zomerfestijn, Hoorn (+ Gepøpel, Nostalgia, Snoep Verstandig, One Voice, Back Alley, La Grande Bouffe, Voproski)
1985.09.08 BOR, De Goorn
1985.10.18 Hoogeveen
1985.10.25 Ikaros, Hoogkarspel (LP Presentatie)
1985.12.01 Plusminus, Waalwijk
1985.12.20 A.J.Z., Schwenningen GER
1985.12.22 Epple-Haus, Tübingen GER (+ C.C.M., Cocks In Stained Satin, Negazione, Jolly Roger, Indigesti)
1985.12.23 A.J.Z., Homburg GER (+ Spermbirds, C.C.M.)
1985.12.25 Kukoz, Paderborn GER (+ Indigesti, Zero Point, Murder Inc. III)
1985.12.26 A.J.Z., Göttingen GER
1985.12.27 Café Chaos, Dortmund GER
1985.12.31 Kukoz, Paderborn GER
1986.01.10 Pardoes, Hoogwoud
1986.02.02 R17, Gootebroek
1986.02.07 Open Huis, Nieuwkoop (+ Scoundrels)
1986.02.15 De Waag, Antwerpen BEL
1986.03.21 WPK-gebouw, Hoorn (+ Fruitcakes, The Lunatics)
1986.04.04 W.N.C., Groningen (+ Aw Stonch Laze, Zowiso, Gorgious Gravedigger)
1986.04.18 Q 104, Leuven BEL (+ Ear Damage, Pigs In Blue Glue, Disorder)
1986.05.10 Roxy, Dendermonde BEL (+ Hate Crew, Deviant Gedrag, Scoundrels, Stalag 17, X-Creta)
1986.06.03 Swaf, Hoorn
1986.06.13 De Boerderij, Geleen
1986.06.21 Schuurfeest, Obdam
1986.06.30 Gaztetxe, Lasarte SPA (+ Ximorra)
1986.07.01 Las Fiestas, Usurbil SPA (+ BAP, R.I.P. and more)
1986.07.03 La Sala M-Tro, Zaragoza SPA
1986.07.04 Los Locales de la Ikastola, Llodio SPA (+ Eskupitajo)
1986.07.05 Gaztetxe, Andoain SPA (+ R.I.P.)
1986.07.06 Las Escuelas de Buenawista, San Sebastián SPA (+ Eizen)
1986.07.08 Gaztetxe, Fuenterabbia SPA
1986.07.10 Jugendhaus, Schwenningen GER (+ La Polla Records)
1986.07.11 Juze Jägerkasene, Konstanz GER (+ Haine Brigade, Cocks In Stained Satin, Inferno)
1986.07.12 Kulturzentrum, Esslingen GER (+ S.A.D., Skeezicks, Schlimme Kindheit, Euthanasie)
1986.07.19 Dijkpop, Andijk (+ Jinx, Viva Voce, Vitesse, Razorblade)
1986.09.06 Schuurfeest, Wogmeer
1986.10.04 DROP, Hoorn
1986.10.10 Effenaar, Eindhoven (+ Pure Hate, Inferno)
1986.10.31 Pardoes, Hoogwoud
1986.12.13 De 4 Winden, Spierdijk (+ The Vernon Walters, Ear Damage)
1986.12.19 Duizend Appeltjes, Antwerpen BEL (+ Capital Scum, Lunatics)
1986.12.20 Breekend Kaffee, Bree BEL (+ Ear Damage, EA80, Dawn Of Liberty)
1986.12.22 Let's Rock, Hamburg GER (+ Jump For Joy)
1986.12.23 Hafenstrasse, Hamburg GER1987.01.01 Huis Verloren, Hoorn

1987.02.14 Shiva, Uithoorn (+ The Vernon Walters, Passionate Heartless, Yahoo, The Lunatics, The Male Sisters)
1987.02.27 Midgard, Middelburg (+ The Vernon Walters, Passionate Heartless, Yahoo, The Lunatics, The Male Sisters)
1987.02.28 De Koog, Noord-Scharwoude (+ The Vernon Walters, Passionate Heartless, Yahoo, The Lunatics, The Male Sisters)
1987.03.07 Ikaros, Hoogkarspel (+ The Vernon Walters)
1987.03.20 R17, Grootebroek (+ The Vernon Walters, Passionate Heartless, Yahoo, The Lunatics, The Male Sisters)
1987.03.29 Bar Gezellig, Wognum (+ The Vernon Walters)
1987.04.03 Drieluik, Zaandam (+ The Vernon Walters, Passionate Heartless, Yahoo, The Lunatics, The Male Sisters)
1987.04.04 Kompasroos, Huizen (+ The Vernon Walters, Passionate Heartless, Yahoo, The Lunatics, The Male Sisters)
1987.04.12 Melkweg, Amsterdam (+ The Vernon Walters, Passionate Heartless, Yahoo, The Lunatics, The Male Sisters)
1987.04.18 De Ark, Anna Paulowna (+ The Vernon Walters)
1987.04.30 De Marbel, Tielt BEL (+ The Vernon Walters)
1987.05.03 Zaal de Finkel, Brussel BEL (+ Guy de Simpele, The Vernon Walters, Wapeenee, Vortex, Sch)
1987.05.08 ACU, Utrecht (+ The Vernon Walters)
1987.05.15 Hasselt BEL (+ Dawn Of Liberty, Chapter 69)
1987.05.16 Het Slachthuis,, Leiden
1987.05.23 Troll, Hoorn (+ The Vernon Walters, Passionate Heartless, Yahoo, The Lunatics)
1987.06.06 Parkzicht, Gorinchem (+ Passionate Heartless)
1987.07.03 A-Laden, Hamburg GER (+ Napalm Death, Ripcord)
1987.07.04 Cafe Chaos, Dortmund GER
1987.07.06 Alternative, Lübeck GER
1987.07.10 Ungdomshuset, Kopenhagen DEN
1987.07.11 1000 Fryd, Aalborg DEN (+ S.A-Iit, Amputa)
1987.08.01 Gekraakt Politiebureau, Apeldoorn
1987.09.01 Kadijkerkoog, Purmerend
1987.09.19 Melkweg, Amsterdam (+ The Vernon Walters)
1987.09.26 Zaal Vondel, Meulebeke BEL (+ The Vernon Walters, The Repulsives)
1987.10.XX Best Genog, Heerenveen (+ Grabbits, K.G.B.)
1987.10.31 Besetzes Haus, Braunschweig GER (+ The Vernon Walters)
1987.11.11 Haarlem
1987.11.13 Rockcafé, Rotterdam
1987.11.14 Delft
1987.11.14 Doornroosje, Nijmegen
1987.11.21 De Ark, Anna Paulowna
1987.11.28 Troll, Hoorn
1987.12.04 Tagrijn, Hilversum
1987.12.12 Komplex, Heerhugowaard
1987.12.26 Buze, Steenwijk (+ E.N.E., Union Morbide, The Vernon Walters, Mire Baron, Passionate Heartless) (Finale)
1992.10.09 Ons Huis, Leuven BEL (+ Itchy Tows, Void Section)
1992.10.10 Pluto, Herzele BEL (+ Pub Crew, Mushrooms)
2003.05.01 Manifesto, Hoorn (Hans Engel Memorial)
2008.08.29 Swaf, Hoorn (CD Presentatie)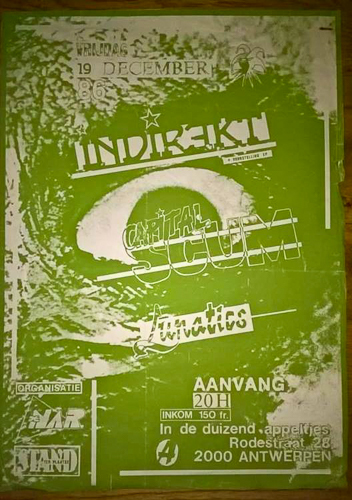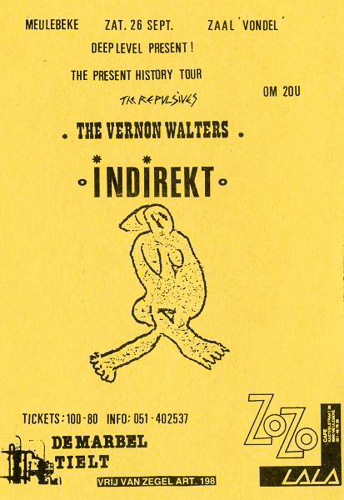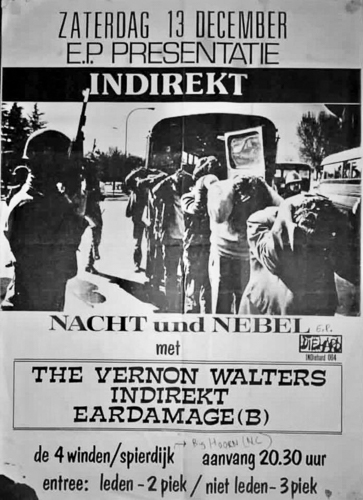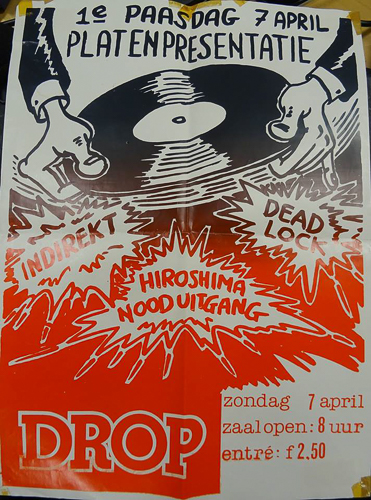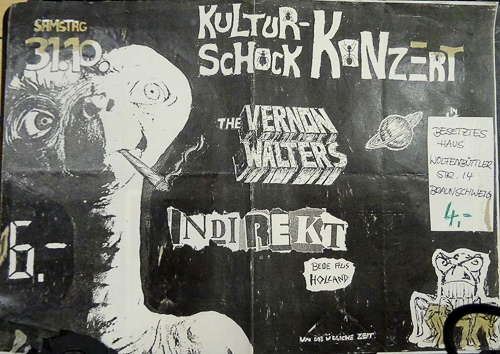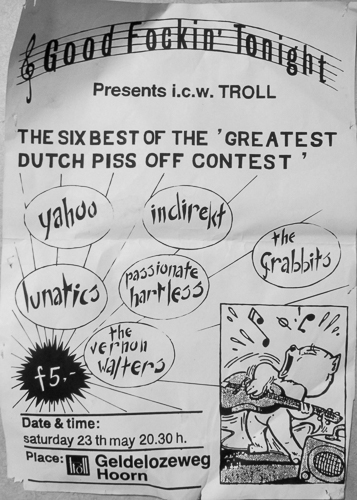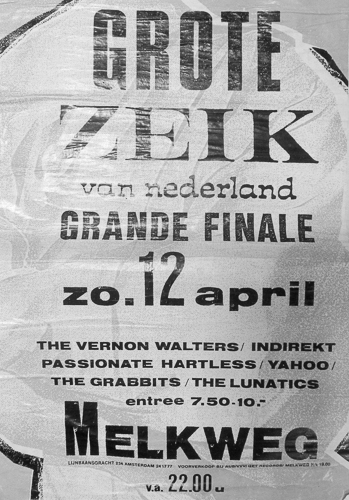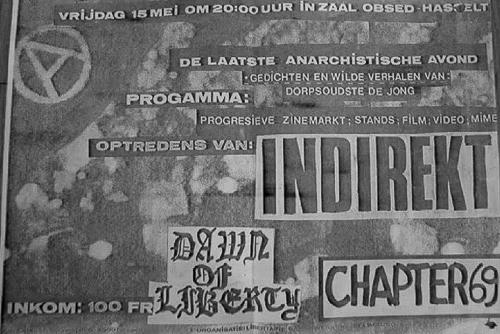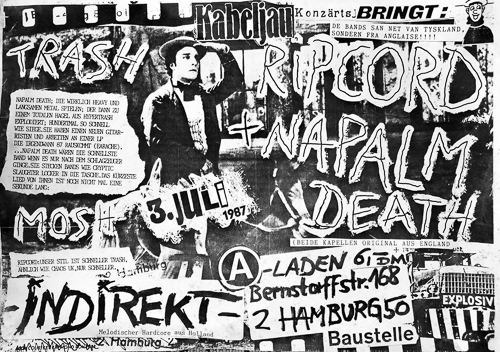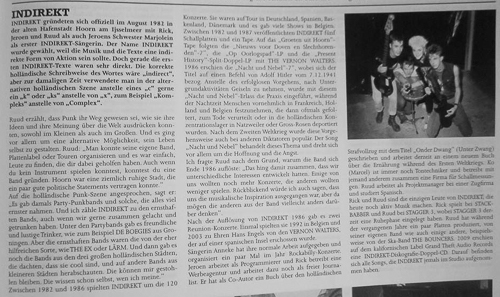 Source: Rick Blom