(1978 – 1979)
Meaning Bandname: Invented by Joris. It's Helmettes without The because it would say something about its members and not the band itself. It's a word that doesn't exist. Originally the name was for a girlband but they didn't want it.
Bio: From Amsterdam. Spring 1978 15 year old Joris Pelgrom, or as he was known Half Twee, was asked by No Fun record label owner Hansje Joustra and God's Heart Attack singer Ronald van den Brink if he wanted to record a single. Lacking any musical talent Joris asked Pieter 'Piep' Kooijman, guitarist with God's Heart Attack, to help with the music. Pieter came up with two great tunes and Joris wrote the words. 'I don't care what the people say' about no more or less than what the title indicates and 'Half Twee' lyrics influenced by the Dada poetry that he was reading at the time. The songs were recorded with the rest of God's Heart Attack members and Frank Cambach aka Frank'n'Stein, guitarist with The Softies. As soon as the record was released it became a success in the Amsterdam punk underground scene. So much so that it was decided that gigs were in order. First Joris did some guest appearances at God's Heart Attack concerts. But soon, after Pieter and Joris had written ten more songs, concerts as Helmettes were given around Amsterdam and other Dutch places. They used to practise in the DDT club but eventually end up in the home of the bassplayer. After the band stopped, the last unsold examples of the single were sold for very low prices by the No Fun record store. Lulu from Lulu Zulu & The White Guys is 2nd guitarplayer at the gig in Groningen. Reunions were done in 2012 with Max Franken/Minimal Compact on drums and Liselotte Elzinga/Fuz on bass and in 2016-2018 with Mick, Ron, Joris and Pieter.
Description: Original punk. Smart music.
Lineup:
Joris Pelgrom aka Half Twee – vocals
Frank Kooijman † – bass (1978–1978)
Pieter Kooijman aka Piep † – guitar (1978-1978)
Ron Kreeft aka Ronnie Tampon – drums (1978-1978)

Erik Hofsteede – drums (1978-1979)
Arno aka A.O. Dokter – guitar (1978-1979)
Frank Cambach aka Frank'n'Stein – guitar (1978-1978)
Mick Ness – bass (1978-1979)
Lulu Zulu – guitar (1978-1978; 2nd guitarplayer for 1 gig)

Other bands:
Pieter Kooijman – Mecano Ltd, God's Heart Attack, Funeral Directors
Erik Hofsteede – The Filth
Ron Kreeft – Motorboat, God's Heart Attack
Frank Kooijman – God's Heart Attack
Frank Cambach aka Frank'n'Stein – The Softies
Lulu Zulu – Lulu Zulu & The White Guys

Discography:
1978 – demo (Unreleased, NL)
Recorded @ Oktopus, Amsterdam
1978 – I Don't Care What The People Say / ½ 2 7" single (No Fun, NL)
Recorded @ M.C.R. Studios, Amersfoort
2013 – I Don't Care What The People Say / ½ 2 7" single (1977 Records, Japan)
2016 – I Don't Care What The People Say / ½ 2 7" single (No Fun, NL / Pseudonym, NL)
Various:
1993 – Back To Front Vol. 1 LP/CD (Incognito Records, GER)
1996 – I'm Sure We're Gonna Make It. Dutch Punkrock '77 – '82 CD (Epitaph, Europe)
1998 – Killed By Epitaph – Dutch Punkrock '77 – '82 LP (Not On Label, USA)
2015 – I Don't Care (The No Fun And Plurex Singles) LP (Pseudonym, NL)
2016 – I Don't Care Collection (Dutch Punk 1977-1983) 2x CD (Pseudonym, NL)
2016 – De Koer 1981 (Demo's & Live Recordings) TAPE (Testlab Records, NL)

Interviews & Articles:
1978 – Pin 4
1979 – Pin 6/7
1979 – Use A Wall 1
1979 – Watch Out 4
2007 – Frank Cambach Interview
2018 – Punk Krant

Concerts: (assorted)
1978.04.19 Oktopus, Amsterdam
1978.05.13 Vondelpark, Amsterdam
1978.08.27 Oosterpoort, Groningen (Sterren Onder Dak Festival)
1978.10.05 Paradiso, Amsterdam (+ Mollesters)
1978.11.16 Paradiso, Amsterdam (+ Mollesters)
1978 De Klinker, Winschoten
1978 DDT, Amsterdam

2016.02.25 Paradiso, Amsterdam (+ Mecano)
2018.11.22 Paradiso, Amsterdam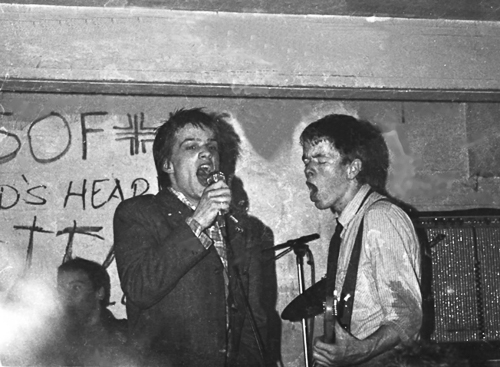 Source: Joris Pelgrom, helmettes.nl