(1980 – 1989)
Meaning Bandname: A drunk remark of the word Rondos, a famous punkband from Rotterdam at the time.
Bio: From Alkmaar. Form in September 1980 and get a steady lineup in October 1980 with Arie, Josee, Geralda, Lies, Marleen and Anne who are active in the squatted Parkhof, a former school in the Victoriapark and K.A.A.S. (Kollektief Alkmaar Anarcho Socialisten). They rehearse in one of the classrooms. Arie and Marleen make the fanzine Blad. When most members move to Amsterdam, they rehearse in the Tetterode squat and later in a warehouse on the eastern docks. Wanda's are asked alot by youthcenters and squats but also by womenbars where the average feminist is confused by their clothes (fishnet stockings, armyboots, babydolls, chains). The first LP has Cécile as a bassplayer and as vocalist on one song. Anne plays 2nd bass on one of the songs and will do sound engineering later on. In 1983 the first man joins bass in the band and takes over the guitar in 1985. Through the years the music changes from punk to rock.

Description: Punk in the beginning, rock later on.
Lineup:
Arie de Jong – drums
Josee Ris – vocals
Marleen Kamminga – guitar
Karin Bos – bass (1985-1988)
Jan Hofstede – bass (1983-1985), guitar (1985-1988)

Anne de Jong – bass (1980-1982)
Cécile Bosman – bass (1982-1983)
Frank Stroobants – guitar (1983-1985)
Geralda Geertsma – antropofoon (1980-1981)
Lies van Duijl – vocals, flute (1980-1981)
Pim van der Burg † – bass (1985-1985)
Other bands:
Jan Hofstede – A4, Bagarre
Karin Bos – La Neue Name
Arie de Jong – Godzilla
Marleen Kamminga – Godzilla
Pim van der Burg – Hollands Glorie, Ketchup

Discography:
1982 – The Ideal LP (TAS Records, NL)
Recorded @ Joke's Koeienverhuurbedrijf, Amsterdam 18-21.10.1981 by Dolf Planteijdt.
1986 – A State Of No Mercy LP (TAS Records, NL)

Various:
1981 – Parkhof 11-4-81 LP (V.G., NL)
Interviews:
1980 – Cliché 5
1981 – Cliché 6
1981 – Riezistuns 3
1982 – Nieuwe Koekrand 56
Website:
wandas.nl

Concerts: (assorted)
1980.11.08 Oktopus, Amsterdam
1980.12.06 Drieluik, Zaandam
1980.12.13 Parkhof, Alkmaar (+ Masturbation Problems, Long Haired Kojaks, Cheap 'n' Nasty +5)
1981.04.11 Parkhof, Alkmaar (+ The Nixe, Hollands Glorie, Rakketax, Svätsox, Bizkids, Tox Modell, Krikk, Obsessions, De Groeten, Tröckener Kecks)
1981.05.23 De Bakkerij, Castricum (+ Svätsox, De Groeten, Bizkids)
1981.05.30 De Dikke Trui, Groningen
1982.08.05 Paradiso, Amsterdam (+ Ivy Green)
1982.08.28 't Beest, Goes (+ Miami Beach Girls)
1983.09.10 Shiva, Uithoorn (+ World War Rockerz)
1986.02.07 PH'31, Amsterdam
1989.03.15 Korsakoff, Amsterdam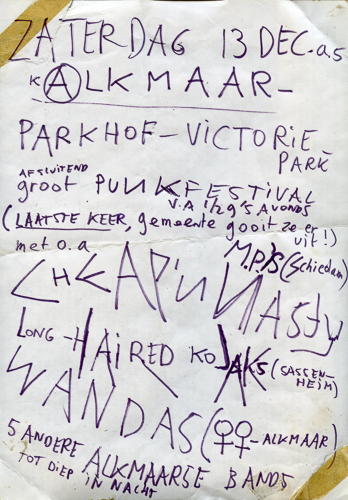 Source: Cliché, Riezistuns, Nieuwe Koekrand, wandas.nl, Josee Ris