(1976 – 1986)


Bio: From Den Haag. The Treat started out in 1976 after hearing the Ramones and the Sex Pistols. The name "The Treat" originated with Ad and Roberto. We played punk because that's what we liked and we weren't good musicians. After a month Walter left so Ad took over the bass guitar. The Treat first rehearsed in a community center in Laakkwartier, The Hague and later moved to Don Bosco in Rijswijk. Eventually a singer was needed and was found in Lars van Veen.
After Felicien Evert left to play in Rub A Dub, a reggae band, The Treat started looking for a new drummer. After numerous try-outs they found JP. With JP in the band the Treat did a lot of gigs with Hollands Glorie, also from the Hague. After a year or two JP moved to New Zealand. Manager Vico knew a good drummer named Rob Louwers and after one rehearsal he was hired.
Lots of gigs were played and in 1985 we sent in a demo to the Grote Prijs van Nederland. We were accepted and even reached the finals. Nothing much came of it. Just a free recording session in Amsterdam.
We also recorded another demo and sent it to the NCRV radio for which we played live on the radio. In 1986 or '87 we decided to call it quits and desolved the band. Rob Louwers went on to play in a lot of other bands in Zoetermeer. Roberto and Lars did a stint in a cover band and did a tour in the south of France where Lars met his future wife from America. After that he emigrated with his wife to Boston, USA.
Roberto went on to play bass in Scorny and the Scandals. Ad formed a metal/punk band with Tim Soekha called the Teenagers from Hell where he played drums. After 6 months he and Tim left the band. Ad (on guitar this time) then formed Durango (a Ramones punkband) in 1991 with Bert Elshout (bass and vocals) and Steve van de Heuvel (drums). Ad was also asked to become the singer in the Ace-Tones (60's garage rock). The Ace-Tones recorded 3 albums and a couple of singles.
In 1997 Ad met his future wife from Canada and in 1998 moved there where he formed the Mata Haris. Another punkband.
Description: Punkrock
Lineup:
Roberto Klein – guitar & vocals
Ad van Dijk – guitar & vocals (1976-1976), bass (1976-1986)
Rob Louwers – drums (1983-1986)
Lars van Veen aka Smaus – vocals (1977-1986)

Walter Touw – bass (1976-1976)
Felicien Evert – drums (1976-1981)
JP – drums (1981-1983)
Other bands:
Roberto Klein – Scorny And The Scandals
Ad van Dijk – Teenagers From Hell, Durango, The Ace-Tones, Mata Hari's
Felicien Evert – Rub A Dub
Rob Louwers – Rough'n Tumble, Fuzztones, The Morlocks, The X-Ray Men, Timelock, The Ace-Tones
Discography:
1985 – First Blood demo (Not On Label, NL)
Recorded live @ Don Bosco by Rob Rehorst
1986 – 2nd demo (Not On Label, NL)
Recorded @ Amsterdam
198X – 3rd demo (Not On Label, NL)
Recorded @ Den Haag
Concerts: (assorted)
1985.12.14 Paradiso, Amsterdam (+ 5 Slag 1 Wijd, The Clip, Gin On The Rocks, Many More, I've Got Bullets) (Grote Prijs Van Nederland)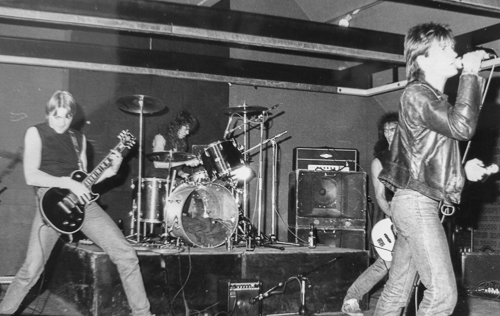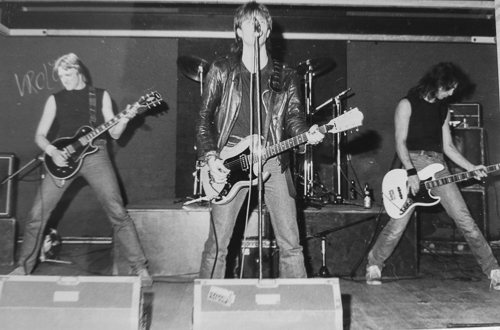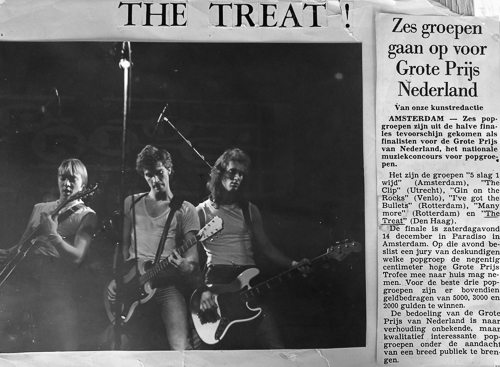 Source: Ad van Dijk