(1979 – 1980)
Meaning Bandname: Geert and Pinkel wanted the name Shocks. Ron took it all less seriously and always had a matchstick in his mouth hence the name Tändstickorshocks. The swallow was taken from the matchstickbox with a bomb underneath and was made into a backdrop and the cover for the 7" EP.
Bio: The day after the one year anniversary and last concert of Railbirds on 23 June 1979, Tändstickorshocks was formed. Singer Ron of Railbirds wanted to do something more punk and knew Ton (also roadmanager for Railbirds) since 1975 during his days on the Rotterdam Grafisch Lyceum. Pinkel and Geert were friends and crashed with Rondos since 1979. The 7" EP was released on 15 April 1980, has 12 songs, a title for every side and with one side on 33 rpm and the other on 45 rpm but this was not mentioned anywhere on the 7". This resulted in very funny discussions. The idea for the "Allan Vogelan Hebban Nestas" title plus backdrop was from Maarten of Rondos. Ton: "With Rondos there was always a place for ideas and everybody inspired eachother. Nothing was dictated other than that you had to do, create, or make it yourself". Together with Rondos they formed Red Rock joined later by Rode Wig and Sovjets. Concerts were done together. In 2017 Coolhaven covered Tändstickorshocks and Rondos on their Rode Pruik 10" released by Red Wig Records.

Description: The style was supposed to be punk. But being fed up with punx who only wanted to jump, destroy and being entertained, the style became more influenced by bands such as Punishment Of Luxury, Lydia Lunch, Teenage Jesus And The Jerks and The Popgroup. Also to irritate the punx who were called Discopunx. But according to Ton it was mainly because of the inability to play the instruments….
Lineup:
Gerard Dijkgraaf aka Pinkel – guitar
Gerard Arnold aka Geert – bass
Ron Huisman aka Ronnie Roteb – vocals & guitar
Ton de Koning aka Tony Macarony aka Knut Ulbrandson – drums
Other bands:
Ron Huisman – Railbirds, Neh, Effective Fashion, The Yompin' Cockroaches. Sons Of The Yompin' Cockroaches, Liefde Met Mayonaise, 3 Dead Mexicans On A Skateboard
Discography:
1980 – Allan Vogelan Hebban Nestas 7" EP (King Kong Records, NL)
Recorded @ De Bunker, Rotterdam on a 2 channel recorder by Willem 04.03.1980
Various:
1980 – Rotterdam Collection – Various Bands From Rotterdam LP (Backstreet Backlash Records, NL)
1989 – Minirock (Hoe Langer Hoe Korter) TAPE (Tigro, NL)
TV/Cinema:
1980 – Groeten Uit Rotterdam – Dirk Rijneke, Mildred van Leeuwaarden (NL)
1982 – Pinkel – Dirk Rijneke, Mildred van Leeuwaarden (NL)
Interviews/Articles:
1980 – Pin 14
1980 – Unite And Fight 2
2016 – Ton de Koning Interview

Concerts:
1979.09.10 De Heuvel, Rotterdam (+ Rondos)
1979.09.15 Kaasee, Rotterdam (+ Josef Kip Quartet, Bunker, Sovjets, Rondos, Infexion, The Bugs)
1979.10.19 Kaasee, Rotterdam (+ K.G.B., Krash On Poland, Workmates, Sovjets)
1979.10.20 Alfa, Beverwijk (+ Sovjets, Rondos, K.G.B.)
1979.11.01 Paradiso, Amsterdam (+ Sovjets, Rondos)
1979.11.03 Pannehuis, Antwerpen BEL (+ Rondos, De Sovjets, Reflex)
1979.11.17 Doornroosje, Nijmegen (+ Workmates, Rondos)
1979.11.18-12.11 Kaasee, Rotterdam (+ Revo, Ash-Trays)
1979.11.23 LVC, Leiden (+ Rondos, Revo)
1979.12.11 Exit, Rotterdam (+ Sovjets, Rondos, Rode Wig)
1979.12.15 Drieluik, Zaandam (+ Rondos)
1979.12.17 Paradiso, Amsterdam (+ Ketchup, Rondos, The Ex)
1979.12.26 Kaasee, Rotterdam (+ Revo, Neh, Ash-Trays, Jezus And The Gospelfuckers, Ketchup, Rode Wig, Ayatolla's, The Squats)
1980.01.25 O'16, Voorburg (+ Rondos, Art In Revolution, Rode Wig)
1980.02.09 Nivon, Rotterdam (+ BAB, Rode Wig, Sovjets, The Ex)
1980.02.22 Labyrinth, Beverwijk (+ Rondos, Sovjets, Rode Wig)
1980.03.01 Toverbal, Maassluis (+ Rondos, Rode Wig, Revo)
1980.04.05 't Zwaantje, Souburg (+ Rondos, Rode Wig, Naked)
1980.04.12 De Eland, Delft (+ Art in Revolution, Rode Wig, Rondos)
1980.04.16 Leraren Opleiding, Delft (+ Rondos, Rode Wig)
1980.04.17 Kijkhuis, Den Haag (+ Rondos, Rode Wig) (someone made video recordings)
1980.05.18 Doornroosje, Nijmegen (+ The Ex, Suspect, Rondos, Rode Wig)
1980.06.05 Vredenburg, Utrecht (+ The Ex, Rakketax)
1980.06.07 Drieluik, Zaandam (+ Inside Flippos, World War Rockerz) (Last Concert)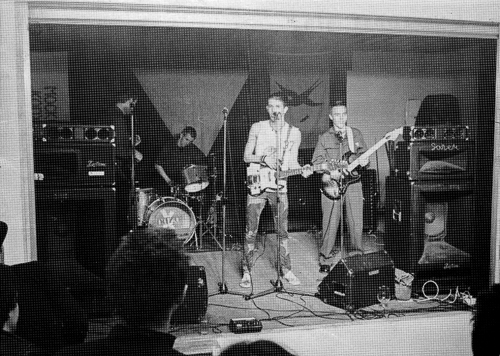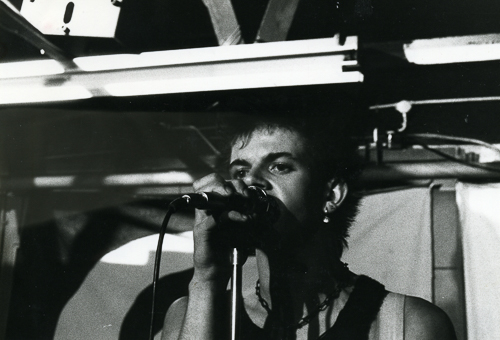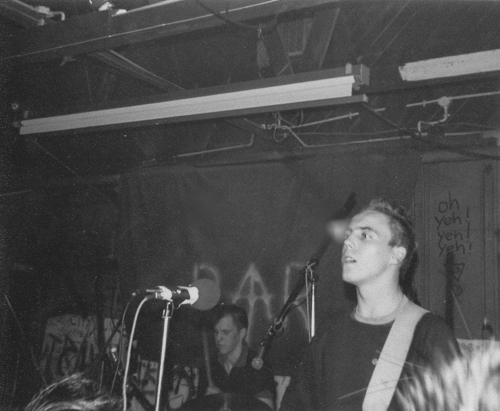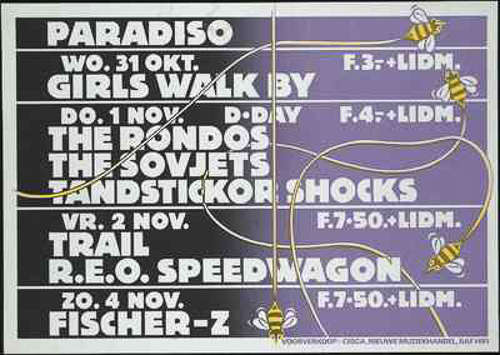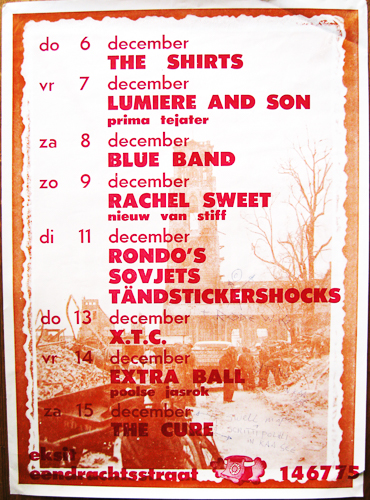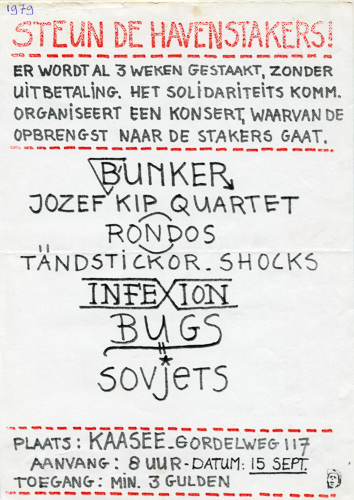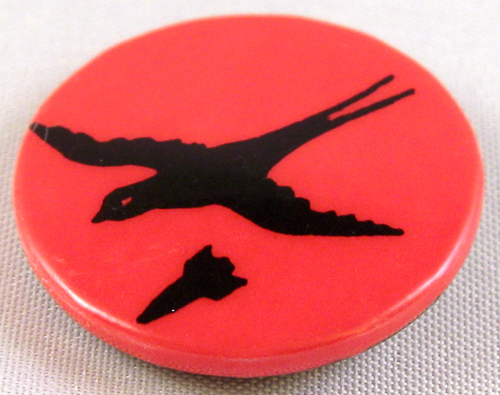 Source: Ton de Koning