(1978-1982) (2017-now)
Meaning Bandname: During his time with the band Metal Line S.A., Rob exclaimed Shit when things didn't go too well. An H is added to make it of no meaning.
Bio: From Spierdijk. It starts on the K.T.S. when Jos joined Rob in the same class in 1977. Both were into music and they asked Peter to play guitar. At Rob's place they started to improvise on the radio amplifier with microphones, organ and guitar. The amp didn't last too long. They were called Jim Cook & Company, and changed the name into The Escalators. Rob was in third class when he met 2 guys from Hoorn who asked him as a drummer for their band, Metal Line S.A. who played coversongs. Meanwhile, Peter and Jos were playing with other bands. Shith was formed in 1978 by Rob and Gert Jan and they got Peter and Niels. They play mostly punkcovers. It looks if the band stops at the end of December 1978 after a gig in a stable in Spanbroek but they meet Jos at a new year's eve party and they start rehearsing on his wood attic with Peter and Rob.
The first succesful concert was in March 1979 in Spierdijk in a barn of the parents of Jos. After this, they did about 4 gigs each month. A couple of fans and a bandmember form Loof Records label and release the first Shith record. The very active fanclub got 100 members and the organ was replaced by Ron, a real bassplayer who was met in the Anker in Heerhugowaard in 1981. When 3 of the 4 members had to fulfill their military duty, Ron leaves at the end of 1981. On 24th January 1982 was the final concert with the remaining three members.
When someone finds the mastertape of the 7", Loof Records continue with a repress of the Shith 7" plus bonustracks. In 1992 the original guitarplayer died but was replaced for a year by Niels de Wit from Hoorn. The first concert was on 19 August 2017 in Wogmeer. After a year Justijn was found as a new guitarplayer for a short time. Next came Roland who soon got replaced by Alex and Kees although the latter leaves in October 2021.
Description: Punk
Lineup:
Peter Dol † – guitar (1979-1982)
Rob Mulder – drums (1978-1982) (2017-now)
Jos Kok – keyboards (1979-1981) (1981-1982), keyboards & vocals (2017-now)
Ron de Roo – bass (1981-1981), bass & vocals (2017-now)
Peter de Cock – guitar (1982-1982)
Niels Lammerts – bass (1978-1978)
Gert Jan † – guitar (1978-1978)
Kees Hofwegen – guitar (2019-2021)
Alex de Boorder – guitar & vocals (2019-now)
Roland Hoogendijk – guitar (2019-2019)
Justijn Venekamp – guitar (2018-2018)
Niels De Wit – guitar (2017-2018)
Other bands:
Rob Mulder – Metal Line S.A., Sixpack, Wattnouz, Das Incredible Bagwan Orchestra, The Nutz, Terror, Golden Dierring, La Lore, KSB, Mulder!
Jos Kok – Real Stars, Sunrise, New Born Life, Toth Zandu, Static Rose Ron de Roo – Wattnouz, Witchcraft Honeybees, Vetverbranders
Peter de Cock – The Nuts
Niels de Wit – Yahoo, The Vernon Walters, De Kift, Electric Tears, Peanut Crisp, Zachte G Harde P, Uncontrollable Urgh, The Sack-O'-Woes, Hungry I, The Gueules, Simone Joan Mansfield, Johan, Gepøpel, Dewityourself, Mister Baby, Indirekt, Burghers
Gert Jan – Bergenfield

Discography:
1980 – Tonight She's By My Side / Suicide 7" single (Loof Records, NL)
Recorded @ De Mantel, Spierdijk on a 4 track Teac recorder 1980 / Press: 1000
2017 – Permafrost 7" EP (Loof Records, NL)
Recorded @ De Mantel, Spierdijk on a 4 track Teac recorder 1980 / press: 200 (50 in a Shith Dooibox with Shits fanzine 9 and a button @ Rock de Bok, Wogmeer 19.08.2017 / repress: 100 on red in 2018 @ Swaf, Hoorn 30.03.2018
Various:
1996 – I'm Sure We're Gonna Make It – Dutch Punkrock '77 – '82 CD (Epitaph, EUR)
1997 – Raised On Punk Vol. 1 LP (Not On Label, EUR)
1998 – Killed By Epitaph – Dutch Punkrock '77 – '82 2x LP (Not On Label, USA)
2015 – Killed By Suicide (Punk Rarities 1977-'83) CDr (Fab Fuhrer Records, BEL)

Website:
www.shith.nl

Concerts: (assorted)
1980.11.07 Eksit, Rotterdam (+ Desease, Framus)
1980.02.13 Paradiso, Amsterdam (+ Spivs, Desease)
1980.04.26 Parkhof, Alkmaar (+ The Nixons, Hema's, Oxid, Krikk)
1980.05.03 Simplon, Groningen
1980.06.26 Paradiso, Amsterdam (+ New Suicide, Framus)
1980.11.23 Mantel, Spierdijk
2017.08.19 Rok De Bok, Wogmeer
2018.09.16 Remind The Gap Festival, Spierdijk
2018.11.24 De Groene Toren, Avenhorn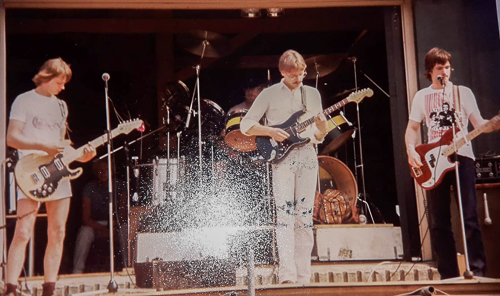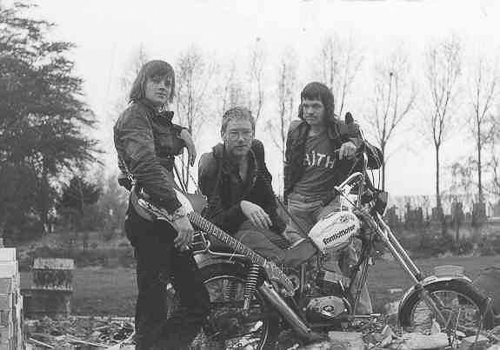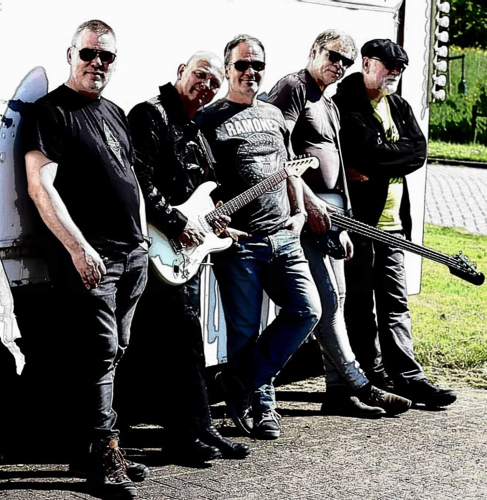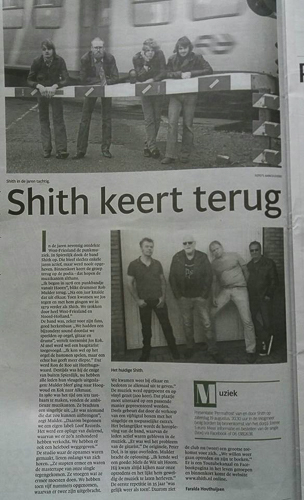 Source: Jos Kok, Ron de Roo