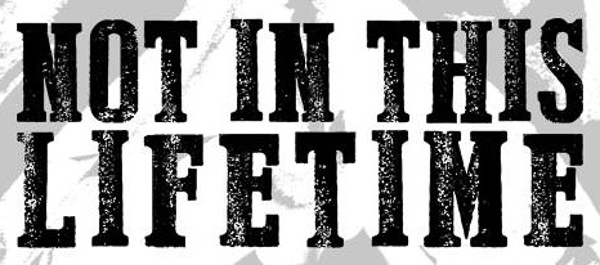 (2014 – 2018)
Meaning Bandname: Not In This Lifetime is an expression meaning something like: "this will never happen". It has no meaning whatsoever towards the band or its members. It's a line from a lyric that sounded good and eventually is used as the bandname.
Bio: This is basically Lies! without the singer René plus 2 new members. Also most members played in the thrashmetalband Expulsion from 2002 until 2011. Musically there's some changes but the focus stays hardcore. In 2015 they record a demo and for a full-length in the Soundlodge Studio in Germany. Change into Setsunai because Guns And Roses start to use the name for a reunion tour.
Description: A cross between Rise And Fall/Tragedy and Modern Life Is War/Verse/Have Heart.

Lyrics: Based on daily experiences, books, movies, music etc.
Lineup:
Marcel Siegers – drums
Rogier Bos – guitar
Martijn Pronk – guitar
Sander Oldersma – vocals
Jeroen Habets – bass
Other bands:
Marcel Siegers – Mon'strum, Lies!, Expulsion, Not In This Lifetime, Setsunai
Rogier Bos – Circuit, Expulsion, Not In This Lifetime, Setsunai
Martijn Pronk – Expulsion, Expulsion, Nemesea, Not In This Lifetime, Setsunai, Lies!
Sander Oldersma – Instil, Expulsion, Not In This Lifetime, The Hunger, Karbo, Lies!, Chain, Vindictive, Setsunai
Jeroen Habets – Lies!, Not In This Lifetime, Setsunai
Discography:
2015 – demo TAPE (Bound By Modern Age Records, GER)
2016 – Vultures CDr (Mark My Words Records, UK)
Recorded @ Soundlodge, Rhauderfehn by Jörg Uken
2017 – Vultures TAPE (Bound By Modern Age Records, GER)
Recorded @ Soundlodge, Rhauderfehn by Jörg Uken
Various:
2016 – The Hardcore Gateway Compilation Volume 1 2xCDr (Hardcore Gateway, BEL)
2017 – The BBMA Records Mixtape TAPE (Bound By Modern Age Records, GER)
Concerts
2015.01.31 Jack's Music Bar, Zwolle (+ Witness The Fall, Damage Remains)
2015.04.27 J.C. Crossroads, Kaatsheuvel (+ Bear, Defy The Crown, First Fight Down, From Earth, Backbreaker, Screw Houston, Tarantino, Ill Trusted)
2015.09.12 Kiehool, Bergum (+ Icepick, Heartgrown, For Blood And Vengeance)

2016.08.19 The Spot, Erica (+ Negative Approach, Hamerhaai)
2016.09.30 Biercafé Jays, Waalwijk (+ Witness The Fall, Titan)
2016.10.27 Simplon, Groningen (+ Witness The Fall, Bad Attitude, Manu Armata)
2016.11.27 Iduna, Drachten (+ Ringworm, Hierophant, Poison Headache)
2017.01.20 Hamburg GER
2017.01.21 J.Z. Basta, Görlitz GER (+ Offside, BID)
2017.03.24 Benzinebar, Groningen