(1980 – 1983)
Meaning Bandname: No special meaning whatsoever. Maybe because we were an active band and the name sounded good.
Bio: From Velsen. Formed because of the need to make music and inspired by Sex Pistols, P.I.L., Crass, G.B.H., Dead Kennedy's, Angelic Upstarts and Blondie. Rehearsals are done in several places around Velsen often combined with a visit to our favorite pub Gerrits in Driehuis (now Café Middeloo). The fun with the fans was a very important aspect and motivator. There's a dislike of marketing and invented image. No concessions were made. Machteld gets replaced by Henk in 1981 because of musical differences. When bassist Sander dies, all joy vanished and the band ends.

Description: Female fronted punk influenced by the Dead Kennedy's
Lineup:
Annegreet Wytzes – vocals
Sander van der Kolk † – bass
Theo Jaspers – guitar
Henk Koster – drums (1981-1983)

Machteld Allan – drums (1980-1981)
Other bands:
Henk Koster – Richard's Lick, Abandon, The Sundance Kid, Harry Alonzo, Surfin' B, Paul + Friends, Sjonnie Hakman Revue, Rue Rapide, The Happy Polaroids, De Bolderkar, Weedee Strangers, Tracker Thornton, Gustavo, Al Season, Follow & Cher.
Discography:
2014 – God Shave The Queen 1981-1982 TAPE (Ofal Tapes, NL)
Recorded live @ Paradiso, Amsterdam 03.09.1982 & De Vrolijke Crisis For VARA TV 1981
Various:
1981 – Parkhof 11-4-81 LP (V.G., NL)
2004 – IJmond Poparchief Volume 2 2x CD (Not On Label, NL)
Cinema:
2007 – Als Je Haar Maar Goed Zat DVD (Not On Label, NL)
Interviews/Articles:
1981 – Koekrand 54

Concerts: (assorted)
1980.03.28 Oktopus, Amsterdam (+ Vopo's)
1980.11.22 Lindehoeve, Voorschoten (+ De Straks, Workmates, The Ex)

1981.01.03 Parkhof, Alkmaar
1981.01.29 Paradiso, Amsterdam (The Nixe, The Ex, Workmates, Svätsox, The Nitwitz)
1981.01.31 Parkhof, Alkmaar (+ Pubix, Neo Punkz)
1981.04.11 Parkhof, Alkmaar (+ The Nixe, Hollands Glorie, Rakketax, Svätsox, Wanda's, Tox Modell, Krikk, Obsessions, De Groeten, Tröckener Kecks)
1981.05.03 Drieluik, Zaandam (+ Divorce)
1981.05.23 De Bakkerij, Castricum (+ Svätsox, De Groeten, Wanda's)
1981 Het Witte Theater, IJmuiden
1981 Velsen
1981 De Vrolijke Crisis, VARA TV (+ Workmates, Soviet Sex, Kluts, Brezneff, Whizz Guy, Paranoia, Herman Brood)
1982.03.20 De Sneeuwbal, Heemstede (+ Artratz, Pistache BV, Holland's Glorie) (Rob on guest vocals)
1982.04.28 Oktopos, Amsterdam (+ Squelettes)
1982.09.03 Paradiso, Amsterdam (+ Tomahawks, Peasants)
1982.09.18 Babylon, Woerden (+ The Clits)
1982.10.27 Oktopus, Amsterdam (+ Terreur)
1982.11.14 Vriendschap, IJmuiden (+ Max Laadvermogen, VVB Band)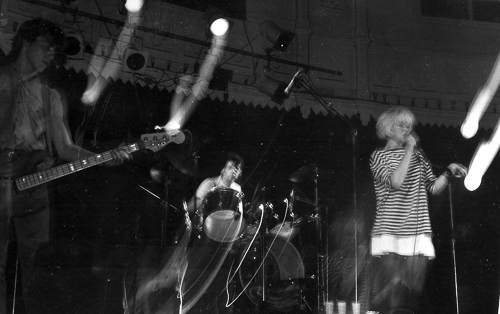 Source: Henk Koster