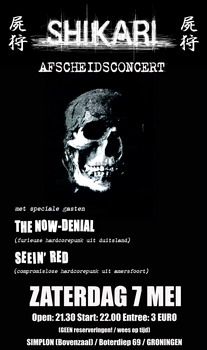 SHIKARI FINAL SHOW
Shikari, Seein'Red, The Now-Denial @ Simplon, Groningen 07.05.2005
So this is it. The 76th and final show. We are very happy we're able to organize this thing in the Simplon venue (thanks Groverpop!) because the upstairs venue is ideal for this kind of concerts. Not too big room, no annoying P.A., small stage, always good atmosphere, seperated bar/concertroom/backstage…. And, we played our first gig in this place in december 1999 so all is just perfect. I never forget when during a POINT OF FEW/SEEIN'RED concert in Vera in june 1999, Mark and Maurice push me in a corner to force me to drum for their new projectband. After their other band OFFICE KILLER did the final gig in August 1999, things get pretty serious… When I go on a 2 month tour with OLHO SECO from Brasil, they find Bas, ex-ONE DAY CLOSER as a bassplayer and after I return in mid October we start practising on a regular base and take the name SHIKARI. Almost half of all the gigs have been done abroad, and I just want to share THE BEST, THE WORST and the MEMORABLE Shikari shows. So here's for
THE BEST
27.06.01 @ Worm, Rotterdam
We packed our "Cavia Express I" van with loads of friends and everybody is set for a great day. After 20 km the van breaks down. We're lucky to roll on to a gasstation and the ANWB roadservice guy recommends to have the van towed to a garage. Bas was already on his way to Rotterdam when we phoned him and asked if he could drive back (some 100 km) and pick us up. In the meantime we get a ride back to Groningen in the towingtruck, dump all our friends and equipment at our rehearsal and race with Bas his car to Rotterdam. We arrive around 22.00 and everybody's still waiting for us because ORCHID was a big disappointment. Daan, who was with us on the Cavia Express I, took a train to Rotterdam with his friend Wouter (both playing now in THE ARCHITECT) and they arrive at the exact same moment. During extreme loud techno and gabberbeats, we set up the equipment. Needless to say, our adrenaline level is set to maximum so right on the first tunes, an hellish inferno breaks loose. We threw everything out and we got 100% back from the crowd. Truly perfect interplay. When we start the song Robot Wars, 2 live robots appear from the back and start a fight. Enter scattering chaos. Everything was videotaped and put on the Dead Man MCD. Thanks again to Boris Kansloos for recording this out of that whirling and sometimes dangerous pit!

02.05.02. @ 13th Note, Glasgow UK
This one was during our tour with SEEIN'RED. All bands are fucking brilliant (SHANK, SCALPLOCK, SEEIN'RED) and it was going to be very hard to follow. Fortunately the atmosphere was perfect, the soundman wonderful (Gerard Love from TEENAGE FANCLUB!) and crowd totally going for it resulting in one of our best shows. Unfortunately that nite the side window of our van got smashed by a group of hooligans. Lucky enough some of us was sleeping in the van so the bastards ran off. It was a hell of a job to clean the shattered glass and fragments. We found a new cheapish window at a scrapyard in the area so eventually all was okidoki.


13.12.02. @ Wehrschloss, Bremen GER
Fully packed place with tons of foreigners to obviously witness CRUDE from Japan. Somehow everything went incredibly smooth. Thanks also to the organisation (CHANGE MUSIK) and people involved. Most unforgettable moment of this nite was a very emotional Otto/SELFISH introducing CRUDE live on stage: "And now the most exciting thing ever to occur in Germany since Adolf Hitler!!". HAHAHAHA!!!

23.10.04. @ Bar Le Duc, Groningen
Second last gig with our friends ACAO DIRETA from Brasil. These tiny, almost too small places work the best for us. Unfortunately the vocals were way to soft so it was more like an instrumental set, but the crowd went nuts anyway.

07.05.05. @ Simplon, Groningen
The best final gig we could wish.
THE WORST
10.02.01. @ Het Podium, Hoogeveen
Our tenth gig was on TRASHFEST 1 with tons of Duch bands. Tons of better bands. We played at the end of the long day after a raging INSULT set. It just did not work.

20.05.01. @ Plankier, Leeuwarden

The worst of them all. Everything that can go wrong, went wrong. After one song the guitar was out of tune and there was probs with the drumkit. After 2 songs the guitar broke and we all had problems. Most songs got fucked up and I believe we only played 6 songs. The TWARRES members thought we were very loud. I thought worse than this is hard to accomplish. Everything was audiotaped and put online by the bar where we played. Definitely not approved by us, but then again I am glad it was not videotaped.

22.09.01. @ Papirna, Prague CZE
We're doing some dates with ACAO DIRETA in Eastern Europe. I'm with AD in the Cavia Express I, the rest of SHIKARI is travelling by car. Near the squat they get stopped by the cops and forced to pay a fine. The price seems to be negotiable. After paying, the money disappears in the backpocket of the pig. This show was originally organised in the 007 Club but had to be moved at the last minute to the Papirna squat because 007 had a fire and was not ready for shows yet. Consequence is not many people show up (very bitter for AD coz they payed big cash for VISAS for this one and only Czech gig), and the sound is so fucked that we get totally confused while playing. Also the police shows up a couple times with some angry looking dogs. This squat is situated in the basement and backyard of a flat so neightbours always turn up and pass the squatted area to get to their apartment. While the rest of SHIKARI decide to drive back home, we hang out the entire night with Jocke/WOLFPACK and his friend. Nice finish nevertheless.


23.11.03. @ Platformtheater, Groningen
Very simular to that Hoogeveen gig mentioned above. Absolutely nothing worked.

28.04.04. @ Schlachthof, Bremen GER
I was ill. Heavy flu with upcoming sinus infections. But I started to feel a bit better and since Bremen is always a pleasure to play I thought what the fuck, let's do it. During soundcheck I suffered a relapse. This was going to be hard. When we start the first song, I suffer hellish feverattacks. My head is pounding, my bones are stinging, and the food wants to find a way out. I managed to finish 6 songs. Total frustration because musically it wasn't that bad. I went straight to bed and had to be driven home by one of our roadies. I had to stay in bed for the next 2 weeks. The only good thing about this one-time experience is that I learned my lesson well and never ever do concerts again when I'm feeling sick.

THE MEMORABLE
19.10.00. @ Grand Theatre, Groningen

Basically most of the gigs we played in our hometown have been extremely crazy and chaotic. Some of these stand out because of the circumstances. This one was on a birthday party and had a very mixed line-up. Grand Theatre is a cultural place and the music hall is huge. I mean fucking huge. Stage is 2 metres high, very professional and heavy PA, the roof is so high you cannot even see it….. So we decide to fuck shit up and decide to play in front of the stage without PA. We do this often. Put the equipment on the edge of the stage and play in front of it to create some extra ambiance and break down that annoying border between band-audience. Anyway, we entangle in an heated debate with the soundpeople, coz obviously they feel passed over. We play for a mixed crowd and shock some. Get some great reactions afterwards and leave with a nice satisfied feeling.

21.02.01. @ Vera, Groningen
We are the band that plays the very last show of AT THE DRIVE IN in a sold out Vera Club. This was a big circus. Professional photographers, reporters, camera/television/radio teams everywhere. VPRO television was doing a documentary on the band and following them on all of their Dutch dates. We noticed that the band was not really cooperative and this created a rather tense atmosphere within that VPRO crew. We made a special and rather noisy setlist to fuck with the crowd. Adrenaline was swirling once getting on stage and I loved the fact that a large part of the crowd that was there for some serious melodies, could in no way escape us because the place was packed. Forced to fucking endure with some true agony. When we finished, we see that VPRO team desperately seeking contact and trying to get to the band. They're getting terribly annoying, and needless to say they run into closed doors. AT THE DRIVE IN plays pretty bad and due to frustration, their guitarist smashes his guitar into the backwall. They leave the stage ranting and cursing and quickly disappear in the backstage, literally slamming the door shut in the media's face! They instantly canceled the rest of the tour and flew back home the next day, to split up… So, once in a while we still get requests or phonecalls from magazine reporters to talk about the last hours of AT THE DRIVE IN coz we were there with them on,- and offstage. HAHAHAHA!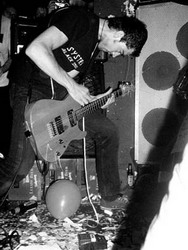 11.01.02. @ De Troubadour, Groningen
This was a show on the prestigious EUROSONIC festival. Basically a commercial showcase for ambitious bands. The festival is swarming with A&R managers and business people. Not really something for us but since it was for a different audience, we thought to just do it. It can be quite refreshing not to play for the same people over and over again. This was in a big bar with a cool small stage. We played with all kinds of bands, from alternative and hiphop to accoustic. The reactions afterwards were worth it. Best one was a guy that came up to us and told he didn't know this kind of music even existed and he was most impressed blablabla.

02.04.02. @ Red House, Manchester UK
Memorable because early in the set Maurice was having major problems with his guitar and getting so angry, he smashed it right into his amp. Amp is alright and that hole is still there!

27.06.02. @ Vera Kelderbar, Groningen
I count for the first song and on the very first note people start going spastic and begin throwing and spraying this chemical confetti from a can. Unfortunately I have my mouth open on that same first note, and Jos/SEEIN'RED sprays it straight into my throat. I don't stop and swallow. I can assure it's the most disgusting thing I ever swallowed. Even thinking about it still makes me retch. The stuff is so thick, I hardly get it down. The entire set I feel it in my gullet coming up and wanting to go down. I did not examine my shit the days after but I'm sure it must have been very colorful. Quite memorable indeed…

31.01.03. @ Asbestbar, Groningen
Chaos Groningen Style. The crowd spent liters of beer…spraying on us. During the set I see my guys getting beerbottles emptied in their trousers and clothes. My drumkit and cymbals need to be dried afterwards. This was good filthy fun.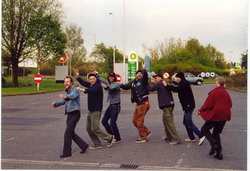 Honourable mention is the gig that was supposed to be in London on 05th may 2002 (my birthday) but we did not make it because our van broke down. Spent the night and following day on a parkinglot in the middle of nowhere. Insurance covered all and we flew back home (my first ever flight).

So far for some retrospective. Back to that 7th may 2005: we arrive with the equipment around 19.00 and the other bands already arrived. It's good to meet our friends and share these last moments with them, although everything is rather misty and unreal at the same time. The concertroom is arranged very thoughtful: the stageparts are placed in the back and sides of the room. The bands play on the ground, the crowd can choose to go onstage or to suffer the pit. After setting up the backline, we do a small soundcheck, fix the lights and get some food while Maurice and Bas do an interview for the local television. The place slowly fills up with a mixed crowd. We see lots of friends that came from everywhere and there's ofcourse Marian from Cracow in Poland who hitchhiked for almost 3 days to get to this gig! SEEIN'RED starts off with their militant hardcore, and it's always a pleasure to see them play. There is some moments that I get the Vera vibe when we played with AT THE DRIVE IN. I see people walking away in disgust. Not use to this noise. Great! I guess
THE NOW-DENIAL play a much more accessible sound. But so energetic and convincing. Yes, these are first-rate to complete this nite. When it's finally our turn, there's some unpronounceable suspense in the air. It's getting very packed inside and the organization already closed the doors. I don't know how to exactly describe other than it was in the best chaos tradition. We had to stop three times because people were falling into the drumkit. There was this one particulary awkward moment when this girl crashed into my kit and we see her throat going straight for that cymbal. Going straight for that supersharp edge in the cymbal that was grinded because of a dent…. Lucky for her AND the show, I hit that cymbal at that exact same moment and gave it a swing so she crashes into the "good" side. I'm sure we'd make the headlines by having a classic case of decapitation or at least some good ole artery bleeding on our finale… Maybe some other time. To get an idea, there's one song online ("Robot Wars"). Download at http://www.bacteria.nl/shikari-robotwars070505.wmv (rightclick! about 35 Mb WMV file)
Ofcourse in true Shikari tradition all of us got damaged one way or another. Apart from the usual bruises, Mark also got a guitar smashed in his head, and I got hit hard by a crash cymbal full under my nose. Because of high adrenaline content, I only start feeling the pain the day after… Thanks for everyone who dropped in, apologies to the ones that couldn't get in and thanks to all that made these 6 years worthwile. Peace.
G.G.I. GRONINGEN
DAY 1: 16.09.05 Rat Patrol, Kidd Blunt (IRE), Flyblown (UK), Moutpiece (IRE) – Vera, Groningen
We did so much effort to try to get a band from Glasgow playing but without any success. Next we did so much effort to try to get a band from Scotland playing but also without any success. They either canceled, were already on tour or just couldn't make it because of work or another gig at the same nite. Very very frustrating because this is called the Groningen Glasgow Ireland festival after all… We even considered asking some bagpipe players, just for the sake of it. Desperate or what?
The place fills up alright. We see A LOT of Irish punx and most locals are around. RAT PATROL opens the fest and still proves to be a tight hardcoreband even though they play only like a couple times a year. I already knew KIDD BLUNT from their demo and this is definitely the best band I discovered since ages. Too bad these recordings have not been released yet. This appears to be the last gig for their bassplayer, and I'm impressed again. They even exceed my expectations with their brilliant mix of emotionally driven hardcore (FUEL comes to mind), catchy lalalacore and THIN LIZZY twin-guitars. Damn! FLYBLOWN are over-the-top disnoise and very very loud. MOUTPIECE is the perfect finisher with their great punkrock'n'roll. The crowd loves it and we all drink the nite away!

DAY 2: 17.09.05 Gate Crashers, Fleas And Lice, Freebooters (IRE), Running Riot (IRE), Instinct Of Survival (GER) – Opdrift, Groningen & Mindfok, Flyblown (UK) – Bar-A-Kade, Groningen
Today starts early coz we couldn't get the venue the entire day because of the SALMONELLA bio-restaurant that is here every week. So when they start their thing, we move the fest temporary to another squat nearby. In the afternoon THE GATE CRASHERS start with their infectious hardcore sometimes reminding of RAT PATROL. They're already around for some time so I guess it's time for them to release something. Place is getting real busy now and FREEBOOTERS get the crowd smiling and moving. Oi! Too bad we have to move to the other location coz it would have been perfect to continue here. Anyway, the new Bar-A-Kade concertroom is great and MINDFOK starts around 19.00 If you think they were loud, there's FLYBLOWN again. Total earsplitting disdeafness. Around 20.30 we move to the other venue again. Our Hamburg friends of INSTINCT OF SURVIVAL warms up the crowd with their raging crustcore. DEEP FRIED MARS BARS or better known as FLEAS AND LICE play full speed with unplugged guestmusicians. It seems they have this 3rd airguitarplayer with guitar joining them on GGI dates. At least he was also showing off during that pre-GGI gig in 2004 in London. Also a trumpeteer joins in occasionally. Very curious… RUNNING RIOT make a party and rock the night away. Straight after the last note, I suffer a feverattack (Shikari at Bremen vibe) and decide it's time to get to bed as soon as possible. I miss the 3rd day with the football tournament and invasion of the Irish pub. Oh well, I'm looking forward to G.G.I. 2006!

MAKILADORAS - "VOOR MIJN PART..." MINI-TOUR JANUARY 2006
24.01.06 @ L'Auberge De L'Ecluse, Vitry-Sur-Seine
(+ Agonie + Decombres + Jolec6 + Altercado)
We wake up at 7.30 and prepare for the trip to Paris. After the usual traffic jams around Paris, we finally arrive around 19.30. It's a new squat just outside Paris city and looks real nice. Everybody tell me it smells terribly because there's living more dogs (36+) than people in there, but last nite I got a severe cold and my nose is completely blocked. Good for me. The concertroom in the basement is perfect. Within minutes we got our van unloaded because there's plenty of help from everyone. The first band JOLEC6 starts around 22.00 and is over-the-top crazy spaztic punk with djembes like only the french can do. Pretty well played but way too long (over an hour). AGONIE is standard sloppy crust with female vocals. DECOMBRES is wellplayed crust with organizer Yann on vocals. MAKILADORAS play sloppy metalpunk this nite. The stage has this strip of wood through the middle resulting in a floating bassdrumpedal which makes it impossible to play superfast double notes, so we skip most of the new songs. Also we suffer some guitar amp probs again. Not the best of gigs… ALTERCADO from Chili plays a mix between hardcorepunk and screamo. Pretty intense and the crowd loves it.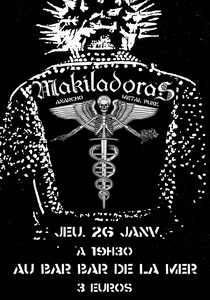 26.01.06 @ Le Barbar De La Mer, Nantes
Yesterday we had an off day and drive to Vallet to meet up with Oscar, the organizer for the Friday show. Together with Psycho the ferret, he rents a room in a nice farm in the middle of nowhere. Since it's getting very cold outside and I start to feel rather sick, we decide to also crash inside. Today we do some sightseeing and visit Hardcore Ink Studio, the local tattooshop (annex local punk hangout) where Michel will get one tomorrow morning. The Barbar de la Mer is a nice small pub with a stage in the back. Perfect! We meet up with a lot of friends and the gig makes everybody very happy. We do some longer breaks in between songs to give me some slack and recover. It's amazing to see how hospitable and helpful people are. Actually, this strikes us in most places in France. After the gig we get invited by the barowner Even though I feel miserable, the afterparty at Oscar's place is succesful and I soften my pain with some delicious pear liqueur.
27.01.06 @ Le Subway, Vallet
(+ Michel Platinium + Primal Van Kirk + 1)
Michel goes to get a tattoo at 10.00. We sleep until 13.30 and visit Michel at 14.30 where he is suffering in da chair. The result looks marvellous though. In the meantime we go to a pharmacy to get medicine for me coz I'm killed by coughing fits. After a lot of puzzling with the backlines in the small bar, MICHEL PLATINIUM finally take off. We played with them on their first gig in this same bar last year and this is their 10th gig. Definitely progressed a lot and good fun to watch! Second band was not on the list, and is more in the ISIS/NEUROSIS department but very monotonous and dragging with slow simple 2-3 chord songs. PRIMAL VAN KIRK is catchy NYHC. I have a hard time playing, not being able to breathe properly, coughing attacks during playing, even vomiting so we have to cut our set short. It's a miracle I make it to the end. Afterparty at Oscar's place, no sleep.
28.01.06 @ Le Grand Moulin, Bourg Des Comptes
(+ 5 bands)
When it gets light we see snow. A lot of snow. There hasn't been snow in this region for 6 years. When we leave the village, we cannot take the hilly roads coz everything is icy. It takes ages to get out of here. The highway is as bad. It's one big ice rink. And the worst of all, everybody is driving as if nothing happened. We drive 30-40 km/h while the rest is going crazy on high speeds. When we get passed by a truck going 80-100 km/h, we get into its slipstream and slip off the road into a ditch. We wait 90 minutes for police and the towing truck. But it is so icy, that the truck is sliding off the road. They tell us they can't help us as soon the ice has disappeared… We get dropped by the cops at the nearest gasstation and start to improvise. Some people from Le Grand Moulin are coming to get us so we can maybe still do the concert. It took them around 4 hours to drive 80 km. We get our sleepinggear and some parts of our equipment and arrive around 2.00 at the concertplace. Without snowchains we would not have made it. A lot of people did not make it but there's still like 40 present and bands are already playing. We eat some warm food and start the gig at around 3.30. The hall is quite cold, but good for me because this is definitely the best gig I play out of those 4. We suffer some tech probs again and I get into a spasm of laughter when I hear the bass-sound (which was coming through the vocalamp). We amazingly managed to borrow a car from the Paris crew, and right after the AGONIE set at 5.30 we return to Nantes to try again to get our car out of the ditch. Later in the morning we see the sun shining and the ice melting! At 11.30 a towing truck finally get our car out and we're very happy with only 2 dents and no further damage at all. When we return to Le Grand Moulin, we see how beautiful this place is. A watermill in the middle of the Britanny fields. Too bad we need to go and leave at 17.00 to arrive back in Groningen at 5.00 What a week…
IN MEMORIAM
BOMBER
19.07.1967 – 12.12.2005


I first met Bomber on 10.06.1988. My friend Ton fixed the Dutch dates for R.K.L. from the States and we were going to catch up with them at their very first European gig in the Van Hall venue in Amsterdam. I totally worship their 1987 Rock'n'Roll Nightmare LP which is a perfect blend of US hardcore and thrashmetal so I was very much looking forward to this. The place was packed and the opening bands NO ALLEGIANCE and JINGO DE LUNCH were good. During the opening minutes of R.K.L., I never forget the moment their bassplayer (Joe) appears on stage. Small 17 year old guy hidden in a large grey hooded sweatshirt swinging his fretless bass all over the place and not missing any note. The crowd went nuts. Next day they play Groningen and we all have a field day. The afterparty in the WNC squat is legendary and here I learn their favorite drinkinggame called "Quarters". Damn, did we get wasted. When we drove to the sleepingplace, we thought to be smart and take a short cut. When we had to go through a bicycle tunnel, we got stuck in it… Had to let out air from the tires to push the van out of it. Most memorable, especially for Chris the guitarplayer who was lying in the loft which more or less came down… Bomber inspired me endlessly with his supreme drumming skills. Some of the stuff he did was just unreal, especially his bassdrumming sounded like he doubled. Also very influential were his fills and his ride patterns to emphasize melodies. In my current band RO CONSPIRACY I was already doing 2 songs on drums and on 9th July, one month after R.K.L. played here, I did my first gig as a drummer in an improvised projectband and was asked that same nite to join a new band as a drummer (later to be called CATWEAZLE). About one week later on 15.07.1988 was R.K.L.'s last gig of the tour together with NO PIGS and WARDANCE (ex-ENGLISH DOGS). When they returned for their 2nd Eurotour in May 1989, we managed to come along in their van for their Dutch gigs. Since I was heavily interested in his drumming, Bomber showed some tricks and how to approach playing in general. Very instructive and inspiring.
So, 17 years later I see that he died quite unexpected. Even though I did not know him well, it still came as a shock. He has always been a big inspiration and ultimately made me start drumming. I'll never forget. May you rest in piece my friend.