23.08.03. The Dead (BEL), Skarnspage (NOR), Seein'Red, The Furious (BEL), Radio Bikini, Discarga (BRA), 1000 Travels Of Jawarlahal (JAP), Vitamin X, Amen Ra (BEL), Louis Cyphre (GER), Light The Fuse And Run (USA), Visions Of War (BEL), I Shot Cyrus (BRA) @ Het Podium, Hoogeveen NL
Trashfest 4. Marteun and crew doing a great job again and this time a very varied line-up. Too bad I have to leave around 22.30 coz I need to play with PCP on a birthdayparty of Sjakie (drummer for LADS & MINDFØK) in Groningen. Oh well, we'll see how far we get. VISIONS OF WAR start upstairs but the sound is real terrible. Their original drummer couldn't continue with the band coz of a hearingproblem (?) and was replaced by Dejan, also drummer for OLHO DE GATO and owner of the Villa Friekens studio. Last time I saw them was in de Raad in Alkmaar during the afterparty of the annual Kerstival in Parkhof. I was completely stunned by their set coz in the far past they played very longwinded boring crustcore. In Alkmaar it was suddenly totally fast with lots of changes and breaks. Really exciting. Some sort of DISRUPTish. However, today they fall back to the old style... Very uninspiring despite the impressive effort of Dejan. Then I miss a couple bands coz socializing was more interesting at the moment. Many friends from abroad are present. MÖRSER from Germany is supposed to play but on the condition that SEEIN'RED should also play. Well, SEEIN'RED already played Hoogeveen recently but everybody wanted MÖRSER real bad so the deal was on. Too bad MÖRSER canceled... SEEIN'RED is good. Not much to say about it coz it's starting to become a bit like a routine. Unfortunately I miss THE FURIOUS from Belgium. MAKILADORAS played with them in February and that was quite memorable. Fast but slightly sloppy retro hardcore played with alot of energy. Oh well. VITAMIN X downstairs is also quite energetic but can't excite me much musically. Not many melodies in their songs although I love their track on the Maximaal Onthaal CD. Upstairs RADIO BIKINI starts and this is the big surprise. Simple yet wonderful fast hardcore. I didn't know anything about this band except that MAKILADORAS is going to do a split 7" with them. Now I know why. Kicking to discover another good Dutch band. Downstairs is 1000 TRAVELS OF JAWARLAHAL. I'm not so keen on emo. Correction: I detest most of it but these japanese do it in an acceptable way. Not too much strumming and drivel, rather straight forward, mostly midtempo punk/hardcore. I am astonished by the drummer. He has a microphonestand between his legs... quite an hilarious sight!! Still wonder how he manage to keep drumming. Those japanese...hentai I say! I SHOT CYRUS is setting up their equipment, when I get a phonecall urging me to get my ass back to Groningen to play. And so I did.

24.08.03. Blood I Bleed, Blaat, Kriegstanz, Skarnspage (NOR), Krush, Cathode, I Shot Cyrus (BRA), PCP, Reproach (BEL), Discarga (BRA), Sika (SLO), Olho De Gato, Visions Of War (BEL) @ C.O.-9, Zwolle NL
Third gig within 24 hours. Well we didn't make it too late last nite with that PCP/RAT PATROL gig so we are prepared. This fest takes place in a relatively new squat in Zwolle, a town 100 km south of Groningen. Lately they are doing tons of concerts there, almost every week and I believe practically all touring bands play there, no matter if it is popular or not. Now that Hoogeveen (only 30 km from Zwolle) has started booking bands like mad again, this area has definitely developed as the heart of hardcore Holland!
We miss the first band BLOOD I BLEED. A pity coz I'd love to see Shantia's new band. I've been told it's basically MY MIND'S MINE, but more HERESY influenced. They considered the name LOST for their new band but since there's a popular punkband from Poland with the same name (ex-HOMOMILITIA), they wisely enough decided for a different name. Did they take it from 80's bay area thrashmetal fave DETENTE?! We enter during BLAAT but I spent the time checking out the place and people. I take some time for KRIEGSTANZ. They have members of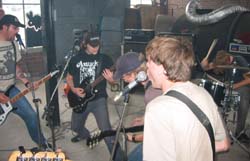 CATHODE, BARNHOUSE EFFECT, SEEIN'RED... It's a wall of noise. This is more pleasing than their gig on Trashfest 3 in Hoogeveen some months ago. The songs are much better played and the structures are clearer than before. Ofcourse you can instantly hear where the influence comes from. Cross WOLFBRIGADE with CATHARSIS or TRAGEDY and there you have it. They'll get vinyl out sooner or later. KRUSH is good straightforward hardcore with two very moving singers. Reminds me of DISRUPT. SKARNSPAGE is two guys with a drummachine. They go wild in some touching way. Very funny to watch, not quite funny to hear. Time to eat. It's a great idea the organization put up a foodstand. I usually miss this at the Dutch fests. Besides the fact that everybody becomes hungry at a certain point (especially during these kind of marathons), it's also a good way to get some extra money in. CATHODE is another wall of sound. Two guitars, and even heavier than KRIEGSTANZ. I prefer the darker midtempo stuff to the quite sloppy fast parts. I SHOT CYRUS with the drummer of RATOS DE PORAO. Hectic fast 80's retro hardcore. Wouldn't imagine this was from Brasil. Nice to see Boka in action again but I prefer RATOS anytime. PCP was an ok set I suppose. It is the first time for many people to see us in the new line-up. It's always good fun to play with this band. Since there is no lighting present, we are swallowed by the dark. During REPROACH I am recovering in our van outside, catching some air as well. DISCARGA I missed as well. For the 2nd time that is. OLHO DE GATO is real good. Fast and hectic hardcore. The Bloedbad song goes to me. Cool. SIKA is really really bad. It's one of those bands that are so bad, that it is actually great... Very young and enthusiastic band and giving it all. Damn, I watched their complete set. Crazy. VISIONS OF WAR was like yesterday except now they finished the fest instead of opening, and they had some of the crowd moving. MATKA TERESA decided spontaneously they wanted to play as well, but the organizers (as well as most of the crowd) were already too dead to agree.
05.09.03. Makiladoras, Fresnel (AUS), PCP, Man Made Filth, Anargeeks @ Rijzenburcht, Elst NL
This is the first day of a 2 day festival celebrating the squat in Elst (near Arnhem). It's located in the middle of nowhere and it is in a big farm. All around are grasslands and excavated buildingsites. This squat is the only original house left in the area coz it is considered a monument so they are not allowed to evict/demolish it. We arrive far too early coz everything got delayed with mucho hours. Around 18.00 we get some spicy mustardsoup and soon we start unloading and checking what to use. The stage is too tiny to put on equipment except for the drums so we decide to put everything in front of the stage. When at around 22.00 finally the small P.A. arrives, MAKILADORAS can start an hour later the show. Right at the first song, tons of people come forward to see the band. The crowd starts moving
and atmosphere is set. Great! FRESNEL from Austria are real kind fellows but their sound can't excite me much. Slow to midpaced doomrock with alot of guitartinkling. I guess I am not the only one coz soon enough the place is empty. PCP is next and chaos starts to arise. A bunch of people with markers come in action and within time I see once familiar faces change into strangers with mustaches, skindiseases, beards, crazy hairdos, missing teeth... On one side I see an female Hitler fighting somekind of pirate, an another side people piling up and doing crazy stuff. It's completely surreal and very hard to concentrate on the drumming... What a nite. MAN MADE FILTH didn't escape the markerwar either and their singer had a nice reversed cross over his face. Musically it was kinda sloppy but cool enough to keep the attention. ANARGEEKS, a very young band from Alkmaar, are the definition of sloppyness. Wow! Reminded me abit of R.A.P.T. from France. After ANARGEEKS some other band played as well but ended abruptly when the aggregate broke down. The whole place was covered in darkness. Fortunately the maglite is standard issue with me, so I had no problem to get my stuff and get to the van to prepare for a good nite rest coz tomorrow it's off to Stemwede for yet another fest. BUT. As soon as I wanted to enter my bed, there comes a bunch of people with a djembee. If I learned to hate something in the past years, it's people with djembees and didgeridoos coming to punkfests "playing" their instruments all night long. You can imagine, even with earplugs there was no credit gained. However, the next morning is a treat. 75% of MAKILADORAS need to take the train back home and some of them have obligations, familycall and such... But the waterproof markers did quite a good job. Despair is maybe a big word, but it was great fun to see them frantically scrubbing their faces in our sidemirrors. A sight I won't forget that easy. PS. recordings were made of all bands and they will probably put these out sooner or later.
06.09.03. PCP, Twisted System (BEL), Zeroid (GER), Instinct Of Survival (GER), Dreschflegel (AUS) @ Krustenhof, Stemwede GER
With almost no sleep, we manage to arrive in time in Stemwede. Actually we're the first band to arrive! I've been here before with MAKILADORAS and this place just rules with a capital R!! It's a huge farm with a barn and some smaller houses, plus acres of land around it. There's living about 7 people in the farm and in some wagons. The mainhouse has the concertroom. It's more like a livingroom with a bar. Really atmospheric and cosy with alot of beautiful murals. The whole place lives coz everywhere there is something to do and so many familiar faces, it's like a reunion! Outside there's a fire and picnic place. We get delicious food, and obviously I eat too much coz later we need to toss a coin to see the order of the bands. PCP needs to start first. Around 23.00 we do start and eventually we're all happy we play now coz everyone seems to had lack of sleep in Elst. We did a good set and had a nice crowd. It' been a while since I last saw the Liege gang. Cool! DRESCHFLEGEL from Vienna, Austria is next and is playing really tight NO COMMENTish hardcore. All songs very fast and usually in less than 1 and a half minute. Great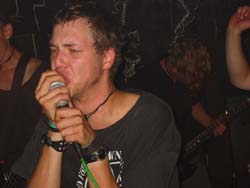 stuff but tends to get tedious after 20 minutes. TWISTED SYSTEM was a real surprise. I know this band operated in the past as TRISTE but that was hardrock with a strong ACDC feel. This is catchy crust'n'roll with some fast parts, brief guitarwanking and heavy sound. With ex-HIATUS guitarplayer, ex-HELLBOUND drummer and ex-UNHINGED singer. The crowd just loves it! Then ZEROID. I didn't know they would play so this was a hellish surprise. I always missed them when they played around and if there was always one hc band I wanted to see, it was ZEROID. And to my great surprise, this is their final gig... Consider me lucky. And I am more than happy I witnessed this one, even if they themselves were very dissapointed with it. They had alot of bad luck with the bassplayer who broke strings twice. It broke the mood and continuality of the concert but still... it was brutal nevertheless. Supertight, varied and powerful drumming, numerous dark and ultracatchy melodies, opposed guitarlines and brief wanking, diverse screaming.... damn, this is just perfect. And they play my favorite song Present Perfect as well. So it's a very mixed feeling, happy to have seen them, sad to know it is over for ever. Why do the best bands always break up so quickly? I'm anxious to know any new projects. Their drummer is already playing for BUTCH MEIER, an excellent country & western band that does covers of classic hardcore/punksongs. Their debut 7" "Moustache Means Respect" is an instant classic! I passed INSTINCT OF SURVIVAL coz it was already around 4 am, saw them several times before and most important, I need some sleep. The next morning we get a very nice collective breakfast in the garden. Some people are still drunk, some roll over in dogshit, some try to leave but still walk or fall around after hours.. On the german border we get stopped by the bordercops. We are ok but the spanish car that is with us has some problems. One of them forgot his passport in Stemwede but fortunately enough he can continue. Still he needs his passport back so we telephone to Stemwede. Then we hear that they just got a message that someone tragically died that night on the road to the farm. They are all mourning coz it was a good friend of the house. A very dramatic ending of an exciting weekend.

26.09.03. Los Conductos, Gewapend Beton, Hysteria, Zootic (POR), Sin Dios (SPA), Tragedy (USA), Inner Terrestials (UK) @ Pakhuis Afrika, Amsterdam NL
I was much looking forward to see this gig. Unfortunately our friends of SIN DIOS played only 2 exclusive gigs in NL. They were invited by the Blauwe Aanslag squat to play on their final festival on 27th September. After 23 years they get evicted... sad but true. Anyway, since 27th was the incredible 5th Trashfest in Hoogeveen, we decided to go to Amsterdam to meet our friends and see this fresh new squat for the 1st time. Well, located in the harbour area, it's an excellent site. Actually next to the former Vrieshuys Amerika squat, that did tons of great gigs in the 90's (and run by Human Alert superstars). But this Pakhuis Afrika is big, very big. And when we arrived the first to see were our
friends from Saint-Etienne.... stalking Tragedy for 3 gigs. Freaks! Outside it was crowded with punx, inside even more. I think around 300 people were there. Exceptional for Amsterdam standards. Ofcourse also the obligatory punx that try to get in for free. The doorpeople had some real hard times stopping them. When asking why they try to force themselves in without paying, they reply it is always worth a try... Sin Dios explains us they feel confused with so many spanish punks around them. They can't gossip anymore without anyone understanding them. And once inside the scarce lighted concertroom , I step into a deep hole filled with rainwater. The rest of the nite I spent with one leg dripping wet. There's definitely alot of work to be done in this squat. We missed the first 2 bands and entered while ZOOTIC plays. They're pretty good, but I see too many familiar faces to keep the attention so after a couple songs I start wandering around. HYSTERIA is next and they sound pretty good. I'm busy with the Sin Dios merch and more friends I haven't seen for a while. SIN DIOS is next and I'm looking forward to it but to find out it's one of their worst gigs I've ever witnessed... Nevertheless the crowd goes nuts. TRAGEDY was real good, musically real good. All people was enthousiast as hell but somehow there was this huge wall in between the band and the crowd. I always like it when there's at least some interaction between band and people. It gives a band identity. Oh well. It was already around 2 a.m. and INNER TERRESTIALS was preparing to start. I'm not a fan of this kind of music but honestly, this was the best band of the nite. Totally tight and exciting, played with much dedication and effort. Ofcourse around 3 a.m the aggregate broke down and there was 30 min of nothingness. When they picked up again around 3.30 we decided it was time to do some shitwork for our friends. Transporting the equipment and people of withoutgod. It was around 6 a.m. we finally hit the sack.
27.09.03. Boxed In (UK), Accion Mutante (GER), Tunnel Vision, Bullshit Science, Intensity (SWE), The Now-Denial (GER), The Last Mile, Driller Killer (SWE), Lomb, Tragedy (USA), Cockroach, Mörser (GER), Betercore, Zootic (POR) @ Het Podium, Hoogeveen NL
14 bands in 8 hours. Every band is allowed to play 30 min maximum. Welcome to the 5th edition of the Trashfest. Well, organizer Martheun is doing so many shows lately that this could be considered his pinnacle for this year. I mean, compare this line-up to the traditional fests of Zoro Leipzig, Kopi Berlin or Biel. Nuff said. We are in time to catch BOXED IN. Nice to see oldtimers doing a twice a day gig (same night in Nijmegen). Uptempo oldschoolish hardcorepunk with 2 guitars. Coolio but they play a bit too long. The good thing about this fest is there's 2 stages. One downstairs, and one upstairs. Downstairs has no P.A. system, tiny stage and more atmosphere while upstairs has a P.A. system, room for 300 and plenty of space to move around (for both band and audience). I prefer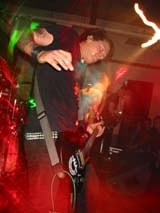 downstairs but this time the sound upstairs is quite good, not to say: excellent! At least the stagesound is coz I am mostly standing on or next to the stage. I know from past gigs that the P.A. here usually fucks up shit radically. Trashfest 4 with Tear It Up and What Happens Next had ridiculously bad sound. Oh well, during BOXED IN the band upstairs set up their equipment and starts playing right after the other band finishes. Great and necessary system. ACCION MUTANTE from Germany didn't have a big crowd but they enjoy themselves pretty much. One of the guitarplayers have a carpet of paper laying in front of him. After close inspection it appears to be all songs written out in "guitarlanguage". Musicwise they sound exactly the same as when we saw them in September 1998 in Giessen Germany when touring with Sin Dios. Unfortunately... Back down it is TUNNEL VISION, a new band from Holland. It is rather bad with a drummer that can't hold a single note. The definition of sloppyness. So I escape to do some socializing. After 25 minutes BULLSHIT SCIENCE is preparing to play. Preparing, coz constantly some bandmember's missing. They get the schedule fucked for at least 15 minutes. Punkrock! Always good fun on stage. Two singers (one new PCP member) with amusing speeches. Catchy punkrockcrust with a very tight Maynard on drums (ex-MUSHROOM ATTACK/FLEAS AND LICE). Downstairs INTENSITY starts their much intense set. Great over the top hardcoretrash. Alot of power and conviction. Definitely one of the best bands of the nite. THE NOW-DENIAL. I don't know what to expect. Missed them several times. Know them already personal but musically it's a blank. So after the first song I am nailed to the ground. Amazed. And the sound is so good. Very dynamic and energetic, both musically as physically. DAMN! Together with ZEROID, probably the best liveband this year. After the set I go to see locals THE LAST MILE, but I'm still shaken from the NOW-DENIAL set. THE LAST MILE sure is good and Daan/dr is devilish. However they are very lowtuned with 2 guitars and most defition is blown to oblivion. The melodies drown in the rumble. Too bad. DRILLER KILLER upstairs. Now, I love their records. I heard controversial stories about them when they toured Spain and Portugal so for me this is one of those "grey area" bands. Usually these bands use the DIY structures to make money and flirt with the mainstream. After two songs I am shocked. So many strong emotions in one nite. HELL! Anyway, there is absolutely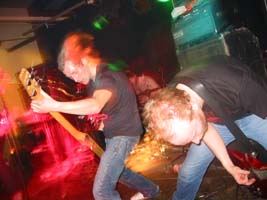 no power or conviction. And during the fast d-beat parts, it looks as if the drummer is close to collapse. Kinda painful to watch. They behave like the headliners of the fest, sunglasses ready and noses up. After 40 minutes they are still playing in front of an empty hall... Everybody escapes downstairs to see LOMB set up their equipment. A much more exciting scene than this failure. LOMB starts when DRILLER KILLER is finishing their 50 min set. Sloppy as hell but with burning warmth they fly through their oldschool set. Heard some cool covers and before you know, it's done. TRAGEDY gets the crowd moving. Obviously most people came to see this band coz the hall is filled. They play a great show, with even some movement. I'm not much into the newer stuff but this is quality playing. Very very good! COCKROACH starts but I decide to pass this one. Instead I encounter some action in the street where 3 copcars with nasty dogs arrived. Appearantly some car was wrecked and they came to check. Nothing serious. MÖRSER. What can I say? The masters of mayhem. Nothing to do with punk but a guarantee for full frontal slaughter. I love them. Even with one less singer and guitarplayer, they still manage to c r u s h . Yeah, give me MÖRSER anytime. After the gig I try to get my hands on their Scum comicbook cd release. I haven't had any luck tracking this one down so I'll give it several tries with the band but they're too disorganized to help me. Or should I say drunk...? hehe. BETERCORE changed line up. New drummer, new (female) singer, new sound. It has become a show-piece. Musically it's become complete unstructured chaos. Pounding into obscurity. Their singers go completely nuts. Great spectacle including masterblowjob! I should be putting those pictures online sooner or later. ZOOTIC upstairs was a bit too much. We left quite early. Around 2 am. I heard the afterparty was real swell. But then again, I have been traumatized by disco in the 80's. One of my reasons to become punk was because of disco. It can be confusing to see todays punks dancing on 80's disco. But I guess that's another story.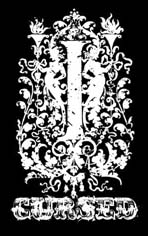 Cursed - "One" LP
(Deathwish Inc., 2003)
There were only few bands that could interest me in the 90's and one of them was THE SWARM a.k.a. Knee Deep In The Dead. When I heard that CURSED had the vocalist and the drummer of THE SWARM, I was definitely interested. Directly downloaded it from the net and soon after bought the record myself coz mighty ole satan, this is devestating shit! Forget about cloning, it's all very original and inventive playing here. Maybe some influences but definitely an own style with lots of variety from very fast to provokingly sluggish. Remarkable! The sound is incredibly brutal. First song is quite reminiscent of THE SWARM, great uptempo with a catchy midpiece and clocks under 1m30s. It sets the heavy tone for the rest of the 10 songs. The guitar (also in HAYMAKER) is low-tuned, dark and sometimes quite noisy with some excellent wanking. Guilt Parade is an original SWARM song and Opposable Thumbs could undoubtedly be one. But before you rush to hear it, I must warn that this leans musically much more to metal than to hardcore. Lyrics are sometimes quite gloomy, but generally with a strong political as well as social feel and sang in a totally intense way as we know it from THE SWARM or LEFT FOR DEAD. The only weakness is the doomy instrumental song (6m32s) that drags along abit too much. But at any rate, this is one of the best releases of this year with Nineteen Seventy Four as my favorite song!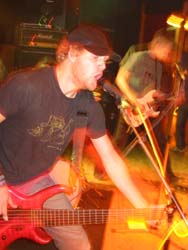 09.10.03. The Last Mile, Submerge (FRA) @ Platformtheater, Groningen NL
Locals THE LAST MILE is playing quite alot lately so this was the 3rd time within a month that I'll see them play live. Usually I hear them every week coz they're practising next to the PCP rehearsal on thursday. Anyway, the gig has to start later than usual due to the weekly salsa-nite in the Platformtheater. Since some time alot of concerts are organized in this cultural theatre. It is located perfectly in the middle of the city-centre (just across the Simplon youthcenter) and inside it's rather cosey and pleasant. Big disadvantage of this place is that it has to be reserved and paid plus all income from the bar goes to the place itself. Only thing left is the doormoney for the organizers. And with concerts like these (read: not so popular bands), it's a financial risk. Tonight there is probably some 35 paying people plus bands/organization would make it around 60 in all. It's the birthday of the guitar for THE LAST MILE and for the singer of SUBMERGE. To meet our french friends from Reims again, is always a pleasure. We carry some very fond memories when we played/stayed in their hometown last year. THE LAST MILE play pretty sloppy but the sound is real good. Usually they're so low-tuned and heavy resulting in thunderous rumbling losing all definition and melody. Which is a shame coz there's some very catchy tunes! Also I notice some SHIKARI and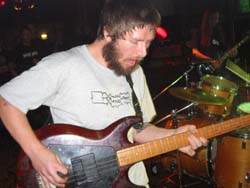 TRAGEDY/FROM ASHES RISE influence in the newer songs while the old stuff still comes close to CATHARSIS and the likes. Good gig and an hilarious drumseat supported by an ashtray!! I'll check the Shogun Records distro that Phil & Elodie took with them and I was mucho impressed. Probably the best selection I have seen since ages. And almost all new releases from more obscure/hard-to-get labels such as Bloodsucker, H.G.Fact... The people from the Platformtheater start to complain about visitors bringing their own drinks. Prices at the bar are quite expensive so obviously people bring their own, as always. But now that there's not so many people, the empty bottles and a quiet bar attract attention. SUBMERGE starts pretty sloppy. I dunno how to describe exactly but it they sound like jazzmetal. Crazy timing and pacing turning into heavy mosh. After 15 minutes I get more into it and it seems they do as well. But still, it's quite inaccessible music.