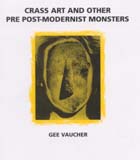 Gee Vaucher - "Crass Art And Other Post-Modernist Monsters" book
(AK Press/Exitstencil Press 1999)
My first CRASS record was "Stations Of The Crass" that I bought in mid 1981. It was my first introduction to the art of Gee Vaucher found in the inner postersleeve. A strange and rather surrealist montage. A unsettling comment on beauty and horror. Gee Vaucher is without doubt best known through her work for CRASS. At the time, I was most impressed with the inside poster for "Christ The Album", which was on my wall for years. How does one call this kind of art? Punk art? Political art? Probably both. Fact is, all her work is an interpretation of the hypocrisy of our society. Pornography, war (Falklands, Ireland), commercials, worldleaders are all part of it and can be found in this really mindblowing book. Plus more! The books starts with some sort of biography and a couple of pretty anecdotes mixed with a few pieces she did in art school. There's also some commercial illustrations (for Rolling Stone), amazingly realistic (children) book illustrations, and works she did for projects. A large part is CRASS art and you'll find all pieces back in these pages. The last 24 pages are samples of her recent work. Although $24.94 seems to be pricey, for fans of her CRASS era, this is more than worthwile! PS. Here you can find an interesting interview with Gee Vaucher: http://www.regenerationtv.net/ram/Vaucher1.mod.ram ●●●●●
14.10.03. Shikari + Makiladoras + Ekkaia (SPA) @ De Brouwerij, Hengelo NL
We always used to go to youthcenter Innocent, that did most of the punkgigs in Hengelo for ages but times are changing. In april 2002 a former managementoffice for a local Grolsch brewery (brouwerij) was squatted. As the building is on the socalled "municipal list of monuments" (it's the oldest - 135 years - industrial building of the city), it is not allowed to be pulled down. In August 2003, some people started building a concertroom with a bar. Within a week the first gig was organised and ever since they've been doing concerts about every week! So this is their 6th one and I was looking forward to see this new concertplace and meet my friends of EKKAIA again. We arrive in time and are welcomed by some occupants who show us around in the building. Very impressive to see how fast they fabricated the seperate concert and barplace. After a nice and warm dinner we start unpacking and the first visitors start getting in. This is a cold tuesday nite so I am expecting around 30 maybe 40 max but by the time Shikari starts, the place is packed! It was a relatively quiet Shikari gig, no blood and bruises except for a head of snot. The crowd loved Makiladoras and was moving all the time. During their set I suddenly got thrown to the ground. The isolation woodwork came loose and landed on my head... Fortunately I wear my cap and remarkably the Morser button on the side of it absorbed most of the blow. I could have been killed judging from the nails sticking out and the height it came from. Built a bit too fast, ey? Worst was the glass mineral wool in which I got covered. The itch is way more unbearable than the sloppiness of Makiladoras. Ekkaia finished solid as a rock. Very obvious influence from bands such as From Ashes Rise and Tragedy, but they've mastered this style very well. Definitely one of the best clones in this genre. Eventually it was a great concert overall with a full house, great atmosphere and reception. I heard this was the best attended show so far. The next nite was Poundaflesh from the UK plus a couple others, and it turned out to be the worst attended show with approximately 9 people. Too bad.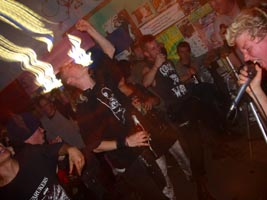 Indirekt - "Nacht Und Nebel" 7"
(Die Hard 1986)
My first encounter with INDIREKT was when my band PUINHOOP played together with them in one of the famous Buze Festivals in Steenwijk on 18th june 1983. I never forget their singer was dressed in a green trousersuit and sang rather melodic on simple mid,- and uptempo hardcorepunk. I never really got into their sound except for the couple of demorecordings they did with Niels De Wit/Gepøpel. INDIREKT, from a town northwest of Holland called Hoorn, started in the summer of 1982 and after 150 concerts, a bunch of tours and 4 records they broke up in 1987, doing a farewell gig with 200 people in local youthcenter Troll. After they replaced their original singer Marjolein with Anneke (formerly NOUS) in 1984, I lost interest. The most remarkable and powerful of INDIREKT were their lyrics that were all written and sang in Dutch language. However... in consequence of my project to complete my Dutch punkcollection, I received the "Nacht Und Nebel" 7". Their last studio recording. When I played it, I did not believe what I heard... it was a shock. Since 1986, I always ignored this release. Now, 17 fucking years later, I'm convinced this is one of the best Dutch punkrecords from that period. I've been playing this forever the last month and I'm still impressed. "Nacht Und Nebel" is a term taken from Hitler: On December 7, 1941, Hitler issued Nacht und Nebel, the Night and Fog Decree. This decree replaced the unsuccessful Nazi policy of taking hostages to undermine underground activities. Suspected underground agents and others would now vanish without a trace into the night and fog (read: deportation, death-penalty and/or concentration camp). The victims were mostly from France, Belgium and Holland. They were usually arrested in the middle of the night and quickly taken to prisons hundreds of miles away for questioning and torture, eventually arriving at the concentration camps of Natzweiler or Gross-Rosen, if they survived. After WWII, these kinds of tactics were obviously very popular in other dictatorships. The song "Nacht Und Nebel" naturally deals with this subject and is about hope and fear. The song starts off with a threathening vibe and changes into uptempo and slow style again with moody guitardubs. "Proze In C." describes and condemns selfish people. This is fast hardcore with a metallic chorus. The great production and thick sound of these songs are very striking. Nothing compared to their earlier material. My favorite song is the very depressed written "Niemandsland". Though it's definitely one of the catchiest Dutch punkrocksongs I've heard since UNION MORBIDE's "Draw A Line" (accidentally from the same area!). "Ik Wilde Leven" is an accusation against humanity. Musically a fast one again with excellent breaks and a crazy twist. I'm truly ashamed I didn't pick this up earlier.... ●●●●●
LOMB / EKKAIA tourdiary 16-26 October 2003
(by Bart - zard666@yahoo.com)
This is a short story about the tour Ekkaia and Lomb did together in Germany, Denmark and Sweden. This is mainly written from how I personally experienced the tour. If somebody else of us had written it it would probably look differently but you'll have to do with this.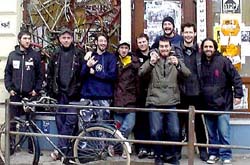 16.10.03. @ Senffabrik, Flensburg GER
First day starts off with the first long distance ride of the tour, about 550 kilometres from Zwolle to Flensburg. We agreed to leave at 11 o'clock in the morning but we had some bad communication so two of us thought we would leave at 13.00 hrs….. So Jasper, Floris (the tourgroupie) and me decided in the mean time we should get the necessary supplies at the supermarket. We bought lots of food and LOADS of beer meant for selling at the alcoholfree venues we were gonna play at in Sweden. After we did this we picked up Gerhard and Rutger and set off for the ride to Flensburg.
We arrived in Flensburg at 19 o'clock and found the place easily. Ekkaia arrive right at the same time as us so we introduce ourselves to the people with who we are going to travel with the next 10 days. The people of the Senffabrik welcomed us warmly and accompanied us to the place where we could eat. A very nice vegan meal was served there.
After the diner it was time to set up our stuff and play. Senffabrik is kind of a livinghouse where they organise shows illegally in the basement. We were the only bands playing this night. Lomb kicked off with a decent set, we hadn't played together for 3 weeks or something so for the first show of the tour it was pretty ok. Ekkaia played really well, I love their music so much! After the show the crowd goes home quickly so not really a party atmosphere. We decide to go to sleep early.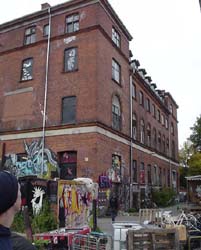 17.10.03. @ Ungdomshuset, Copenhagen DEN
After a really nice breakfast we take off the ride to Copenhagen. David from Flensburg drives with us to see the show and meet his girlfriend who lives in Copenhagen.
We arrive to Ungdomshuset on time to walk a bit around the neighbourhood and check out a nearby recordstore. Ungdomshuset itself is a very big building only used for shows and other d.i.y. activities. There are no people living there.
Quite a lot of people come to the show this evening. The weird thing is they seem to be rather sitting in the barroom than seeing the bands… Weird situation. Maybe it is because of the soundvolume which was absurdly loud or just some other reason…. We play with Rifu from Norway this night, really nice guys. I can't describe their music very well but they played very enthousiasticly. Lomb plays really tight this night, fast and loud. Ekkaia has pretty bad sound, it seems like the PA guy forgot to turn on some things or something. Anyway, the party after the show was better than the show itself. We drank lots of beers and tried to get Ekkaia drinking as well. They're not really big drinkers we find out. Ah well maybe we can teach them, hehe.
18.10.03. @ 1000 Fryd, Aalborg DEN
This day again not really a long drive so I was hoping we'd have a chance to see a little bit of Aalborg in the afternoon. But it seems like touring is all about waiting waiting waiting. We had to wait for so long until we could finally leave Copenhagen that we arrived in Aalborg around 19.00hrs. So that was a little disappointing for me.
Anyway, in Aalborg I meet Cesper "I kicked you in the face once" from Jimmy Justice (RIP) again which is nice. He organises the show tonight. 1000Fryd is a venue funded by the state. All kinds of bands play there and it's good that the local hardcore kids can organise their shows there. It's very comfortable and warm inside.
I think most of the people from the small scene in Aalborg attended the show. Ekkaia starts off playing not one of their best shows of the tour. Marcos the drummer is not feeling so well and everything just goes a bit less smooth then on the other nights. Lomb plays ok tonight, nothing more nothing less. After us play Migra Violenta from Argentina. Fast hardcore, tight as fuck, great band. After the show we should go to bed early because the next two days we have a drive ahead of 1500 kilometers……. But we get really into the mood and drink beers listening to cool metal from the 80's, bands like Slayer and Venom…. yeah!
19.10.03. - driving driving driving……..
Because we couldn't get any places to play in the south of Sweden we decided to try to go to the north….. What an idea….. We got shows in Lulea and Umea. So on sunday and monday we had to drive from Aalborg to Lulea, almost to the border of Finland.
So on sunday we get up at 7.00 to get on the boat from Frederikshavn to Goteborg. Everything goes well and at 12.00 we arrive safely to Sweden. Wow, that's one stress less, if somehow we couldn't get on this boat than we certainly would not make it in time to Lulea. So now the driving starts. All day long we drive and drive. At one point we find out that the dieseltank of the van is as good as empy while the indicator sais it's totally full, fuck that's crazy, two times the engine quits and we think we are doomed…. Somehow we get it working again and turn around to a gasstation we past 5 kilometers ago, we drive downhill so we could just make to there!! We fill up the tank and decide to buy a jerrycan of diesel to avoid this kind of stress in the future. Now we just have to find Ekkaia again. They are way ahead of us and we can't reach them by phone…. Than suddenly their van is right there at a trafficlight. So everything is fine.
During daylight it's fun to drive, enjoying the beautiful landscape of Sweden but around 19.00 darkness descents and after that it's just hours and hours of endless nothing…. Especially for Ekkaia it's difficult because the driver they have for this tour wants nobody else but himself do the driving. After a few hours in the dark the Ekkaia people, driving behind us, tell us the rear lights of our van just broke down. Again some minor trouble, but we think lights are important enough to make a stop for and fix them.
So after 11 hours we think it's been enough for today. We made it all the way to Umea, which is already a big accomplishment. The next day we only have 360 km left to get to Lulea. We put the vans on a parkingplace somewhere in Umea and try to get some sleep. Problem was that it was already -7 degrees during the night so we had only the warmth of eachother….
20.10.03. @ IOGT Lokalen, Lulea SWE
We wake up early and what do we see….. The first snow of the year has fallen this night…. Wow! Scandinavia in the snow, who doesn't want to see that? We start the drive and soon more snow is coming from the sky, it gets more and more…. and more and more. It gets so much that it's almost impossible to see the road. Cars are stranded besides the road and we come to a point on which we discuss if it's maybe better to turn around to Umea. We talk to some local people and they tell us that it's still early and no one expected this much snow now so if we would just wait for some time they would start to clean the roads. Besides that, the area suffering this bad weather is not so big, it would become better after about 75 kilometers. We are convinced and decide to drive slowly to the next gasstation and wait a little. By the time we reach the gasstation the snowing has stopt and we see trucks cleaning the snow of the roads. We continue our journy still driving slowly but enjoying the now totally white scenery of Sweden. Great great!!
Around 13.00 we arrive to Lulea, finally!! We check out the town, do some shopping, do some internetting etc. Finally some relaxing. We also find out the whole town is covered in posters anouncing our show this night so that looks promising. For some reason the show is not at the exact address as on the posters and also not at the place the organisors told us it would be. Finally we find the place is on the other side of the street than stated on the posters. Probably because it was not totally legal to do the show there.
Due to strict laws in Sweden at most venues it's forbidden to sell or use alcohol and/or smoke. This makes it quiete a different atmosphere then we are used to in Holland or other places in Europe. About 50 kids visit the show in the really small room of the venue. Everybody is really friendly to us and seems to be really happy bands come on tour to their remote town. Although not everybody seems to be into our kind of music they still enjoy it and thank us for playing, it feels so good to play at a place like that. It reminded me of the place we played in Kezmarok, Slovakia together with S.A.F. last year.
After the show we go to Sven's place, he organised it tonight with his friends. There we drink beers together and talk about local politics and stuff, very interesting. A great night, worth travelling all the way to there!
21.10.03. @ Stallet, Umea SWE
Having it made all the way to Lulea and after the great night it turned out to be I finally I have the feeling of being on vacation. Whatever could go wrong from now on, no one would take away this experience from us.
So today we drive back to Umea, again enjoying the great landscapes covered in snow.
Around 17.00 we arrive at Umea and pick up Kaj, the organisor, form his work. We unload the stuff at Stallet and get to Kaj's place to have diner.
Back at Stallet it turns out not many people come to visit the show. In the end about 20 people are there. No problem, we can still thrash hard. Both bands play decent shows which the people enjoy.
After the show we go back to Kaj's place, drink a beer and go to sleep.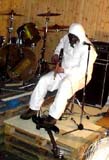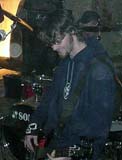 22.10.03. @ Kafe 44, Stockholm SWE
Today another long drive. We leave early and arrive to Kafe 44 just in time. I meet up with some people I know from the tour with Makiladoras last year. Great to see Raf, Camilla and Dadde again. Raf has the great news that we probably could play a show the next day in Linköping. Otherwise we would have a day off in Stockholm but playing a show is better Plus that it's right on the way to Malmö makes it even better. At the end of the night everything is arranged, Ard from Zegota fixed it for us, thanks a lot!
Kafe 44 is a cool place with a barroom and a concertroom. Also they're not allowed to sell alcohol inside but they seem to have no troubl with people bringing their own drinks. The night before there also was a show with Born/Dead and Consume playing so tonight there were not so many people, about 40 or 50 I think.
We play with the local bands To What End? and Sanctuary in Blasphemy. SiB plays really slow stonerrock-like music, pretty heavy and in the end a little bit boring but still good. Especially because it was their first show ever. To What End? played quiete sloppy in my opinion and suffered a bad sound. Also I didn't see too much of their set because I was too busy selling beers at the van, hehe. Lomb plays the worst show of the tour this night. Something to forget about. I guess we were in too much of a hurry all day long. Ekkaia plays well but the sound is shit, only with earplugs you could make something of it.
To make it a good night after all the Lomb-crew goes to a bar around the corner. We make our own refill bar in the toilet and are a pain in the ass for the barowner… Fuck him. After we leave the bar we drop off Camilla at her house and sell her a box of beer. Than we go Dadde's place and have a good talk about some irritations we had the days before. This usually happens on tour somewhere.
23.10.03. @ Skylten, Linköping SWE
So tonight we got added to this existing show last minute. This saves us a lot of money and a night of utter boredom. The people at Skylten are really happy we also came to play and welcome us with a great meal. Skylten is a big building with a very big concertroom and about 30(!!) practicerooms, every band has it's own room. The concertroom has a huge stage so we decide it would be best to move all the equipment infront of the stage, being a pain the ass for the PA-guys. But we are glad we made this decision, it created a much better atmosphere. All in all 5 bands play this evening, 2 local bands called Konfrontation and Black Star Rising. I remember them play more crusty style of music but I wasn't very much impressed. After them played Ekkaia a very good show. Than Lomb also played ok. At the end Zegota played a convincing set with great messages inbetween the songs. I was impressed.
24.10.03. @ Club Latino. Malmö SWE
We arrive to Malmö early today so we have finally time to walk around the city a bit. Jasper and I know our way around because last year we also spent 2 days here. At first we arrive to the place we played last year but after some time we find out the show is in another place just a few hundred meters down the road. At 18.00 o'clock we arrive to the house of Carin, the organisor of tonight. Again a great meal is served! We relax a bit and set off to Club Latino. At first it looks like this is going to be a very weird concert, I had never seen such a looooong and narrow concertroom before and I never had guessed this was actually going to be the best show of the tour. A local band called Suma plays first. They play very slow music with a crazy singer. They played ok but a little too slow for me. After that Lomb plays. We get really into it and just play very well. The people seemed to like us very much and after the show they invade our merchendisestand to get some tapes etc. Ekkaia plays brilliantly tonight. A great show!

What happened after the show is not completely clear to my memory anymore, all I know is that we ended up in some illegal bar where a lot of weird people were. We got very drunk there while Ekkaia was sipping their colas at Carin's place J. I also tried this kind of tobacco people use in Sweden. It's not to smoke but to put under your lip. Than at a certain moment you will feel a kind of nicotine rush or something… Well I don't know if that rush is meant to make you feel better but for sure it made me feel terrible!! I'm surprised I didn't have to puke.
25.10.03. @ No Pasaran, Hamburg GER
Today I wake up with a big hangover. Fucking hell… The others remind me of some things I had done the night before, which had something to do with a female person….. And Rutger is crowned the new vomitking of Malmö. Great effort Rutger!
Anyway, we go to Carin's place to have breakfast and set off for Hamburg. Again 6 hours in the van and 45 minutes on a boat. Ekkaia suffers from some vantroubles because of the severe rain. We have to stop several times to fix the problem. When we finally arrive to Hamburg and search for the right place for 45 minutes we find out we are actually pretty early. Again there was a very nice meal served, lots of beans!!! They turned us all into fartmasters.
I think tonight we played for the biggest crowd of the whole tour, about 100 people came to the show. Both bands played decent sets which are recorded by the soundguys. The recordings sound quiete well so maybe they will be released some day, who knows.
After the show a lot of people in the crowd are very drunk but we don't feel like partying anymore so we go to sleep early.
26.10.03. - back to home
Now it's time to say goodbye to Ekkaia which is not fun at all. We had a great time together these 10 days. They will continue their tour for 3 more weeks travelling through Germany, Poland, Czech Republic, Austria, Slovenia and more countries. I hope we will meet eachother some day in the future. I'm sure we will.
---
S.A.F./MIHOEN! "Dutch Thrash In Two Masters" tourdiary Fall 2003
(by Friso - friso666@angelfire.com)

This is my first effort to write a tour report, actually i don't know if this will work but anyhow i must put this down because i feel the urge to tell how i experienced this awesome tour with mihoen! and my own band skulls and flames. it was great, really great!!! hopefully you will have fun reading this. (Ed. Pictures will follow soon!)
09.10.03. @ The Flying Dog, Utrecht NL
this was originally our first day and we really wanted to play in belgium but since that was impossible we arranged to play utrecht with the people living in the flying dog, we played for a small donation. mihoen! played awesome fast and furious! So did SAF and i must say that my memories of that evening are nihil... maybe the booze but i think more the pre-tour stress. i was busy getting my drivers license and had to move from my house, get a new job that could start after the tour and was still busy till those early morning hours trying to arrange the last bits of this blasting tour. i was allready tired and we still had to begin. the flying dog is the most amazing squat we ever had in utrecht. it has an indoor skatepark and a real big hall where wagons and cars are being fixed. at first this squat was a social working place but it closed down and then UPC bought the building three years ago. they let the building empty for all that time and even the heater was still on when the squatters moved into the house. pretty strange because they were all dressed properly to survive the cold. when they were eventually inside the building they had to take their shirts off because it was so freaking warm inside!!! i really think this is not ok, a company such as upc let's the heater on for three years for fucking nothing while there are still people who must work their backs off to pay all te bills that they have to pay. plus it is wasting earth's energy... anyway the gig was fine and the squat too nice, let's stick to the report.
10.10.03. @ Squat La Cerise, Paris (Vitry Sur Seine) FRA
so we drove away from utrecht early that morning. i agreed to be there at 08.00 but of course i overslept and arrived at 09.00 - 09.30. the first mistake but happily the last... :-X we drove for a few hours and arrived near paris. everybody was excited and we pretty soon found out that the street where we were looking for was next to the arc de triomphe. this part of paris is actually very rich and there was this d.i.y. instinct that made me a bit suspicious. but anyway we drove to the street and the moment we arrived there we soon found out that we had to be on the other side of town in a suburb of paris near villejuif. fuck... the peripherique was completely full and we arrived at the wrong street at exactly the agreed time to arrive. the fact that we had to go to the other side of town meant that we had to still drive for one hour and a half. anyways after we contacted alex, he also makes the french zine blacklung really a nice zine by the way! check it out! we agreed that he would pick us up and drive us to the squat. we got there and actually we weren't really late. the fatwa's from amsterdoom weren't even there and we could set up our backline easily. the first guy that i encountered there was my "neefje". i haven't seen my cousin for three years and it was pretty cool to see him again. SAF kicked off that night and we raged through our set. the crowd seem to like us and there even was some serious headbanging at some point. the fatwa's played after us and i was amazed. i did see them in amsterdam doing a try out or something and it was amazing!!! i really liked it pure riot grlz punk and it even was pretty fast! also nice to meet people you know somewhere on the road. mihoen! was up next and they played this amazing set!!! goddamn i really love to watch these lads and irmin's drumming is so amazing!
the crowd went wild and even though there wasn't a lot of space the people started to dance. nice to see people singing / screaming along and raising their fists up high!!! the house was also amazing. there were nice drawings everywhere of a collective of drawers called "le chien qui pue" (the dog that stinks) the house was also very very clean!!! another good thing: the house had a large garden and a balcony where you could see a part of paris! very impressive! after the bands we still partied around till late and it was a very nice party! the fatwa's were also in for a party so we drank and talked together.
11.10.03. day off and we had to drive towards San Sebastian, Donosti in basque country.
after having a little breakfast and a coffee (this is really important to some of us!!! :D) we went to drive towards bordeaux. the guys in paris gave us some phonenumbers so we could maybe get a free sleeping place. we already decided to take a formule 1 hotel aside of the highway which costs you 23,50 pleureaux a night. so we drive towards bordeaux and suddenly at the peage (tollway) in bordeaux we get stopped by the douane. hmmm there was this dude with a rifle of (i swear) 1,5 metres long. there were dogs sent in to mihoen's van and the saf lads were also controlled and searched. luckily we only had oranges with us!!! :) as we drove for a few kilometers and found the formule 1 hotel because the guy who could offer us some place to sleep had to work the next morning at 6 so that meant we had to get up at 5 or get a key and deliver that to him... whatever it was pretty much a hassle and we decided to stick to our plan. as we settled ourselves and showered etc. we popped a party in the mihoen! room. whiskey, juice and beers were consumed and big exciting tour stories were told and we had a laugh!!! it was a good way to see what others had been through at borders, in venues and gas stations.
12.10.03. @ Sala Mogamba, Donosti SPA
today we played with three bands. we drove into DONOSTI and soon found the place. it was an ex sex-club-BAR-DANCING sort of pick up place and it was full of mirrors and black lights. the place had a nice little stage and a huge bar. the guys who organised this gig also did the next gig and they had two bands. the first band was XXXXXXXXXXXXX they just formed the group and they played grind. the sound was overwhelmingly loud and their drummer blasted soooo hard. the guy who played guitar in the band was traveling along with Opus Dead a few months ago so we knew each other. when he first came into the venue he walked pass me and i didn't recognize him, ai ai ai some loss of scenepoints here... after taking the bands stuff in we said hello and i still think it is so amazing to meet people when you are on tour. they help you out as you help them out, what goes around comes around indeed. also really nice to see that the collective of people setting this up were incredibely nice. saf and mihoen! played ok sets. we had the banner from eduard against the extradiction of juanra up, it all looked like you wanted it to look! one moment i even assisted the guys by "overtaking" the bar and serve the locals their cold cervecas!!! it was a funny evening and we stayed in the local practice room. the room was equiped with a tv and video so we watched the pantera tour video and we learned that we were actually pretty social people... before we went into that room the guys of the collective XXXXXXXXXX showed us their concertplace, it was huge and really d.i.y. they recently had a festival there with a lot of grindcore bands and it was really an awesome hall. they told us that it was really difficult to keep such places but this time they were lucky and the local police officers were okey with them. they even showed the people who came to the fest where it was and where to park etc. normally i heard that the police over there are not the easiest people to reason with. at 5 in the morning me and eduard got out and went to this authentical bakery factory and bought ourselves some fresh croissants etc. after having consumed our croissants we decided to fall a sleep and with this big smile i slowly fell a sleep. the next morning that same smile was on my face and we decided to take a look at the donostian beach... there was a class of surfers trying to ride the waves. it was like 25 degrees celcius and i was feeling great!!! in the back of my mind i knew that we would get this cold winter in holland and i realised i really had to enjoy these last moments of sun burning your face!
13.10.03. @ Gaztetxe, Llodio SPA
as we left DONOSTI we drove to LLODIO which wasn't a long drive. three hours or so. we arrived at this town surrounded by mountains. and entered the sweetest house i have ever been in. it was this typical basque house with large old stones and heavy dark wood. what a place to have a show in!!! upstairs there was a great kitchen, with the pans on real fire! you had to put wood in the oven to heat it and next to the kitchen there was this amazing room with all the attributes you need to make your own t shirt designs and print them, there were records lying everywhere but i was too busy with checking out that machine so i forgot to go through them actually. maybe there was the secret distro everybody is talking about (ed. not maybe, there was one hidden in a closet!). we played together with ANTIHEROES with the same drummer of the night before and the barman of the night before. ANTIHEROES are some sort of los crudos on speed kind of band and their surprising gorilla biscuits cover reminded me of old times! their "crew" moshed and thrashed around the place and actually i think that we were looking all at the band with our jaws to the floor. a grindy-punk band with a brutal bassplayer who played with his fingers!!!! wow what a blast! it was really a good band and i really hope they will come to holland to play here.
after the concert we drank more beer and some of us went to bed. some of us ended up talking to this skinhead who brought this amazing liqour with him. of course we drank and discussed till the next morning. another really nice night!!!
14.10.03. @ Sala Eneba, Madrid SPA
so we drove off to madrid. the guys of opus dead had arranged the show and we actually got there in time to also have a little straw in the city. in fact we found out that we played in the middle of the city. a friend of mine just moved to madrid a week ago to learn the beautiful language and of course we hooked up. at first we were welcomed by this mohawk in a public enemy t shirt who was actually working downstairs where the concert had to take place. eduard asked him if he knew that we would play there that night. he didn't know that and he told us that he had to make some phonecalls to see if it was possible to play... in the end it was all ok and we put our stuff in and took a walk through the town.
it was nice to see a little bit of the town and we also went to the sin dios info store (ed. La Idea). a nice place that has a lot of CD's, LP's, 7"'s, sweaters / t shirts and books. we played together with a two-man's punkband and it was very cool. there were a lot of people that showed up, luckily!!!
15.10.03. @ Centre Cultural La Xixarra, Valencia SPA
we drove towards valencia but had to make quick visit to eduard's parents house because they had made us a vegan paella. goddamn we arrived at this large house and when we came in the first thing we saw were this large sofa, a swimming pool and this gigantic pan / wok filled with the promised vegan paella... i swear the pan was 1,5 meters big, can you imagine??? we ate at a large table and had the most delicious meal of the tour. after a quick swim for some of us, we drove to the venue. i hooked up with another friend of mine that lives two hours drive from valencia. it was funny to meet him and nice to see that he plays in bands, dj's and produces things overthere! we played a great show and mihoen! was obliged to play with only one bassdrum not the standard doublebass because irmin lost a spring the before. it was a really nice set and i was totally surprised that irmin could drum like this. all together it was an amazing show!!! the venue was also very nice. it was a sort of garage with a garden in the back. the place was squatted i think and was legal because there were only cultural events held by and for the mislata - valencian youth. the beers we drank were amazing you could get 1 liter bottles... you can already guess what happened of course... afterwards we quickly got served an amazing VEGAN tortilla. it really looked like egg but it was real vegan stuff. we all were overwhelmed by all this food, nice people and their hospitality. can you imagine eating vegan authentic paella at five and 7 hours later being served again a typical spanish thing that is also vegan... we were stunned! after the show we drove to eduard's place again because their would be a big authentic fiesta. we behaved like mad men and soon we all agreed that our friend eduard was like an ESCOBAR. cars stopped and people shouted his name and welcomed him back in town. he had lived here in utrecht for a few years and we were
actually giving him a ride back home. he is going to start his own label / distro and infoshop there called TRABUC records. if you would like to have your releases in his distro contact me so i can take the stuff to eduard as i am for sure visiting him soon. (friso666@angelfire.com) the party in town was allready booming and we tried to fit in. the evening was a blast!!!! again i realised that there is nothing as good as being on the road meeting new people and try to understand one's culture! ESCOBAR showed us the spanish party style and believe me it was a hell of fun! as you can see (PHOTO)
16.10.03. @ La Macabra, Barcelona SPA
this was really heavy... waking up early after partying all night... for some it was really fucked up to wake up. anyways we were dead tired and as we drove for 11 hours to get to the next venue you can imagine we were all pretty edgy. the squat was not the place that i had imagined. actually it was by far from what i expected. we entered the squat while the rain was pouring down and the roof of the squat wasn't that perfect anymore and really difficult to fix, as i heard later on, so there was water everywhere. then this gigantic dogfight broke out and, we heard later the drummer of the last band, was bitten in one of his hands. when we entered the concert room we saw that it was big enough to house 1000 people. there were only 50 at the gig and everything was built up tranquilo. a shame because we really had to get up early to make it to st. ettienne. after two hours of setting up their pa system they realised that it didn't work... hmmmm than we decided to only use the thing for the vocals which seemed like a good idea to us in the beginning. anyway mihoen! played and the sound was not good at all. well we put our speakers on after mihoen! and really it helped a lot. the vocals now understandable... at least how far that goes of course. NO CONFORME played after mihoen! it was crusty d-beat style punk and they played a long set. maybe it was us who were tired and really didn't wanted to make it too late we all actually kind of got a little agitated. we were able to play at 3 in the morning and after us another band had to play over our backline. normally no problem but we were really eager to go to sleep or to leave to make some kilometers already because we didn't want to have another 11 hour drive the next day. the people who organised the show for us were really very very nice and the food we got was really good so don't get me wrong i am not complaining!!! we quickly packed the stuff after the last band, HAPPY DEATH, had finished and i finally met laura who arranged the show. when they got out during the day they got arrested because they were accused of stealing stuff from shops and they were kept in jail till very late. she was really very nice and helped us to get out of the place and she was i think a bit sorry that we didn't stay. she told me all the problems they had about their pipes to let the water run down properly each year got full with dirt and therefore the roof of the building rots away. one day some girl nearly crashed when she tried to get on the roof to see what the damage was. believe me a fall from that height would really kill you... all in all she was really nice they even had collected some more money so we could leave with some gas money to st. ettienne. we drove off and on our way the weather became pretty heavy... we also were dead tired and it was a silly decision to go driving... so we stopped at the side of the road and decided to go to sleep. the next day we drove off towards st. ettienne, the weather changed throughout the morning and this was to be the better day! i drove in the bus and really i was pretty happy that i got my drivers permit and was able to drive a little.
17.10.03. @ Le Cle d'Voute, Saint-Etienne FRA
we arrived after a nine hour drive and we were amazed by the number of punx standing outside willing to help us unload the vans and put the stuff into the venue. wow what an amazing place!!! this was well organised and we were treated like kings. we played with this really amazing band called criatura from zaragoza. emo - punkrock kind of thing but really not soft!!! it was a nice night. there was even an after party at the place where we slept. the next day coffee and croissants made it a typical french wake up thing. everyone was still a bit tired off the night before and it was pretty quiet. as soon as the first cups o' coffee were consumed we started to talk to each other and it was a pretty relaxed day. we knew we only had to drive 60 kilometers towards lyon so we could rest a little. the guys of the st ettienne collective "LA FRANCE PUE" (france stinks!) are unbelievable nice and we had a great time! the good thing of their collective is that it really doesn't matter what style you play you are part of the group. so there is no split between for example d-beat ;D and emo 8-) kids. everyone does something for the collective and it is amazing how that works. befa of vomit for breakfast also told me amazing stories about their trip to PERU. wow that isn't that a great thing? and they were the first fast french band that went there. unbelievable, i hope to read a report once. we also met the K-Town bikewars champion of this year's fest. it was great mike and he skateboarded together and i really just hung around with irmin and XXXXX and his girlfriend. he guided us this whole day and seriously first i thought that he was a little bit mad at us or something... but along the way i found out that that was his way of making jokes and hang around and we really had a great time there!!! thanx to those people, it was fun to spend a day in your house and town!
18.10.03. @ The Blue Banana Bar, Lyon FRA
we drove off to lyon and we were welcomed by gwenn. he drove us to the venue and we unloaded the vans. we went to look for a parking place and this really nice dude who just parked his car on an easy spot for us was willing to search for another place because he saw that we would never find a place to park with such a van. it was also gwenn who asked him really politely to please search for another spot, it helped. behind us there were like ten cars who were trying to pass but hell with 20 centimeters on each side that will not work. gwenn had some magic moments and got the people in line to move backwards so we could park more relaxed. really funny to see how people react when they are in their cars waiting for someone who is in a difficult position. anyways, it is really strange how full the city's in spain and france are with cars. it is really difficult to park and sometimes we'd wish that we had those stupid little smart cars.... :P the mihoen van was standing in front of the bar and arno of mihoen! thought he couldn't park there or it wasn't a good idea so he decided to park the mihoenica! on his own and guess what... he got lost in the city. after i think two hours i stepped outside of the bar and luckily i just saw arno passing and me and gwenn got in the van and found a parking spot and guess where that was... in front of the bar. :P we played in this kinda maffioso bar where i think not only drinks were served and sold... anyway we played upstairs (english style) and had nothing to do with the owner. mihoen! started and at the end of their set the owner of the bar insisted them to play softer because the police was driving around the block and if they would have to come in the concert had to be ended. mihoen! tried to play soft but of course this didn't work out... ha ha ha. when mihoen! was finished after blasting away as quick as possible the last songs of the set, we set up our stuff and began to play. i was totally in the mood and even was dancing as i was singing. before i knew it it was over and pepijn mihoen! sang the last song for me because i was on the ground cause i almost passed out... you know how that goes, right??? you get really into it and scream your guts out and suddenly somewhere in that exciting moment you forgot to breathe... it really was, again, a night to NEVER FORGET! afterwards we got fed in the appartment where we slept and again there was a little afterparty. this was a top notch place, parisien style at least that was what i made out of it... the guys had prepared more nice food and damn these people were so friendly. momo who i had the mail contact with left the party soon and i really hope that we will stay in touch and that i can do something for him. i also met this dude of OVERMARS a really good doom band. if you like sludgy / slow stuff check it out!
19.10.03. @ Le Marignan, Athus BEL
we arrived in belgium on time and we had the time to check out the local cafetaria and the guy behind the counter let us taste all his delicious sauces which he mostly made himself. ... real belgian french fries rule. we ate something and talked to guys in the cafetaria. they asked us what we came to do and we told them we were two bands from holland. they told us about the place and eventually told us there was a skatepark nearby. there was eventually time to look for the skatepark cause mike d. he was eager to go there. mike, arno and me got into the skate express and so we drove over the luxembourg, french and belgian borders a few times to finally get back to the cafetaria and ask again where the park was. okey we drove in the exact opposite direction so it was logical we did not find it at once. it wasn't the best spot though. it was an indoor park as we expected it was outdoors we had trouble to find it and once inside i used my best french to ask if mike could have a go for free... it was ok and after his ride he said it was really old and that they might better rebuild it a little bit so all the curves and angles would be better. we drove back to the pub and there we met cedric and a friend of his. they picked us up and drove us towards cedric's house. when we arrived seb, cedric's brother, was also there and we got this delicious meal, which they had prepared for us. again a big round table in the middle of the room where we ate from i guess that is the batavian / bourgondian style huh!? we played the show and there were really a small amount of people that showed up... we had a laugh and it was really the typical say goodbye show. the best tourjokes (zijn we nog boeren!!!???) were made and we had fun. what was less funny is that it was a benefit show for this organisation who helped refugees. in fact they did some big demonstration against the expelling of refugees from belgium. this demostration was kind of chaotic and since then the organisation is really being terrorised by the belgian government. in fact a woman who was being deported back to her original country died in a plane because of brutal behaviour of some cops. she was getting hysterical, of course, and one policeofficer shut her up (for good) by pressing a pillow against her face. she choked and now the organisation is being held responsible for he death of that woman. since they gave her hope... this is really not made up and i think this is really a serious thing. therefore we will organise a benefit in utrecht for this organisation because they now need every financial help that is possible. if any bands are interested in playing this benefit please contact me! (friso666@angelfire.com)
well the next day we drove home and so ended our amazing tour. what a blast... what a shame to be back but what fun to help others to experience the same! we just had migra violenta over from argentina in utrecht and it was an amazing show in the flying dog, what goes around comes around...
the concerts continue and a lot of things have to be arranged. well that is it for now i hope you enjoyed reading this tour report as much as i enjoyed writing it! remember these are things seen from my point of view and are my own experiences. i know that everyone had a gfreat time and i for sure hope to do this again.
thanx to all people that helped in one way or another! giving us the addresses we needed, people that let our rotten corpses sleep and eat in their houses. i would also like to thank mihoen! for going with us. it was awesome! cheers arno, irmin, peppie and rene!!!
special thanx go out to eduard for setting up the amazing spanish gigs! and i really hope he is going to release a lot of amazing records and set up his own little info shop and get where you want to go!!!
for the sake of independence, we take care of our own lives!!! willing to put a little bit more energy in things to in the end achieve to get that happy feeling that you managed to again do it. without your help we are nowhere!
and last but not least thanx to the MASTERS!!!
yours faithfully, friso666