Yes, it took a ridiculous while to get this thing done. Obviously lots has happened since the last issue and I'll try to cover some of the most important news. Next one will have some real reviews again!

BANDNEWS:

Splitups, breakups, rest in pieces, hope-there-won't-be-a-reunion (DREAM ON!)
or BANDS THAT ARE NO MORE section:


PCP from Groningen
I left the band in January and the rest decided to definitely call it quits. In the past 10 years of existence, we've done alot of tours and 3 EP's plus a full CD. Oene the guitarplayer is busy with some other projects and Pelle is still busy drumming with FLEAS AND LICE.

SHIKARI from Groningen
Will do a farewell concert on 7th May in Simplon (small venue upstairs) with Seein'Red and another band. The split 7" with ACAO DIRETA has been released last year by UPS/De Graanrepubliek and the the new split 9" with Louis Cyphre will be out this month and the 1999-2004 tape for South East Asia has been released just recently. See www.bacteria.nl/Shikari.htm for more info.

BULLSHIT SCIENCE from Groningen
Some members joined SCUMNATION.

ILL11 from Groningen
Quit after their European tour. The drummer is now playing in GRINDING HALT and IRON CAGE.

DANDARE from Kampen/Den Haag
Drummer went on to play in VITAMIN X. Guitarplayer is in a new band called IRON CAGE.

COCKROACH from Panningen
Call it quits after 9 years. Just released a new CD called "Take Four". Will do a small UK tour and 4 more shows, Final show will be at Trashfest 9 in Hoogeveen in June.

NEWS

Locals: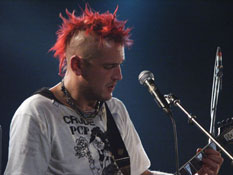 FLEAS AND LICE just returned from the studio and have recorded 11 new songs for a LP that is supposed to come out on Skuld Releases. The CD version and all old stuff will be re-released soon on Rodent Pop Sicle Records from the USA. March will have an European tour with THE DRUG DEALERS from Saint-Brieuc/France.
MAKILADORAS recorded and mixed 8 new songs in the Kuschelrock Studio in Bremen for a new LP/CD. This will be a thematic record about Genetic Technology and will be a co-release between 10-15 labels. The CD will be released by Too Circle from Japan. Hopefully out in may. Upcoming months will see some promotional touring with RADIO BIKINI regarding the recently released split 7" EP, and a 2 week French/Spanish tour.
INSTIL just returned from a tour from Denmark and Sweden. Their latest CD release "Fire Reflects In Ashes" gets alot of media attention.
THE LAST MILE will go into the studio soon to record for a new LP.
NOBBY NOXIOUS AND THE IMPREGNATORS recorded songs for a first release. Think catchy punkrock with ex-MOONLIZARDS drummer, FLEAS AND LICE guitarplayer and ex-FREE RANGE TIMEBOMB guitarplayer.
THE KICKERS is a relatively new punkrockband and plays with alot of enthusiasm and conviction. They do pretty well in the mainstream/commercial scene.
THE ARCHITECT is a new band of Daniel (THE LAST MILE drummer), Wouter (ex-REVOLT bass), Joop and Rene (both INSTIL) and are pretty technical metalhardcore with emphasis on Goteburg Metal.
BURN THE ELITE changed bassplayer.
MINDFOK is still struggling to release the latest recordings.
GRINDING HALT has replaced the drummer. Now Hanz/ILL11 is taking over that part. They play about 4 gigs a year.
IRON CAGE is a new band with Ferry DANDARE/LADS and Rene/THE LAST MILE, and describe themselves as emocore.

Others:
JOBCRUSHER from Zwolle have a new website at: http://pindakaasschaaf.mentalwreckage.com/JOB and will go into the studio soon.
ANIMOSITY from the mideast plays sloppy trashcore. I believe they have a demotape.
MARY BELL from the south is heavy sludge with ALL TENSED UP! member.
PROPAGATOR from Hoogeveen reminds me abit of JOBCRUSHER. Fast and furious trashgrind and just recorded at Dirty Bird Studio.
DE WAONZIN from Utrecht has Pepijn from MIHOEN and are going to record in the famous Bunt's studio in May together with NUESTROS DERECHOS.
MIHOEN! from Utrecht will release something new soon.

GEWAPEND BETON from Amsterdam are embryopunx playing great catchy punkcore.
SEEIN'RED from Amersfoort wil tour Japan in March 2005.
GILGAMESH has members from POINT OF FEW and BETERCORE and can best be described as screamo.
GASCOIGNE has members from GILGAMESH (gtr), PROPAGATOR (gtr), PAYROLL (bass) and BURN THE ELITE (drums) and play youthcrew?!
DARKWATERSCAM is another new band and more metal. Like Slayer on 16 rpm. Has members from INSTIL (gtr and vocs), and GILGAMESH (gtr). They have just added the MAKILADORAS guitarplayer on drums.
Alkmaar area news: BOYCOT 1995-2000 CD has been released and contains 48 songs and a nice booklet. OLHO DE GATO split up and Billie the singer went on to form SANGRE. Dan the drummer considers to keep going on though. Some new bands: MARKLAR rose from the ashes of ANARGEEKS and will record soon. HBG is another new band with ex-DISTROY drummer. HUMUS is still going with ex-BETERCORE and released a split 7" EP with LäRM AS FUCK (this is SEEIN'RED with Roy ATU on vocals). MAN MADE FILTH with ex-DISTROY. OMISSION with ex-BETERCORE.
SAF is still going strong. Mike D has joined/started a new sludge band called CHILDREN OF GOD
ANTIDOTE is doing a German tour with LOWER CLASS BRATS.
It seems DIE NAKSE BANANEN are also still going strong.
KRUSH took a break coz their drummer has some problems with his arm. Hope they will keep going coz they're one of the few good Dutch crusty bands left.
KRIEGSTANZ new split 7" EP with I SHOT CYRUS from Brasil will hopefully be out next month. Will be recording for a full length in April. They'll be touring the USA together with SEEIN'RED in July. Drummer Rogier now also plays in SANGRE, who already recorded for a 10".
Nico from CATHODE quit the band and is now doing a project with SICK TERROR member Fabio and CATHODE guitarplayer Mark. He was replace by Thale from THE BARNHOUSE EFFECT.
THE BARNHOUSE EFFECT continues with a female singer.
KEZUS KRIJST is from Rotterdam and play very catchy dutchlanguage and uptempo punk. Reminded me of Rastaknast alot! They have a cool 7" out!
HYSTERIA from Amsterdam is still going but nothing released (yet).


Abuse Records from Belgium is putting out the 3 classic Holland Hardcore Tapes which were released back in the 80's with tons of great bands. This will be a 5.5 LP set with lots of extra info. This is already an instant classic! There might be a big releaseparty with bands from this compilation (the ultimate dutch hardcorepunk reunion).

Hoogeveen Trashfest launched a website last year with an archive and all upcoming activities. www.trashfest.nl
Master Of Chaos, Dejan of the Villa Friekens studio, is organising a BGK tribute. In 2-3 days, a shitload of bands will record a BGK song in his studio. He's still collecting bands, so if you're interested drop him a line at podabuka@hotmail.com
2004-2005 RELEASES
ALL FOR NOTHING - Start At Zero CDEP (AFN Records, NL)
ANTIDOTE - Tegengif/Ziedend Van Woede 7" EP split with SEEIN'RED (Attack Records, GER)
ANTILLECTUAL - Silencing Civilization (Angry Youth, NL)
BAMBIX - Live At Hangar 110, Sao Paulo CD (Nitro, BRA)
BAMBIX - What's In A Name CD/LP (re-release, Daemon, USA)
BAMBIX - Club Matuchek CD/LP (Go-Kart, GER)
BLOOD I BLEED - Blood I Bleed 7" EP (Fast And Furious, NL)
BLOOD I BLEED - split 7" with UNHOLY GRAVE from Japan (Out Of Control, CZE)
BLOOD I BLEED - split 7" with UNDER PRESSURE from Canada (Podruido, USA)
BOYCOT - Total Boycot 1995-2000 CD (Angry Records, ITA)
CATHODE - split 7" EP with SICK TERROR from Brasil (UPS, NL)
COCKROACH - Take Four CD (Kaz Re-Chords, SLO)
DODEWAARD - split LP with THE PEOPLE LISTENING, WONDER (Adagio 830/Grab The Stars/Monocore/Mashnote, INT)
DODEWAARD - 4 way split CD with PETETHEPIRATESQUID, THIRD MEMORY, THEMA ELEVEN (Impure Muzik, FRA)
GILGAMESH - This Could Be A Set Up MCD (Hectic Records, NL)
HOT 'N STEAMY MONKEYLOVE - Hot 'n Steamy Monkeylove CD (Deadlock, NL)
HUMUS - Campaign For Musical Destruction 7" EP split with LARM AS FUCK (Wastedyouthpower, NL)
INSTIL - Fire Reflects In Ashes CD (Garden Of Exile, NL)
KEZUS KRIJST - Kezus Krijst 7" (Selfreleased, NL)
KRUSH - split 7" EP with GRITOS DE ALERTA from Brasil (UPS, NL)
LARM AS FUCK - Campaign For Musical Destruction 7" EP split with HUMUS (Wastedyouthpower, NL)
LARM - Never Too Old To Pogo LP (Bootleg)
LAST TO GO - Young Studs And Rusty Razors split LP with SHAGGABLE SLUTS (Kill Art Rock Records, NL)
LAST TO GO - The More You Search The Less You Find CD (Fast Track, NL)
LOS ASESINOS DE LA SUPERFICIALIDAD - Luchas Abstractas 7" EP (Verse-Chorus-Verse, USA)
MAKILADORAS - split 7" with RADIO BIKINI (UPS/DP/Tofu Guerrilla/Svaveldioxid/Trabuc, INT)
MALKOVICH - Malkovich CD (Coalition, NL)
MALKOVICH - 017 CDEP (Reflections, NL)
MALKOVICH - A Criminal Record CD (Reflections, NL)
MATKA TERESA - split 7" with FUCK ON THE BEACH from Japan (RSR, GER)
MIHOEN - split 7" EP with SICK TERROR from Brasil (UPS, NL)
MIHOEN - Mihoen 7" EP (Selfreleased, NL)
MISTAKE - Pancakes Is Another Religion, So Fuck Your Painted Smile 7" EP (Kutpunk Records, NL)
MISTAKE - The Split EP 7"EP split with NO HOODLUMS (Pogopunx, NL)
MISTAKE - Out Of Existence 7"EP (Kutpunk Records, NL)
NO HOODLUMS - The Split EP split with MISTAKE (Pogopunx, NL)
OLHO DE GATO - 3 Ways Of Armageddon CD split with SOCIAL CHAOS & IRRITATE (FIA/Buchos Discos/UPS, INT)
OMISSION - Omission 7" EP (Selfreleased, NL)
RADIO BIKINI - split 7" with MAKILADORAS (UPS/DP/Tofu Guerrilla/Svaveldioxid/Trabuc, INT)
RAZOR CRUSADE - Infinate Water CD (Reflections, NL)
SACK-O'-WOES - Sack-O'-Woes 10" (U-Lit/Geesthuis, NL)
SEEIN'RED - Tegengif/Ziedend Van Woede 7" EP split with ANTIDOTE (Attack Records, GER)
SKULLS AND FLAMES - Skulls And Flames 12" EP (Dead Area, NL)
SHAGGABLE SLUTS - Young Studs And Rusty Razors split LP with LAST TO GO (Kill Art Rock Records, NL)

SHIKARI - split 7" EP with PHOENIX BODIES from USA (Electric Human Project, USA)
SHIKARI - split 7" EP with ACAO DIRETA from Brasil (UPS/De Graanrepubliek, NL)
SHIKARI - 1999-2003 CD (Level Plane, USA)
THE BIPS - If Life Was Like CD/LP (Red Giant Records, GER)
THE PEOPLE LISTENING, WONDER - split LP with DODEWAARD (Adagio 830/Grab The Stars/Monocore/Mashnote)
VITAMIN X - Bad Trip LP/CD (Havoc Records, USA)
VARIOUS - Parkhof Kerstival 2003 CD with CATHODE, ANTIDOTE, OdG, MMF and KRIEGSTANZ (Selfreleased, NL)
VARIOUS - Punx.nl CD with 25 Dutch bands (Pleurop, NL)

Venues:
Co-9 squat in Zwolle got evicted. A new building has been squatted and they're already opened a bar.
Opdrift squat in Groningen won a courtcase and will have a brighter future for now.
Bar Le Duc squat in Groningen is facing threat of eviction but nothing is certain yet.
Rockin squat in Amsterdam is doing more and more gigs.