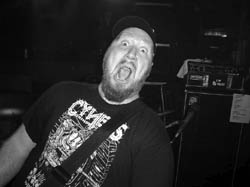 23.11.03. Kriegstanz + Betercore + Shikari + Cyness (GER) + Sayadinna (SWE) @ Platformtheater, Groningen NL
Platformtheater. Since 2001, several groups of people are organizing gigs in the Platformtheater, resulting in a big variety of (hardcore) bands and crowds. Best thing about this place is its location. It's near the inner city-centre, opposite of the Simplon youthcenter and has a very low threshold opposed to 'out-of-centre-places' and squats. Lots of gigs have visitors that just drop by to see what's going on or just to check it out. Good thing about the place is it's atmosphere. The lighting is cosy and if the bands are set up in front of the high stage, there's usually a very pleasant vibe. Also a good thing is the rent is not so high unless it is booked for a weekend. So most gigs happen in weekdays. Still, you need a big crowd to break even because the bar goes to the venue. And needless to say, the barprices are high. A lot of people bring their own drinks. It was never a problem until last couple of gigs the complaining started. Anyway, it's been about half year since we/SHIKARI played Groningen and at least 2 years since this venue so it was time again. KRIEGSTANZ was added to the bill so we had a total of 5 bands. At 18.00 we were the first to arrive and were welcomed by organizer Jeroen and Jop/GILGAMOSH and friend. KRIEGSTANZ dropped in soon and I exchanged some really cool records with Jos. SPEEDTWINS LP and LULLABIES 7". Great classic Dutch punk and essential for my ambitious Dutch Punk Archive. After setting up the backline and meeting with the other bands, we're off for dinner just across the street. They prepared the house Skandinavian style coz the heater is overburning with temperatures above 30 degrees celcius. The dinner is just excellent, very delicious spinachpie. By now we have a hard time getting back to the place because of the heat and food. When we eventually arrive, KRIEGSTANZ has started. A great wall of catchy noise. They're getting better with every gig I see. KRIEGSTANZ has been evolved from ORWELL NATION, and is formed in april 2003. After some memberchanges, they currently have SEEIN'RED (bass), CATHODE (guitar), THE BARNHOUSE EFFECT (guitar and vocals) members. Style can be described as neocrust. You know, mixing Skandinavian and modern Yankeesound with lowtuning and disbeats. It seems they're developing their own sound, which is quite essential for this style coz most bands seem to merely clone their favorites. This night they agreee to do their first release with Unsociable from Bremen/Germoney (hello Stachel!). So apart from the fact that Rogier and Jos fuck up one or more songs and one of the Platform workers urge them to play softer, this is definitely a fruitful evening for them. In the back near the bar is a big supermarket. Most stuff comes from a Polish guy who sells some great shirts. I give away a bunch of copies of my new bootleg CDr and help BETERCORE setting up the drumkit. They slap through a short but raging set. Always fun to watch. By now the room has filled. Some 150 people present including a lot of "outsiders". It's 21.00 and we are doing our best to delay a bit coz it's so fucking early! Anyway, SHIKARI fuck up practically all songs although many people fortunately don't seem to notice it. After the set I feel like crawling under a rock. Probably my worst and most embarrassing performance this year so far. The only thing I feel good about is not giving in on the annoying demands by the Platformtheater workers to turn down the volume.
CYNESS and SAYADDINA use their own backline so I start packing my drumkit onstage. Some CYNESS members I already know coz they double in Y from Berlin. When I heard them last year during the Para Raio festival, I was very impressed. Deathmetalgrind with a brutal female vocalist. But what happened? Here they play with a different vocalist and without bassplayer… I read on their webpage their bassplayer died in an accident?! Anyway. the drumming is relentless but I can't help to be very disappointed when comparing this with last year. Too bad. SAYADINNA from Sweden seems to have quite a reputation coz I hear a lot of people raving about them. This is probably also because they have NASUM and VICTIMS members, recorded in the famous Sunlight studio and are on the American Relapse label. It sure was fun to watch the guitarplayer doing this gimmick of spitting in the air and catching it with his face. Or the bassplayer struggling with his guitarstring. Musically it is rather boring, done a million times before. It's not bad or something, just nothing special or exciting. Nevertheless it was a nice night for most of us, with good organization, friendly bands/people and an impressive KRIEGSTANZ! ©
13.11.03. Asschapel (USA) + The Last Mile @ De Brouwerij, Hengelo NL
One month ago I was here with Shikari/Makiladoras/Ekkaia and that was a definite blast (read all about it in #2). Great (but rather painful) place and atmosphere so we were hoping for the best! After a too long drive we arrived around 20.00 which seems to be still early for Brouwerij standards. Got some nice food and met a bunch of friends. Not too many people present though. It looks as they're overbooked coz when see their schedule, they do gigs almost every week! People get selective and obviously some gigs will suffer from this. About 40 people witness THE LAST MILE playing a blasting set. Usually their sound suffers because of too low tuned guitar, resulting in a blurr. But today was just perfect. All melodies and dynamics could be ondergone! Great!! In between bands, checked the UPS distro and Richard's preparations for his long Brasil trip. Also he brought me a B I G box filled with Dutch punk/hc records, cd's and tapes from his own collection. Mostly end-of-the-80's and 90's stuff AND a definite help for completing my mission to collect all Dutch releases. Also bought a bunch of Dutch records. Usually I don't buy much records but today was a good day to spend some money. Never knew KRUSH already released a bunch of 7" ers back in the late 90's. There's too much to get this completed..... H E L P ! ASSCHAPEL is ready to start. I've heard some stories about them being a pisstake on metal and such so, I'm expecting some sort of HELL'S KITCHEN who did this thing perfectly back in the 80's. Well, after the first ASSCHAPEL song, I didn't know what to think. After the second and third song, the shirts came off and the guitars, fingers and hair was waving but no way could you tell this was a pisstake. It looked rather like a very poor HERESY wanna-be clone. Communication was at a minimum and musically... it was even worse. Very high speed but sloppy metalcore. The guitar sounded so thin and crappy, I couldn't believe it. And because of the intense posing, it sounded even worse. Oh well.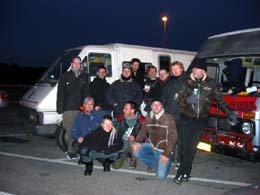 GOODBYE 2003, HELLO 2004
Generally, 2003 was a rather quiet year with almost no tours. It was also the first new years eve that we spent in Holland. February had some memorable moments such as the SHIKARI concert in a local squatbar where the complete band was covered in beer, sweat and bruises. A true classic. The MAKILADORAS/MIHOEN! tour was an adventure as well with a great surprise in G18 in Bremen: DEAN DIRGE. We expected a generic emoband but got simple yet straightforward and catchy punkrock. Fuckin' A! After 3 days Arno, singer of MIHOEN! got sick and couldn't make the gig in Bochum while MIHOEN! decided to do an instrumental set. Same story 2 days later in Gent. Paris was fullhouse with a very thrashy and moving slampit. We met many friends there and I never forget the paranoid squatters that constantly locked us in and out of certain rooms. MAKILADORAS continued the tour through Germoney with a great gig in Berlin which was more or less a hole in the ground.
8th February was the day I heard the shocking news that Johan Van Leeuwen had died the day before. Johan was the editor of Holland's longest running zine De Nieuwe Koekrand. He wrote a couple of books and despite his illness, he continued with great enthusiasm as long as possible. He was a great inspiration and is sorely missed...
February was also memorable because of our discovery that the SHIKARI master was too long to be pressed properly on 7" format. It took 2 testpressings and a fucked up (and thankfully only 500) US pressing to detect. Nightmarish to say the least. Fortunately the thing got re-released on CDEP in september! March started off with a weekend in Madrid where Eva was invited to join Sin Dios on 2 concerts for a DVD. During this time we were in the middle of the anti-war manifestations. We went to a demonstration with over 1 million people. It was most impressive. Actually, that whole anti-war debate lived quite alot in Spain since there were banners and flyers hanging outside /on windows in almost every street. Too bad we had to stay so short but it was worth it. I was very happy to meet all my friends again and see people from Benidorm and Galicia. Hopefully the DVD will be out this year. SIN DIOS more or less split up again so question is if they're gonna continue with a new bassplayer or not...
March was also particulary exciting because of a PCP mini-tour with RAW POWER from Italy. My scepsis of old bands exploiting their old fame and status was once again affirmed. This was a rather embarrassing event. All old songs were raped and slaughtered (reminded me quite a bit of that MDC disaster) and almost no people took the effort to check them out. Result was that the organisers lost A L O T of money coz they asked rather high (and fixed!) guarantees. Still PCP had a real good time, meeting mucho new people, places and friends. The Frossay gig was the first one for me to wear sunglasses during the entire set coz of the ultrabright theaterspot (thanks Eric). France is a great country to play (excluding the traffic cops and customs
officers!) and we discovered the westcoast has more cool places than you can ever imagine! From June til September I was busy promoting and booking a 2 week French/Spanish tour for dutch band COCKROACH. Unfortunately 2 days into their tour, I received a confusing yet disturbing phonecall from COCKROACH informing me they were going to cancel the rest of the tour due to personal problems. Eventually they were alright, but my motivation to continue with this kind of help was dropped considerably. In 2000 I had a somewhat simular experience with EL CORAZON DEL SAPO from Spain but this happened at the end of the tour and was because of a leg injury of their singer. He even tried to continue and did 2 more gigs with it but it was just too painful so they canceled the last 2 gigs. Back in Spain they went straight to an hospital to discover his ankle was broken...
June and July had some local Platformtheater concerts where the Dutch bands blew away the yankee "headliners". 2003 was also the year of the Trash Fests in Hoogeveen and the overkill of gigs in the new squat Co-9 in Zwolle. Last year had 4 Trashfests with an average of about 10 bands each night! August even had 2 Trashfests, one in Hoogeveen and the next day in Zwolle. About 25 bands within 2 days.... An enormous effort from Marteun and co.! September PCP played a fest in Stemwede, I discovered we played together with the masters of doomcore ZEROID. However, it was their final concert. The first and last time I saw them. Happiness & sadness at once. Crazy.
I was actually very glad to see that 2003 didn't continue this questionable trend of adding exotic instruments to hardcorepunk (with the violin at number one). However, I can conclude that 2003 was the musical year of overrated emo and bad Tragedy clones. But... it wasn't all that bad. I still could find 10 excellent records and 8 fabulous gigs so here's for my yearlist:

BEST RECORD (in no particular order!)
1. Cursed - One CD
I am a big fan of THE SWARM, and this one can more or less be seen as a continuation of that band. Excellent production, songs and writing makes this a winner)

2. Tragedy - Vengeance CD
An almost unmatched heavy hardcorepunk production. Japanese hardcore meets Skandi-disbeats meets No Fun At All/Bad Religion formula. Nobody does this as well as TRAGEDY.

3. Various - Bloodsucking Freaks 2003 CD
The Padlock and Soul Craft songs make this perfect.

4. Padlock - Struggle In Red CD
Fast, catchy, over-the-top, guitarwanking Japanese hardcore.... outstanding!

5. Ação Direta - Revolta Repudio Confronto Resistencia CD
Already going for more than 15 years, and no sign of weariness. Intense, fast, simple yet furious hardcorepunk.

6. Conclusion - Conclusion 7"
Have this been playing alot of times. Very original sound with some sticky parts.

7. Protess - Positiveness 7"
First had to get into this one, but immensely grew on me and now the tunes are in my head forever. Recently d/l a video of them, and I can say they're as good live as they're on record!

8. Vicious Five - Electric Chants Of The Disenchanted CD
Portugese punkrock. I usually don't listen this syle much. Could be maybe even labeled as emo... Very minimal but very haunting and infectious.

9. Maniatica - Maniatica 2003 CD
I always loved this spanish anarchopunkband. They did a lot of releases and for this CD they re-recorded old songs coz the band was already split since alot years (some members went on with BANDA JACHIS). Anyway, this is an excellent selection of their old work with my absolute favorite songs: Poder and Color De Corazon.

10. Vader - Blood mCD
I have a weakness for this band! Litany is still their best release but ever since their concert on 30th April in De Buze/Steenwijk, I have alot of sympathy for this great band.


BEST CONCERT
1. Zeroid - Krustenhof, Stemwede Germoney 06.09.03
Stunning even though they had some technical difficulties.

2. The Now-Denial - Het Podium, Hoogeveen 27.09.03
Knew the people already for a long time but never heard their band until now. I was rooted to the spot in amazement. Together with ZEROID, these are for me the best bands of 2003!

3. Tragedy - Het Podium, Hoogeveen 27.09.03
Combination of a first rate backline and excellent musical performance.

4. Mörser - Het Podium, Hoogeveen 27.09.03
Even without their 2nd guitarplayer, still terrifying good!

5. Twisted System - Krustenhof, Stemwede Germoney 06.09.03
Belgium poweroutfit. I expected bad hardrock but we got once again exciting punkrock with ex-UNHINGED singer!

6. Inner Terrestials - Pakhuis Afrika, Amsterdam 26.09.03
I'd already played with them in France a couple times so I knew what to expect. Great musicianship, excellent crowdcontrol and also after all those hard, fast and loud bands, this was quite refreshing.

7. Dean Dirge - G18, Bremen Germoney 08.02.03
As i said earlier, we expected bad emorock, but got exciting punkrock!

8. Radio Bikini - Het Podium, Hoogeveen 23.08.03
Refreshing, and Dutch as well!

WORST CONCERT
(there was actually quite alot of them but here's my top 10 nonetheless)
1. Unnamed Emoband - Baracke, Munster Germoney
Three bands, two touring (MAKILADORAS and MIHOEN!) and one local. There were probably 15 paying visitors. They all came to see the local band. The local band played first... It was horrendous. They couldn't handle their instruments and the sound was awful but.... the small crowd went for it. When the 2nd band, MIHOEN, started, only the "organisation" and 2 touring bands were left. It became an unforgettable nite anyways but you get the point. That unnamed band probably get real big this year, so sorry for not reminding your name.

2. Driller Killer - Het Podium, Hoogeveen 27.09.03
Expected alot, received a bucket full of shit. Their cd's rule, their live performance suck terribly. They come NOWHERE near the records. They owned up. Very humiliating. To top that, their attitude was even worse. Please, deport this to the mainstream. Thank you!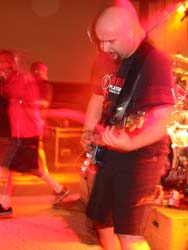 3. Raw Power - Stade de Municipal, Frossay France 21.03.03
This was very hard to digest. Not even a shade of what it was. One of the best hardcore concerts I saw was RAW POWER in the ChiChiClub/Winterswijk 19.05.1986 This was very embarrasing to see how they try to keep up their "status" with a very distored line-up. Sad but true.

4. Sika - Co9, Zwolle 24.08.03
This was real bad. But somehow sympathetic as well coz the players did their stinking best.

5. Anargeeks - Rijzenburcht, Elst 05.09.03
This was even worse than SIKA but the same can be said about their enthousiasm and dedication. Punk = shock. Well, you got me there!

6. Calling Gina Clark - Het Podium, Hoogeveen 19.07.03
How'd you call this? Chaosemo? Holy shit, this is just getting ridiculous.

7. Omega Cinco - Co9, Zwolle 20.07.03
I'm sure they want me dead coz this was unbearable. Keyboards that feedback, completely non-playing. How much more can I take. I tried 5 songs and received an acute headache. Wow.

8. Ma'arakate & Off Minor - Platformtheater, Groningen 01.06.03
I'm getting quite allergic for this kind of driveling "hardcore".

9. Yaphet Kotto - Platformtheater, Groningen 10.07.03
And I'm getting very tired of this kind of driveling "hardcore". To top that, I expected at least one meaningful remark, since they are considered to be a political band but they had nothing to say at all. Quite pretentious bullshit if you ask me.

10. Sin Dios - Pakhuis Africa, Amsterdam 26.09.03
I know how good this band CAN BE. This nite they were terrible. Real awful. Almost nothing worked and the sound was shit as well. I felt very sorry for them. It was good to hear the other gig in Den Haag the next day went well.